GRANDVIEW — As far as bi-district playoff showdowns go, it's hard to beat the amount of intrigue when No. 2 Grandview and Rockdale will square off Friday in Belton.
The defending state champion Zebras (9-1) finished second in District 9-3A Division I behind Whitney while Rockdale (8-2) placed third behind No. 6 Troy and No. 8 Cameron Yoe in District 10-3A DI.
The Zebras and Tigers are also meeting in the Class 3A Division I bi-district playoffs for the second year in a row in a battle of the last two Class 3A DI state champs. Rockdale won it all in 2017 then the Zebras went the distance last year, knocking off the Tigers, 45-21, in bi-district.
"It's a game with two quality programs," Grandview coach Ryan Ebner said. "We played last year in the playoffs, so we know they'll be ready to play. I expect us both to put our best foot forward and hopefully it will be a good game.
"They're very well-coached. Coach [Jeff] Miller has been there a long time and does an outstanding job. When you look across the field, they've got outstanding athletes. And they use them really well. They play hard on defense and put as much pressure on you as they can."
Grandview's only loss this season came against Whitney (9-1) in a battle for the District 9-3A DI title while Rockdale's only losses are to No. 6 Troy (57-36) and No. 8 Cameron Yoe (31-3) in District 10-3A DI play.
While last year's final score of 45-21 might indicate a blowout in the Zebras' favor, that wasn't the case. Grandview held a slim 24-21 lead midway through the fourth quarter before scoring a couple of late touchdowns to put the game out of reach. It was certainly a game that could've gone either way.
"We are familiar with each other," Ebner said. "There's things we still do the same and things we don't do the same. Regardless, it's the playoffs so you're going to get a hard-fought game no matter who it's against. Good teams make the playoffs and they want to move on just like we do. They will be ready to play and so will we."
While Grandview was a heavy favorite to go back-to-back as state champs entering the season because of the amount of returners the Zebras had, the regular season has been a seemingly never-ending run of losing players to injuries. So the Grandview team that takes the field Friday will be missing several key players that helped lead the Zebras to a win over Rockdale last year.
"We've got some guys out and some guys back, but that's probably quite a few teams across the state of Texas," Ebner said. "It's one of those things you can't do anything about it so it's next man up and put a plan together. As coaches, we were talking Monday after practice about how we loved the intensity and focus they had. I feel like they understand the moment they're in. 
"They've grinded it out all year no matter what the situation has been. It's never been 'feeling sorry for ourselves,' it's one foot in front of the other, work hard and be ready for the next opportunity."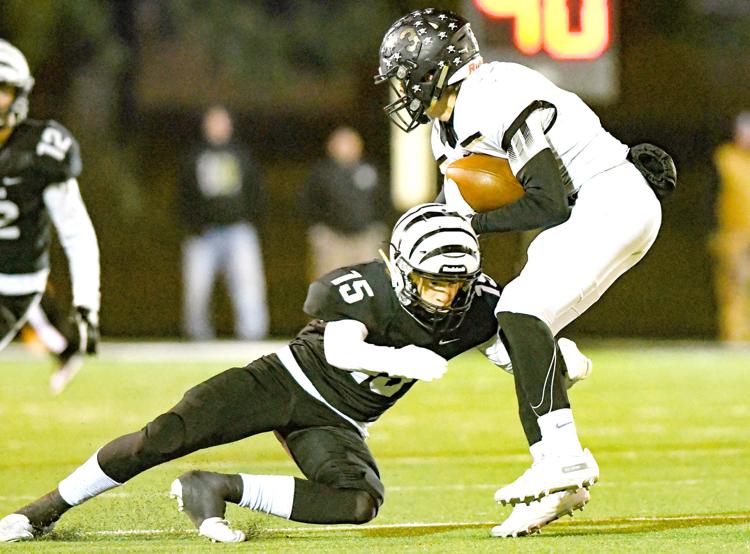 The Tigers are led by junior running back Cam'ron Valdez, who has 1,537 rushing yards and 26 touchdowns on just 154 carries (10 yards per carry). But what makes Rockdale so tough to defend this year is the Tigers have multiple other players that can beat you, in addition to Valdez.
"Everybody knows about the tailback," Ebner said. "Valdez has got some speed and he runs the ball really hard in traffic. Not to take anything away from him because he's a really good player, but it would be an injustice not to talk about the other skill kids. They've got a real good slot receiver [Kesean Raven] and their other receivers are talented, too. They all open doors for each other because you can't just lock down on one guy. 
"They've got five great skill kids that No. 1 [quarterback Jace Robinson] does a great job getting the ball to. So you have to be solid across the board. They can win some one-on-one battles so we'll have to defend that."
Defensively, Ebner said the Tigers' aggressiveness jumps out on film.
"What most stands out about their defense is how aggressive they are," he said. "They're going to keep as many guys in the box as they can to stop the run then they depend on their athletes to match up with your athletes and win that one-on-one matchup. They do a good job of seeing the play and running to it. We'll have to make sure we're doing a good job with our blocks and also winning our one-on-one battles on the edge to help loosen up some stuff in the run game."
With Rockdale likely stacking the box to slow down Tremayne Gullatte and the Zebras' run game, that might put more of an emphasis on Dane Jentsch and the Zebra passing game, but Ebner said as long as Jentsch does his job like normal, they'll be fine.
"Really and truthfully, if he'll play his normal game, that's all we need," Ebner said. "He's always been a very good player every game for us. We're not trying to put any extra weight on his shoulder. If he'll execute the way Dane Jentsch executes, with the people around him, we'll have success."
While football is the ultimate team sport, the one-on-one battles Ebner referred to multiple times will likely be the difference — which team con consistently win those one-on-one battles on the edge and out in space.
"At the end of the day, it's going to be who wins more of the one-on-one matchups," Ebner said. "They're going to see what they can do with those opportunities. There's going to be one-on-one situations that we'll just have to win. When you're facing a team like Rockdale with athletes like that, that's just how it is."
Ebner also said special teams will be pivotal, especially if those one-on-one battles are close to 50/50.
"They do a lot of things with special teams," Ebner said. "On kickoff return, they do a lot of things that can give you an issue. If both teams are doing a good job of tackling and winning the one-on-one battles, it's going to come down to a situation like that in the kicking game. Whichever team is the most sound in special teams will have the best chance at winning."
Kickoff between the Zebras and Tigers is set for 7:30 p.m. Friday from Belton's Tiger Field.
The winner moves on to the area round and will meet the winner of East Chambers and Coldspring.