GRANDVIEW — The top-ranked Grandview Zebras visit the Whitney Wildcats on Friday in a battle for the No. 1 seed in District 9-3A Division I.
Grandview carries an undefeated 8-0 overall record and 4-0 mark into the showdown for first place while the Wildcats are 7-1 overall and 4-0 in league action.
Both the Zebras and Wildcats have put up similar numbers so far this season. Grandview averages nearly 43 points per game on offense while allowing just over 11 points per game on defense; Whitney scores 45.5 points per game on offense and surrenders 14.5 points per game defensively.
On paper, it's the type of Texas high school football showdown fans dream of, with a district title on the line.
For Grandview, it presents an opportunity where the Zebras won't be overwhelming favorites to run away with an easy victory. Aside from a 14-13 non-district win over Malakoff in a rematch of the Class 3A DI state title game, the Zebras have outscored their other seven opponents this season by a combined 328-77 — or an average score of 47-11.
"It's always fun to play good competition and as a coach be able to put a game plan together to try to stop somebody good," Grandview coach Ryan Ebner said. "You've got to be able to make adjustments against any good team. Regardless if you win or lose, you're going to learn something by playing big games against good teams. That's something that's always going to help you down the road."
The winner of Friday's battle will secure the No. 1 seed in the playoffs and at least a "share" of the district title. But Ebner said they haven't spoken much about winning a district title.
"It's always one of your goals; you want to win a district championship," Ebner said. "But the main goal is winning a state championship. Big picture, the district we meet up with [in bi-district] is very stout, one through four. They're going to have some good teams come out of there. The biggest thing is trying to achieve the goal of winning a district title. We actually don't talk too much about that stuff, to be honest. We try to just take care of our day-to-day jobs. But there will definitely be some happy players with winning a district championship."
Whitney's high-flying offense will present the biggest challenge to a Grandview defense giving up fewer than two touchdowns per game. The Wildcats average nearly 500 yards per game in addition to the 45.5 points they put up on the scoreboard on a weekly average.
"They can spread you out with athletes," Ebner said. "First and foremost is they have a great player at quarterback in Devin Wilson. Any time he touches the ball he can score from anywhere on the field. They've got other weapons at the skill positions in [Juan] Saucedo, [Kolby] Tanner and [Dez] Garner. They've got a handful of receivers that have a chance to do things when they touch the ball. If you start isolating yourself on one or two guys, they've got some other guys who can hurt you. And they're solid up front."
While Wilson is the point guard of the Wildcat offense, Saucedo has been the Wildcats' biggest playmaker as he averages 12.8 yards per carry with 1,052 rushing yards and nine touchdowns on 82 carries (according to stats on MaxPreps). Wilson has rushed for 785 yards and 13 touchdowns on 71 carries. Tanner leads Whitney with 33 receptions for 549 yards and five touchdowns.
"[Saucedo] is fast and he runs the ball hard," Ebner said. "He plays hard on defense. He's a very aggressive kid and he's got some wheels on him. Like I said, if you focus on one of them, they'll hurt you somewhere else. We'll have to be sound across the board on defense. That's what is challenging preparing for them is there's not just one guy you have to worry about, they've got multiple guys. They've got a handful of guys that are capable. You just get spread out defensively. And then sometimes you can play it right but they'll still make a play because of how athletic they are."
Ebner said it will take a great defensive effort from the Zebras, with a focus on taking correct angles and being sure tacklers.
"I expect it to go back and forth," Ebner said. "The thing that makes me most nervous is the play where Devin Wilson is just being an athlete. We'll have to be very sound in what we do. We have to continue to be good tacklers. We need to take those drills we do and really focus on the concept of executing a good tackle because he does an unbelievable job of making you miss. We have to take good angles."
All season, Grandview's defensive play has been a true team effort. Dane Jentsch leads the team in tackles with 78 while Michael Lehnhardt, Antonio Arellano, Elijah Golden and Matt Lehnhardt each have at least 40 tackles.
"It's a credit to them of how well they all play their particular positions," Ebner said. "You have to do your particular job every play. You can't be selfish in wanting to make the play every down. With the way we're set up, it may not be your job to always make the tackle. But we have to do our own job to help set our teammates up. It's a team effort. They do a great job of playing as a unit and playing team defense."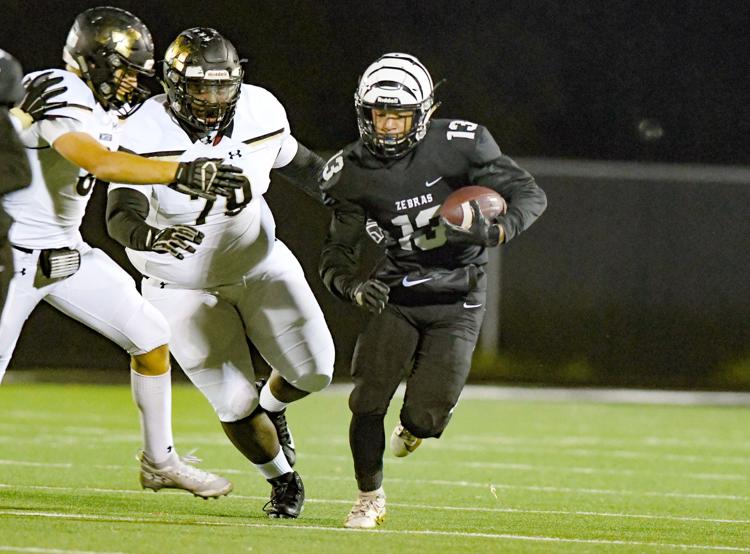 For the Zebra offense to keep pace, Ebner said they'll have to take advantage of big-play opportunities on the few occasions they may get them and protect the ball.
"They're very aggressive and they fly to the football," Ebner said. "They're very well-coached. They have guys that can lock you down. They've got some D-linemen that get after it. We'll have our hands full with them. We'll have to make sure we're seeing the whole field from the QB position and taking what they give us. Our linemen will have to do a good job communicating when they see different looks. Our running backs have to do a good job of seeing the hole and getting north and south. 
"We'll have to take advantage when there's a play there to be made. It's going to take a solid game. You're not going to be able to have a game with a lot of turnovers and expect to win the game. We're going to have to be very solid on what we do."
Kickoff between the Zebras and Wildcats is set for 7:30 p.m. Friday from Wildcat Stadium.