GRANDVIEW — Grandview's perilous trek through the Class 3A Division I Region III playoffs continues with a regional final showdown against Troy.
The No. 2-ranked Zebras (12-1) and No. 6-ranked Trojans (12-1) are scheduled for a 7:30 p.m. kickoff Friday from Waco ISD Stadium with a trip to the state semifinals on the line.
In the regional semifinals last week, Grandview blasted No. 8 Cameron Yoe, 45-14, while Troy edged Whitney, 9-7, in a defensive affair.
"I'm not sure where everybody had [Troy] picked, but I know they were definitely one of the top teams in the region," Grandview coach Ryan Ebner said. "After watching them on film, it's easy to see why they're here with the players they've got and how they use them and how they're coached. They've got a lot of great players all over the field and they play hard and they're well-coached."
While Grandview is coming off its deepest playoff run and first state championship last year, Troy is currently in the midst of its deepest playoff run ever, including winning 12 games in a season for the first time in program history. But now the Trojans face the ultimate measuring stick against the reigning champs.
"They're very well put together," Troy coach Ronnie Porter said of the Zebras. "They're well-coached. You can tell they have a system and they stick to it. It's tough to disrupt systems like that because they have an answer for just about everything. We're going to have to play a good, solid, sound game in order to have a chance to beat them."
Ebner said he expects that both teams will be well-prepared for the monumental showdown, despite Troy never having reached this stage before in football.
"They're going to be excited and fired up," Ebner said. "I feel like the positive for us, which is what I can speak on, is these kids know it's a football game and what it takes, as opposed to being focused on the moment. This is another football game that happens to be in the fourth round. When you've been there before, you know what it takes.
"I'm sure they're having great practices down there this week the same way we are. But being a successful program is not new to them. Their kids have had success in their school in several sports. I don't think the moment will be too big for either of us."
Troy, the District 10-3A champion, has averaged 39 points per game through 13 games this season while Grandview's defense allows just 14 points per game.
The Trojans have been led all season by junior running back Zach Hrbacek, who has rushed for more than 2,000 yards. In last week's win over Whitney, Hrbacek rushed for 280 yards and a touchdown on 34 carries.
"He's really good. He's by far one of the best backs, if not the best back, we've faced all year," Ebner said. "They do a lot of different things to get him the ball. In addition to that, he's got really good vision. If something breaks down, he uses that vision to go along with his great change of speed. He can get going in a different direction almost in the blink of an eye. He's a really quick kid. But what I'm most impressed with is how hard he plays. 
"Even when you think you've got him hemmed up, he keeps churning his legs. They run a lot of counter and stretch, and he looks real fast. He gets up to full speed extremely fast and he can make you miss. But he just runs so hard."
Grandview's defense has defended strong rushing attacks well over the past few seasons, including during the Zebras' run to a state title last year. And to reach the state semifinals for a second consecutive year, Grandview's defense will be challenged against Troy's stellar running game as well as a complimentary passing game.
"It's going to be mostly about using the field to your advantage," Ebner said in slowing down Hrbacek. "He really wants to get his foot in the ground and get north and south, so we've got to fill up the space between each player blocking for him and make sure he can't do that. We need to keep him going one way and make sure somebody's at the end to make the tackle or push him out of bounds. A lot of times it's not going to be you making the play but passing him off to someone else. It will take all 11 guys to stop him."
Porter said Troy's offense will have to match the physicality of Grandview's defense.
"We've got to try to set the tone with being the more physical team," the Trojans' head coach said. "They're good, they're big, they're strong, and they play fast. They're good up front, they have good linebackers, and they have a good secondary. So that will be something we'll have to overcome offensively."
As special as Hrbacek has been, Porter added the Trojans' offensive line has been one of the team's strengths.
"Our whole offensive line has been a great unit anchored by two seniors in Ian McDonald and Jordan Cotanny," he said.
Earlier in the season, Troy ran more spread looks but the Trojans have evolved over the season into more of an 80/20 run-dominant team with a solid play-action pass game.
"They're at their best when they're doing play-action off Hrbacek," Ebner said. "That's what they want to do. When you have a guy like that, the run sets up the pass. They also do a good job of not just throwing it to one receiver, so you've got to be really balanced defensively, which also helps open up running lanes."
On the other side of the matchup, the Zebras score 41.7 points per game offensively while the Trojan defensive unit allows 20 points per outing.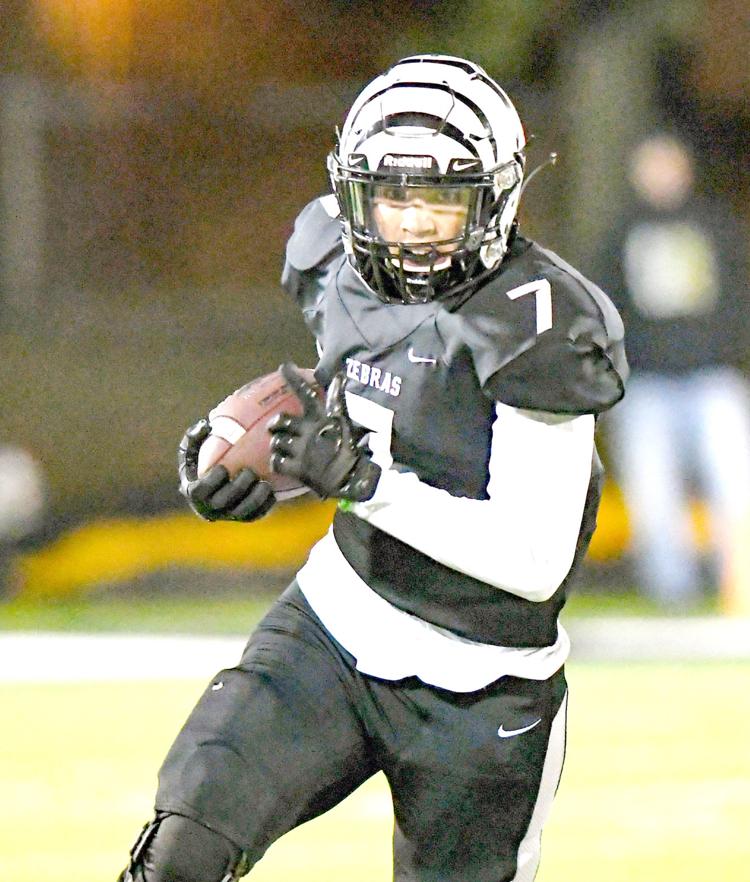 "They run a 3-4, and they're a little more aggressive than a Cameron Yoe," Ebner said of the Trojans' defense. "Cameron Yoe was about lining up and flying to the football. But Troy will do some things to add pressure to try and get a sack or make you get rid of the ball faster. They change things up formation-wise to pose some issues. They're hard-nosed kids that fly to the football and they're really good at tackling."
From Troy's defensive perspective, Porter said they hope to force a few stops defensively and let their run game aide their defense's effort against an all-around solid Grandview offense.
"You've just got to try to slow them down because there is no stopping them," Porter said. "We'll have to try to get a few stops and let our offense be our best defense. They're going to try to mismatch us at times and part of the game is trying to hide those mismatches."
Grandview's offense has been well-balanced on the ground and through the air, directed by junior quarterback Dane Jentsch. But, as is always the case, Ebner said it starts up front.
"We would like to get our run game going, like most offenses," Ebner said. "First and foremost of any game is taking care of the line of scrimmage. You've got to pass block and run block, and whoever's doing that the best has a greater chance of winning the game."
Grandview and Troy share five common opponents from throughout the 2019 season in Hillsboro, Teague, Cameron Yoe, Rockdale, and Whitney. 
The Trojans went 5-0 against those four teams as Troy beat Hillsboro (36-21), Teague (44-17), Cameron Yoe (51-38), Rockdale (57-36) and Whitney (9-7). Grandview went 4-1 as the Zebras beat Hillsboro (45-17), Teague (52-7), Rockdale (42-7), and Cameron Yoe (45-14), but lost to Whitney (26-21).
The winner of Grandview and Troy will advance to the state semifinals against the winner of Columbus (11-2) and Hallettsville (10-2).
The other two regional final/state quarterfinal matchups are Pottsboro (13-0) vs. Gladewater (10-3) and Brock (11-2) vs. Pilot Point (12-1).