GRANDVIEW — Coming off a resounding 41-7 win over rival Godley, the No. 2-ranked Grandview Zebras are set to square off in another rivalry showdown when the Glen Rose Tigers come to town Friday.
This will be the seventh consecutive season the Tigers and Zebras will face off in the "Battle of the Stripes" rivalry. Grandview has won four of the past six meetings, including a 38-14 victory last season.
Grandview Coach Ryan Ebner said he likes playing Glen Rose for a number of reasons.
"I think there's a lot of mutual respect between the two schools," Ebner said. "It's always a game that you know you're going to get their best effort and you have to be prepared for because they have good schemes and their kids are going to play hard. Every time you plan them, you're able to look back on film, win or lose, and see what you need to get fixed. You know it's going to be a hard-fought game that will prepare you for things down the road and you'll be able to know what it takes to beat good teams after playing them."
The last four meetings between the Zebras and Tigers came in week 1 action, but this time around Grandview and Glen Rose carry 3-0 records into a week 4 battle.
The Tigers beat a preseason favorite and No. 6-ranked Springtown team in week 1 with a 27-13 victory. Then Glen Rose beat Gatesville, 48-29, in week 2 before shutting out Fort Stockton, 40-0, last Thursday.
In addition to Grandview's 41-7 win over Godley last week, the Zebras have wins of 31-24 over No. 4 Malakoff and 21-7 over Salado.
Even with hard-fought wins over Malakoff and Salado, Glen Rose may present the Zebras with their biggest challenge of the season to date. Ebner said the Tigers are a well-rounded and very well-coached team in all three phases.
"Coach [Cliff] Watkins and his staff do a great job offensively of just seeing if you're not lined up properly and then knowing that certain plays are going to work vs. this front and the setup of your defense," Ebner said. "You're looking at different teams and different styles they play week in and week out, and they're still putting up points and moving the ball. 
"I think on defense they do a good job of changing their defense to what works for their kids best. They use a lot of skill-type kids on that side of the ball which means they're fast and they really fly around to the football. They make it tough to move the ball on the ground and they do a great job matching up when you try to pass. And they do a great job on the special teams front. They keep you on your toes with different things. As a whole, you can't take a play off in any of the three phases of the game against them."
Both teams are led by experienced, playmaking quarterbacks. Dane Jentsch — who received his first Division I offer this week from Lamar University — leads the Zebras while Austin Worthen headlines the Tiger attack.
Through three games, Worthen has completed 39-of-62 passes for 667 yards with five touchdowns and no interceptions. He also leads Glen Rose in rushing with 339 yards and six touchdowns on 67 carries.
"He's very similar to Dane Jentsch as far as he's going to run the football hard when his number is called," Ebner said of Worthen. "He does a great job reading the defense. Passing-wise, Coach Watkins does a good job of giving [Worthen] reads that are quick and easy and gets the ball out of his hands fast. Then there's plays you can't draw up where he'll make plays with his feet when the pocket crashes around him. His receivers do a great job of finding open spaces and getting in front of his eyes. You know what you're going to get on certain plays and then there's plays that just happen because of the athlete he is."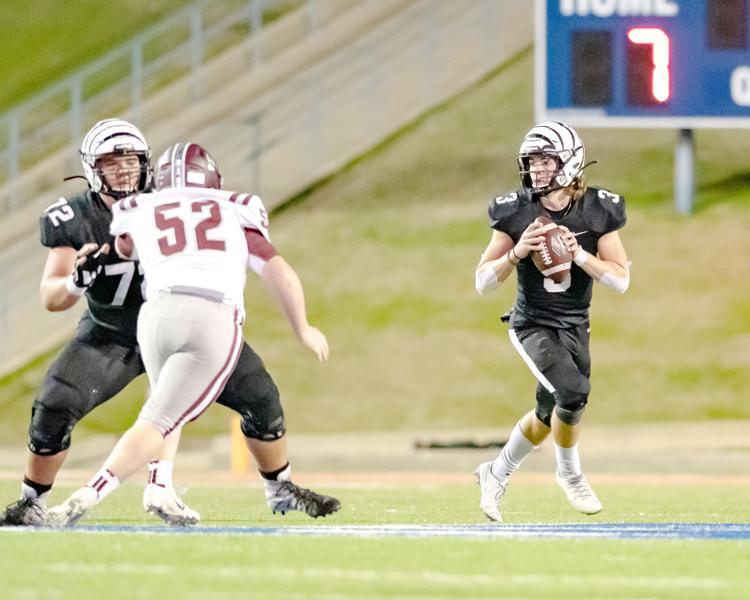 Ebner said defending a quarterback like Worthen and an offense like Glen Rose, you can't be predictable on defense.
"You've got to mix it up," Ebner said. "You can't just give them one look. Between [Worthen] and the coaching staff, they're going to see what you're doing and adjust. Against any good coaching staff, you're going to see different looks on defense and offense. You have to keep changing things up so they don't get comfortable in what they're doing."
Through Grandview's first three games this season, Jentsch has completed 54-of-86 passes for 669 yards with eight touchdowns and no interceptions to go along with 143 rushing yards and a touchdown on 31 attempts. Luke Ferguson (15 catches, 204 yards, four touchdowns) and Kason English (16 catches, 272 yards, two touchdowns) have been Jentsch's go-to targets in the passing game.
After the graduation of workhorse running back Tremayne Gullatte, the Zebras entered 2020 with unproven commodities at the position. But Gavin Leftwich, J.J. Castillo and Brycen Davis have done a more than adequate job in the backfield so far.
"I think as a group, they've continued to get better," Ebner said. "Leftwich hit his stride against Salado and continued that against Godley. Castillo got some carries against Godley and ran hard. I think they all add a different twist to what's going on. From a defensive coordinator's perspective, [those three different style running backs] puts a wrinkle in there that you've got to make sure you're prepared for. We look for them to continue to get better and we're extremely happy with what they've done as a group."
Facing a solid Glen Rose defense — led by Jace Karels and Max Hood — Ebner said the Zebras have to be sound in all aspects on offense.
"We're going to have to do a good job of continuing to get those hard yards," he said. "We have to communicate up front to give our running backs space. Once we find that space and get to the second level, our running backs will have to break a tackle or two to get some extra yards. Passing-wise, it'll be finding holes in their defense. Instead of just running around, we're going to have to read what Dane's reading and find those spaces we can settle in and then get some yards after the catch. We need to be making sure we're all on the same page with what we're all seeing."
Kickoff is scheduled for 7:30 p.m. Friday from Zebra Stadium.