GRANDVIEW — After running the table in District 17-3A for a second consecutive season, the Grandview Zebras headline the all-district team with eight selections.
The Zebras went 14-0 in district play, their second straight undefeated district title as Grandview pushed its winning streak in district play up to 30 games.
Grandview received five superlative accolades, led by district MVP in senior Travis Massey, who recently committed to Midwestern State University.
"He stepped up big-time this year," Grandview Coach Joel Moore said. "I think he could've been the MVP last year as well, with [Michael] Masella. Massey scored the ball really well and rebounded really well. He just played the best out of anybody in the district, in my opinion."
At 6-foot-7 but with guard skills, Massey was a mismatch against most Class 3A opposition as he averaged 17.8 points per game with 6.2 rebounds, 2.5 assists, 1.5 steals, and 1.1 blocks per game. Massey was a four-year letterman for the Zebras as he helped Grandview win 96 games over the past four seasons, including a trip to the UIL state tournament in 2017-18.
For a third consecutive year, Grandview junior Dametrious Crownover received an all-district superlative award. And for a third time, it was a different superlative award as Crownover was voted co-offensive player of the year along with Keene senior David Lopez. As a freshman, Crownover was newcomer of the year. And as a sophomore, Crownover was defensive player of the year. 
"Because of his size and abilities, he affects the game so many different ways," Moore said. "Obviously, he was a freshman when he got newcomer. Last year, the way he changed shots and rebounded is why he got defensive. He did that this year as well, but he also opened up so many things for us offensively because he garnered so much attention from the other team. He averaged 12 points per game but he was probably responsible for, I'll just guess, around 30 points per game."
Crownover averaged just under 12 points per game with 6.8 rebounds, 2.6 assists, 1.6 steals, and 2.6 blocks per game.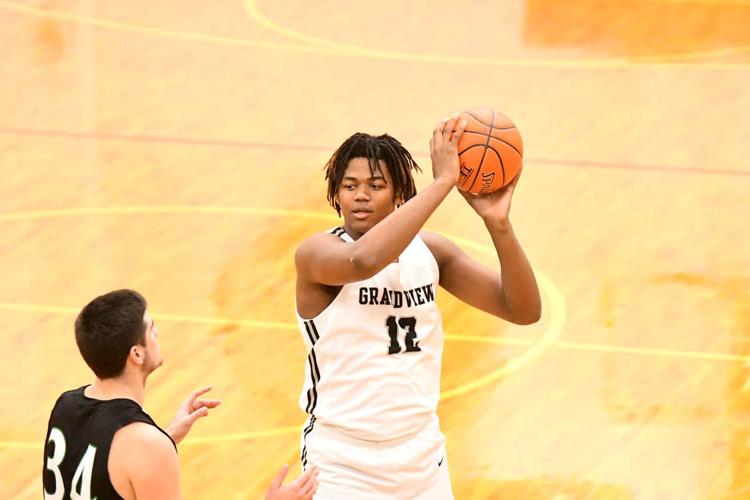 Joining Massey and Crownover as superlative recipients for the Zebras is junior point guard Dane Jentsch as the 17-3A co-defensive player of the year along with Whitney's Devin Wilson. Jentsch led the Zebras with 2.3 steals per game and 3.3 deflections per game in addition to just under four rebounds and 5.1 points per outing.
"He played real hard defensively and was always real active," Moore said. "He got a whole bunch of deflections and led the team by a mile in deflections along with a whole bunch of steals. he wasn't afraid to dive on the floor for balls. He was just very active and very competitive defensively."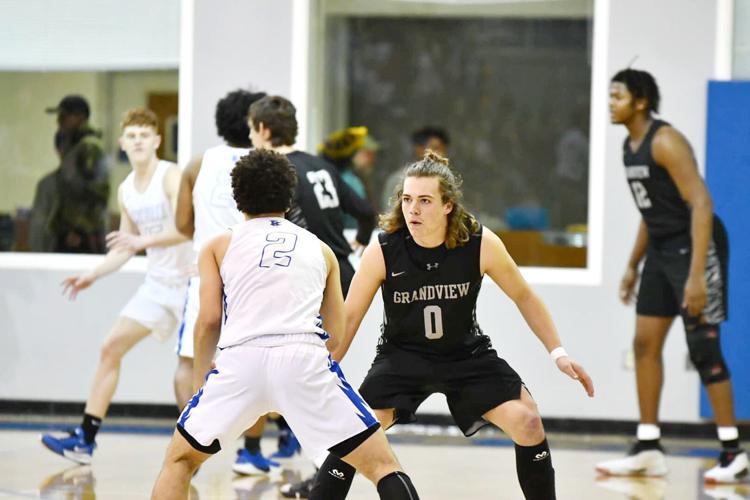 Grandview senior Jacob Patterson continues the Zebras' superlative selections as co-sixth man of the year along with Keene sophomore Julian Pilgrim. Patterson was a starter last year, but accepted a role off the bench for the Zebras as he overcame an injury suffered from football season.
"He's good enough to be a starter and he was probably one of our five best players," Moore said. "He came out of football off an injury and when he got healthier we had a conversation that he's been good coming off the bench and he said he's good with that role so we kept it that way. I went back and forth about moving him back into the starting lineup, but it was working so well we kept it how it was.
"He's a great defender, on the ball and off the ball. He's good at anticipating passes. He rebounds the ball pretty well. And he's probably one of our better passers. He has good vision of the court. And he has size at 6-1 so he's able to keep us big on the court."
Rounding out Grandview's superlative awards is Moore as the coach of the year after guiding the Zebras to their third straight district title overall and fourth straight playoff appearance.
"I'm only as good as the guys that surround me and the players that play for me," Moore said. "They usually give [coach of the year] to the district champion every year so it's more of a product of the kids. I can't do what I do without my assistant coaches, so it's a coaching staff award and a program award."
After finishing second behind Grandview in District 17-3A, Keene received six total all-district selections, with Lopez as co-offensive player of the year and Pilgrim as co-sixth man of the year the Chargers' top selections.
"To me, what made him dangerous offensively was his versatility," Keene Coach Jason Hill said of Lopez. "He was able to score in transition. Compared to last year, he really improved on scoring off the dribble with pull-up jumpers and also getting to the rim. Last year, he was a solid 3-point shooter. He still had that weapon but he added the ability to score off the dribble and be more versatile."
Lopez led the Chargers with just under 13 points per game in district.
"Julian was kind of the same as David," Hill said. "They balanced each other. Julian averaged 10.5 points per game. He was really strong in transition, could get out in passing lanes and create scoring opportunities. But this year, compared to last year, he got a lot more efficient in shooting the 3 ball. So if you got out on him at the line, he was able to go by people, and if you gave him room, he could knock it down."
In addition to Grandview's five superlative awards, the Zebras also received a pair of first-team selections in seniors Luke Drollinger and Braeden Lawson and a second-team nod in senior Cole Cannon.
Moore said he was pleased with how the all-district voting went for his players.
"It actually went better than I thought," he said. "I wasn't sure if we'd get some of the selections we got. But we didn't play a game closer than 13 points in district, so I felt like the kids deserved all they got."
The Chargers received a pair of first-team and second-team selections. Seniors Chris Posey and Josiah Hazelton each received first-team honors for Keene while sophomore Kevin Franco and junior William Heine garnered second-team honors.
"Us getting that many [all-district selections] is representative of how our team was," Hill said. "We were very balanced. Grandview's the same way; they had the best player in district but also had a lot of players to contribute to their success. That's how we were. It wasn't like we were just one or two players. All six players who received all-district were huge to our team. David was our leading scorer at 12.5 points per game, so that shows you it was balanced. On another team, David could've averaged 16 to 18 points per game. We had so many guys who contributed. That's how our team was put together. Our guys all bought into their role on the team to help us be successful.
"I feel like it was a very successful year for us. We had some guys returning but we had some new guys in there, too. We won 22 games and we've got seven or our 12 guys back so we'll have some playoff experience for next year."
Rio Vista received a pair of second-team selections in senior Billy Bob Bridges and junior Anthony Perez.