While 2019 didn't necessarily match 2018 in terms of overall team and individual success throughout Johnson County, it was still a memorable and successful year when compared to other years.
In 2018, four teams made it to the state level of competition (Grandview football, Godley baseball, Grandview softball, Grandview boys basketball) while two individuals won state titles in track. In 2019, only two (if we count Blum, which sits just outside of Johnson County) teams made it to state and only one individual won a state title in track.
Again, 2018 was an all-around, ultra successful year for local teams making state runs, so it's hard to compare 2019 to what was a truly special 12 months the year before.
With that said, 2019 will certainly be remembered by many throughout Johnson County. And, like last year, we don't have to look back far when recognizing the top sports moments in Johnson County from the past 12 months.
1. Zebra football goes back-to-back
A year after winning their first-ever football state title, the Grandview Zebras defended their title and won a second consecutive state championship.
The Zebras closed out a phenomenal decade — where Grandview went 103-24 — in the most impressive way imaginable as back-to-back state champs, becoming only the 55th team since 1920 to win two championships in a row.
In Ryan Ebner's first year as head football coach, Grandview finished 2019 with a 15-1 record, its only loss a 26-21 defeat at Whitney on Nov. 1. 
The Zebras' playoff path included wins over Rockdale in bi-district (42-7), East Chambers in area (43-29), Cameron Yoe in the third round (45-14), Troy in the regional finals (34-13), and Columbus in the state semifinals (41-21) to reach AT&T Stadium for a second straight year.
In the Class 3A Division I championship game on Dec. 19, Grandview scored three unanswered touchdowns in under 4 minutes to take a 21-7 lead — a lead the Zebras wouldn't relinquish.
The difference in the game came in the third quarter with the Zebras holding a 28-21 lead. Pottsboro had a first-and-goal at the 3-yard line, but the Zebras held the Cardinals out of the end zone five times. On Pottsboro's second fourth-down attempt from inside the 1 following a Grandview penalty, Dane Jentsch dropped Pottsboro's quarterback for a loss of two to force a pivotal turnover on downs and preserve Grandview's seven-point lead.
From there, the Zebras went 97 yards — as Jentsch threw a 40-yard pass and had a 40-yard run — to reclaim a two-score lead on a touchdown run by Tremayne Gullatte. 
The Cardinals scored to make it a one-possession game again, but Grandview went on a long, time-consuming drive to again grab a 14-point lead. But, yet again, the Cardinals answered quickly to cut the deficit to 42-35. However, Pottsboro's onside kick went out of bounds as Grandview held on for another historic win.
Jentsch was voted the offensive and defensive player of the game for a second consecutive year, but the junior quarterback handed the offensive MVP plaque to Gullatte after the senior running back tied the 3A championship game record with five rushing touchdowns.
2. Blum pulls offhuge upset for title
Even though Blum doesn't reside in Johnson County, it's close enough to include here, especially considering the historic accomplishment of the Bobcats by winning their first-ever football state title in 2019.
The Bobcats were heavy underdogs — even considered 45-point underdogs by some accounts — in the Class 1A Division I six-man state title game vs. defending champ McLean on Dec. 18. But Blum defied the odds and beat McLean, 58-52, in perhaps the most entertaining football state championship game of 2019, regardless of classification.
Blum faced a 22-8 deficit late in the first quarter, but the Bobcats scored 32 unanswered points to grab a 40-22 lead late in the third quarter. McLean wouldn't go quietly, however, as the Tigers rallied and tied the game at 52-52 with 2:15 remaining.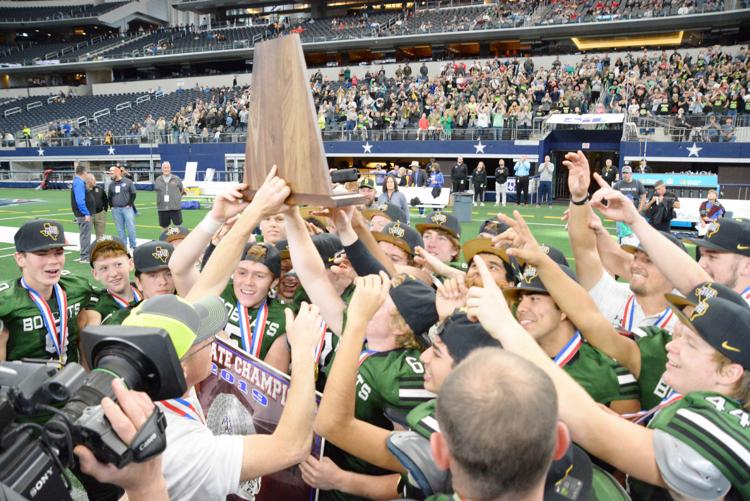 From there, the Bobcats (13-2) went 60 yards in three plays, aided by a McLean defensive pass interference penalty, as Coltin Gonzales scored on a 29-yard run with 58 seconds left for his fifth rushing touchdown of the game to go along with 232 yards as he earned offensive MVP honors.
The Tigers (13-2) got down to the Blum 30-yard line with 3 seconds left, but McLean's final play fell short of the end zone as the Bobcats secured their first-ever state title in dramatic fashion. It was also the first-ever six-man football state championship game ever aired on live TV.
Blum finished the season on a 13-game winning streak after starting the season 0-2.
3. McKittrick wins gold at state, again
For the second year in a row, Godley's Meritt McKittrick won a state championship at the UIL state track and field meet.
McKittrick took first place in the girls 400-meter dash wheelchair event in May. It was the second state title for McKittrick, who also won the 100-meter dash wheelchair in 2018 as a junior.
"It means so much to me," McKittrick said. "I would've never thought that any of this would be possible before I got involved. I couldn't think of a better way to end my track career."
The 400 wasn't even close at the finish line as McKittrick finished with a time of 1:15.65 — with the second-place finisher clocking in at 1:19.09.
Also for the second year in a row, McKittrick earned a silver medal to go along with a gold medal. She finished second in the 100-meter dash wheelchair, just barely missing out on defending her state title as she crossed the line at 20.78 seconds, right behind first place's time of 20.71 seconds.
A four-year state qualifier, McKittrick wrapped up her track career with six state medals.
In addition to two golds and two silvers, McKittrick won a pair of bronze medals with third-place finishes at state in the 100 and 400 races during her sophomore year.
While McKittrick was a force to be reckoned with on the track, she also went above and beyond to help raise money and awareness for wheelchair-bound athletes, including a charity wheelchair basketball game at Godley High School in March.
4. Lady Charger basketball has best season ever
The 2018-19 basketball season for the Lady Chargers will long be remembered as Keene put together its best season in program history.
The Lady Chargers set a school record with 30 wins (30-8), they claimed their first-ever outright district championship, and they matched Keene's deepest playoff run in program history (1995) by advancing to the Class 3A Region III tournament.
The Lady Chargers' season ended in the semifinals with a 50-40 loss to No. 3 Woodville, the eventual state runner-up.
Keene's playoff run opened with a 68-14 win over Corsicana Mildred in bi-district. The Lady Chargers took down Teague, 62-43, in the area round. And Keene beat Little River Academy, 44-35, in the regional quarterfinals. 
Keene's Grace Stephens was the All-Johnson County and District 17-3A most valuable player for the 2018-19 season, wrapping up a stellar four-year career with the Lady Chargers. Keene coach John McFarlin was the All-Johnson County and all-district coach of the year.
5. Keene golf qualifies for state
For the second time in three years, Keene girls golf advanced to the UIL state golf championships.
The Lady Chargers finished the 2019 campaign strong with their best team performance in round 2 at the state event. Keene shot a team record 372 on the second day to push them into sixth place in Class 3A with a two-day score of 770.
The Lady Chargers played their best at the right time. In three of their final four rounds of the season, Keene established new team personal records. In the first round of regionals, Keene shot a team PR of 377 then followed that up with a 376 in round 2 of regionals, before establishing a new team PR with 372 on the biggest stage.
Brooke Hinerman finished with a 166 (83-83) to finish seventh out of 74 golfers. Missie Kilo finished at 197 (104-93) while Grace Stephens shot a 202 (101-101) with Nency Gonzales finishing at 205 (110-95). Freshman Lily Moore, the only underclassmen on the team, finished at 218 (113-105).
"For a bunch of girls who had never played golf until the summer of their eighth-grade year — except for Brooke — it's pretty good to go to state twice and finish sixth overall one year," said Ricky Stephens, Keene ISD's superintendent and golf coach.
Stephens said that group of Lady Chargers raised the bar for Keene golf — and Lady Charger athletics overall.
"It's a battle learning how to play golf," he said. "Golf's not an easy sport. For them to have battled through the 120s and the seven-hour rounds and the embarrassment of not being able to play when they started out, then to fight where they became really good golfers and make it to state twice, that's great and it motivates me. This group of girls has definitely set the bar high."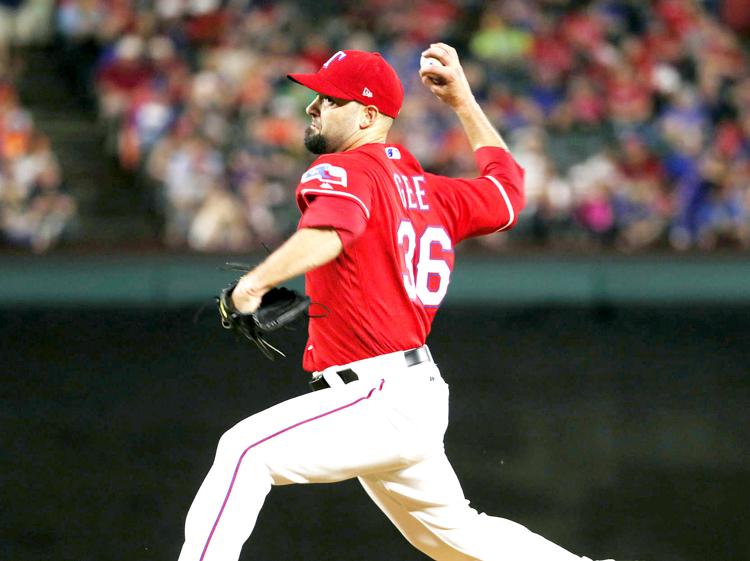 6. Dillon Gee retires from pro baseball
In late January, Cleburne's Dillon Gee announced his retirement from the game of baseball after 10-plus seasons of playing professional baseball.
Gee spent eight seasons in MLB; six with the New York Mets, one with Kansas City, and parts of one season with Texas and Minnesota.
Gee told the Times-Review that if it were up to him, he would've still tried playing in 2019, but he dealt with injuries throughout this career, including several scares with blood clots on multiple occasions — in 2012 with the Mets, 2016 with the Royals, and again in 2018 playing for the Chunichi Dragons of the Japan Central League.
Gee was selected by the Mets in the 21st round of the 2007 MLB Amateur Draft. In his eight-year MLB career, he posted a 51-48 record with a 4.09 ERA. He struck out 619 batters in 853.2 innings and had a 1.3 WHIP ratio. One of Gee's best seasons came in 2013 with the Mets as he posted a 3.62 ERA and had several dominant stretches. He was named New York's Opening Day starter in 2014.
After his tenure with the Mets ended, he was picked up by the defending World Series champion Royals in 2016 and pitched 125 innings before his season ended prematurely due to a blood clot. The following year, Gee started out in Texas' minor-league system before living out a lifelong dream by appearing in four games with his hometown Rangers. He finished out the 2017 season with the playoff-bound Minnesota Twins, and Gee last pitched for the Chunichi Dragons in 2018.
7. Jacket baseball ends memorable decade with 8th district title
From 2010-19, Cleburne baseball was the epitome of consistency. The Yellow Jackets, led by coach Ross Taylor, won eight district titles and made the playoffs nine years.
Cleburne boasted a .758 winning percentage as the Jackets won 292 games in the decade (an average of 29.2 wins per year). Cleburne made one state final appearance, two regional final appearances, four regional semifinal appearances, and two regional quarterfinal appearances.
While Cleburne baseball was consistently great over the past decade, the Jackets' 2019 season in itself featured a few up-and-down moments.
Cleburne went 9-3 in a tough District 14-5A to secure its eight district championship of the decade, with an assist from Joshua, which beat Corsicana on the regular-season finale to give the Jackets the district title outright.
Cleburne edged Kaufman in a three-game series in the bi-district playoffs, then the Jackets swept Whitehouse in area before falling to district foe Midlothian in a hard-fought three-game series.
Taylor was the all-district and All-Johnson County coach of the year for what seemed like the eighth or ninth time in the past 10 years alone. Cleburne junior shortstop Cason Gregory was the all-district and all-county defensive player of the year, and freshman Cooper Schneider was the all-district and all-county newcomer of the year. Senior Willie Rangel finished his four-year career with the Jackets as the all-district offensive player of the year.
8. Robinson, Smith shine for Tulsa football
From former Smith Middle School teammates to key contributors for Tulsa football, 2019 was a memorable year for Johnson County football fans as they watched Cleburne's Reggie Robinson II and Grandview's Zach Smith have productive years for the Golden Hurricane.
Both Robinson and Smith each received recognition on the American Athletic Conference honor roll team and players of the week at least once throughout the season.
Robinson's senior season with Tulsa ended with 38 tackles, as well as a team-leading four interceptions, 13 pass break-ups and 17 passes defensed, to go along with two fumble recoveries and a blocked kick. The former Yellow Jacket standout allowed only one touchdown all season. Robinson led the American Athletic Conference in interceptions and pass break-ups, and was a first-team all-conference selection.
Robinson will represent Tulsa one final time as he received an invite to the prestigious Reese's Senior Bowl, a postseason all-star game reserved for the top NFL draft prospects.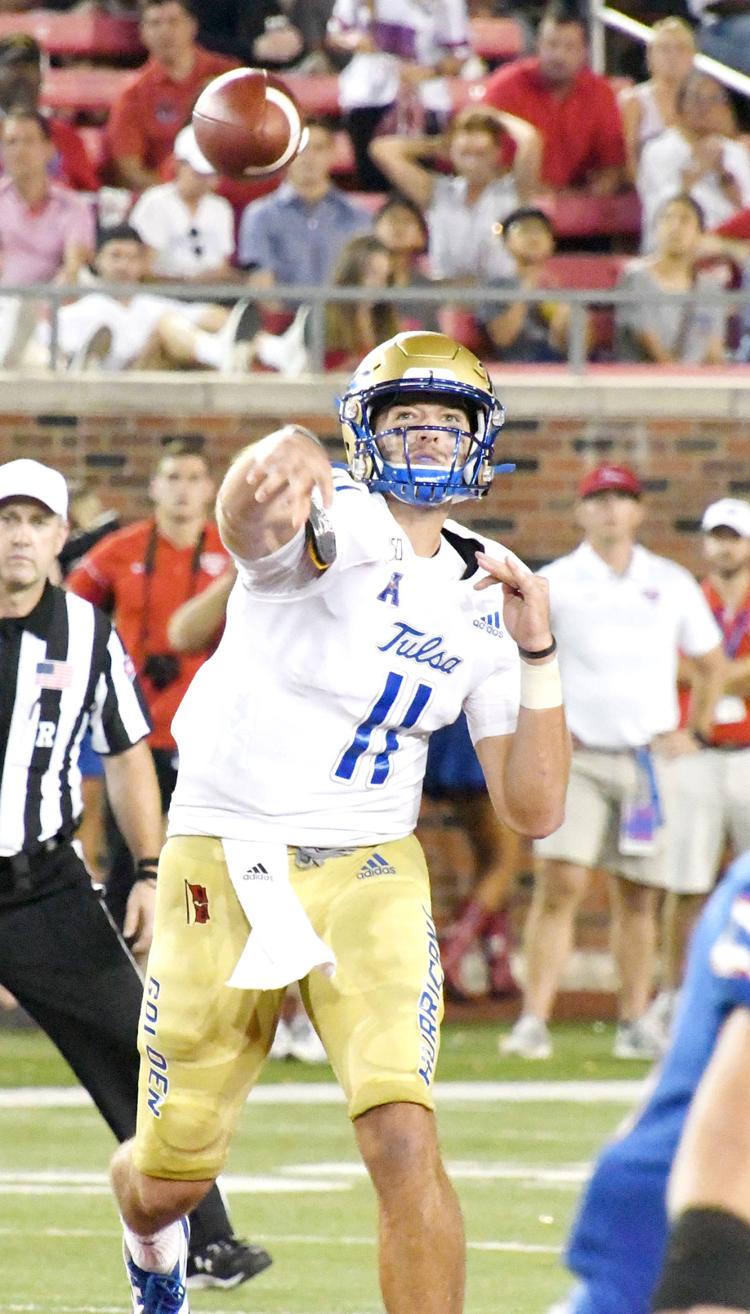 Smith finished his debut season with Tulsa with 3,279 yards (16th in the nation) as he completed 246-of-429 passes for 19 touchdowns and nine interceptions for a quarterback efficiency rating of 132. It was Smith's first season back in action after having to sit out the 2018 campaign following his transfer from Baylor.
Big things are continued to be expected out of both Robinson and Smith moving forward. Robinson is expected to go in the first half of the NFL's seven-round draft in late April. And expectations are high for Smith's senior season with a Tulsa offense that returns the majority of its starters.
9. Davis retires, Ebner promoted to Zebras' head football coach
After leading Grandview to the 2018 state championship, head coach Brad Davis announced his retirement in early January 2019. And it didn't take long for Grandview to find his replacement as defensive coordinator Ryan Ebner was promoted to head football coach a couple weeks later.
In his two seasons guiding Grandview football, Davis led the Zebras to a 26-4 record, including a state championship in 2018 and a trip to the regional final in 2017.
Davis coached 34 years, including 32 years at Wolfforth Frenship, where he was head coach for 11 years, winning 102 games and eight district titles after taking over for his father, Bobby Davis. Davis finished his head coaching career with an impressive record of 128-38.
Davis said finishing his coaching career by winning a state championship was more than he could have dreamt of.
"It doesn't get any better than to go out on top," Davis said. "That's the pinnacle. ... It's a great feeling to have accomplished that and knowing it was my last year to coach just makes it that much more special."
When Davis informed the players and coaches of his plans to retire, he knew he was leaving Grandview football in good hands.
"I told them I don't worry about Grandview dropping off any because I know [Superintendent Joe] Perrin will make sure this program continues to be successful. I assured them ... they'll get the right guy hired and they won't miss a beat."
Turns out, Davis was spot on.
In his first year as head football coach, Ebner led the Zebras to a 15-1 record and a second straight state title.
In addition to 15 years as Grandview's head baseball coach, Ebner spent four seasons as the Zebras' defensive coordinator, turning Grandview's defense into a state-championship unit.
Ebner finished out the 2019 baseball season as head coach before hiring Riley Good as his replacement. Ebner built the Grandview baseball program into a perennial contender, with district titles and deep postseason runs a yearly occurrence. Ebner, a multiple-time All-Johnson County baseball coach of the year, finished his baseball coaching career with 302 wins.
10. Railroaders have strong year, tough ending
Under new ownership and leadership in 2019, the Cleburne Railroaders experienced their most successful season since their rebirth in 2017.
Cleburne won 24 more games in 2019 than it did in a dreadful 2018 season as the Railroaders went 57-43. Cleburne sat in first place in the South Division of the American Association throughout much of the season, but the year ended in heartbreaking fashion as the Railroaders missed the playoffs on a tiebreaker.
After a 13-18 start to the season, Cleburne became the hottest team in the league as the Railroaders won 10 consecutive series, including a stretch of 24 wins in 30 games.
But in a race for the playoffs, Cleburne went 4-8 in its final 12 games, missing the playoffs by virtue of a tiebreaker.
Despite the bitter ending, it was still a memorable summer for the franchise and Railroaders' fans. In addition to a 24-win improvement from the 2018 season, Cleburne had five players selected for the American Association All-Star Game, four more than the club had the previous two years combined. And Railroaders President John Junker said Cleburne also smashed attendance records in 2019.
In his first season as Cleburne's director of baseball operations, Josh Robertson was voted the American Association executive of the year, an deserving honor after he was forced to make 48 roster transactions throughout the season due.
The Railroaders also made national news a couple days before the season even began by releasing former MLB All-Star Rafael Palmeiro.
Cleburne signed Palmeiro and his son, Patrick, in May 2018. The elder Palmeiro hit .301 with six home runs and 21 RBIs in the 2018 season, but he was limited to 31 games due to injury. Entering the 2019 season, the 54-year-old still wasn't 100 percent healthy, which was the primary reason the Railroaders released the former Texas Rangers' standout.