GRANDVIEW — Before Grandview's Colby Diduch trots out to the mound for the first game of his senior season, the Zebra standout will already have his collegiate future secured after recently signing with The University of Texas at San Antonio.
Diduch has been a key contributor for Zebra baseball since his freshman season in 2017, earning multiple all-district and All-Johnson County honors. And once his high school career with Grandview is over, he will head south to join the Roadrunners baseball program.
"This is something that I had been wanting to do since I was a young kid," Diduch said. "Getting to sign with a Division I school, it meant everything to me and my family. It has always been a big deal to me to play college baseball. While I was being raised, my brother, dad and I would go practice at Cleburne High School, always trying to get better, and it's crazy to see it come true. A lot of hard work and missed weekends are paying off now."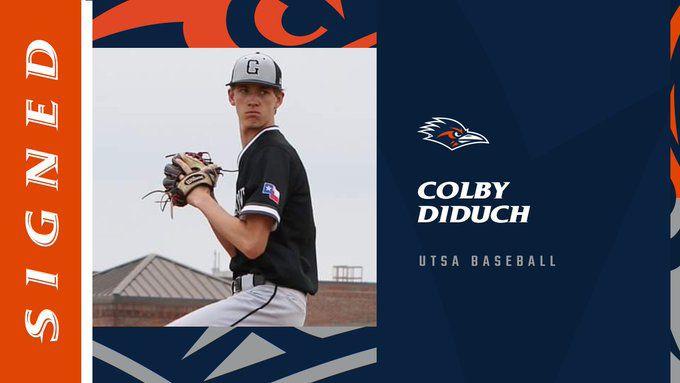 Grandview head football coach and athletic director Ryan Ebner — previously the Zebras' head baseball coach — has watched Diduch grow up since he was in elementary school. And Ebner said he's proud to see someone's hard work pay off.
"I was extremely excited for him," Ebner said. "He's worked really, really hard. That's the fun part is to see a kid want and dream about something and then put the work in to get it. All the games he plays during the summer, and then all the extra hours he puts in in the weight room and cages, it's that hard work that nobody sees. Any time a player puts in the hard work like that and is able to get what they're working for, you're extremely happy for that individual."
New Grandview head baseball coach Riley Good said he believes UTSA is a great fit for Diduch — having firsthand knowledge of the type of program UTSA baseball is after playing for the Roadrunners himself in college.
"It's awesome any time a kid gets to move on to the next level and keep pursuing his dream," Good said. "It's everything you wish for as a coach. We have a lot in common with UTSA since I played there. Seeing the joy and excitement in his face, you can't be any more excited for him.
"I told the old coaches at UTSA about him, and when the new coaches got in, they couldn't get onto him fast enough. We've been talking about UTSA the whole time with what to expect and all that stuff. I can't be more excited for him."
Last season, Diduch struck out 56 batters in just 33 innings pitched with only 11 earned runs, 13 hits and 16 walks allowed for a 2.58 ERA. As a sophomore, Diduch struck out 59 batters in 43 innings pitched.
"We are excited to have Colby coming to UTSA," Roadrunners' head coach Pat Hallmark said. "The body, arm and pitching ability project him to be a top pitcher for us in the future."
Diduch said it was Hallmark and the coaching staff that sold him on deciding to sign with UTSA.
"The coaching staff at UTSA was a really big deal to me," Diduch said. "Coach Hallmark, coach [Scott] Shepperd, and coach [Ryan] Aguayo did some great work while at [University of the Incarnate Word], and when they reached out to me it was a no-brainer.
"I'm super excited to go play against and with such a high level of ball players and try to learn as much as I possibly can from them."
While Diduch is a standout pitcher, he also has a well-rounded game, which has been a big positive for the Zebras, Ebner said.
"He's been an excellent player since his freshman year for us," Ebner said. "He gives you a lot of phases of the game — good bat in the lineup, great to have on the bump, and he's a great positional player. He can help your team in a lot of different ways. When you have players like that on your team, it's always good as a coach because you can pretty much put him anywhere and he'll play it at a high level."
Good has big expectations for Diduch in his senior campaign for Zebra baseball.
"I expect him to step in and be the leader of our team," Good said. "He's finally realizing his potential and what he can do. The confidence of knowing he's the guy this year, I think that will help him take a big step forward. With how hard he's worked and the commitment he's put forth in the offseason, you can see the difference. I expect him to be the leader he is and do big things for us."
While Good has high expectations for Diduch, the future Roadrunner has the highest of hopes for the Zebras in 2020.
"My hopes and expectations this senior year is to go out there and try to put the best ball club we've had out there and go win a ring," Diduch said. "The football team won state last year and they're trying to go for it again this year. And I'm trying to help our baseball team get a ring as well. I think we can do it. We have a good team and I'm excited to see what we can do this year."