WACO — The Grandview Zebras took another step forward in their quest for back-to-back state championships with a commanding 34-13 victory over Troy in the Class 3A Division I Region III final Friday at Waco ISD Stadium.
The No. 2-ranked Zebras (13-1) scored 27 unanswered points after No. 6 Troy took a 7-0 lead midway through the opening quarter as Grandview will play Columbus in the Class 3A Division I state semifinals.
After the win, Grandview head coach Ryan Ebner simply talked about the pride he feels regarding the effort his team has put in to reach this point for a second consecutive season.
"It means they've put in a lot of hard work, the players and coaches," Ebner said. "I'm just extremely proud of their effort all through the week and all through the season. They've continued to fight. I just can't say enough about the effort of our players and coaches."
Following a 44-yard touchdown run by Troy's Zach Hrbacek, the Zebras answered on their next possession as junior quarterback Dane Jentsch scored on a one-yard run, the first of his four rushing touchdowns on the night, to tie the game at 7-7.
Midway through the second quarter, Jentsch connected with Cooper Deans for a 30-yard pass to set up a seven-yard Jentsch touchdown run as Grandview took a 14-7 lead with 6:23 left in the first half.
After a Grandview fumble, the Zebra defense forced Troy into its second turnover on downs of the half at the Zebra 33-yard line with 30 seconds left.
Instead of being content with a 14-7 halftime lead, the Zebras went on the attack. After a six-yard run by Elijah Golden, Jentsch threw passes of 18 yards to Luke Ferguson and 12 yards to Austin Boyd, the second of which came with 1 second remaining.
Ebner sent out Nathaniel Baker for a 48-yard field goal, which the senior kicker nailed to give the Zebras a 17-7 lead at halftime and a huge momentum boost going into the break.
"That was huge," Ebner said. "It was a huge boost for us going into the locker room. He was excited and the kids were fired up. As far as the game, I would say it was probably the play of the game for us. It was huge to go into halftime with a two-score lead."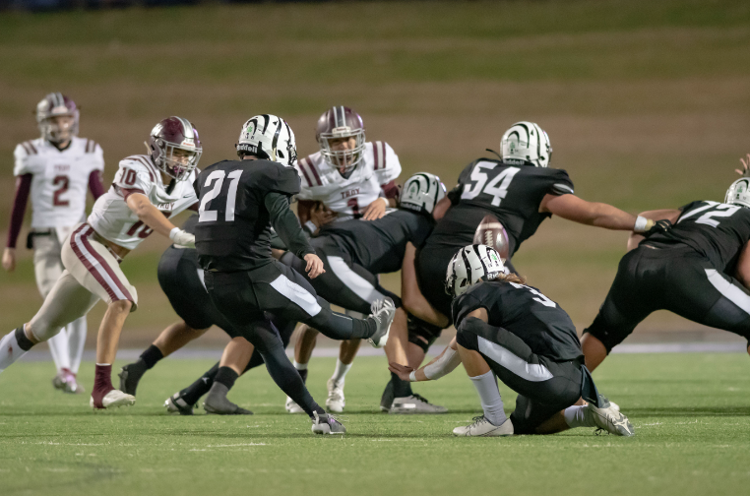 Earlier in the half, Baker had a 19-yard kick blocked, but he said his teammates' support helped him have the confidence to connect on the 48-yarder.
"I was beating myself up a little bit but my teammates had my back and they told me to go on to the next play," Baker said. "That ended up being pretty big because if I had that in my head still, then I probably wouldn't have made it. I was excited.
"Going into the half, that was really big. It ended up being a big momentum changer. The score may not say it, but it was a big deal."
After both teams exchanged punts to open the third, the Zebras started to take control. Grandview went on a seven-play, 54-yard drive, highlighted by a Jentsch 23-yard run on fourth-and-1 and capped off by a Jentsch 12-yard touchdown run for a 24-7 lead with 1:36 left in the third.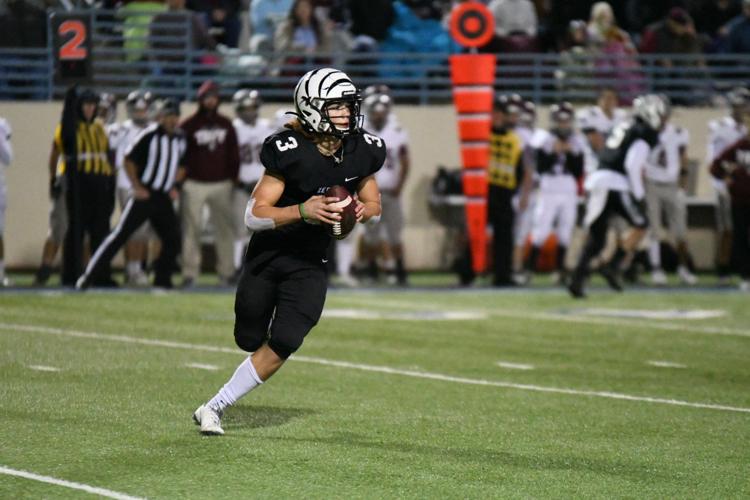 On the Trojans' first play of its next drive, Troy quarterback Ben Presley was intercepted by Jentsch, who returned it 32 yards to the Zebra 25.
"When you're facing an offense as explosive as theirs, any time you can steal a possession, it's always going to help you out in the end," Ebner said of the pick.
A holding penalty derailed the Zebra drive after the takeaway, but Baker hit another long field goal — this one from 38 yards — to give Grandview a 27-7 advantage with 11:06 left to play.
Troy (12-2) tried to make things interesting as the Trojans pulled to within a 14-point deficit after a Hrbacek 51-yard touchdown run.
And then things really appeared to get interesting for a brief moment when Troy recovered the ensuing onside kick, but the Trojans were called offsides on the kick, negating the recovery. Troy's second attempt at the onside kick failed, and Grandview took over at the Trojan 37.
Three plays later, including a 24-yard run by Golden, the Zebras put the game away with a one-yard Jentsch touchdown run to produce the final margin.
Golden rushed for 85 yards on 12 carries and continued his stellar play defensively at linebacker with multiple tackles for loss, including a key third-down stop early in the third quarter.
Golden replaced starting running back Tremayne Gullatte, who suffered an apparent injury after rushing for 66 yards on just three carries to start the game. Ebner said Golden filling in for Gullatte was more of the same for a Zebra team that's dealt with more than its fair share of injuries.
"When adversity showed, we had somebody step up, again," Ebner said. "That's kind of been our motto this year, 'next man up.' Elijah got out there and did what was asked of him, and he did it at the level we're used to seeing out of him. Just an unbelievable effort out of him."
Jentsch completed 15-of-23 passes for 154 yards to go along with 72 rushing yards and four scores on 13 carries.
"He just does what he does," Ebner said of Jentsch. "I'm extremely proud of his effort. He's a leader you can count on. When times are the toughest, he's the guy you're leaning on."
Making his return from injury, Grandview receiver Jacob Patterson hauled in five receptions for 43 yards while Boyd had five catches for 45 yards.
Hrbacek was the only thing working for Troy as the junior running back rushed for 226 yards and two touchdowns on 34 attempts.
Presley completed his first two passes of the game before the Zebra defense forced seven straight incompletions as the Trojan quarterback finished 3-of-12 passing for 18 yards and an interception.
Grandview out-gained Troy in total yardage, 410-245, and the Zebras picked up 24 first downs to the Trojans' 13.
Despite Hrbacek rushing for 226 yards, Grandview completely shut down an explosive offensive attack, and Ebner said it was even more impressive considering how much different Troy's offense was compared to Cameron Yoe's, which Grandview shut down the previous week.
"Troy posed some different problems [than Cameron Yoe]," Ebner said. "You're extremely proud of your players when they can switch gears like that and go from preparing for a different team and style of play but still be able to execute the same way."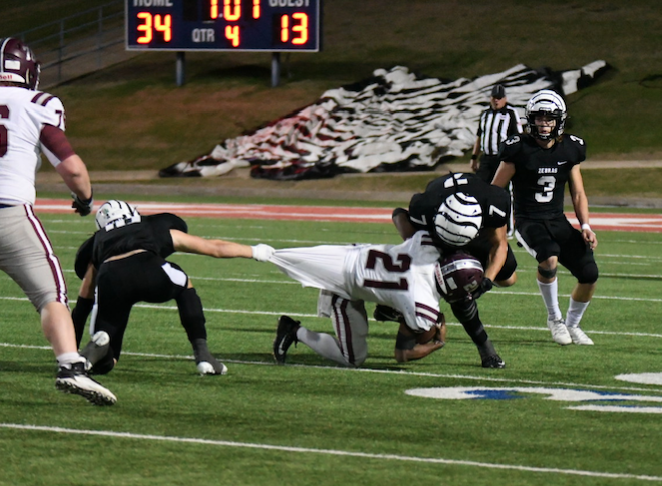 Mirroring last year's state run where Grandview dominated the trenches, Ebner said he was impressed with Grandview's ability to control the line of scrimmage for most of the night vs. Troy.
"I was really proud of the line on both sides of the ball," Ebner said. "With a special back like that, it's really, really tough to keep them out of the end zone. To be able to control some clock as well on offense was big. And a lot of those guys are going both ways, so I'm extremely proud of their effort because it's real hard pushing on somebody for four quarters."
Now the Zebras face the Columbus Cardinals at 7:30 p.m. Friday at Kelly Reeves Field in Round Rock with the winner moving on to the Class 3A DI state championship.
"This win is really big; making school history yet again," Baker said. "We've come back from a lot of adversity early in the season with our teammate Ja'Kobee [Crownover] getting in a car accident and all of the injuries. We're just now starting to get everybody back. That's really big for us and it's great for us to enjoy this together."