GRANDVIEW — The Grandview Zebras and Godley Wildcats are set to square off Friday in one of the more intriguing non-district matchups of the season in Johnson County.
Grandview has opened the 2021 season with a pair of hard-fought wins over state-ranked opponents in two games that went down to the wire while Godley opened its season in week 2 with a blowout win after the Wildcats' week 1 game was canceled.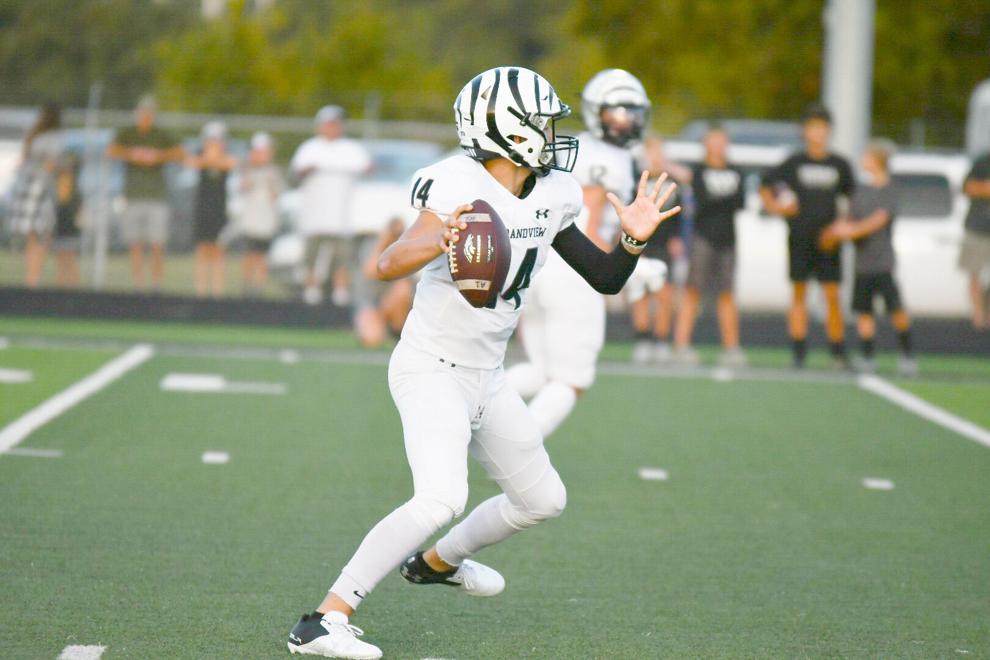 The Zebras have handled themselves well in clutch end-of-game situations. In a 24-21 week 1 win over Malakoff, Grandview blocked a potential game-tying field goal as time expired to win. In last week's 32-28 win over Salado, the Zebras scored the go-ahead touchdown with just over 3 minutes left before the defense made several key plays down the stretch with Salado approaching the red zone.
Grandview Coach Ryan Ebner said he's been encouraged to see how many players have stepped up to make game-winning plays.
"I like it for this group," Ebner said. "With Dane [Jentsch] and those older guys with experience, you're glad to get those wins. But when you have a bunch of new guys out there in different roles, it's nice to see how they've handled it each game. It was, 'This is what we've got to do to win.' We've faced two different styles of offenses and they've adjusted well. I like their attitude as far as playing good teams. They were excited about it and up for the challenge to face teams that were tough. As far as how the games have gone, that's another thing we were impressed about. These kids never got too high or too low, they just made the plays we needed to to win."
For Godley, the Wildcats blew out Castleberry, 62-0, last week in a strong start to their season but Godley Coach Curtis Lowery said losing their week 1 game has them a bit behind.
"I wish we would've had another game for conditioning purposes," he said. "Conditioning is always a concern when you play really good teams, especially early in the season. We know we're going to have to play four full quarters. That's a concern but I feel like our kids are practicing hard and excited to play a tough ball game."
Last year's meeting between Grandview and Godley was the first since 2013 — the two sides, former district foes, finally agreeing to play as non-district opponents. While Grandview vs. Godley may not have the same intense rivalry it once did, Ebner and Lowery said they're excited to play each other.
"I think without a doubt the kids are excited," Ebner said. "We play 7-on-7 against each other. I'm sure they know each other pretty well; some of the kids go to each other's prom and with technology, they're always keeping track of each other. They always see each other at the all-county deals, things like that. It's a short drive and those communities get to stay close to home and watch their kids play football against each other. It's nice to have somebody close to play and still have that excitement you can build during the week going into a football game."
"I think competition is always great," Lowery said. "It's a game that is not a far drive and it's one of those for us personally we get to test ourselves against a top-rated team to see where we're at. Is it a rivalry? There's people in town that consider it a rivalry game and things like that. It's neat to play them. I coached there in the past. I coached with their head coach. My wife's from Grandiew. My in-laws live there. So it's a fun game for me personally and for the kids whose parents grew up here and played Grandview. I always think rivalry and competition brings out the best in people."
In last year's meeting, the Zebras ran away with a 41-7 victory. However, there are multiple new faces at key places on both sides of the ball in this year's meeting. 
No matter what the Zebras lost to graduation, Lowery said Grandview is the type of program that doesn't rebuild.
"Grandview graduated a really good senior class but they've got tradition where they expect to win and they always play extremely hard," Lowery said. "It's not that Grandview lost a great senior class and they're not the same anymore; they're still a really good, top-rated team with a bunch of kids that expect to win a state championship. They're a good team and I know how hard they work over there."
Ebner said he was impressed with the ability of Godley's playmakers — particularly running back Ethan Kazouh and receiver Drew Coleman — in their 62-point explosion last week.
"I thought they did a great job of getting the ball to their playmakers," Ebner said. "They have a bunch of different guys they can get the ball to. They did a great job getting Ethan Kazouh the ball in space. They mix it up to all the receivers. It makes it difficult because you can't just focus on one guy. They do a good job of spreading you out but then when you have a tailback who's explosive like he is, it makes it all the more tougher."
In last week's win, Kazouh racked up 178 rushing yards and three touchdowns on just eight carries while Coleman hauled in 10 receptions for 232 yards and four touchdowns. Ebner said the key to slowing down an offense with big-play weapons like that is to mix things up and then tackle well when in position.
"I think you can't give them the same coverage over and over," Ebner said. "You have to mix that up and mix your fronts up so you're not giving the quarterback and line the same look. Past that, it's doing the fundamentals you've been doing since two-a-days: taking care of your gaps and make a tackle when it's your opportunity to make a tackle."
Lowery said the key for the Wildcats offensively against Grandview's defense is simple: ball security and execution.
"Offensively, we've got to take care of the football; that's first and foremost," Lowery said. "We had a turnover Friday night and you can't do that in big games. It's our second ball game so we're looking to take care of the football and cut down on penalties. On top of that, we need to execute and stay within ourselves and make plays when our number is called."
On the flip side of the matchup, Lowery said the Zebras have to get lined up correctly on defense and then know where Grandview's Kason English is.
"No. 1 is getting lined up defensively so our kids can react and play," Lowery said. "Then tackling well. We've got to eliminate big plays and try to tackle on first contact. Those are our main goals. We've got to know where No. 13 is. That's part of getting lined up and identifying where No. 13 is because he can score from any place on the field."
For the season, English has 10 receptions for 175 yards and three touchdowns, and he is one of those rare players who can take a short pass, make something out of nothing and then take it 70 yards for a touchdown.
Grandview has played two players at quarterback through two games. Ryder Hayes is 23-of-32 for 280 yards with two touchdowns while Brycen Davis, who is a full-time starter at linebacker on defense, is 9-of-12 for 152 yards and four touchdowns.
Ebner said the key for Grandview's offense this week is to be patient with four- or five-yard gains against a Godley defense that is guarding against giving up the home run.
"Talking with [Grandview Offensive Coordinator John] Jay, he said they do a good job of keeping everyhting in front of them," Ebner said. "It's going to be tough to beat them deep. They keep everything in front of them and then fly downhill. You may get a few yards here and there but you're going to have to move the ball methodically and make sure you're solid when you have the ball. Just be real steady in what we're doing and make sure we're doing it the proper way."
Kickoff is scheduled for 7 p.m. from Zebra Stadium.