GRANDVIEW — After running through District 9-3A like a hot knife through butter, the Grandview Lady Zebras garnered an impressive 12 selections in all-district voting.
Not only did Grandview win the district championship with an undefeated record, but the Lady Zebras out-scored their district opponents by a combined 125-0 in eight games, including seven no-hitters.
With that dominant résumé in league play, Grandview received five superlative awards and seven first-team selections.
"Besides the MVP award, I think we represented the 9-3A all-district team very well," Grandview Coach Ron Holton said. "There were a few more spots on there that could have gone either way but I think it all turned out great. These kids worked hard and set many goals for district and they accomplished every one of those goals. These awards are just a small piece of what these girls did this year. I am very proud of them."
As Holton mentioned, despite thoroughly dominating the entire district, a Grandview player did not receive the coveted most valuable player award. That distinction went to Maypearl's Haley Henson, a Hardin-Simmons University commit, as she helped the Lady Panthers finish second in District 9-3A play with a 6-2 record.
Grandview's Morgan Holliday certainly had an MVP-caliber season, but she still managed to garner a superlative award as the district's defensive player of the year.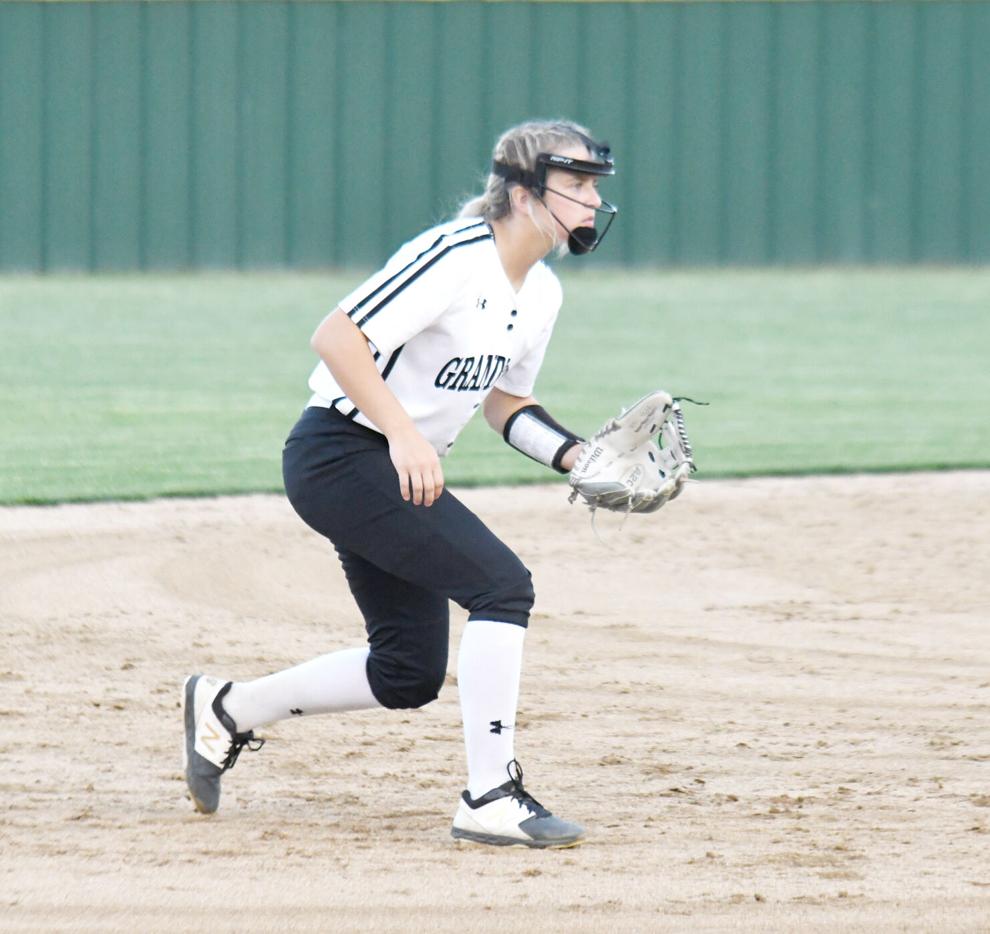 "Morgan Holliday should have been MVP of our district with her defensive and offensive numbers," Holton said. "She lost the MVP award by one vote and it should have been a unanimous decision. When you run-rule teams every district game but one and you keep the opposing team to zero runs every game, sometimes the coaches don't remember the great kids on your team because of the blowout.
"What she did this year is astonishing to say the least: she hit .452 with a .548 on-base percentage. She blew away our home run record and set a new record for her to chase next year with 21, yes 21, home runs. She also smashed her own stolen base record of 31 with 54 this season. But she is the kind of kid that doesn't like the limelight or posting stuff on social media. The records she set this year will be up there for many, many years at Grandview."
Grandview senior and four-year letterman London Cooper was voted the district's offensive player of the year honor. In district play, Cooper hit .636 with 16 RBIs and 15 runs with two homers for a 1.816 OPS in eight games.
"London is a kid that slides under the radar with one or two hits here and there but then you look up at her stats and she has been hitting around .500 all year long and gradually improving her stats every year," Holton said. "She was a perfect candidate for offensive player of the year. What this kid has done here at Grandview is very impressive with her stats. She is going to be a tough one to replace next year and I am going to miss London Cooper. She's a great kid."
Joining Cooper and Holliday as superlative selections for Grandview is sophomore Caydin Blackmon as the pitcher of the year. In district play, Blackmon went 4-0 with only four hits, zero runs and two walks allowed against 37 strikeouts with a 0.00 ERA in 16 innings pitched.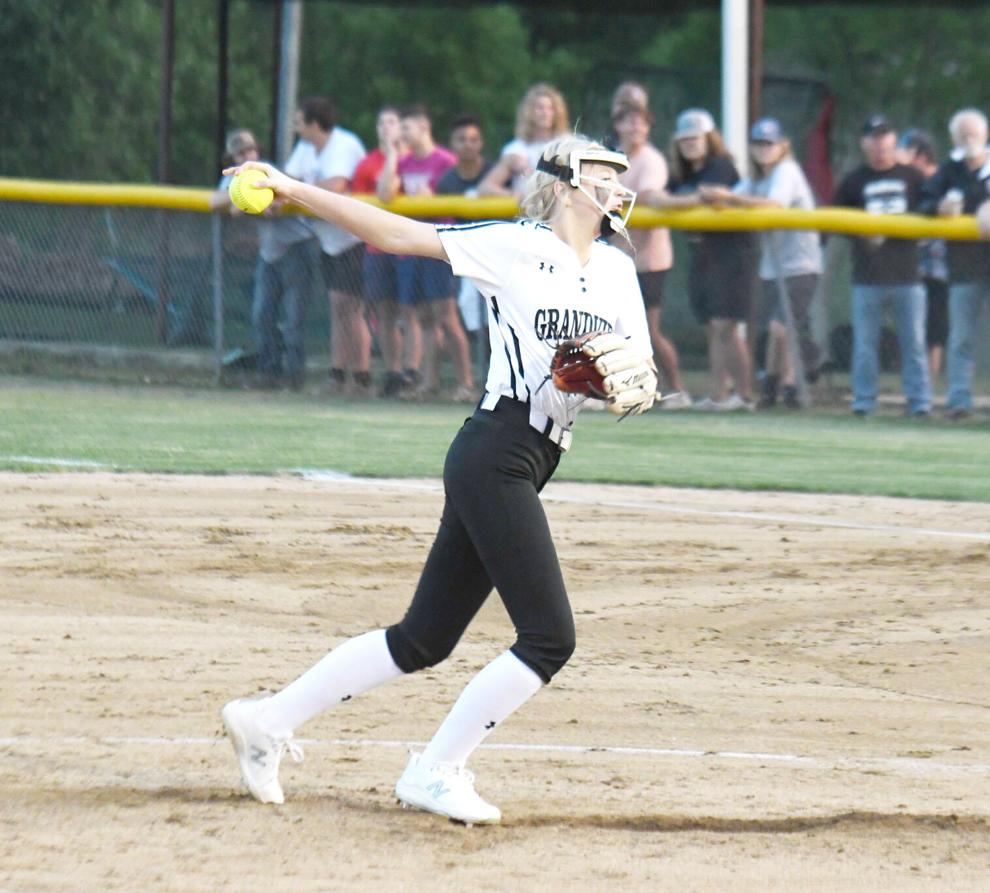 "Caydin was a great addition to our pitching rotation and filled in the role nicely," Holton said. "It definitely took a lot of pressure off Faith Goodgion knowing that she had someone else behind her to pitch after she didn't have that luxury last year. One of the first things Caydin asked me at the beginning of the season was 'What is the strikeout record for Grandview?' So I went digging up as many records as I could and let her know what it was. As the season went on, and we kept winning in the playoffs, she finally broke that record in the regional semifinals with 221 strikeouts in 146 innings pitched. I look for her to push that record even higher in the next two years. Faith Goodgion and Caydin Blackmon will be a 1-2 combo that will be tough for any team next year."
Grandview's superlative recognition continues with freshman Bella Jeter as the district's newcomer of the year. Holton said Jeter is a player that has anxiously been waiting her turn to join the Lady Zebras' dugout.
"Isabella Jeter has been that kid right outside the fence line for as long as I can remember," Holton said. "She would try to get as close to the dugout as possible to know what all was going on the field. I am super excited she received this award and it is well deserved. This kid just keeps on grinding every single day in the cages or at pitching lessons. I am pretty sure she was very nervous at the beginning of the year and we had to find a place for her in the lineup, but once we did she never let it go. I can't wait to see what all she accomplishes here at Grandview."
Jeter hit .714 with eight RBIs and six runs in seven games in district.
Rounding out Grandview's superlative recognition is Holton as the District 9-3A coach of the year, although Holton said it's more of a program honor as opposed to an individual accolade.
"Coach of the year award is really just a Grandview team award," he said. "That goes to all of the athletes and also my assistant coaches. Without any of them, none of that is possible."
Grandview's first-team all-district recipients are seniors Macey Barton (.462), Lily Cordell and Jada Hudson (.588, seven RBIs, 12 runs), junior Faith Goodgion (.611, 11 RBIs, 10 runs; 14 innings pitched, 0 hits, 0 runs, 5 walks allowed for 0.00 ERA), and sophomores Laney Bell (.462, 10 RBIs, 12 runs), Olivia Bauerschlag (.450, nine RBIs, 10 runs) and Kierstyn Moore (.571, 12 RBIs, 12 runs).
Honorable mention for the Lady Zebras include freshman Jadyn Myers and sophomore Kyla Johnson.
The Keene Lady Chargers, who reached the postseason for the first time in program history, are represented with four all-district selections.
Keene senior Miranda Thompson was voted by league coaches as the district's catcher of the year while sophomore Barlynn Robert received co-utility player of the year honors. Senior Loessha Hesa and junior Leeann Patterson garnered second-team accolades for the Lady Chargers while senior Keilah Murillo was honorable mention.