GRANDVIEW — Grandview's depth is showcased with its 11 all-district selections to lead the way in District 17-3A.
Despite the Zebras finishing second place in District 17-3A, one game behind Clifton, Grandview's 11 selections to the all-district team is tops in the league, followed by Clifton's nine.
Grandview Coach Ryan Ebner said he was glad to see opposing coaches think so highly of his team, especially considering the talent level in District 17-3A this season.
"I think of all the years, it's a great representation because of the fact there are so many great teams and great players in our district," Ebner said. "I felt like our kids were very deserving. They worked hard all year long. To be named all-district with some of those other kids in the district, it's a great thing for them and it shows how deep, talent-wise and competitive-wise, this district was."
The Zebras, who went 10-2 in league play and finished 29-6-1 overall, received a pair of all-district superlative selections in seniors Caleb Hill and Kyle Filbert.
Hill was voted the league's offensive MVP as he proved to be a tough out in District 17-3A — and all year long — with a season batting average of .505 to go along with an equally impressive .612 on-base percentage.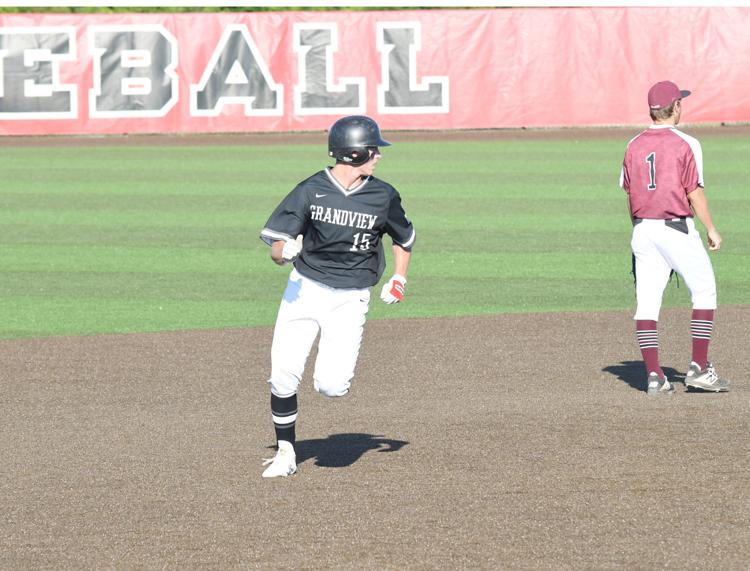 "He worked really, really hard in the offseason," Ebner said. "He became a very consistent hitter. When he got his pitch, he typically didn't miss it. He became a good gap-to-gap hitter. The most dangerous thing was when he put the ball in play, he was able to run it out a lot of times with his speed. He could throw a bunt down and get it down for a base hit. A ball into the gap for him turns into a double into a triple. He worked hard to be a consistent hitter but his speed was one of his most dangerous attributes. And he gained a lot of pop in his bat, too."
Hill's efforts this season also earned him first-team honors on the Texas High School Baseball Coaches Association All-State Class 3A team. Hill will play in the THSBCA Class A-4A All-Star Game at 10 a.m. Saturday at Dell Diamond.
Filbert was selected as the District 17-3A pitcher of the year after serving as the Zebras' ace during league play, taking the mound in Grandview's biggest games.
"He was Mr. Consistent for us," Ebner said. "He went out there in any occasion and competed well for us and gave us a chance. I don't know if he ever had a bad start where he couldn't throw strikes. He had a really good curve ball and a really good change-up, and he had good movement on his fast ball as well. He would just throw strikes consistently. I think for district he only had two walks."
To go along with the two superlative selections, the Zebras also have three players who garnered first-team honors on the all-district team in seniors Joe Hudson, Seth Bauerschlag and Trenton Sulak.
"Trenton became one of our top-2 starters and he took on the same concept Kyle did," Ebner said. "He was able to throw three pitches for a strike consistently. As the season went on, he became more and more dominant. He was dominant in each of his starts in the playoffs. He had an unbelievable season with an ERA below 1.
"Seth has been a three-year starter for us. He's battled a little bit of injury but he became an unbelievable first baseman. There were things he was able to do around the bag where he saved a few extra bases just by being able to get to a ball and stay on the bag. And he was always a reliable consistent hitter. 
"And Joe Hudson has been the staple at shortstop the last three years. I think he had less than five errors on the season. He's been our leadoff guy the last two years. He's smart and he's been one of those consistent players for us that's going to be hard to replace."
Rounding out Grandview's all-district representation are six second-team selections — senior catcher Ryan Schronk, junior outfielder Easton Hoard, junior third baseman and pitcher Colby Diduch, junior outfielder Austin Boyd, junior designated hitter Cole Cannon, and sophomore second baseman Blaine Vaughn.
The district MVP honor went to Clifton junior Mason Brandenberger. The other all-district superlative awards include West senior Kade Klaus as defensive MVP, West senior Tyler Kaluza as utility player of the year, and Maypearl freshman Aaron Jett as newcomer of the year.
Keene received a pair of first-team selections in senior Dereck Cardona and junior Tanner Brown along with a second-team nod in sophomore Dominick Patterson.
Rio Vista garnered two first-team picks in senior Cameron Whitehead and sophomore Noah Petty while senior Billy Bob Bridges was a second-team selection.