GRANDVIEW — After dominating District 7-3A Division I, the West Trojans and Grandview Zebras account for 40% of the total selections on the all-district football team.
The district champion Trojans received 22 total selections while the runner-up Zebras were rewarded with 19.
District 7-3A DI in the 2022 season was West, Grandview ... and everybody else. The Trojans and Zebras combined to out-score the other seven district teams by a total of 796 points. Grandview had a 405-point differential while West out-scored the other seven teams by 391 points.
Grandview Coach Ryan Ebner said he's always proud to see players that work hard get rewarded.
"You see how hard these kids work and it's a credit to how they've worked not only this year but over the years," Ebner said. "I thought they did a great job buying into the team atmosphere and leadership as far as gelling as a team and having each other's back. When you know how hard they work and the effort they put in during the offseason, to me it's the recognition they deserve for all of that hard work."
Among the Zebras' 19 all-district selections are a trio of superlative awards.
With West senior T.J. McCutcheon getting the nod for the district's most valuable player award, that left Grandview senior Kason English as the district's offensive MVP, although English dominated the game in all three phases.
"There's no doubt he's one of — if not the top — players in our district," Ebner said. "When he gets the ball in his hands, he just makes stuff happen. There's not a lot of guys at any level who can totally control a game, but he's definitely one of those guys."
English played wide receiver the majority of his career but took over at quarterback down the stretch to give the Zebras different looks and a stronger threat in the rushing game.
For the season, English finished with 36 receptions for 806 yards and 14 touchdown receptions with 64 carries for 808 rushing yards and 12 rushing touchdowns while completing 26-of-41 passes for 242 yards and two touchdowns. On defense, English had 43 tackles, three interceptions, four pass break-ups, three forced fumbles and three fumble recoveries. And for good measure, he had a couple of punt returns for touchdowns as well.
(Editor's note: English's numbers would've been even better if not for sitting out the entire second half of most of the Zebras' blowout wins.)
"It definitely is rare to impact the game the way he did in all three phases," Ebner said. "It's not that he can get a pick on the rare times people throw at him, it's what can he do with it afterwards. And we laugh about people kicking the ball. Fans would yell in stands to kick it deep but the coaches wouldn't kick it to that dude. At any point in any three phases, if he can get his hands on it, there's not only a chance for a turnover or reception, there's a chance you're going to get six points out of it."
For his standout play defensively and in special teams, Grandview senior Jacob Parsons was selected as the district's special teams player of the year.
"A lot of coaches in the district often talked to me about how good of a player he was," Ebner said. "So they all felt like he was deserving of a superlative. He was in every one of our special teams units and was a key player at free safety. I felt like it was one of those things with everything he's done for our team and how hard he's worked that he earned a superlative."
On defense, Parsons had 68 tackles, six tackles for loss and six interceptions.
Joining English and Parsons as superlative recipients is junior defensive end Cane Cooley as the district's defensive newcomer of the year.
Cooley registered 76 tackles, 19 tackles for loss, five sacks, two fumble recoveries and six quarterback pressures.
"He's got an elite motor — that's why you see that amount of loss tackles," Ebner said. "There's a lot of times he's fast enough to run a guy down and make the tackle from behind. With his motor, he's tough to block. He's a very good tackler. He's just very savvy as far as the way he gets there. His motor runs high and when you have that mount of energy and effort you're going to put up good numbers and you'll get noticed."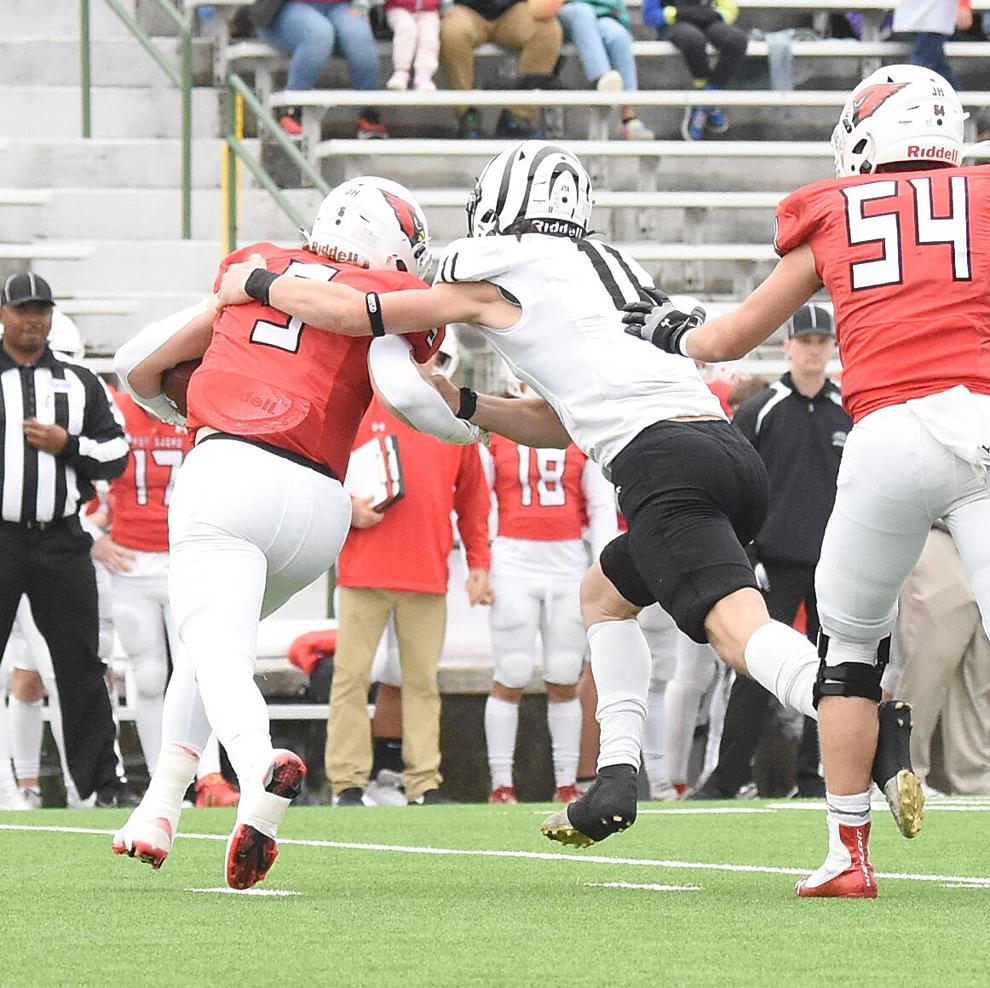 Grandview received a district-high 10 selections on the first team.
First-team selections on defense for the Zebras are senior defensive lineman Aidan Keever along with senior linebackers Jacob Rhone, Braden Price, J.J. Castillo and Coen Sanders.
First-team selections on offense for Grandview are senior offensive linemen Xavier Navarro and Cooper Gray, junior running back Casey Cannon, junior wide receiver Carter Collins, senior wide receiver Brandon Click and Sanders at tight end.
The Zebras also have six players who received second-team all-district recognition in senior offensive lineman Brayden Canada, junior offensive lineman Daniel Lehnhardt, junior quarterback Ryder Hayes, junior linebacker Anthony Berrones, junior defensive lineman Bryce Lee and freshman cornerback Jaleal Allen.
Honorable mention for Grandview include senior offensive lineman Eli Roberts, senior defensive linemen Quinten Westmoreland and Emmanuel Lugo, junior special teamers Will Mathis, Caleb Quintero and Haitham Al-Madni, and junior defensive lineman Easton Hatleberg.
The Zebras reached at least the fourth round of the playoffs for the fourth time in six seasons in 2022 — another strong group led by an experienced senior class that have made deep playoff runs the norm in Grandview.
"They've been a great group their whole career," Ebner said. "You can tell they have a really strong bond, not only with them but the parents. When you have a group like that, you feel like there's a little bit extra effort because they don't want to let each other down.
"The biggest thing for me is the impact they had on everyone else around them. My son was visibly upset after the game. Being a JV kid, I asked him, 'What are you so upset about?' and he said he's going to miss practicing with those guys. So I told them, as a parent, I'm proud of the impact they have on younger kids and the things they do like going to the elementary school and greeting the younger students and the things they've done that impact the community. To me, that says even more about them than what they can do on the football field."