SAN ANTONIO — After a frustrating start to his college career, Godley's Taylor Grimes enjoyed a breakout 2021 campaign in his first season with the University of Incarnate Word and he's continued putting up big numbers this season while helping the Cardinals to a 9-1 record so far.
Last season, Grimes recorded 87 receptions for 1,145 yards and 15 touchdowns to earn Southland Conference newcomer of the year honors as well as All-American recognition while helping UIW to its first outright Southland Conference championship, first FCS playoff win and the program's winningest record at 10-3.
Grimes said he holds a greater appreciation for his record-breaking 2021 season and what he and his teammates have accomplished so far this season because of the frustrations he dealt with to start his college career.
Despite being a multi-sport standout athlete for Godley High School from 2015 to 2018, when he earned multiple all-state, All-Johnson County and all-district honors in football and baseball, the recruiting process for Grimes was slow at times, especially for a player of his production. Grimes eventually signed with Illinois State University to continue his football career, but his time there didn't go as planned — for a number of reasons.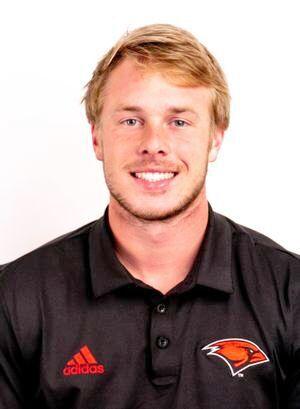 Grimes played in only five games during his freshman year in 2018 and then he started the first four games of the 2019 campaign before suffering a season-ending ACL injury. Illinois State's 2020 season was delayed to spring 2021 due to the COVID-19 pandemic, and even then they only played four games total.
In parts of three seasons at Illinois State, Grimes totaled just 21 receptions for 394 yards and two touchdowns.
"I knew that spring season at Illinois State, if it didn't go how I hoped that I wanted to get in the [transfer] portal," Grimes said. "I wanted to get closer to home, too. They ended up opting out of our [2020] season after the fourth game and I got in the portal a week later. I didn't have much film at Illinois State so I knew it wasn't going to be easy finding a school. Nothing was really going on. Eventually, I emailed every school in Texas, and UIW and Houston Baptist hit me back and they both offered me. I went on a visit to Houston Baptist but I ended up picking UIW thankfully."
Grimes and UIW were a match made in heaven from day 1.
Grimes rewrote the Cardinals' receiving record book his first year in San Antonio. He established new program records for most receiving touchdowns in a single game with four against Nicholls State University; most receiving yards in a game with 193 against Southeastern Louisiana University; most receptions in a game with 12 against Southeastern Louisiana University; most receiving yards in a single season with 1,145; and most receiving touchdowns in a single season with 15.
Grimes received All-American second-team recognition on the AP FCS All-America Team, HERO Sports All-American Team, and the Stats Perform FCS All-America Team.
Grimes, who has always been quiet and modest, views his individual accolades from last season as more beneficial for UIW and the Cardinals' football program than anything special for him.
"It's been great," Grimes said. "It's always good when you get recognition. And it brings more attention to the program. I don't think a lot of people knew what Incarnate Word was. Last year, making that playoff run kind of put us on the map. This year with what we're doing, a lot of people know more about UIW. It's always good getting recognition. ... We're putting Incarnate Word on the map for future recruits."
Clint Killough, UIW's associate head coach and wide receivers coach, said Grimes is one of the most coachable players he's ever worked with.
"What I think makes him a good football player is the fact that, at his core, he's a listen-first, speak-second kid," Killough said. "He's an elite listener. He is the most impressive translator of information off the field to on the field. Of course, he has all of the on-field tools. He has some real athletic ability, he's a great releaser at the line of scrimmage, has great hands, runs through the football when he catches it, he understands leverage and has good twitch and burst to create separation. But above all, his ability to translate information off the field to on the field is what stands out. Taylor Grimes is a special person. I'm grateful to coach that kid."
Killough also said Grimes is an established leader within the UIW football program.
"He is the kid that, day in and day out, no matter what's going on — if he's got a nagging injury or if he's feeling under the weather or whatever — he comes in every day and works," Killough said. "He's a true lead-by-example dude. 
"The respect Taylor Grimes has, not just in the receivers room, but from the whole football team, is evident. He's going to get everything he can out of every day. He's been a pillar of leadership just from that aspect. We've got a lot of really good leaders on this team and a bunch of different types of leaders, and he's that stoic 'I'm going to come to work every single day and not complain' type of guy."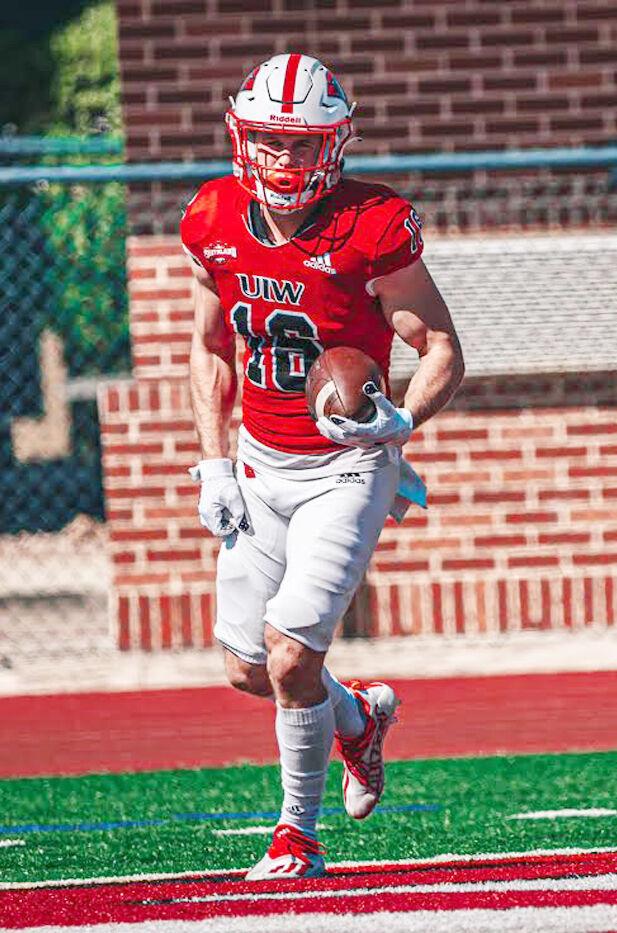 After a 35-28 overtime win over Stephen F. Austin State University in the first round of the NCAA FCS Playoffs last year, UIW's season ended with a 49-42 loss to No. 1-ranked Sam Houston State University in the second round of the playoffs. In that game, Grimes had nine catches for 104 yards and a touchdown. The 42 points were the most a team had scored against Sam Houston since 2018.
"It's been really fun," Grimes said of his time with UIW. "I think the main thing is I'm having fun playing football again. I think I kind of lost that a little bit at Illinois State and that was a reason I wanted to transfer, too. Last year was a successful season for UIW. We had our first home playoff game in team history."
Going into the 2022 season, Grimes was a preseason All-American selection and made the preseason watch list for the 2022 Walter Payton Award, given to the most outstanding offensive player in FCS. Grimes was also included in Dave Campbell's Texas Football's "Lone Star 50" list of the most important football players in Texas for 2022, with Grimes checking in at No. 26.
"Grimes was seemingly uncoverable in his first season at UIW," an excerpt from the article reads. "... He's quick in tight spaces, which allows him to create enough separation to win short routes. He's also athletic enough to threaten opponents in the intermediate and vertical passing game. He's a sure-handed receiver who will once again be the No. 1 target for the UIW passing attack. ... Grimes is one of the best wide receivers at the FCS level."
Even when things were hard early in his college career, Grimes said he maintained confidence in his abilities.
"I always felt like I could play and I was never at the right spot to show it off, I guess," he said. "Incarnate Word was a perfect fit for me under Coach [Eric] Morris' system last year. He obviously did a great job here and he went to Washington State [as offensive coordinator in December 2021]. Coach G.J. Kinne came in as head coach and — along with Coach [Mack] Leftwich, who was quarterbacks coach last year and is now offensive coordinator and QB coach — they've done a great job this year of getting the offense rolling. Coach Killough has done a great job of developing me and helping me being a smart football player."
Entering Saturday's game vs. Northwestern State University, Grimes has 53 catches for 912 yards and 12 touchdowns, all of which lead the team.
UIW can win a share of the Southland Conference championship with a win over Northwestern on Saturday. The Cards will win the conference title outright with a win and a Southeastern Louisiana loss to Nicholls State University.
"It would be huge getting a second ring and for some of these guys it would be their third because they won conference in 2018," Grimes said. "And I think it's one more step of our bigger goal of winning a national championship. But we're taking it one game at a time. ... It should be a good match Saturday."
Even if UIW doesn't win the conference title outright, the Cardinals will almost assuredly earn an at-large bid in the 24-team FCS playoff field if they handle business vs. Northwestern.
Grimes was on the Reese's Senior Bowl watch list in August, which if chosen, would be a great opportunity for the former All-Johnson County MVP to showcase his talents to NFL evaluators. And, yes, the NFL is a goal for Grimes and — according to Killough — a realistic possibility.
"My end goal is to make it to the NFL," Grimes said. "But, again, I think if you look too far ahead you can lose sight of what's in front of you. So I'm really taking it day by day and working hard every day and that will lead me to where I need to be."
"I've talked to a number of scouts about him," Killough said. "I think he's up there on some people's boards. He has the ability to play inside and outside. He's played a lot of outside receiver for us and has been productive there but his skill set translates inside and outside. I think he'll have a career in the NFL, to be completely honest with you. Now, there's a lot of things that go into that, with fit and health and things like that. But I definitely think he's going to have an opportunity to play in the NFL, in my personal opinion."
Grimes was listed as one of the top-30 FCS prospects for the 2023 NFL Draft by NFL Draft Scout's Josh Buchanan.
Grimes, who will graduate from UIW in December with a Bachelor of Arts in Cultural Studies, said he watches a few NFL receivers to try and add bits and pieces of their skill set to his repertoire.
"I watch a lot of receivers but I love to watch Davante Adams and his releases," Grimes said. "I think he's the best releaser in the NFL. I love to watch Ja'Maar Chase. He's a playmaker. When the ball's in the air, he's going to catch it. And Cooper Kupp had arguably the best season for a receiver last year. He's a really smart player and hard worker. So those are three guys I try to study and watch."
Even while setting records and chasing his NFL dreams, Grimes said he's grateful for the support he continues to receive from Godley.
"It's always good to get hometown support and know that those peoples are still watching," he said. "I have a great family who comes to a lot of my games. My mom, dad, grandparents, aunts, uncles, cousins and friends to come to my games. It's always good to have a strong support system back home."
The FCS 24-team playoff bracket will be selected Sunday, with the FCS playoffs beginning Nov. 26 leading up to the national championship game scheduled for Jan. 8 in Frisco.