AUSTIN — Godley's Meritt McKittrick is a state champion.
McKittrick took first place in the 100-meter dash in the wheelchair division at the UIL state track and field championships Saturday evening.
In a race against the state's best, McKittrick blew away the competition, crossing the finish line in a time of 20.77 seconds, nearly 1.5 seconds ahead of second place.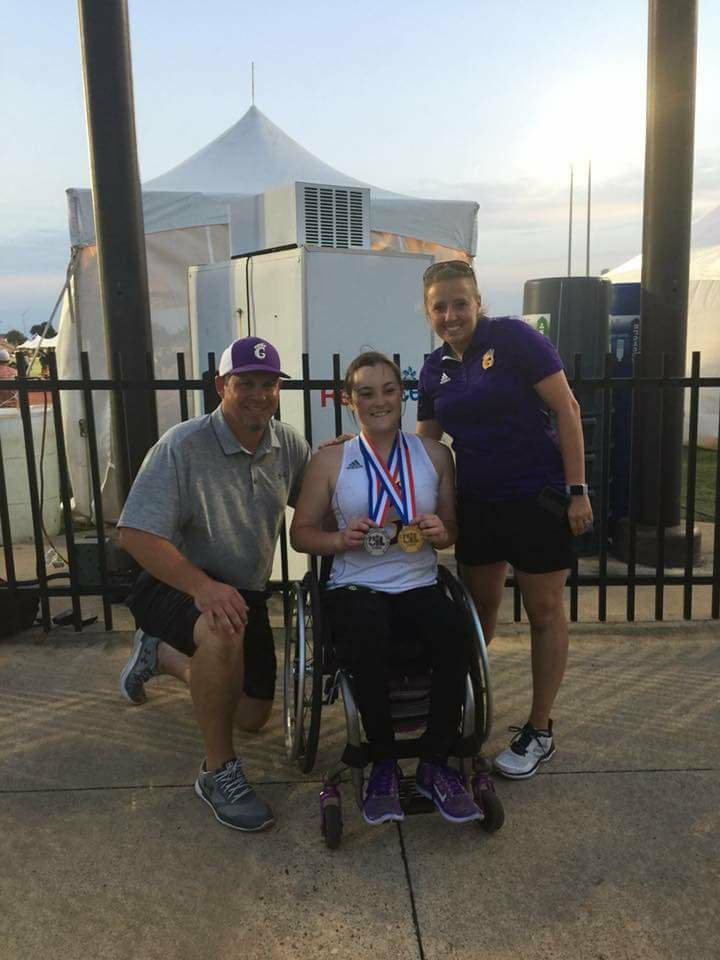 "I don't think I've completely realized it yet," McKittrick said. "Being a state champion is the best feeling in the world. Just to be put up there in the books with so many other incredible athletes is amazing."
As she told the Times-Review earlier in the week, McKittrick had her sights set on a gold in the 100, and when she crossed the finish line Saturday evening in front of thousands of fans at Mike A. Myers Stadium, her mind was racing nearly as fast as how she won the event.
"I had just about every emotion going through my head in one moment," she said. "I don't think I ever stopped smiling while I was going around the track."
State Champ 100m WC! pic.twitter.com/yv8Pz2whfy

— Matt McKittrick (@kittythefireman) May 12, 2018
After capturing that coveted gold medal and state championship, McKittrick wasn't finished. She also claimed a silver medal with a second-place finish in the 400-meter dash in a time of 1:20.73.
McKittrick, a junior at Godley High School, said having the type of support she's experienced in her state title pursuit leaves her speechless.
"It honestly means more to me than I could ever describe," she said. "They are the reason I work so hard and push myself the way I do. They have all done so much and sacrificed so much for me, the least I can do is compete for them."
In her career, McKittrick's gold and silver state medals she won today brings her total up to four. Last year, she won a pair of bronze medals after finishing third in the 100 and 400.