GODLEY — Before her senior softball season begins, Godley's Lexi Ebbens will already have reached a lifelong goal — having the opportunity to continue playing the game she loves at the collegiate level.
On Monday, Ebbens signed with Southwestern Assemblies of God University to further her education and career as a Lady Lion.
"It means a lot. It's so overwhelming," Ebbens said. "It's such a good feeling because I've been wanting this since I was like four years old, just dreaming of playing softball in college. It feels really good, and to make my family proud, it means so much."
Ebbens has been an all-district and All-Johnson County selection every year since her freshman season, putting up solid numbers across the board at key positions, but she wasn't receiving much recruiting interest until recently.
"This moment feels very good because for the longest time I didn't think I was going to go anywhere for softball," Ebbens said. "It felt like everyone around me was getting committed and it took a while to get any interest, and I didn't think it was ever going to happen.
"I'm excited just getting to be on the field for four more years because I didn't want this to be my last year playing softball. I'm looking forward to making new memories and continuing to have fun."
Ebbens said SAGU coach Watty Watson came to watch a couple of games during select ball, and that meant so much to her.
"I was playing second base for the select team I was playing with at the time," she said. "Coach Watty was there and I had no clue he was at one of our tournaments, I just thought he was another dad. Then the next tournament, my coach came up to me and said, 'Hey, coach Watty from Southwestern Assemblies of God University is here to watch you.' And it just meant so much and was relieving, like 'Wow, someone is here for me and watching me.' There were other schools but this one I felt at home when I took the tour. I love it."
Watson said Ebbens has numerous traits that he looks for in players.
"No. 1, she's a great girl," Watson said. "She works hard. She always has a smile on her face. She's a competitor. Being a competitor, that's really what I liked about her. I think she's going to add value to our team. We have a pretty good second baseman, but I think she can give that girl a challenge next year for a starter."
Godley coach Brynn Kamenicky said she's proud to see one of her players achieve something that she's worked so hard so long for.
"She's dreamed of this moment for as long as I've known her," Kamenicky said. "To see it come true for her and her to find a school she really wants to be at, is awesome. I'm proud of her. She's one of those kids who can play anywhere on the field, and not just play it but be good at it. Luckily for us, she can pitch. She's been one of the reasons we've been so successful, especially after Abby Reeves left. I'm proud of her.
"Like I told [coach Watson], he is getting one of the best athletes I've ever coached. He said from the moment he saw her that he wanted her. That doesn't surprise me with the athlete she is and the type of person she is."
Ebbens said this moment in her life wouldn't be possible without her parents' help and support.
"Definitely want to thank my mom and my dad," Ebbens said. "My mom has been my strength through all of this. She was there to help me through all of it. Without my dad, I wouldn't have become the softball player I am today. Pushing myself harder and wanting to be better for them. Coach K has been my rock through a lot of it, too. I don't know what I would do without them."
Last season, Ebbens was a first-team all-district and second-team all-county selection after she hit .333 with 17 RBIs offensively to go along with an 11-8 record in the circle with 69 strikeouts in 107 innings pitched.
In 2018, Ebbens was a first-team all-district and first-team all-county selection. She hit .365 with 16 RBIs and 23 runs while boasting a 16-10 record pitching with 86 strikeouts and a 2.47 ERA in 144 innings pitched.
And as a freshman in 2017, Ebbens garnered all-district and all-county newcomer of the year honors after hitting .326 with 28 RBIs and 29 runs.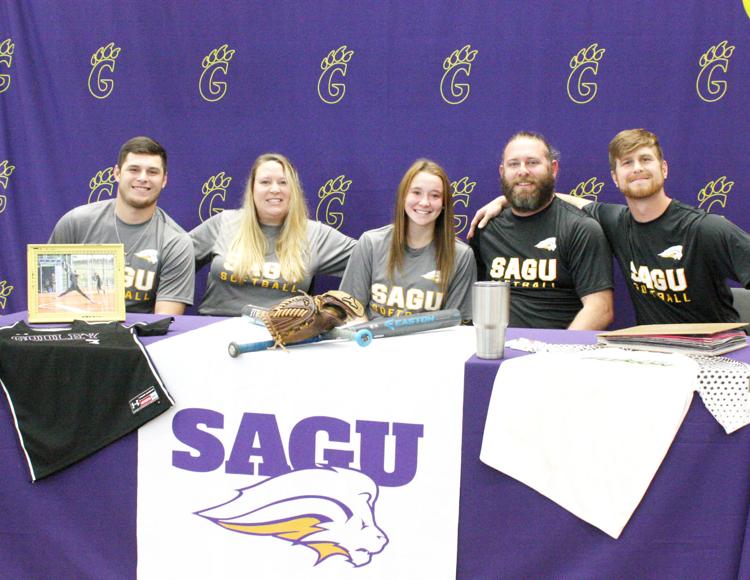 For her senior season, Ebbens hopes to help lead the Lady Cats to a district championship and continue their string of six consecutive bi-district victories.
"I think we're going to do good," Ebbens said. "I know we lost some good players last year and over the years. We're going to have to fight harder because of the people we lost but I'm hoping this year is going to be good. I want to win district and make the playoffs. We want to win district very badly."
Kamenicky said she expects Ebbens to have her best season yet.
"She's going to have a senior year for the books," she said. "I know she's going to do really well. Now that this pressure [of signing] is off of her, she can just go out and play and have fun."