GODLEY — For the past three seasons, the Glen Rose Tigers have been where the Godley Wildcats want to be — at the top of the district. And for the Wildcats to get there, they'll have to knock off the Tigers on Friday.
At the start of football practice in early August, new Godley head coach Curtis Lowery set the Wildcats' expectations at a district title: "Our No. 1 goal is we want to win a district championship," Lowery said in August.
For that to happen, Godley has to knock off the three-time defending district champs and put an end to the Tigers' 16-game district winning streak. Included in Glen Rose's 16 consecutive district victories are three blowout wins over Godley by an average margin of 36 points per game. Glen Rose's last loss in league play came in 2015.
"It's a big game," Lowery said. "Any district ball game is big, but the history kind of plays into it. Glen Rose has a great football team and they're well-coached. They came in as the favorites in our district. We're excited to go out and compete. We're going to treat it as any other game and concentrate on us and control the things we can control and go out and do our very best."
Glen Rose head coach Cliff Watkins has his team entering the showdown with a similar approach — it's a big game with huge district title implications, but don't treat it as such.
"We talked to our kids about how the winner of our district is going to have to win every district ball game," Watkins said. "Every week has to be a big game and we've got to play our best. With them coming in 1-0 and us 2-0 in district, it's a really big game. But we're preparing this week just like we do each and every week. We've got to go out and play our best on Friday night."
Godley is coming out of its bye week with a 6-1 record and 1-0 start in District 4-4A Division II play. And Lowery said the open date came at a good time for his team.
"It went good," he said. "We had some guys banged up. We're all healthy now. Nobody injured, just banged up. It came at a good time. We just focused on getting healthy and getting better."
After graduating a strong senior class, Glen Rose struggled early on, starting 1-5 before opening league play 2-0 to carry a 3-5 overall record into Friday night.
The Tigers are led by quarterback Austin Worthen, who was faced with the tall task of replacing all-state quarterback Cameron Griffin. With a big change in personnel offensively for the Tigers, Glen Rose features more of a bruising running style of offense compared to recent years.
"They've got a dual-threat QB and several tailbacks that come in who they keep them fresh," Lowery said. "They've got a really good offensive line. Their receivers run good, crisp routes. They don't throw the ball as much as they have in the past but they're still effective in throwing the ball. They've got a good offensive line and a QB who can score from anywhere on the field. 
"We've got to be able to contain [Worthen]. We'll go in just like we do every week with the same focus, and that's try to eliminate big plays. We've got to make them earn everything. They're a good well-coached football team."
Watkins said Godley's defensive staff does a good job of trying to confuse opposing offenses.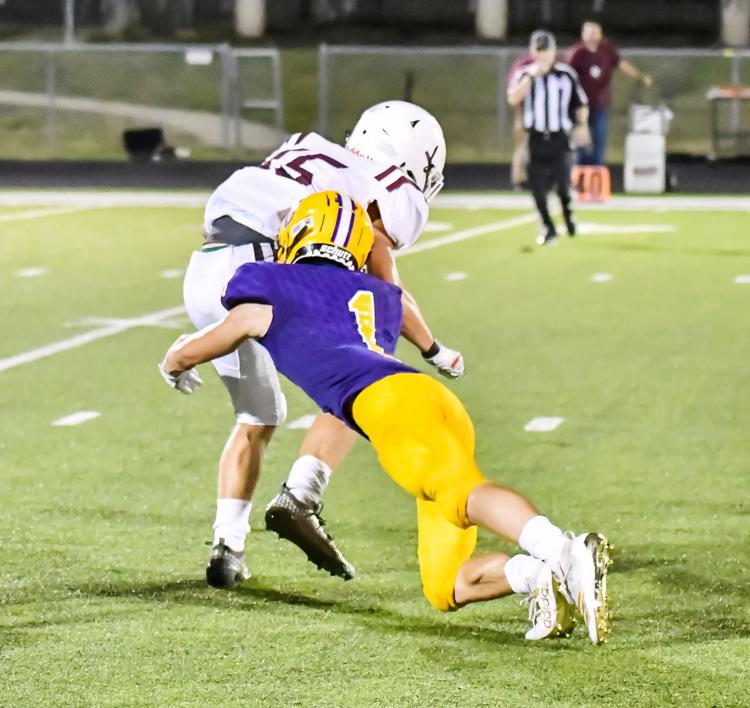 "They do a good job of mixing it up and moving around and giving you different looks so you don't know where they're going to be," Watkins said. "They want to do everything they can to disrupt you at the line of scrimmage. We have to focus on executing our job each and every play. That's the biggest thing to me is we have to execute our plan and not let them dictate what we're going to do."
The Wildcats are among the area's most explosive and productive offenses, averaging 45.4 points per game and nearly 510 yards per game, led by elite production at the skill positions.
Quarterback Ethan McBrayer leads Johnson County with 2,017 passing yards on a 60 percent completion rate with 26 touchdowns against only three interceptions. Running back Kolby Bartlett has rushed for 1,122 yards and nine touchdowns on just 142 carries. And the Wildcats have three stellar targets in the passing game with receivers Brenen Hawkins, Caden Midkiff and Parker Priddy, who each have at least 30 receptions for 520 yards and six touchdowns.
"I'm really pleased with our offense," Lowery said. "The numbers and the stats, that's not what drives us. We're looking ahead. Just because we've put big numbers up in the last seven games, that doesn't matter; we're looking ahead to the next game. It's cliché, but our thing is we've just got to continue to get better because there's things we're still missing out there. We have to capitalize on every play and every drive and that's our philosophy."
Lowery said Glen Rose also does a good job of disguising where the Tigers bring pressure from.
"They do a good job of mixing and disguising things with their fronts and on the back end," Lowery said. "They do a good job of bringing people from different places. our key is for our OL to get their eyes up and see the fronts and see where they're coming from and being able to give our skill guys space and give our QB time to throw the ball and get the ball to our playmakers' hands.
Watkins said Godley's offense is well-balanced and poses problems to opposing defenses.
"They're a very explosive offense," Watkins said. "They do a good job spreading the ball around and getting the ball to a lot of different players. They push the ball down the field and want to get the ball over the top to their outside receivers. The QB does a good job. Their running back hits the hole quick and does some really good things. They've gotten better each and every week. They're doing a really good job. We've got to find ways to slow them down."
While the Wildcats have been impressive in a 6-1 start to the season, with strong numbers across the board on offense and defense, the one glaring issue for Godley has been in the kicking game. The Wildcats have struggled kicking extra points, but Lowery said he believes they've addressed those issues.
"We spend a lot of time on special teams," Lowery said. "We struggled early in our PAT and kicking game. We've worked extremely hard in our kicking game. I think we've got it corrected. Our starting kicker went down early in the year so we found another kicker. We changed our snapper and holder up. We've gotten better there. I think our timing is good on it. We've been a lot more effective since we moved some things around and just by working on it every day.
"In big games, it can come down to your special teams. We talk about that. We want to be great in all three phases and win in all three phases of the game."
Kickoff between the Wildcats and Tigers is scheduled for 7:30 p.m. Friday from Tiger Stadium in Glen Rose.