GODLEY — The Godley Wildcats will try for their first 3-0 start since 2016 when they host the West Trojans on Friday.
Godley has been dominant in its first two outings under head coach Curtis Lowery — wins of 46-6 over Bowie and 52-0 over Fort Worth Trimble Tech. But despite the Trojans' 0-2 record, West will present a step up in competition for Godley.
While the Wildcats have excelled in all three phases to start this season — including not allowing a single point on defense so far — Lowery said they're keeping their focus on the long journey rather than being satisfied with two non-district wins.
"I just tell our kids that we've won two ball games and we're just getting started," Lowery said. "Don't get satisfied with one or two wins or feel like you've already arrived. It's a long journey and I tell them all the time it's a marathon and not a sprint. So we just take each day to focus on ourselves and get better. We just have to keep building and getting better."
For Lowery, the No. 1 thing that jumps off film that he's proud of is the Wildcats' effort through two games.
"It's our effort. We're giving great effort," Lowery said. "By no means are we playing perfect. But in all three phases of the game we're playing extremely hard. Effort can make up for a lot of mistakes. Whenever you can combine effort with no errors, that's what every team strives to do. If we can start eliminating mistakes on offense, defense and on special teams, we'll be a hard team to beat."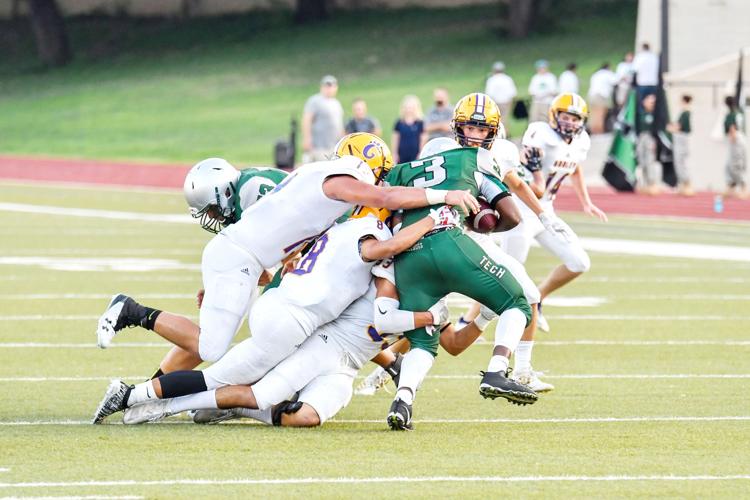 Godley jumped out to a 2-0 start last season as well before falling to West, 13-6, in a defensive battle. The Trojans enter Friday's showdown with an 0-2 record with losses against Hillsboro and Eastland.
"They've played two good teams," Lowery said. "Hillsboro is a good team with a lot of talent and Eastland is as well. Eastland is a top-20 program. They haven't played anybody that's been pushovers. West plays extremely hard. Offensively they're a power football team and they like to control the clock and run the football. Defensively they like to be multiple and bring people from everywhere and try to confuse linemen up front, then on the back end they run different coverages to disguise things."
The Wildcats haven't faced much adversity through two games, out-scoring opponents 98-6; so Lowery is eager to see how his team reacts to when things don't go in their favor.
"[West is] a solid football program," Lowery said. "I'm excited for the competition. I told the guys I'm excited to see how they respond because not everything this season will go our way. We need to see it early and see how we respond when everything isn't going our way."
While Godley's defense has been stellar, yet to surrender a touchdown, the Wildcat offense has shown glimpses of big-play ability in the passing game and running game.
Junior quarterback Ethan McBrayer has gotten off to a great start to his varsity career by completing 20-of-33 passes for 470 yards and six touchdowns.
"I think he's done a great job," Lowery said. "Ethan's a great kid and has great work ethic. He's going to do nothing but just get better and better. Ethan's the first one to tell you he hasn't been perfect by any means; he's going to focus on getting better every play like all of our kids are."
Running back Kolby Bartlett has rushed for 206 yards and a pair of touchdowns on 27 carries through two weeks. And Brenen Hawkins has five catches for 157 yards and two touchdowns — in one half of play. Hawkins missed week 1 with an injury and he only played the first half against Trimble Tech.
And still, Lowery expects his team to continue to get better and progress as they grow in the new offensive and defensive schemes.
"I think our kids have done a tremendous job learning new schemes," Lowery said. "I think they've adapted really well. They're putting in the work, time and effort, and I'm very pleased with where we are in all three phases of our game. We're just concentrating on getting better. We don't have to be district champions or be a playoff team right now; we've just got to keep working towards that."
The Wildcats and Trojans are set for a 7:30 p.m. kickoff Friday from Godley Field.