FORT WORTH — The Godley Wildcats rolled to a dominant 52-0 win over the Trimble Tech Bulldogs under the Thursday night lights at Farrington Field to get off to a 2-0 start under head coach Curtis Lowery.
For a second week in a row, Godley put together an all-around impressive performance, led by another shutdown outing from the Wildcat defense.
"You always enjoy a win," Lowery said. "Wins don't come easy. We put a lot of hard work and hard effort into it. To win the way we did, I'm proud of our guys and I'm proud of their effort. I can't say enough about how our kids responded with us challenging them this week just on correcting some mistakes. Their effort and intensity, I can't say enough about it."
In a season-opening 46-6 win over Bowie, the only points the Jackrabbits scored came on an interception return for a touchdown, so Godley's defense has opened the 2019 season with back-to-back shutouts.
"I think our defense is playing really well," Lowery said. "Up front, we're playing well against the run. On the back end, we haven't seen a team yet who can air the ball out, but we're just focused on getting better every day. Our goal tonight was to tackle on first contact and I don't know what our percentage was [without looking at film] but I think we swarmed to the ball and got all 11 guys to the ball."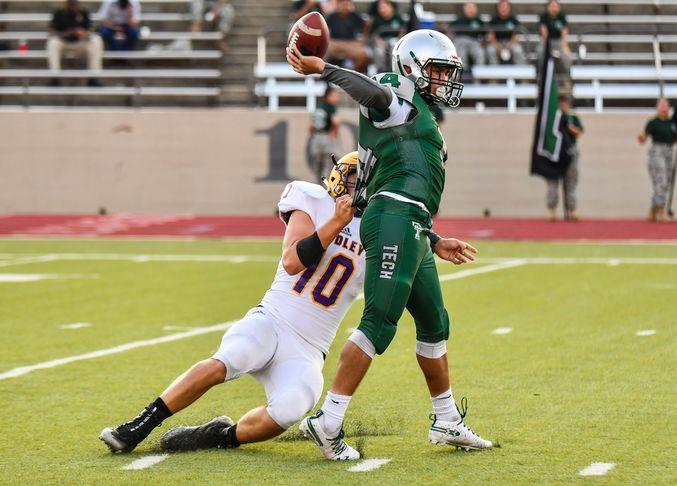 For the second week in a row, Godley scored a defensive touchdown as Parker Priddy returned an interception for a touchdown in addition to the six scores the Wildcat offense had. Through two weeks, Priddy has scored at least one touchdown on offense, defense and special teams.
"Parker is a great football player," Lowery said. "He does a great job of adapting to whatever situation he's thrown into. The refs took Brenen out on one play because his pants weren't low enough covering his knees, and Parker's standing right beside me, so I put him in and he picks up a big first down on that play. He had two offensive touchdowns and a pick-six tonight, and he scored a touchdown on a punt return last week. He's a kid that's all gas, no brakes."
Priddy said his early-season success is thanks to the Godley coaches.
"It's been real fun and I'm just doing what I'm coached to do," Priddy said. "Really, the coaches are putting me in the right positions and I'm just executing.
"We're playing real well [defensively]. We just need to keep it up. We got West next week, and they're going to be a tougher offense than the first two teams we've faced."
The first half was all Godley all the time as the Wildcats held a 44-0 lead after the first two quarters. In the first half, Godley gained 339 total yards with 12 first downs while the Wildcat defense held the Bulldogs to just 20 total yards and one first down.
Making his season debut after missing week 1 with an injury, Godley's Brenen Hawkins proved to be unstoppable as the junior receiver hauled in five catches for 156 yards and two touchdowns — all in the first half. In the first quarter alone, Hawkins had three catches for 96 yards and a touchdown.
"Brenen's a great kid; he's a competitor and he really works hard," Lowery said. "We hated that he was out last week but health is our No. 1 concern. He came back this week healthy and he's a game changer. He can swing the momentum in our favor."
Hawkins showed that game-changing ability late in the first quarter when he caught a short pass from quarterback Ethan McBrayer, broke a tackle and raced 80 yards down the field for a touchdown.
McBrayer was efficient in his second career varsity start as he completed 9-of-16 passes for 256 yards and four touchdowns, with most of the damage coming in the first half.
Godley junior running back Kolby Bartlett followed up his 106-yard week 1 performance with another strong outing as he rushed for 86 yards and two touchdowns on just nine carries — again, all in the first half.
Bartlett got the Wildcats on the board first with a five-yard touchdown run on an option pitch from McBrayer for a 6-0 lead with 4:28 left in the opening quarter.
Godley added two more touchdowns in the final 2:50 of the first frame as McBrayer connected with Priddy for a 58-yard touchdown pass on a play where Priddy weaved in and out of the Bulldog defense. Then Hawkins' 80-yard score gave Godley a 20-0 lead with 30 seconds left in the opening quarter.
On the first play of the second quarter, Priddy found the end zone again, this time on a 22-yard interception return for a touchdown.
Late in the first half, Bartlett scored on a 32-yard run right through the heart of Trimble Tech's defense. Then the Wildcats capped the first-half scoring on a 47-yard touchdown pass from McBrayer to Hawkins as Godley took a 44-0 lead into halftime.
Priddy finished the game with three receptions for 97 yards and two touchdowns.
In addition to Priddy's pick-six, Joe Gutierrez recorded a fourth-quarter interception for the Wildcats. Senior defensive end Landon Stevenson had several tackles for loss as he was in the Trimble Tech backfield throughout the first half.
Despite a dominant 2-0 start where Godley has out-scored its first two opponents by a combined score of 98-6, Priddy said Lowery is keeping the Wildcats focused on the task at hand.
"I like how Coach Lowery is running things," Priddy said. "He's keeping us disciplined and keeping us humbled. We're not getting ahead of ourselves. We're just grinding."
Godley will aim for a 3-0 start when the Wildcats host West on Sept. 13.