MESQUITE — Each time Godley grabbed a bit of momentum Thursday night, Gilmer snatched it right back.
Two big plays by the Buckeyes — an interception late in the first half and a kickoff return late in the second half — proved to be big momentum swings as Gilmer came away a 42-20 win over Godley in a Class 4A Division II area playoff game at Mesquite ISD's Hanby Stadium.
With the win, Gilmer (11-1) advances to the third round of the postseason for the 14th straight season and will meet Sunnyvale, which moved on to the regional semifinals via a forfeit from Mexia due to COVID-19. Godley, which pulled to within eight points twice on Thursday night, concludes its season at 7-5.
"I couldn't be more proud of our kids," Godley Coach Curtis Lowery said. "Our goal was just to get better every week and make a playoff run. Of course, we didn't get to go as far as we liked, but it wasn't from a lack of effort. Our kids got better each week. In all three phases of the game, I thought we played one of our best ball games of the year. We just ran into a team that was well coached and that has a lot of size and speed. But our kids played with a lot of heart and I loved them for it."
In between the big plays from the Buckeyes — an interception in the end zone from Marshae Spraglin late in the first half in a one-score game and an 88-yard kickoff return touchdown from Jaydon Griffin early in the fourth quarter — senior Buckeye receiver Dylan Fluellen etched his name atop the Gilmer record books.
Fluellen finished with two touchdowns, giving him the single-season record of 17 to eclipse Blake Lynch's mark of 16 in 2014 and the career mark of 26, which passes Curtis Brown from 2004-06. His 109 yards on Thursday also gave him the school's career yardage record as well, according to Gilmer football historian Joe Dodd.
Gilmer quarterback Brandon Tennison finished 17-of-28 passing for 228 yards and the two touchdown passes to Fluellen. Davion Smith added a 21-yard score, Jaron Choyce had two touchdowns and Ashton Haynes led with 68 rushing yards for the Buckeyes, who led 21-13 at halftime.
Godley quarterback Caden Burke finished with 320 passing yards and a pair of touchdowns in a stellar night but was picked off once by Spraglin as the Wildcats were driving late in the first half down by eight points.
Burke added his third touchdown of the night on the ground early in the fourth quarter to cap a 17-play, 78-yard march that chewed up 5:07 off the clock to pull the Wildcats back to within eight, 28-20.
But just like that, Griffin raced 88 yards to the house on the ensuing kickoff to grab every ounce of momentum back and send the Buckeyes forward.
"It's never good whenever you give up a special teams touchdown," Lowery said. "I don't want to say it was demoralizing. It's one of those deals where we try not to focus on negative things; yes, that hurt us but we had to move on to the next play. It is what it is. You can't do that against good teams."
The kickoff return for a touchdown and the interception in the red zone late in the first half were two of a few plays that had a great impact on the outcome.
"I think any time you're in a tight ball game like that, it comes down to momentum," Lowery said. "And the momentum can shift one way or the other. If you take away four or five plays here or there, we keep the momentum. But when you lose momentum, things can snowball on you and that's kind of what happened there in the fourth quarter. It's one of those deals where that's just a part of competing. I think four or five plays here or there could've been the difference in the ball game."
Godley finished with 435 total yards, 115 on the ground, to Gilmer's balanced night of 214 rushing and 228 passing. The Buckeyes were hit with 12 penalties for 83 yards.
Both teams brought an up-tempo attack into the night and Godley showed it from the start, moving 89 yards in a hurry before striking first on a 19-yard pass from Burke to Drew Coleman, the first of consecutive scores on fourth down for the Wildcats.
Gilmer answered just as quickly with Tennison and Fluellen connecting for the first time on a 12-yard score for a 7-7 game after the first quarter.
After a second straight punt from Godley, Smith got a big block from junior lineman Taylor Nearly on a 21-yard touchdown run, two plays after Tennison and Fluellen hooked up for a fourth-down conversion. That put Gilmer up, 14-7.
A quick three-and-out from Godley led to a quick Buckeye score with Tennison dropping one in to Fluellen on a 35-yard catch-and-run for a 21-7 lead.
Godley found its footing and pulled to within eight on a fourth-and-goal from the one on a Burke touchdown pass to Parker Priddy. The Wildcat defense then forced a Gilmer punt.
Burke converted two third downs and a fourth down before Spraglin picked off the senior in the end zone to preserve a 21-13 Buckeye lead at halftime.
The Buckeyes upped their lead to 28-13 to start the third quarter on Choyce's three-yard run. After the two teams exchanged three-and-outs, the Wildcats pulled to within eight on Burke's punch-in.
But Gilmer grabbed the momentum back right away on Griffin's return and kept it for good.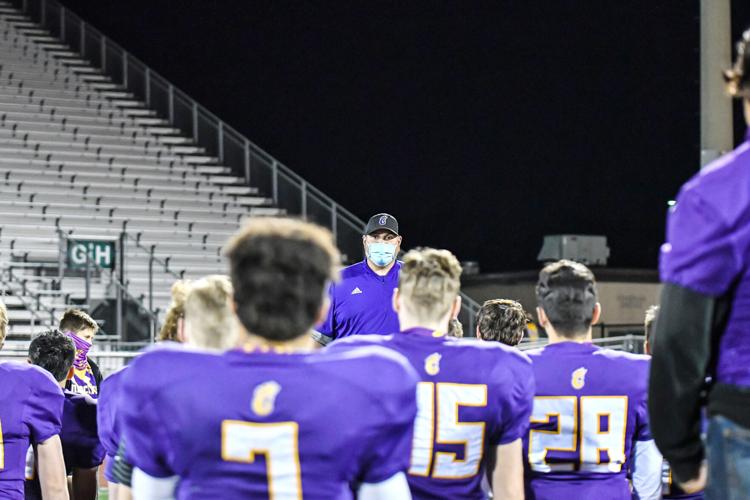 Looking back on the season as a whole, Lowery said he's proud of what the Wildcats — led by strong leadership from their seniors — accomplished.
"From the first ball game to the last, we're a completely different team," Lowery said. "We set out every day and embraced the grind of the season and continued to focus on getting better in every spot on the field, and we did those things. Hard work gives you an opportunity to win; it doesn't guarantee anything, but we gave ourselves an opportunity against one of the best teams in the state of Texas.
"I can't say enough for our seniors and their leadership. They've laid a foundation. I told them they laid a foundation for the younger kids about this is how you play the game. Our younger kids are already excited about getting ready for next season. That's what it takes, great senior leadership and showing the underclassmen how to buy in and how to work."
Lowery also said he's proud of everything the Wildcats overcame — from playing football in the midst of a pandemic to dealing with a number of injuries.
"We feel very fortunate to have played an entire season," Lowery said. "We faced more adversity this year, not just with the coronavirus but the injuries we had, but we had kids who kept stepping up. It was a testament to how bad this team wanted to be successful and wanted to win ball games. That comes back to leadership."
Sports Editor A.J. Crisp contributed to this report.