The Cleburne Yellow Jackets enter the 2022-23 season with a high level of confidence thanks to nine varsity returners alongside a couple of key newcomers.
Cleburne is coming off a 12-22 season a year ago, when it tied for fifth place in District 14-5A with a 4-8 record.
While a 12-win season and four-win mark in district play may not appear like a sign of progress at first glance, the Jackets undoubtedly took great strides a year ago, especially considering they were coming off a winless, last-place campaign in 2020-21.
Having nine experienced varsity returners to lead the way going into a new season is a great asset for any team. On top of that, the players know what is expected of them under Head Coach Jeff Bush, who is in his fourth season at the helm of Jacket basketball.
"You're at the point now you don't have a single kid in your program that's had a different head coach," Bush said. "Obviously when freshmen come in they have to learn the ropes. But sophomores up, they know the expectations — they know what we expect out of them at practice and in the weight room, etc. That makes it easy. Our entire varsity roster has been dealing with this coaching staff for at least two years. It just makes things easier having that familiarity."
Going into the season, Bush knows he can count on two things from his Jackets on a nightly basis.
"Truly, this is the best we've looked defensively, especially in the half court, since I've been here," Bush said. "Another building block is we've got 13 guys who play extremely hard all the time. Wins and losses at this level come down to making or missing shots, but we'll always be able to lean on our defense and we'll never have to question our effort, which is always nice."
While Bush is encouraged by Cleburne's potential on defense as well as the effort of his players, he believes their success this year will hinge on two things — two keys to success that are familiar for these Jackets.
"It's the same thing as last year," Bush said. "If we take care of the ball and rebound well, I think we can beat anybody on our schedule. If we don't do take care of the ball and rebound well, we can get beat by anybody on our schedule. I think you can look at any game from last season — if we took care of the ball and rebounded well, we won; if we didn't, we lost. Every single time. That's been the norm for us. It's pretty cut and dry as far as that goes."
Headlining Cleburne's returners are senior Jerison Brown and junior Collin Graeve, each of whom were all-district second-team selections a year ago.
"We need Jerison to rebound more and he knows that and he's ready for that," Bush said. "He shot it at a good clip last year. We just need him to be more aggressive offensively. He's willing to get to the rack and he's shown that. He shot it well so we need him to continue to build on that.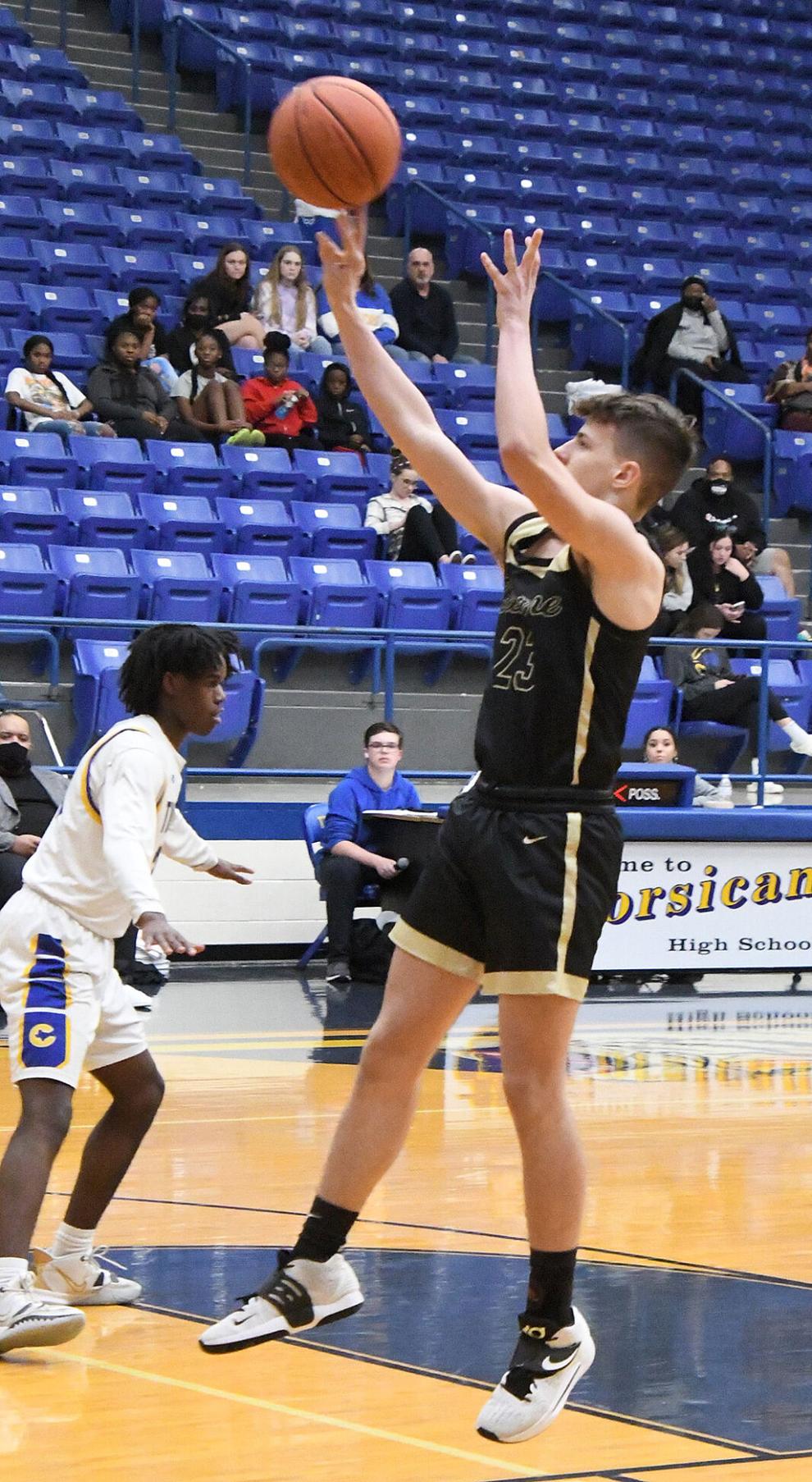 "For Graeve, we need him to shoot the ball well. He didn't shoot it well to start the season [last year] but he got locked in during December and had some good shooting nights in district. He's gotten bigger, stronger and faster. I was asking a lot from a 15-year-old last year and he's much more mature as a player."
Other returners include seniors Joshua Bridgewater, Rex Morgan, Cole Mullins, Matthew Johnson and Landry Shields along with juniors Boston Bicknell and Dorian Potter.
For Morgan, Mullins, Shields and Potter, this will be their third year on varsity while Bridgewater, Johnson and Bicknell are two-year lettermen.
"We need Boston to be what he is," Bush said. "... He turns up the intensity and energy when he's on the floor. He's a menace when he's guarding the other team's best player. He's worked on his shooting but the biggest thing for him offensively is to take care of the ball. We need Cole to come in and change the pace when he's on the floor and be aggressive in transition.
"Rex is our leader. They're going to follow his voice. For him it's about using his athleticism to rebound and defend on the perimeter and in the paint. He's got to hit timely shots as well because he shoots it well from the outside. We need Matthew to be aggressive offensively and we need him to pull the trigger from the outside because he can stretch the defense. Bridgewater has looked really good. He's made some huge strides this fall. We need him to continue to do what he's been doing: use his length to rebound and be an issue in passing lanes. And Landry will be a big help having him back this year [after missing last year with injury] and bring some toughness to us."
Newcomers for Cleburne include sophomores Javen Colbert, Matthew David and Erik Lucero along with junior Matthew Slimp.
Bush has the highest of expectations for Colbert, who moved to Cleburne from Laredo United where he was district newcomer of the year as a freshman.
"The kid can play," Bush said. "We need him to be him. We know at some points teams are going to specifically try to take him away. He's a really good basketball player. Truthfully, he's the best player we've had come through here since I've been here. He knows how to make plays for his teammates. He's going to see his fair share of face guards and doubles, but he does a good job of trusting his teammates. He's a good basketball player and he's kind of the head of the snake for us, especially offensively. We feel comfortable with him having the ball in his hands."
David and Lucero make the jump from the freshman team last season to varsity as sophomores while Slimp is the lone move-up from junior varsity.
"Matthew David is young and we're asking him at 15 to step in and contribute," Bush said. "We expect big things for him and to guard the other team's best perimeter player. Lucero will probably be our first big off the bench. He's got a lot of skill to him and he rebounds well."
Bush said while they will tinker with the lineup and rotations in the early portion of the season, they plan to open the year with Colbert, Graeve, David, Morgan and Brown as the starters. And the Jackets' head coach said he likes the chemistry and unity with this year's team so far.
"This group is tight," Bush said. "I think in the past we've had some people in our program with some selfish agendas. I don't think that's the case with this group. It's legitimately a family. They want to be successful. They know their roles. If you talk to them, the most important thing to them is winning. It's easy to coach a group like this. You're not getting upset about effort, energy or playing the game the right way. Instead you're coaching principles and things you want to see. It makes it more enjoyable to be around."
Bush added that he's blessed to have "the best basketball coaching staff in the state" with Rob Yeatts (a newcomer to the staff; Colbert's father), Ethan Anderson and Tony Cunningham.
While the Jackets appear to have several things going for them entering the season, UIL realignment didn't do Cleburne any favors. The Jackets landed in arguably the toughest basketball district in Class 5A with Arlington Seguin, Burleson, Burleson Centennial, Joshua, Mansfield Summit, Mansfield Timberview, Midlothian and Midlothian Heritage in District 8-5A.
"It's going to be the best district in 5A basketball," Bush said. "There's already three teams ranked in the top 25 to start the season. That's just the way it is. We also believe one of the reasons it's going to be one of the best districts in the state is because we're in it. That's just where our heads are at."
Cleburne won't have a chance to ease into the season as the Jackets will face some tough tests early on to try to best prepare them for the district grind.
"Really, we're coming out swinging, "Bush said. "We want to win early. It's a good chance to set the tone for ourselves. We're going to see teams that get up and play fast like Everman and Granbury that will test us early. We'll be in two really good tournaments right out of the gate. In the Fantasy of Lights, we'll see Denton Braswell, a good 6A team, in the first round. We're going to the Granbury Tournament where we will play Saginaw, Grapevine and Waco Midway. Those types of teams will prepare us for that district."
Bush believes this year's team has a chance to do something special if they excel in certain areas, including end-of-game situations.
"We've had internal talks since the season ended last year that we believe this is the best group we're going to have since I've been here," Bush said. "While the district is tough, we're going to try to put ourselves in a position to win no matter who the opponent is. If you play well enough, it comes down to the late-game things. Last year, there were times we were good in those situations, like in our win over Midlothian, and there were times we were bad in those situations, like vs. Joshua. 
"We just have to stay in the moment. Right now, our complete focus is on Benbrook then we'll start worrying about Granbury when we get home Friday night."
The Jackets tip off the season at 7:30 p.m. Friday at Benbrook before playing host to Granbury at 12:30 p.m. Saturday. On Tuesday, Cleburne will host Everman at 7 p.m.