GODLEY — After a fourth-place finish in District 7-4A, the Godley Lady Cats received four selections in all-district voting.
The good news for Lady Cat basketball — which went through its third consecutive sub-.500 season since reaching the state tournament in 2017 — is each of Godley's four all-district selections are underclassmen in juniors Hanna Robertson and Bryanna Williams and sophomores Emma Burke and Reagan Maxwell.
"It's really good for the future," Godley Coach Mark Chauveaux said. "We didn't have any seniors on our team at all. When you get fourth place in the district, you're kind of worried about how many selections you're going to get in those meetings, but I think all four were deserving with what they got."
The Lady Cats entered the 2019-20 season with a largely inexperienced varsity roster with only two varsity returners, and only one of which was a starter. So Godley was forced to learn on the run for the majority of the season, but the Lady Cats still managed to snag a playoff berth before losing to five-time defending state champion Argyle in bi-district.
"There was an awful lot of learning that went on this year with several of our players," Chauveaux said. "We only had two back from the previous year. Most of them were JV players last year, so they had to learn a lot, and they did. So we won't have to start from square one next year, we'll be a lot further down the road."
On a roster full of newcomers for Godley, Maxwell's play was noticed by opposing district coaches who voted her as the league's co-newcomer of the year along with Stephenville sophomore Jaylee Matthews.
"There were probably several players on our team that could have gotten that award or had a chance to get it just because they were all newcomers," Chauveaux said. "None of them were on varsity [last year] except Hanna and Bryanna. But what stood out for Reagan was her overall hustle and scrappiness. She gave other teams fits with her ability to steal the ball and her quickness."
Representing the Lady Cats on the all-district first team are Robertson and Burke.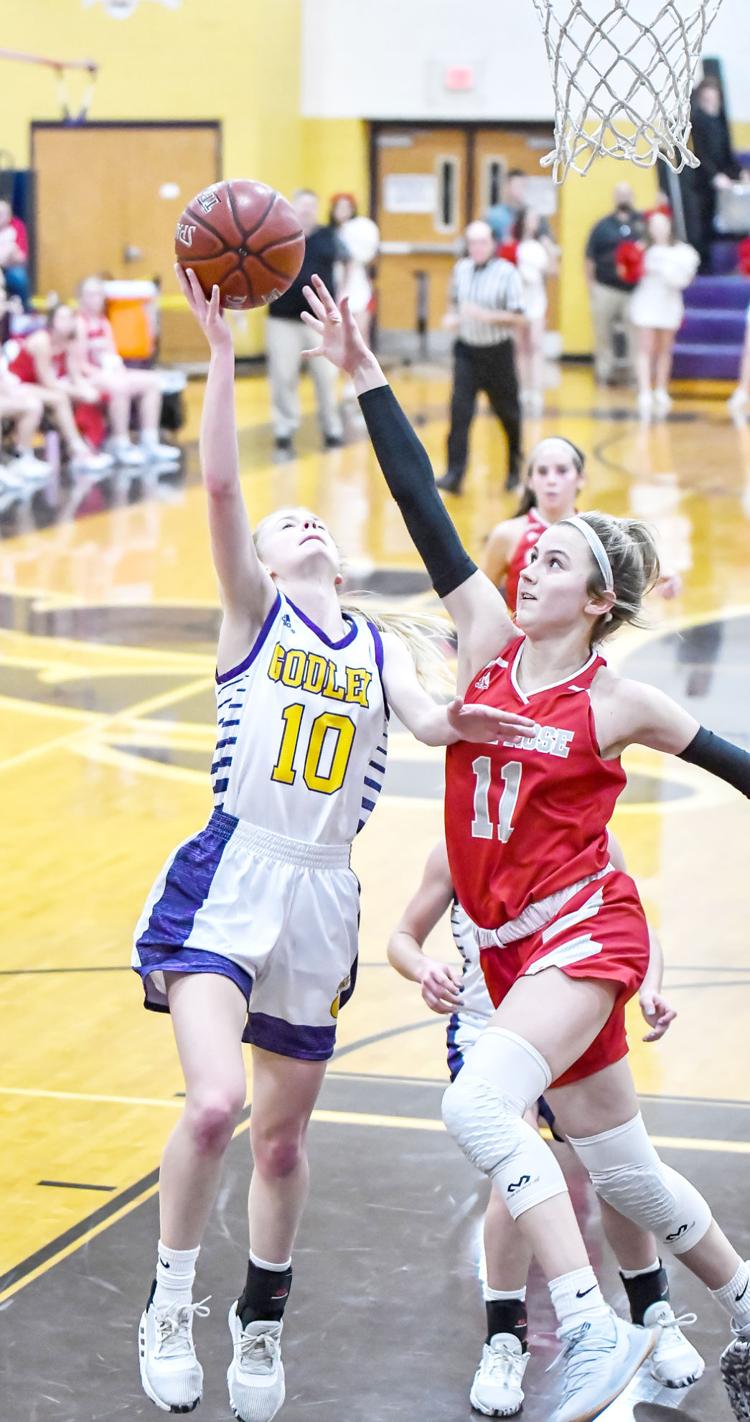 Robertson has been a key contributor for the Lady Cats since her freshman season, and she has been rewarded with all-district honors all three seasons. Her first-team nod this year is her second straight first-team accolade after being an all-district second-team selection as a freshman.
"It's no surprise for Hanna to get that award," Chauveaux said. "She's really been our best player all year long. I think what made things a little more difficult for her this year was, as a freshman she was on varsity but she was one of four people that were pretty good and last year she had some other people around her also. But this year, she was guarded by everybody's best defensive player every game and she's who everyone scouts and plans for and tries to shut down, but she was still able to average double digit in points. 
"I was proud of her for keeping her scoring average up. She had a huge load on her back. She had to be our point guard the whole year and then still be able to score for us. I was proud she was able to do that."
Chauveaux said Burke — the all-district newcomer of the year for volleyball — showed tremendous progression from the first day of practice through the end of the season.
"Emma probably made the most improvement of anybody on our team from start to finish," he said. "She's a really good volleyball player and she spends a lot of time in her life with that sport so she was coming into this year a little inexperienced in basketball, but you could see her growing every day. She improved a lot but she's probably the most coachable player on our team also. She wants to be coached and she asks questions and she's always wanting to learn and improve. A player like that is easy to coach and it's easy to see improvement in her every day."
Williams garnered all-district second-team honors for the Lady Cats after stepping into a bigger role compared to her sophomore season.
"I've seen her for three years now, and [compared to] where she was as a freshman, she's improved a lot over three years," Chauveaux said. "She improved a lot this year, too. She was on varsity last year but didn't get a lot of minutes, but she was one of our go-to players this year and she did a great job defensively. She was able to take a little bit of the load off Hanna at the guard position. I'm excited to see what she can do next year. She plays a lot of different sports and is involved in a lot of different things so I think it was good this year to see her desire to play basketball and her enjoyment of the game blossom."
With the Lady Cats set to return their entire varsity roster for the 2020-21 season — plus the potential of adding a few pieces from a strong incoming freshman class that has won back-to-back district titles in seventh and eight grade — the future is bright for Godley girls basketball moving forward.
"I think everybody should be really excited about what's going to be going on here the next couple years," Chauveaux said. "The eighth grade group is the best class overall that we've had since the seniors in 2017. I think there's a chance for a few of those girls to step in right away as freshmen, but we'll have to see because you can't tell until they get up here and you work with them every day and see how they mesh with who we already have because we'll have everybody back for next year."
The District 7-4A MVP is a shared honor between Brownwood senior Matyha Thompson and Glen Rose senior Hailey Ibarra. 
Glen Rose senior Bree Baker is the league's offensive player of the year, while Stephenville sophomore Landri Withers is the defensive player of the year.