After making a surprise run to the playoffs, the Cleburne Yellow Jackets are represented with four selections on the all-district team for 14-5A.
Entering the season, Cleburne was picked by many to finish in last place in District 14-5A after the Jackets won just one game in league play in 2018-19. But Cleburne (9-23) went 5-7 in district play, making the playoffs by virtue of a head-to-head tiebreaker over Joshua for the No. 4 seed.
With four selections — two on the first team and two on the second team — Cleburne Coach Jeff Bush said he was proud of the four Jackets who received all-district honors.
"I think it went about as expected, maybe even a little bit better," Bush said of the all-district voting. "The two guys who ended up on the first team, I figured they would be there. I was curious to see how the second team would fall. I thought it went well for us. If we scratch out a couple more wins, it goes better. But I'm proud of our guys and happy for the accomplishments they got."
Leading the Jackets with first-team honors are seniors Blane McElroy and Nash Mosoba, who led Cleburne in scoring throughout the season.
Mosoba was a force for the Jackets in district play as he averaged more than 18 points per game with eight rebounds per game, with several double-doubles and a couple of 30-point performances.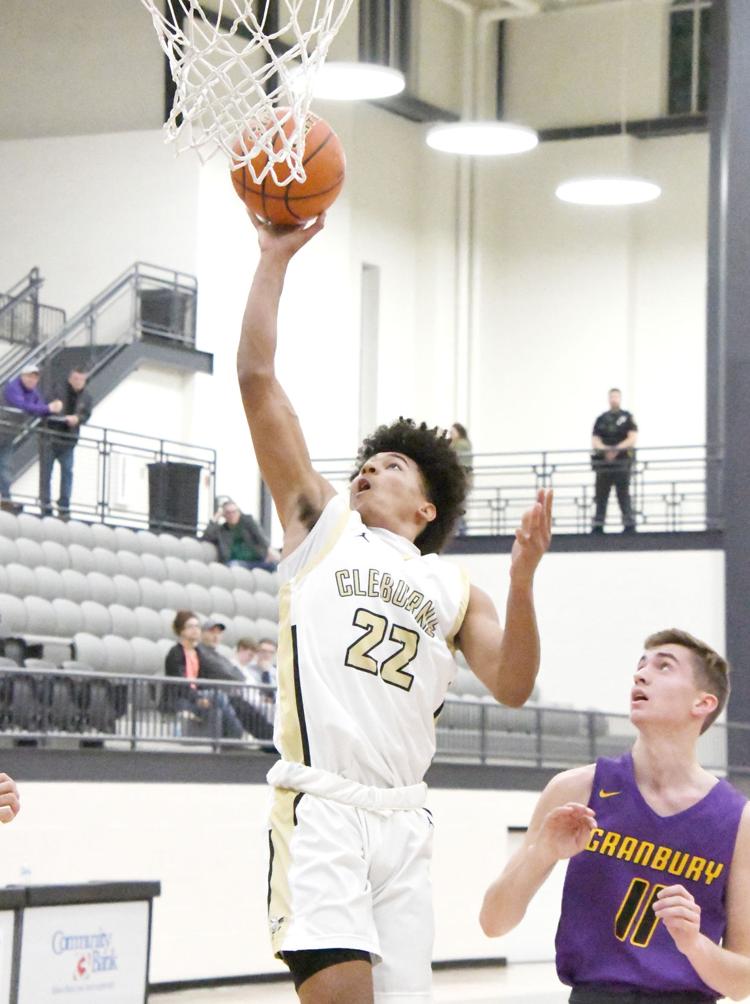 "Nash was our focal point and if you look at most teams who played against us, he was their focal point as well," Bush said. "Throughout the regular season, he averaged 16.6 points per game, but he averaged over 18 per game in district play. He's what made everything go. He made plays other than that as well, averaging eight rebounds per game in district. Everyone in our district knew who Nash was. I'm proud of him. He had a great year."
With Mosoba as the focal point of Cleburne's offense, McElroy's sharp outside shooting was an elite compliment and a deadly weapon in Bush's set play calling. McElroy hit a total of 117 shots from 3-point territory on the season.
"Blane was the best shooter in our district and I think everybody saw it," Bush said. "We had to do a lot of things to get him open the further the season went along and he was hitting 3's at a 38 percent clip. A good shooter is 33 percent and he was at 38. He's probably one of the top 3-point shooters in 5A all together."
While McElroy may be best known for his lethal perimeter shooting, he was also a well-rounded player for the Jackets.
"The stat that surprised me is he led us in blocked shots this year and he averaged about four to five rebounds per game," Bush said. "As the year went on, we asked him to guard other team's best players. He's a better athlete than I think people realize until they flip on some tape. He did a lot for us. His shooting sticks out but he led us in blocked shots and was one of our top-3 rebounders as an undersized guard. We asked a lot of him."
The 1-2 punch of McElroy and Mosoba worked so well because of how their games fit with each other.
"They have a great relationship off the floor so they feed off of each other," Bush said. "You'd see how excited the two of them would get for each other. They also trusted each other a lot. Blane knew he could get the ball to Nash in the middle and he would either score or kick it back out to Blane after drawing the defense in. And Blane's shooting would give Nash room in the middle. They did a great job creating space for each other."
Garnering second-team all-district honors for the Jackets are seniors Isaak Cunningham and Jake Dobbins.
At point guard, Cunningham was key for the Jackets in helping handle full-court pressure defense, but he also provided timely scoring and tough defense.
"Isaak played his role perfectly," Bush said. "He came off the bench for a large stretch in the beginning of season then when he was called upon he stepped into the starting rotation and nothing changed for him. There were stretches, especially in the Ennis games, where he put us on his back with how tough he was on the ball and his defense against other team's point guards."
Before the school year started, it was unknown how much Dobbins would be able to contribute after being diagnosed with Type 1 diabetes.
"Jake really overcame a lot this year," Bush said. "How much weight he lost after his diabetes diagnosis, it was impressive how hard he fought to get back. He worked so hard. There would be times he'd grab a quick sip of Gatorade and I'd be willing to ask him to sit out a minute but he'd jump right back into the front of the line in practice.
"He had some big games for us, on senior night he played really well. He was key for us rebounding the ball and playing defense. With all he had to overcome health-wise, it's a testament to how tough he is. He'll be successful long after high school because of that."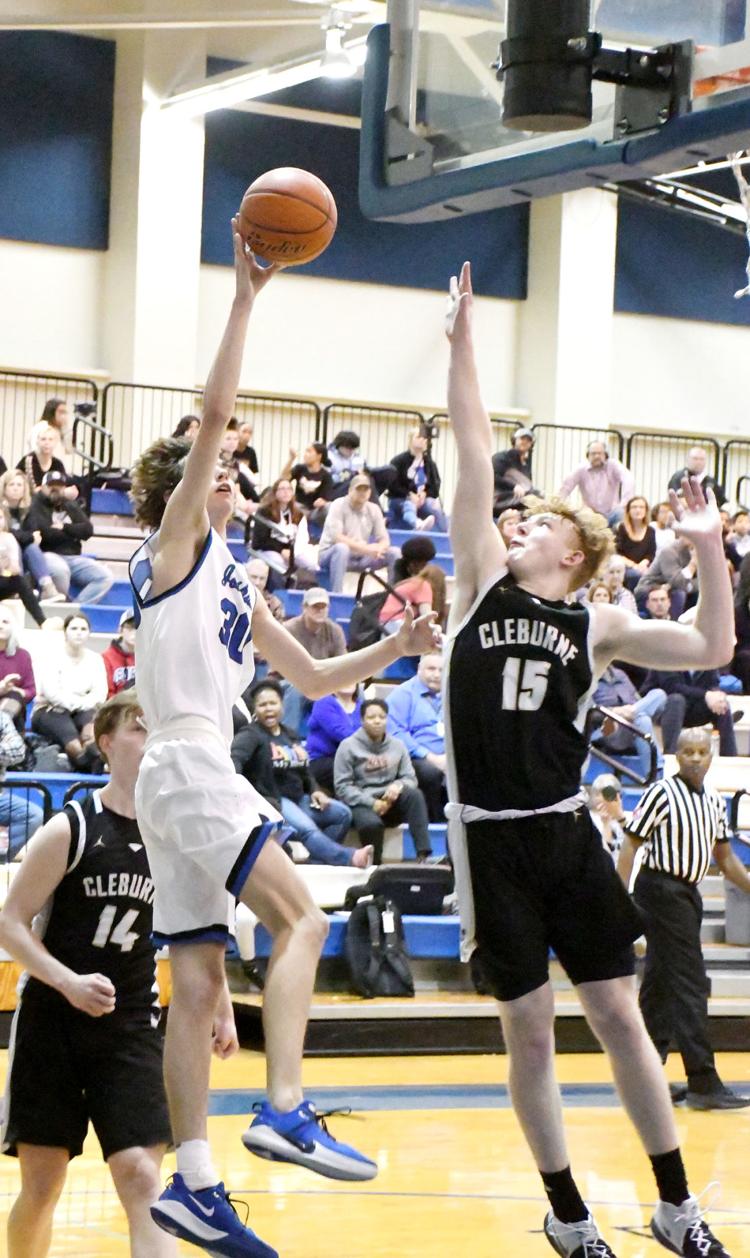 After leading the Jackets to the playoffs in his first year at the helm, Bush said he's proud of all Cleburne accomplished in 2019-20.
"I'm really proud of those guys," Bush said. "The offseason period feels really empty right now. We lost a lot. Those guys did everything they were asked to do; did more than they were asked. They accomplished more than what a lot of people thought they would. We set a goal to play playoff basketball and we accomplished it. They kept fighting and competing and working.
"The biggest thing is how close they became as a team with the chemistry they had. They were brothers. I think that made them play harder because they didn't want to let each other down. I'm proud of them. I'm going to miss those eight seniors; that's a lot to replace. My hope is when we look up in six or seven years, we'll look back to this group who laid the foundation for everything we're trying to do here."
Like Cleburne, the Joshua Owls received four selections on the all-district team. Joshua finished one win shy of qualifying for the playoffs for the first time since 1983.
Representing the Owls on the first team are Tyler Stone and Levi Marriot. Stone averaged 14 points per game and was one of the Owls' top defenders while Marriot averaged 11 points per game and led the team in shooting percentage.
Noah Smith and Brandon Ayars received second-team honors for Joshua. Smith led the Owls in rebounds and charges taken while Ayars led the team in assists with 5.2 per game and was a pesky defender, leading the Owls in deflections.
All four of Joshua's all-district selection are underclassmen and will be back for the 2020-21 season.
"I am excited about having 75 percent our varsity back next year," Joshua Coach Brandt Lockhart said. "However, I told our team that it is how much we get better individually come next November. We need to improve our skills and strength."
District champ Red Oak received a league-high eight selections on the all-district team, led by MVP Latrone Turner. Second-place Midlothian and third-place Ennis each garnered five all-district selections.