GRANDVIEW — After an All-American high school career and a winding college path, the next step in the football journey of Grandview's Zach Smith should take place this weekend with the 2021 NFL Draft.
Smith is projected as a day 3 pick by most experts, while others have Smith going undrafted and in the mix to sign as a rookie free agent. No matter what happens — if Smith is a late seventh-round selection or goes undrafted — the former All-Johnson County MVP is grateful to have an opportunity at fulfilling a lifelong dream of becoming an NFL quarterback.
"It's kind of surreal, to be honest," Smith said. "I was talking with my dad a few days ago about how it's been a long road and it's crazy that we're kind of finally here at this point. I've been extremely blessed with all the people I've played with, all the coaches I've had, and all the experiences I've gone through — all of that has shaped and molded me as the player and person I am today. I couldn't be more blessed to be in this position than I am. 
"Regardless of what happens, it's been a pretty crazy career and I'm super excited moving forward and hopeful to achieve the lifelong dream I've had to make an NFL team and be a part of an NFL organization. I think it's pretty cool and I'm excited for it. I got my degree from a really great school and I couldn't be more blessed to have done that and at the same time play this game I love. I couldn't ask for a better situation."
Following a record-breaking high school career with the Zebras, where Smith was one of Texas high school football's top-10 leaders in passing yards and passing touchdowns, his collegiate career took several unexpected turns.
Smith committed to Baylor as a sophomore in high school and graduated from Grandview High School early to take part in spring practices with the Bears in 2016, planning to redshirt and be a backup for another year or two. Shortly after Smith stepped foot on campus in Waco, the Art Briles scandal erupted. Following Briles' termination, numerous Baylor players transferred and the majority of their commits went elsewhere. 
Smith was one of just a couple of Class of 2016 signees to stay at Baylor, and after an injury to senior starter Seth Russell midway through the season, Smith was thrust into the starting quarterback spot as a true freshman. Even though Baylor, as a team, struggled down the stretch, Smith played well during his freshman campaign, including leading the Bears to a Cactus Bowl victory over Boise State in a game where he completed 28-of-39 passes for 375 yards and three touchdowns.
After the hiring of Matt Rhule as Baylor's head coach, Arizona transfer Anu Solomon was named the Bears' starting quarterback to open the 2017 season. After an ugly 0-2 start, which included losses to Liberty and UT-San Antonio, Smith was named starter and again played well for Baylor, including a memorable performance against No. 3 Oklahoma where he outplayed eventual Heisman winner Baker Mayfield in a 49-41 loss. Smith completed 33-of-50 passes for 463 yards, four touchdowns and no interceptions.
But a minor injury the following week sidelined Smith and he never started another game for Baylor as Rhule went with freshman Charlie Brewer the rest of the season, ultimately resulting in Smith transferring to Tulsa. After sitting out the 2018 season due to NCAA transfer rules, Smith won the starting QB job for Tulsa and he threw for 3,279 yards, 19 touchdowns and nine interceptions. As a senior in 2020, Smith threw for 1,947 yards with 13 touchdowns and 10 interceptions in nine games, guiding Tulsa to a berth in the conference championship game, where the Golden Hurricane suffered a loss to No. 8 Cincinnati on a last-second field goal.
Smith's final college stats include 8,223 passing yards, 54 touchdowns and 34 interceptions.
Despite all of the challenges thrown his way in college, Smith said he wouldn't change anything.
"It definitely hasn't been a straight path," Smith said. "I'd say my path has been pretty windy my entire career. If I had to bring it under one word, I'd say adversity. I think I've been through a lot of adverse times. Going to Baylor and all the stuff that happened there and then transferring to Tulsa where I had to pick up a new offense, new coaches, new teammates and kind of find my way through there, it's definitely been interesting but I wouldn't go back and change anything. I think that I've learned a lot of stuff through the experiences I've gone through and battling through it and coming out of the other side a better person, better player and better man. I wouldn't change anything if I had a chance."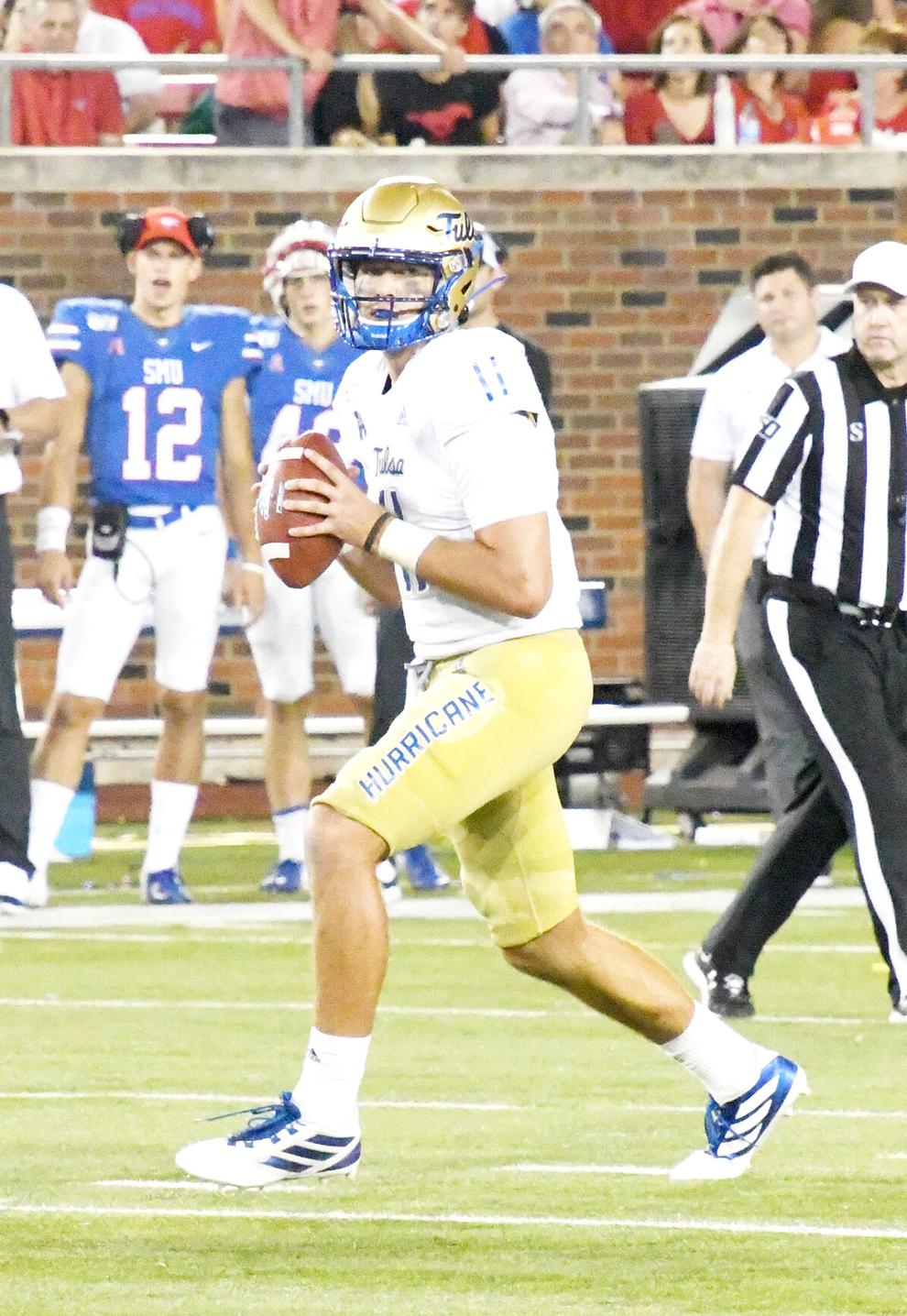 Cleburne Head Football Coach Casey Walraven, who was Smith's coach at Grandview, agreed that overcoming adversity is what defined Smith's college career.
"I'd say his toughness and resiliency are what stands out," Walraven said. "He went through a lot mentally and physically: he was thrown in the fire early and then with all the things that happened at Baylor, transferring to Tulsa and sitting out a year and all that. I would say it's his toughness, physically and mentally, and his resiliency and being able to bounce back from all of that and be a leader. I would think it's defined by Zach being Zach and all the intangibles he has. He brought those qualities to give his football team an identity last year and the result of that was playing for a conference championship. I think his teammates just absorbed what his leadership skills were and used his qualities — toughness and resiliency — for themselves, and they won big games because of it."
Smith said one of the traits he prides himself the most on is his toughness.
"I've taken a lot of hits throughout my college career but I always get back up," Smith said. "You're playing until you can't no more. Whether I get hit the hardest I've ever been hit back-to-back plays, I'm going to get back up and keep going after it and try to find a way to get my team a win. Whatever I'm going through, I just try to stay the course and keep God at the center of my life and never really change who I am; just battle through it, keep family close and work my hardest to get a win. I think I've done a pretty good job of doing that up to this point."
Smith could've returned for one more season with Tulsa but opted to declare for the NFL Draft. Since the conclusion of the 2020 college season, Smith has been putting all of his focus into preparing for this week's draft, including a one-on-one workout with Hall of Fame QB Brett Favre.
"I always watched Brett Favre when I was a kid," Smith said. "How he played the game is how I try to play, with the passion and fun he had playing. I got the opportunity to do that because my agent, Bus Cook, is Brett Favre's agent as well. He asked Brett if I could work with him a little bit so I flew out to Hattiesburg, Mississippi, to work out with him a little bit. I'll tell you, he has not lost any zip on his ball. He can still throw it. That was really a dream come true getting to work with him and learn some stuff, fundamentals, mechanics and just talking football. It was cool to pick his brain and gain some valuable knowledge. It was really a dream come true."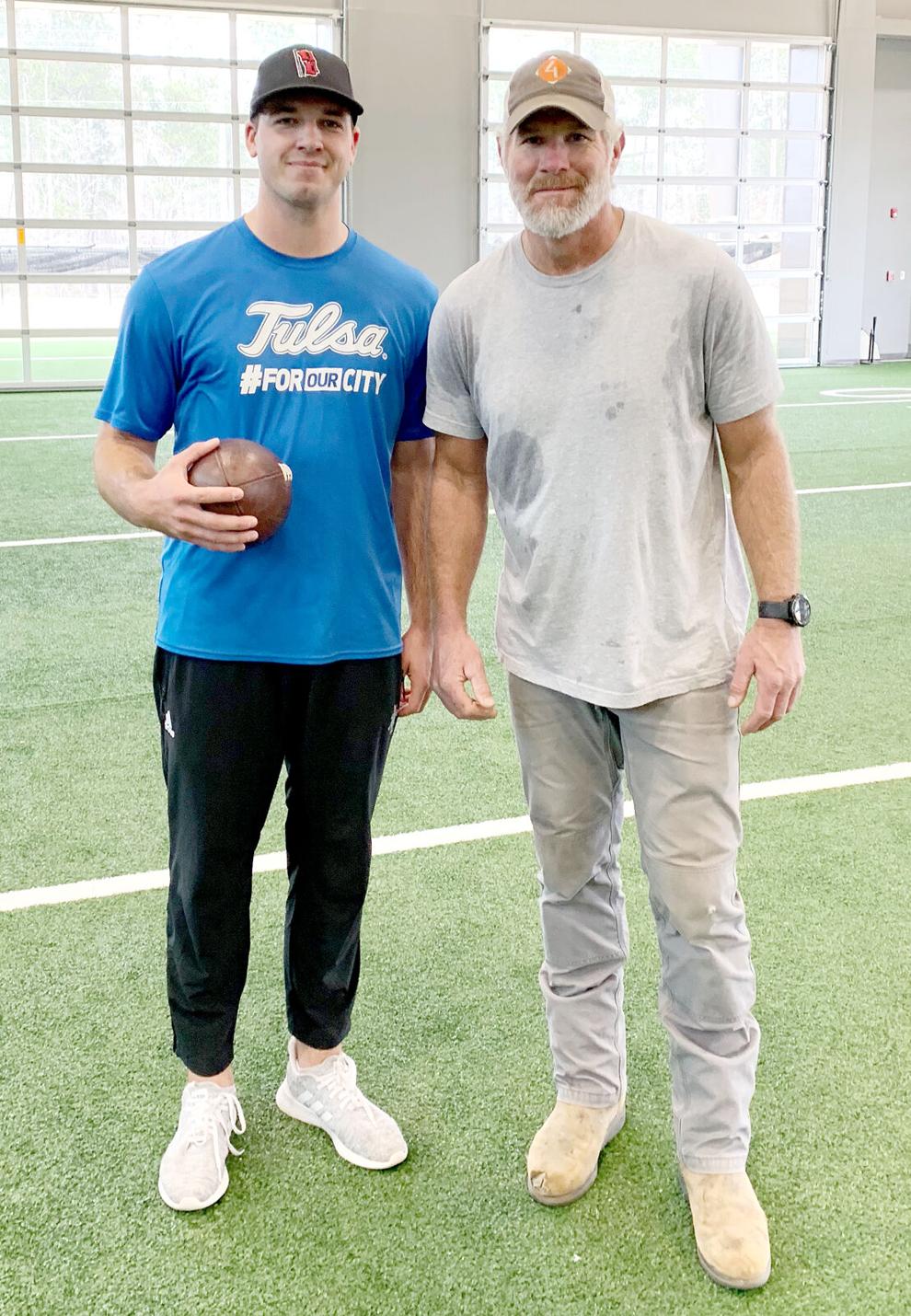 Smith was also chosen to play in the 2021 Hula Bowl at Aloha Stadium in Hawaii.
"That was awesome," Smith said. "I'd never been out of the country, off the mainland. So getting to go out there — you could walk outside your hotel room and see Waikiki Beach and the mountains — it was a really cool experience. I got to meet other players and build relationships with them and got to meet with several scouts and also learn from my coaches there, Mike Singletary and Jim Zorn, and pick their brains and get valuable experience. Being able to play in that stadium that's hosted the Pro Bowl for so many years where so many Hall of Fame players played before was cool. And that was the last game that will ever be played in that stadium, so it was a pretty neat experience."
The next step for Smith was Tulsa's Pro Day on April 2, where he, along with teammates Zaven Collins and Corey Taylor, showcased their talents in front of more than 30 NFL scouts and general managers.
"I was pretty nervous going into it, I'm not going to lie, but it was awesome getting out there with my teammates again and getting to compete and work out with Zaven and Corey; it was really neat," said Smith, who measures 6-foot-3.5 and 227 pounds. "Having all those scouts there was a really cool environment. You want to put your best foot forward and I think we all did a really good job. Getting to throw, I was little amped up but I settled down and dialed it in. I thought I did pretty good. The pro day was a really cool experience with all the scouts there and a lot of notoriety. I enjoyed it."
Smith said he's talked to 15 or 16 teams on the phone or through Zoom meetings over the last few weeks in addition to several in-person interviews at the College Gridiron Showcase in Fort Worth several weeks ago.
"I've been kind of hearing third day but it really just depends on how stuff shakes out," Smith said. "You never really know especially with how heavy this QB class is this year. I've been hearing third day or undrafted free agent. Either way, whether I'm drafted or an undrafted free agent, I'm going to be in the same boat: I've got to show up and work my tail off every day and try to put my best foot forward."
When asked how Smith would sell himself to an NFL organization, he said he takes pride in being a fierce competitor.
"I'd say above all, I'm a competitor," he said. "I just want to win, whether it's pretty or not. Whether I throw for 40 yards or 400, it doesn't matter if we come out with a win. I've got mental toughness, heart, drive, I've got good size, I can make any throw on the field, and I feel like I can put my team in a position to go out there and win."
Walraven, who has known Smith since he was in the eighth grade, recalled one specific moment when he knew Smith had a chance to be special.
"I think there's probably quite a few moments where I realized he was special but one stands out," Walraven said. "When he was a freshman, we got him some reps with the varsity first group and he took a big shot on the first play from [all-state linebacker] Caleb Armstrong, who was a senior, and Zach got right up and kept his composure. I had seen him throw and seen him do some stuff mechanically, but I think the other questions were how tough was he, what mental composure does he have and his leadership. And I think that day he earned a lot of respect from everybody and it showed the toughness he went on to show throughout his career."
While Clemson's Trevor Lawrence, BYU's Zach Wilson, Ohio State's Justin Fields and Alabama's Mac Jones headline the 2021 QB class, Walraven said he believes Smith has all of the tools and traits needed to be in consideration as a higher draft pick than he's being projected as.
"With all due respect to Tulsa and those guys, he didn't have the college career where he was able to throw to NFL receivers on a weekly basis like quarterbacks at Alabama and Ohio State and Clemson," Walraven said. "Even in high school, we had some hard-nosed, hard-working players, but athletically they were maxed out on what they could do and Zach made them better every single day. I think that's what's going to happen in the NFL. He's going to get out there around the best in the world and he's going to have those guys to throw to and block, and it's going to show who he is."
Walraven added that he thinks Smith — a true pro-style pocket passer — and his style of play will flourish at the NFL level, in a league where Tom Brady is still winning Super Bowls, even at 43 years old.
"I think whoever gets him, they're getting a steal wherever and however they get him," Walraven said. "If he would've been in some of those big programs with those NFL guys, he would've been a first-round guy. People have questioned his accuracy but you're talking about a guy who led the nation in completion percentage on passes over 15 yards. That shows most of his passes were much harder to complete than everybody else's, plus you add the fact he's not throwing to NFL targets, it makes it even more impressive. 
"I think they're going to be getting exactly what you want in an NFL QB: he's got size, durability, crazy arm strength, a great work ethic, he's intelligent, he's humble and he's a great leader. I guess you could say he's not a dual-threat QB, but I think that remains to be seen if that's a sustaining factor in the NFL or not. It's guys like Tom Brady and Matt Ryan and Aaron Rodgers, they can extend plays here and there, but they're known for getting the ball out quick and leading a team and winning. I think that's what Zach is going to bring to an NFL team."
While Smith won't be confused with Lamar Jackson or Michael Vick as a dual-threat QB, Walraven said Smith's maneuverability and footwork within the pocket is underrated.
"If you look at Zach's feet in the pocket, you'll be hard pressed to find a QB whose feet are as good as Zach's," Walraven said. "The only thing is he's not going to run the zone read and outrun people for 20 yards. There's some advantages to being able to have that at times, but I still think the NFL, for the most part, is heavily influenced on quarterbacks who can make quick decisions and accurately deliver the football. Until that trend really changes, then Zach's in a great situation. I think Zach can extend plays and move within the pocket and keep his posture and deliver the football as well as anybody, he's just not going to make highlight reel runs."
If Smith's name is called this weekend, it would mark back-to-back years a Johnson County product is selected in the NFL Draft after Cleburne's Reggie Robinson II was taken by the Dallas Cowboys in the fourth round of the 2020 draft.
"It's awesome. I felt 100% assurance this day would come for Zach, and it's here," Walraven said. "I try to preach this to our kids in Cleburne with Reggie and now Zach as examples. That's what I tell them all the time: you worry about recruiting, but it all comes down to if you work hard and you've got the ability, they're going to find you and you're going to get your opportunity. You've just got to be ready when they come about. Reggie was ready and so was Zach. These guys are going to find talent, you've just got to be prepared and put yourself in those situations to be successful when they come calling. I think Zach making it to the NFL is phenomenal for all of Johnson County."
Walraven said he doesn't typically watch the NFL Draft, but he'll be glued to his screen Friday and Saturday hoping to hear Smith's name called.
"Hopefully a lot of quarterbacks go pretty early Thursday," Walraven said. "I won't be shocked if he goes third round or fourth round. It could happen. I just know he needs an opportunity regardless of how it happens. It's going to work out. I'm not much of a draft watcher but I'm definitely going to be watching. Last year I was watching because I was excited for Reggie and, of course, this year with Zach so I'll definitely be watching and definitely be a little bit nervous. You want it to happen for him, but he's going to get an opportunity one way or the other and he'll make the most of it — like he always has."
Round 1 of the NFL Draft, which is being held in Cleveland this year, is scheduled for 7 p.m. Thursday. Rounds 2-3 will begin at 6 p.m. Friday with rounds 4-7 to begin at 11 a.m. Saturday.