BURLESON — The Burleson ISD board of trustees unanimously approved the hiring of former NFL quarterback Jon Kitna as Burleson High School's head football coach and athletic coordinator.
After a 14-year playing career in the NFL, Kitna most recently served as the quarterbacks coach for the Dallas Cowboys in 2019, helping guide Dak Prescott to a career-best season with 4,902 passing yards and 30 touchdowns.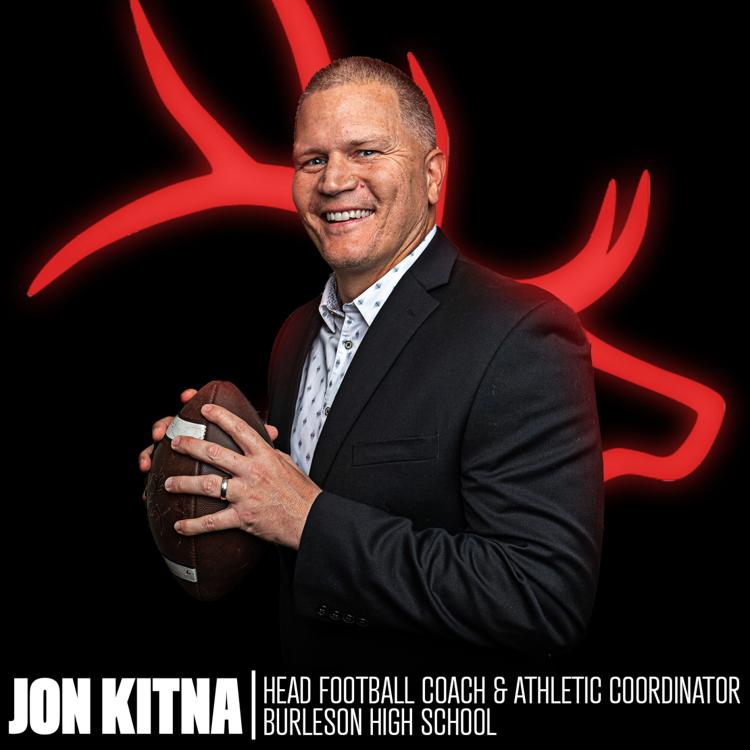 And now Kitna will lead the Burleson Elks' football program after trustees approved the hiring at Monday's board meeting based upon the unanimous recommendation of a selection committee, which included BISD Athletic Director Kevin Ozee, high school and middle school principals, a parent, and a trustee/parent.
"Burleson High School was looking for a head coach and athletic coordinator to build not only a strong program, but also strong relationships among students and the community," BISD Superintendent Bret Jimerson said. "I believe the committee got it right in selecting Coach Kitna to lead the program."
BISD officials said the district's head football coach salary is $114,000 per year.
In his first official week on the job as Burleson ISD's new athletic director, Ozee made a big splash by bringing in Kitna, who has prior experience as a Texas high school football with Waxahachie from 2015-17.
"Coach Kitna brings a wealth of successful experience at multiple levels of football, and his grasp of coaching and leadership is exceptional," Ozee said. "The most important quality of Coach Kitna's program is coaching the total student in all aspects of life. He has a unique way of modeling and teaching his players, and I believe this hire will take the BHS community to a whole new level."
Kitna said Burleson was the right fit for him and his family for a number of reasons, chief among them, Ozee.
"First of all, Kevin Ozee," Kitna said. "He's somebody I got a chance to meet while I was playing with the Cowboys. I just have a lot of respect for what he's done in his career. We're cut from a very, very similar cloth in terms of how we see things and wanting to do what's best for kids and really produce pride in community through the kids."
Kitna said once he started meeting administrators at Burleson ISD during the interview process, he was ready to get to work.
"When [Ozee] told me it's going to be Burleson High, I did all my research," Kitna said. "I'm super excited about what's going on here with the growth of the school district and what Dr. Jimerson has been doing since he came on. I got a chance to meet the principal, Mr. [Wayne] Leek, and I'm like, 'Man, I'm sold.' I really like the small community feel. Super excited."
Ozee said he met Kitna in 2010 when he was athletic director at Carroll ISD and Kitna was spending the final two years of his playing career with Dallas. And the two have remained in contact since.
"He always said he wanted to be a high school coach when he retired from his playing days," Ozee said. "We reconnected when I went to Arlington and we had a job open there that we had talked a little bit about, and that's when he went to Waxahachie. We've stayed in touch over the years and kept a relationship.
"When I was in talks for this job, I reached out to Jon — and some other candidates — and caught him at the right time. The transition with the Cowboys had just recently happened. He was actually turning down NFL and college jobs because he wanted to get back in high school. We got him in the interview process and he blew the interview committee away. It was unanimous with the committee. It was God's timing."
In an interview with the Times-Review last week, Ozee said his vision for Burleson ISD is to become the "premier education-based athletic program in the nation" as well as a program that prepares young student-athletes for life after sports. And he believes Kitna fits that mold.
"Jon's a total program guy and a total community guy," Ozee said. "He's not just a football coach. He really takes it to heart about training young men and young women to be productive, positive members in their community. The football and the winning are a byproduct of everything else. Our philosophies are right in line."
Kitna said his favorite part of coaching is making a positive, lasting impact on his student-athletes' lives.
"Of course, we want to win football games but we will never compromise the character of our program, coaches and players, to win football games," Kitna said. "Very few of these kids are going to play football after high school, but they're all going to be men and they're all going to be adults. The thing that makes me most proud is when kids that I've coached hit me up from college and say, 'Coach, I want you to know I got a 3.7 GPA' or talking about having kids or getting married. Those are the things that matter to me.
"I believe coaches in America can have the greatest impact on youth. That's what I want to do is partner with their parents and their guardians and help train up real men and produce a leadership factory here. When people are in Johnson County and they're looking at somebody for a job for their company, I want them to go, 'He played at Burleson High School, we know that he's got leadership traits we want in our organization.'"
TCU wide receiver Jalen Reagor played for Kitna in Waxahachie. The 2020 NFL Draft prospect and All-Big 12 performer said he learned valuable lessons from Kitna.
"Coach Kitna came into the program, changed the culture, and taught me how to be a R.E.A.L. man: reject passivity, empathize with others, accept responsibility, lead courageously," Reagor said. "These things stuck with me throughout high school and my college career."
While Kitna was doing his research on Burleson High School, he noticed the Elks' effort under previous head coach, Gary McElroy, was already at a high level; he also noted the job Kyle Geller is doing as Burleson Centennial's head coach across town.
"The way Coach McElroy had these kids playing hard, that's evident on tape," Kitna said. "That's always a good thing when taking over a program is that kids' effort isn't really an issue. And what Kyle is doing over there in Centennial; it's a really good atmosphere, in my opinion, because he's setting a standard over there that we all should be trying to attain."
Kitna said he and his family are excited to become part of the Burleson community. Joining Kitna in Burleson will be two of his sons, including Class of 2021 prospect Jalen Kitna, a three-star quarterback prospect who holds offers from Arizona, Boston College, Colorado, Florida, Georgia Tech, Oregon State, Tennessee, UAB, and Yale, among others.
While Kitna was coaching with the Cowboys in 2019, Jalen Kitna played his junior season at Frisco Reedy. But now the former Seahawks, Bengals, and Lions quarterback is excited to coach his son in his senior year with the Elks.
"Definitely, one of the things I missed last year doing what I did [with the Cowboys was coaching Jalen], but I knew that's what God had for me for last year," Kitna said. "But I'm super excited about being able to finish coaching him and my next son [J.T.] that's coming up who's 14 years old right now."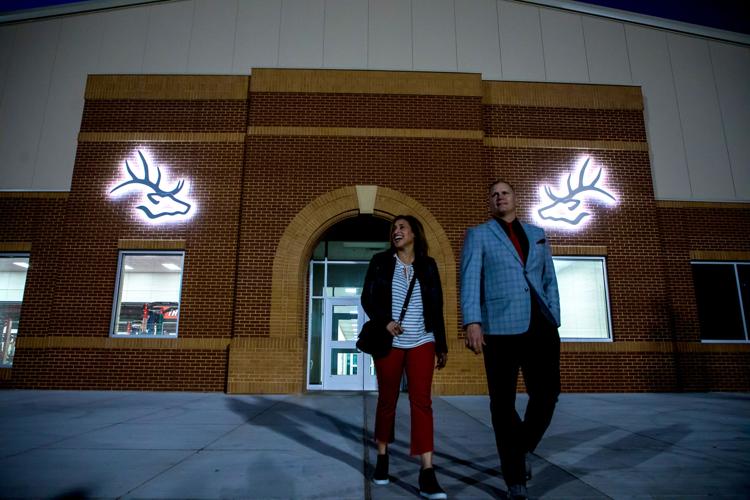 Jason Garrett, former head coach of the Cowboys, said in a statement provided via Burleson ISD that Kitna will leave a lasting impact on the players he coaches.
"I cannot think of a better environment for a young man than to play high school football in a program run by Jon Kitna," Garrett said. "He brings out the best in those around him and has a significant impact on the players at whatever level he has coached. The impact he will have on his student-athletes will be felt for the rest of their lives."
After hiring Ozee on Feb. 17 as the district's new athletic director and now Kitna, Burleson ISD has made a couple of big-time additions.
"BISD always seeks the very best candidates, and Ozee and Kitna are evidence of our dedication to provide students with a quality education experience," Jimerson said. "The talent runs deep in BISD, and we're seeing more students succeed at higher levels than ever before. That success does not happen by chance: it's through the talent and hard work of our students who are taught by passionate, dedicated professionals."
Kitna first began his coaching career at his alma mater, Lincoln High School in Tacoma, Washington. He helped Tacoma to a 24-8 mark and three playoff appearances, including a quarterfinal appearance, over three seasons. He was then hired in 2015 as Waxahachie's head football coach, where he posted a 20-13 mark over three seasons with one playoff berth, leading the Indians to the third round.
After resigning from Waxahachie, Kitna was hired as head football coach at Brophy College Preparatory High School in Phoenix, Arizona, in February 2018 before joining the Cowboys' coaching staff in 2019.
Kitna's playing career in the NFL spanned 14 seasons with the Seattle Seahawks (1997-2000), Cincinnati Bengals (2001-05), Detroit Lions (2006-08), and Dallas Cowboys (2010-11). He threw for 29,745 yards in his career, currently good for 50th in NFL history, with 169 touchdowns and 165 interceptions.
In the 2003 season, Kitna was voted the NFL Comeback Player of the Year after throwing for 3,591 yards with 26 touchdowns in leading the Bengals to an 8-8 season, their first non-losing season since 1996.
Kitna follows McElroy's eight-year tenure as the Elks' head football coach and athletic coordinator. In February, McElroy was hired as the new head football coach and athletic director at Peaster ISD.
Under McElroy's guidance, the Elks went 44-42 and made four playoff appearances. The 44 wins are the second-most by a coach in Burleson High School history. In 2017, McElroy coached the Elks to a school-record nine wins in the regular season. McElroy was a two-time Cleburne Ford All-Johnson County coach of the year in 2013 and 2014.
When asked what his future players in Burleson should expect from Kitna as their head coach, he said he just wants their best.
"All we ever ask is, all you got all the time — give us everything you got," Kitna said. "You're in the classroom? Give us everything you got. You're walking in the hallways and you see a piece of trash? Pick it up. You see somebody going through the doors? Hold the doors open for them. On the football field? Of course, we want all you got. In the weight room, we want all you got. In the meeting room, we want all you got. …
"It really is a mindset of, 'What is expected of me? Be my best.' As long as you're doing your best, we're going to be just fine."