GRANDVIEW — When Texas A&M takes the field in 2020, Johnson County football fans will see a familiar name wearing maroon in Grandview's Earnest Crownover III.
Crownover, the 2017 All-Johnson County MVP, went on a visit to Texas A&M on Saturday, met with and received an offer from Aggies' head coach Jimbo Fisher, and the 2018 Grandview High School graduate accepted the offer and committed on the spot.
First I would like to thank God for everything he's done for me and all the talents that he has blessed me with. Also, I would like to thank my family and coaches that have supported me along the way. With that being said, after a great visit I will be committing to TAMU👍🏾 #GigEm pic.twitter.com/rFG3i2pj5s

— Earnest Crownover III (@ECrownover4) January 19, 2020
Two days later, Crownover said it's still hard to put into words what this opportunity with Texas A&M means.
"I guess it hasn't really hit me yet because it's hard to say," Crownover said. "I didn't see myself here right out of high school or anything like that. I know I'm just ready to get down there and get to work and start playing."
Crownover, who played at Kilgore College in 2019, chose Texas A&M over offers from Oregon, UConn, Houston Baptist, Incarnate Word, UTSA, and Western Illinois. And on Sunday, Baylor officially offered Crownover.
Cleburne head coach Casey Walraven, who coached Crownover in Grandview, said he couldn't be happier to see someone like Crownover rewarded for their hard work and patience.
"I'm extremely proud of Earnest, and it's good to see a good guy win," Walraven said. "He's as good a person as you're going to find. He's worked so hard for it, he's stayed patient, he's trusted God through the whole process, and he's kept a great attitude. I think it's one of those blessings where he's now getting rewarded for all of that because people are seeing it, people like coach Fisher and [offensive coordinator Darrell] Dickey down at A&M. 
"I talked to coach Dickey, and [told him] the kind of attitude Earnest has, it's not common, and you want it around your team to make everybody better. That's a valuable asset on its own. I'm just so proud that a person like Earnest, who's worked so hard and has the kind of character he has, is getting rewarded for it."
At 6-foot-1 and 220 pounds, Crownover is the type of running back the Aggies were in need of as Texas A&M's depth chart at running back went from crowded to thin over a few months. According to multiple reports, the Aggies had one running back retire for medical reasons before the 2019 season and then four other backs transferred after the season, which left only one scholarship running back on roster this spring.
And Walraven said Crownover is the exact type of player Texas A&M was looking for.
"I think he'll have an impact right off," Walraven said. "It could be with special teams and I even think at running back. What they want him for is a bigger back. They need a guy that can go north and south and get yards even when they're not there, and a guy to be great in pass pro and still catch the ball. He fits the description of what they were looking for. He's a different pace of back for them. They've got different options at running back and I think he'll get his opportunity and we'll see him succeed at it."
Crownover said there were a number of reasons why he chose A&M, including the style of offense the Aggies employ.
"That was a really big impact on my decision," he said. "It's the best opportunity for me. Their offense is kind of like the same thing we did in Grandview and sort of the same thing we did in Kilgore. So I feel like I fit in that offense and can help the team out. Also just being on campus and talking to all the coaches, it felt like home. It was an easy decision."
As a freshman at Kilgore College, Crownover rushed for 468 yards and four touchdowns on 67 carries with nine receptions for 120 yards and a touchdown. He earned honorable mention All-SWJCFC honors after helping Kilgore to an 8-2 record and a No. 7 national ranking.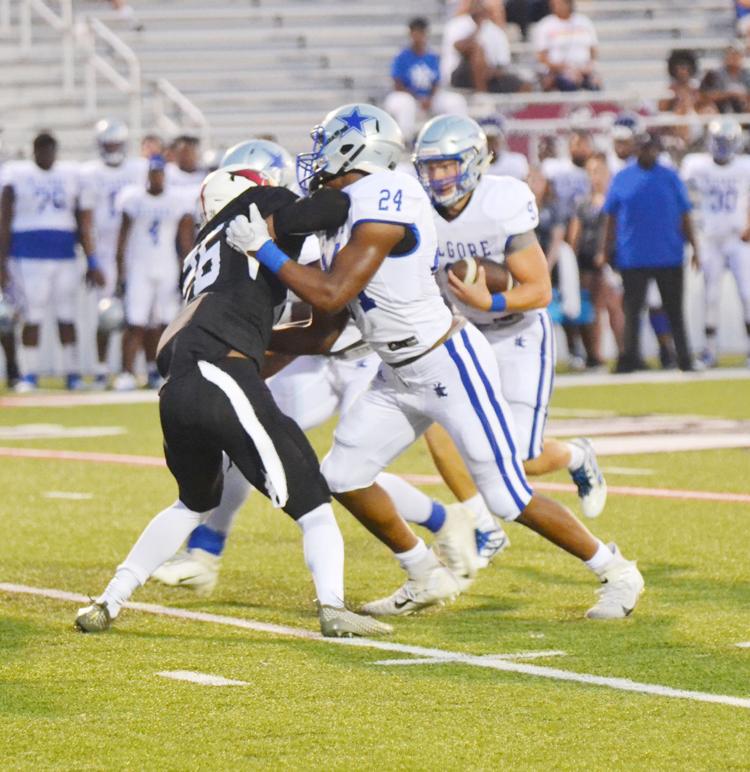 Walraven said Crownover's journey from Grandview to Army West Point in 2018 to Kilgore College in 2019 led him to this moment.
"I think his year at Kilgore was huge," Walraven said. "Things worked out for a reason. Army worked out the way it did. He landed at Kilgore for a reason to set him up for this opportunity. He needed more time to mature. He was still growing. And he's done that. He's gotten taller and he's added muscle and explosiveness. He's had time to develop. Things happen for a reason. Him at Kilgore was a pivotal part of where he's at now."
In his high school career with the Zebras, Crownover rushed for 4,454 yards and 48 touchdowns with 62 receptions for 1,107 yards and 11 touchdowns. As as senior, Crownover rushed for 1,500 yards on just 146 carries (10.2 yards per carry) and had 22 receptions for 538 yards with 26 total touchdowns as he led the Zebras to the regional final. 
Crownover was a three-time all-district and All-Johnson County selection as well as a two-time all-state selection. In addition to being the 2017 all-county MVP, Crownover was the 2016 all-county offensive player of the year as a junior and a 2015 all-county first-team selection as a sophomore.
Per 247sports, Texas A&M's class of 2020 is currently ranked No. 6 in the national team rankings.
Crownover's younger brother, Dametrious Crownover, is a four-star recruit as one of the nation's top tight end prospects in the class of 2021 and holds offers from more than 20 Division I programs, including Texas A&M.