After a slow recruiting process in high school, Burleson's Kody Russey has become one of college football's premier centers as a three-year starter going into his senior season with Louisiana Tech.
Despite a standout high school career for the Elks — which included a powerlifting state championship — Division I recruiters weren't exactly knocking Russey's door down with offers. 
"In high school, we couldn't get him many offers from Division I schools because of his height," former Burleson Coach Gary McElroy said. "They didn't think he was tall enough and with that, some of them said he's not heavy enough and they didn't know if he could put on the weight."
By nearly every standard other than Division I football, a 6-foot-1, 270-pound person would not be considered too small. But Division I coaches typically begin their recruitment of players based on measurables, which made it hard for Russey to receive much interest from the DI level initially.
Being undersized, Russey worked hard to put on weight during his senior year of high school.
"Texas State coaches told him if he can come to their camp and weigh 290, they'll give him an offer," McElroy said. "So from the end of football season through powerlifting all spring long he was walking around with a chicken breast in his mouth constantly. One day he said, 'I'm so sick of eating.' He got down there and he weighed what they wanted him to weigh and they offered him."
A few days before the offer from Texas State, however, Russey received an offer from Louisiana Tech. McElroy recalls a conversation he had with Louisiana Tech Offensive Line Coach Robert McFarland, where the Bulldogs' assistant coach said Russey's size wasn't as big of an issue for them.
"Coach McFarland called and asked me to tell him about Kody Russey," McElroy said. "I told him nothing but great things: strong as an ox, great football player, straight-A student. I told him Kody didn't have many offers because they were worried about his height. Coach McFarland said he's put centers in the NFL shorter than him and that he'll play center for us. Kody took a visit and liked it a lot and went to Louisiana Tech."
The rest, as they say, is history. 
"It's been awesome here," Russey said. "I came here and they welcomed me with open arms and gave me a chance to play real young my redshirt freshman year. They turned me into a leader. I just got my degree in March. It's everything I expected and even more."
While Russey may be undersized compared to other Division I linemen, he makes up for it in other areas.
"His strength is unbelievable — he set all those records in powerlifting — but he's also so intelligent.," McElroy said. "The center on a DI football team has to be the smartest player on the field. He makes it all go. He changes the blocking schemes to fit what they need. Then he has an incredible work ethic on top of his strength and quickness, plus he's nasty. He's an offensive lineman that will maul you and enjoy doing it."
Russey redshirted his freshman season with the Bulldogs, but even then McFarland knew the special player he would have for the next three to four years.
"His first year there, they went to a bowl game in this area," McElroy said. "I went to see them practice and I asked Coach McFarland about Kody, and he said he'll start for us next year and he'll go to the NFL. He said then that Kody's an NFL center. Every time I've talked to Coach McFarland, he says he's an NFL center."
McFarland said Russey possessed a couple of valuable traits that stood out as a true freshman.
"The thing that impressed me about him early on was his desire to learn and his work ethic," McFarland said. "No matter if it was conditioning, weight training, trying to learn a system — whatever he approaches, he works hard at. If it's a class, he's going to work hard at it. He's had several 4.0 quarters here."
After sitting out his freshman season, Russey took a starting position on the offensive line a few weeks into his redshirt freshman campaign and hasn't looked back. He's started 35 of a possible 39 games since 2017. And, according to @BleedTechBlue on Twitter, Russey has played 1,833 of a possible 1,918 snaps (96%) the last two seasons.
While offensive linemen, in general, are used to not getting recognition — it's part of the territory as the most unselfish unit in all of sports — Russey has received his fair share of recognition for his stellar play with the Bulldogs.
Recently, Russey was selected by Athlon Sports as a first-team selection on the 2020 Preseason All-Conference USA Team. Going into his junior season last July, Russey was acknowledged as one of the nation's top centers as he earned a spot on the Rimington Trophy Watch List. The Rimington Trophy is presented annually to the most outstanding center in Division I football.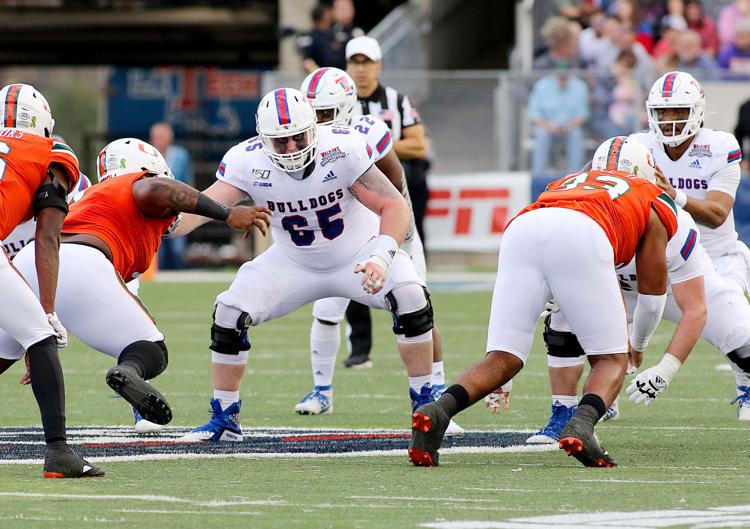 "It's awesome to get recognition," Russey said. "The preseason all-conference deal, that's cool but I still have to prove it for end-of-the-year accolades. But it's always awesome to be recognized like that. It kind of just shows how the hard work we're putting in is coming to light and we're getting a little bit of love that I think we all deserve."
Additionally, Russey is a four-time selection to the C-USA Commissioner's Honor Roll (2017-20), proof he excels in the classroom as well as on the field.
As a junior, Russey appeared in all 13 games and garnered All-Conference USA honorable mention honors as he helped the Bulldogs to a 10-3 season. He bolstered an offensive front that produced a 1,000-yard rusher in Justin Henderson and the C-USA Offensive Player of the Year in quarterback J'Mar Smith. Louisiana Tech was one of the top-ranked offenses in C-USA across multiple categories, including scoring offense, total offense and first downs.
As a sophomore in 2018, Russey started all 13 games for the Bulldogs and received All-Conference USA honorable mention. And as a freshman in 2017, Russey made 10 starts in 13 appearances en route to receiving C-USA All-Freshman Team honors.
As solid and productive of a player Russey is, it's the other intangibles that makes him not only a great teammate but also a leader, McFarland said.
"The top things he brings ... is his intelligence and knowledge and understanding of the game," McFarland said. "Combined with what he's always played with — his effort and physicality and how tenacious of a player he is — that's always stuck out at me.
"Not too often does a player get team captain as a junior. That's voted by the team and we had a lot of very productive seniors [last year], but that shows how much he sticks out. And he got a lot of votes for captain as a sophomore. His leadership skills showed very early. He's confident as a leader and he's continued to improve as he's matured."
Russey's willingness to help his teammates and do whatever he can to help his team was evident back in high school. As a sophomore and junior for the Elks, Russey started at guard on the offensive line, earning all-district and All-Johnson accolades. But for his senior season, Russey switched to defense because Burleson needed help on the defensive line.
"As big and strong and dominant as he was, we thought we could shore up our defense with him at nose," McElroy said. "We had some depth at the time on the offensive line so we figured he would help us on defense since we had a need there. There wasn't a center that could block him all season long. He was double- and triple-teamed all season long and still made plays."
Russey's leadership at Louisiana Tech is felt both on the field and off the field.
"I think the thing that helps me as a coach the most is I feel like I have an assistant coach helping me with the offensive line," McFarland said of Russey. "He demands nothing from a teammate that he isn't willing to do himself and he does it by example. That gets people to follow him. Then he's doing things on the side when no coaches are there; he's trying to help others improve their knowledge and skills and understanding. Any time you got a guy in the middle of the offensive line that has that kind of understanding, it helps the entire line."
Russey — who recently graduated with a Bachelor of Science degree in sustainable supply chain management and has already started working on his masters — said developing into a leader didn't happen right away, but he credits his coaches for instilling leadership traits into him.
"It's crazy because my first year here I couldn't talk in front of five people," Russey said. "Last year, I went to the media day and we had player panels where there's 100 people in the room that we have to talk in front of, so it's crazy to see how far I've come the last couple years."
With a strong senior season for Louisiana Tech, Russey stands a good chance of making it two years in a row that a Johnson County product hears his name called in the NFL Draft. Cleburne's Reggie Robinson II was selected in the fourth round of the 2020 NFL Draft by Dallas.
"It's cool to even think about getting a call on draft day," Russey said. "But right now I'm just working real hard to get my body right and my mind right and try to learn more about the game and make sure to have a good senior season and let the cards fall where they may. But I'm looking forward to it. It's been a goal of mine since I was a little kid. I'm excited to see what the future holds."
McElroy said he believes Russey, now listed at 6-foot-1, 290 pounds, could've had an NFL opportunity even if he came out this year.
"I think if Kody wanted to come out as a junior, he would've been drafted," McElroy said. "I give him credit for being such a wise young man to stay his senior year. I think that's a great decision on his part, getting his degree taken care of and starting his masters. I can't say enough great things about Kody and his family and his work ethic. His grades and education are very important to him. He's always taking care of his business. All that's going to pay off. 
"If he's being recognized as one of the best centers in the country coming out of his sophomore year, I can only imagine that he is probably going to lead that group of top centers in the nation going into his senior year. I would think it's a very good chance he's an All-American football player and a top center in the country. I think that he's going to be a draft pick next year, for sure."
McFarland, too, believes Russey has a great chance at an NFL future.
"He's preseason first-team All-Conference USA so he's viewed as the top center in our league, therefore he'll be considered one of the top centers in all of the country," McFarland said. "When NFL scouts come through here, they'll see all of these qualities I've talked about. They'll see it on the film, too. I think he's got a great chance [of being drafted]. If he has a great senior year, he'll be one of the top centers in next year's draft."
McElroy said Russey is a great example of persevering — referring back to his slow recruiting process in high school.
"Kody always wanted to play college football," McElroy said. "He was a year behind Kenneth Mann [who played at Oklahoma] so he saw all those guys coming through recruiting Kenneth. He got a little frustrated going into his senior year because he wasn't getting any offers. They were hung up on the measurables instead of just watching him play football. And he's proved them all wrong. When he does get drafted, he will definitely have proved those guys wrong that thought he was too short.
"I don't think he went to college thinking 'I'm going pro.' He went to college just trying to earn a spot and get on the field. Now that he's done that and now that he's been a starter, I think he has some new goals to accomplish."