The year was 1998. The average cost for a gallon of gas was $1.03. "Saving Private Ryan" was the highest-grossing movie.
Michael Jordan and the Chicago Bulls won their sixth NBA championship. And the Cleburne Yellow Jackets beat Big Spring in the UIL football bi-district playoffs.
Believe it or not, that was the most recent playoff victory for Cleburne football.
This season will mark 21 years since the Jackets last had a taste of postseason success. It's been a long two decades overall for Cleburne football, which has made the playoffs just three times since 1998.
But after a five-win improvement in 2018, the Jackets enter the 2019 season hoping this is the year they break through with more success in Coach Casey Walraven's third year at the helm.
Since Walraven left Grandview to tackle the challenge of restoring Cleburne football back to its rich history, he has relentlessly preached mental fortitude to his program.
"I think the main thing we need to focus on is being able to compete mentally and be successful through adversity in a game," Walraven said. "We started out great last year — 5-0 and everybody felt good. Then a little bit of adversity hit and we couldn't fight back through that. Hopefully our offseason has prepared us more for mental toughness to be able to go out and see improvement when we do get down; to be resilient and to have some leadership step up and be able to still be successful in a game despite adversity."
Cleburne senior receiver/defensive back Isaak Cunningham said that's the No. 1 focus going into 2019 — winning the mental battle as a collective group.
"Coach Walraven preaches and preaches about having a strong mindset," Cunningham said. "You can be physically strong but you have to be strong mentally, too. If we can get that accomplished this year, there's no telling how far we can go. Last year, with the rain and the mud and things like that, it all got to our heads. Then when we got down in games, it got to our heads. If we can get past that wall in our head, we can definitely make the playoffs and win a playoff game."
After going 0-10 in 2017, the Jackets won five games in a row to open the 2018 season before losing their final five to fall out of the playoff picture. Walraven said there was progress, both physically and mentally, but added there's still room for improvement, especially on the mental side of things.
"We still have a ways to get to the championship-type culture that we want here," Walraven said. "It does take time. We're going to need to experience success to really be able to feel and know what it means to be a champion. Whether that's winning a playoff game or beating a rival like Centennial or winning a big game that we weren't projected to win. We need to do things where we believe in something and then see it come to reality. Once we can get a feel and see that it can happen, then the belief can be a little stronger mentally.
"It's been 20 years since Cleburne's won a playoff game. We can talk all we want to about it. But we need to experience those things so they can realize that's why we work the way we work and why it's worth it at the end of the day. We've got to get to the turning point, wherever it may be, and it's different for every team."
During his time at Grandview, both as an assistant and head coach, Walraven said he can remember specific turning points for several teams that went on to have successful seasons and playoff runs.
"I think back to times in Grandview where I know where the turning points were just looking back now," he said. "Those were the times kids started to believe and the culture and program started to head into the direction we had envisioned. I know for these kids it's going to be certain points here and there. Hopefully this group can be one of the groups that can get it done."
Walraven — who's been close to Cleburne for most of his life (player at Alvarado, coach at Kennedale and Grandview) — said it was almost a cruel realization when he became aware it had been two decades since the Jackets tasted a playoff victory.
"I didn't realize that and I'm sitting here talking to them about it and these kids weren't even born yet," Walraven said. "They weren't even in existence the last time Cleburne won a playoff game. Right now, it's a bunch of talk — we've got to get out and prove it. The confidence will erupt when we get to that turning point, whatever it may be."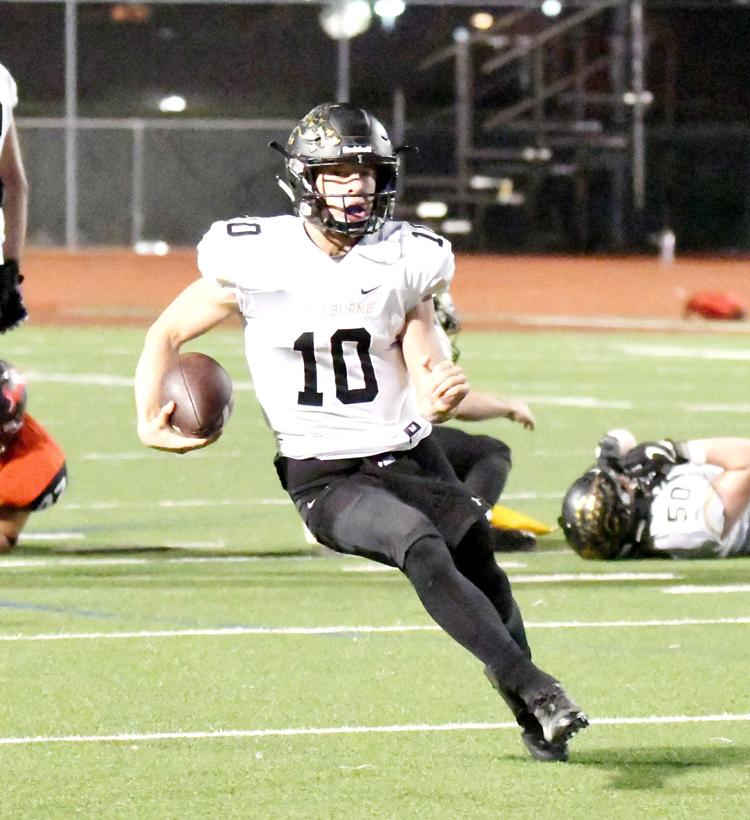 For someone like Cunningham, who's lived in Cleburne his entire life and whose family has deep roots in Cleburne, 21 years without a playoff win doesn't sit well.
"It's pretty frustrating," Cunningham said. "It's even more frustrating when you're part of the team and you put in the work to do what Cleburne hasn't done in a long time, but then you're still not be able to do it; it hurts."
But Cunningham said he believes this year's group has a chance to do something about it, beyond the empty talk.
"You hear every year teams saying, 'this is going to be the year' — and then it doesn't happen, and then the same thing happens the next year," Cunningham said. "But this year I honestly, truly believe this could be the team to end that losing streak in the playoffs. I tell everyone that I talk to about our team how I thought we were going to be very good with the talent we had [two years] ago but we weren't. Then going into last year, I wasn't sure how we were going to be but we worked hard and we had a better season with five wins. If we keep progressing like we're supposed to be and work like we're supposed to, we'll be even better [than 5-5]."
Not only has Cleburne not won a playoff game in two decades, but the Jackets haven't had the best of luck when it comes to first-round draws. In their last three playoff games, the Jackets have lost by an average score of 54-12 against some top-of-the-line programs.
Cleburne last made the playoffs in 2016 when the Jackets went 7-3 under the direction of Coach Jeff Merket and thanks in large part to the big-play ability of Tre'Von Bradley. But Cleburne lost to Mansfield Lake Ridge, 56-21, in the opening playoff game. Lake Ridge advanced to the fourth round of the playoffs where it lost to eventual state champion Highland Park.
The Jackets also made the playoffs in Merket's first year in 2012 when Cleburne went 6-4 thanks to a strong offensive line and the play of All-Johnson County MVP Quade Coward. That was Cleburne's first playoff appearance in a decade, but it was short-lived in a 45-7 loss to perennial powerhouse Aledo in bi-district. Aledo then had a rare early playoff exit that year as the Bearcats lost to eventual state champion Denton Guyer.
In 2002, the Jackets went 6-4 under Coach Gary Keithley before losing to Graham Harrell and the defending state champion Ennis Lions, 62-7, in the bi-district round.
The late '90s was the last time Cleburne football had any sustained success as the 1998 campaign marked the third consecutive season the Jackets made the playoffs. It was the last time Cleburne qualified for postseason play in back-to-back years.
Cleburne went 7-3 in 1998 under Dennis Parker to qualify for the playoffs. The Jackets beat Big Spring, 28-6, in bi-district before losing to Wichita Falls Rider, 14-7, in the area round.
Cleburne won seven games in 1997 before falling to Ennis in bi-district, and the Jackets finished the 1996 season with an 8-5 record, including playoff wins over Lancaster and Carthage, before falling to Highland Park in the third round.
So what will the turning point be for Cleburne football?
If it happens this year — like Cunningham, Walraven and everyone else in Jacket Nation hopes — the first opportunity may be against the team Walraven specifically mentioned; Burleson Centennial, on Oct. 11. 
Just like last year, the Jackets face the Spartans in week 7. Last season, Cleburne carried a 5-0 record (3-0 in district) into its showdown with Centennial before suffering an uninspiring 45-0 loss in a downpour at BISD Stadium. Cleburne hasn't beat Centennial, a perennial playoff program, since the 2013 season.
If Cleburne is able to come close to matching its 5-0 start from last year and then finds a way to beat the rival Spartans, that could certainly qualify as a turning point, one would have to think.
And really so would any of Cleburne's final five games, especially after losing all five in a row to end the season last year. Had Cleburne performed better in hard-fought losses against Everman or Midlothian, the Jackets would've been in the playoffs. So finding a way to win a couple of those games against Centennial, Aledo, Everman, Midlothian and Burleson would go a long way towards instilling the type of belief and mental toughness Walraven has preached since day 1.
But — with the past 21 years as evidence — it won't come easy. If the Jackets want to change the narrative from the past 21 years, they'll have to go out and make it happen no matter the adversity they will face.
It's what Walraven has preached since day 1. And with reason.