The 2021 Texas high school football season officially begins Monday for Alvarado, Godley, Grandview, Rio Vista and Venus as well as new kid on the block, Keene.
Per the University Interscholastic League calendar, Monday marks the first day of football conditioning for Class 4A-1A schools as well as Class 6A-5A schools that didn't participate in spring training.
The Times-Review is bringing back the "Gridiron Guide" football preview magazine this season after being unable to produce one last year because of the COVID-19 pandemic. Until that's available, here's a quick glance at a few noteworthy tidbits for the 2021 seasons for the Indians, Wildcats, Zebras, Eagles, Bulldogs and Chargers as they are set to open practice Monday.
Alvarado
The 2020 season was a struggle for the Alvarado Indians, who missed the playoffs for the first time in 12 seasons.
It was a bit of a double whammy for Alvarado in 2020. Not only did the Indians lose an experienced and deep senior core from their district champion team in 2019, which left a number of key holes that had to be filled by inexperienced underclassmen, but the UIL placed Alvarado in what was arguably the toughest Class 4A district in the entire state with its biennial realignment.
A young and inexperienced Alvarado roster was unable to keep up with Waco La Vega, Brownwood, Stephenville and Midlothian Heritage as the Indians finished in last place in the district.
Alvarado is hopeful that last year's growing pains result in a more seasoned and better-prepared squad for 2021, even though the Indians will likely still be facing a bit of an uphill battle against the likes of the Pirates, Lions, Yellowjackets and Jaguars.
Alvarado lost four of its five district games last season by at least 33 points. The Indians' average margin of defeat in district play in 2020 was 31.6 points per game. Will Alvarado be able to improve on that number and at least be more competitive against its district opposition? Or will the Indians endure another tough season and hope the UIL is a bit more kind to them with the upcoming realignment?
Knowing how Alvarado Head Coach Jeff Dixon approaches things, the Indians will have their sights set on starting a new playoff streak even while everyone else counts them out.
Godley
When there are 10 games on a team's schedule, it might seem silly to put so much emphasis on just one game. And while no team at any level is going into a season looking at it that way, one game has stood in the way of a big goal for the Godley Wildcats several years in a row now.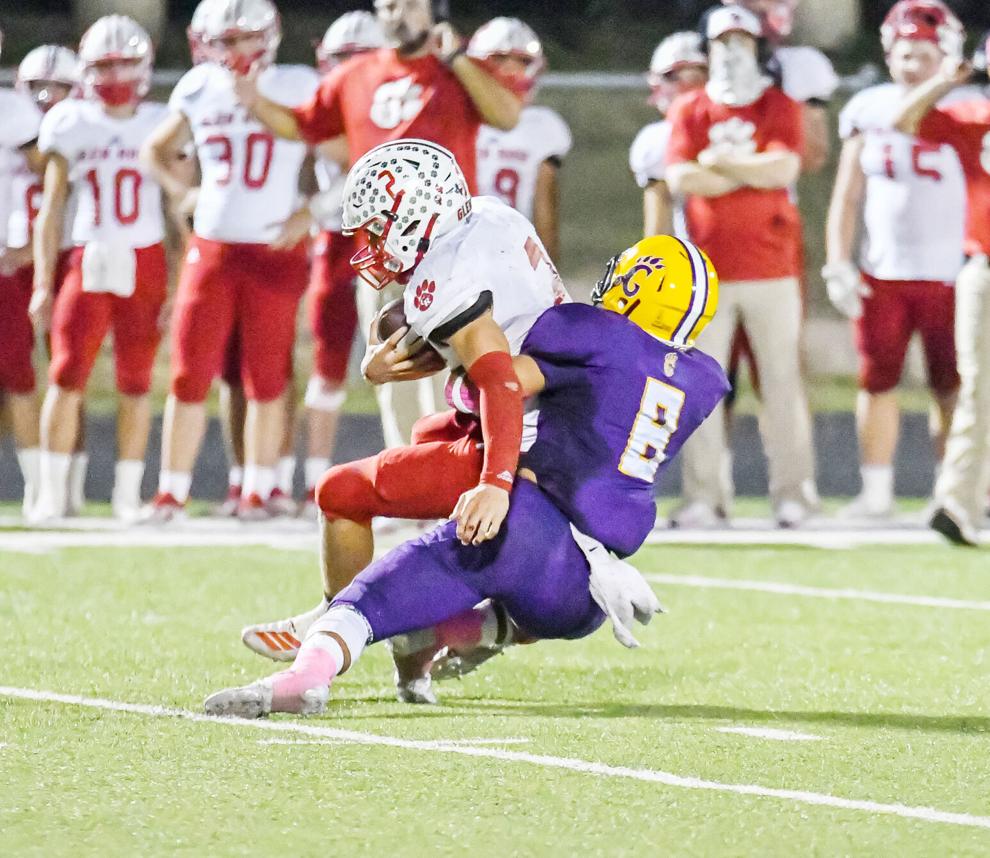 The Wildcats have been just one win away from a coveted district title for what feels like a decade. And the one team standing in their way for the majority of that time? The Glen Rose Tigers.
Godley has, for the most part, dominated its district opposition over the past five years, especially the past two seasons under Head Coach Curtis Lowery. But the Wildcats haven't been able to get over the Tiger-sized hurdle in Glen Rose, as Godley has had to settle for second place.
In the past two seasons, Godley is 0-2 vs. Glen Rose and 6-0 vs. other district teams. Going back the past five seasons, Godley is 0-5 vs. Glen Rose and 14-3 vs. other district teams.
So to reiterate, no team is going into a season putting all of its chips into just one of its 10 games, but assuming the Wildcats take care of business in their nine other weeks, an Oct. 8 matchup at Glen Rose will likely hold great significance for the Wildcats. 
When Godley hired Coach Curtis Lowery, he didn't hold back on what their aspirations were. Going into the 2019 season, Lowery's first as the Wildcats head coach, he said right off the bat: "Our No. 1 goal is we want to win a district championship."
Godley's matchup against Glen Rose this year is both team's district opener, setting the tone for what is a sprint of a district schedule in a five-team league with only four games. 
Grandview
The Dane Jentsch era is over. So what next for Grandview?
Jentsch pieced together one of the most accomplished careers any Texas high school football player has ever had. For example, Jentsch is the only player in the sport's history to ever win state championship game offensive MVP and defensive MVP honors in back-to-back years. So that leaves a massive hole for the Zebras offensively at quarterback and defensively at free safety.
So while most outsiders might see the loss of Jentsch — along with other key performers such as Dametrious Crownover, Matt Lehnhardt, Luke Ferguson and Jacob Bayer — to graduation as the end of Grandview's dynastic run, think again.
These Zebras are determined to prove the run's not over.
Grandview Head Coach Ryan Ebner has already been impressed by the desire of this year's team to make a name for itself. In fact, Ebner said they have so much depth at certain positions that the coaches will have to get creative in finding ways to get the best 11 players on the field.
So while most will assume the Jentsch-less Zebras will struggle, that's not the mindset within the Grandview field house. Not one bit. 
With standouts such as Kason English, Gavin Leftwich, Brycen Davis and Garrett Holmes, among others, these Zebras are chomping at the bit to continue living up to Grandview's lofty state title aspirations.
Rio Vista 
In year 2 under Head Coach Kasey Black last season, the Rio Vista Eagles pieced together arguably their best season in two decades.
So after a seven-win season and playoff berth, how will Rio Vista react?
Will these Eagles rest on the laurels of the 2020 team and be satisfied now that Rio Vista has earned a little respect? Or will these Eagles, led by a strong junior class, be driven to take that proverbial next step?
While 2020's Rio Vista team leaned heavily on a strong and talented senior class, Taylor Pritchett was a difference maker as a sophomore at quarterback and safety. So with a full year and full offseason under his belt, Pritchett should be able to lead the Eagles to new heights in 2021.
For Black, the big thing entering 2021 is finally having experience of what it's like playing in big games against talented opponents, as opposed to simply learning how to beat up on lesser opposition and being content with a close loss against a good team.
The 2021 season could serve as a big springboard for Rio Vista football moving forward if this year's team can build off last year's successful campaign. 
Venus 
After an 0-9 season in 2020 and with only two total wins since the start of the 2018 season, the Venus Bulldogs are desperate for success.
Venus is in the midst of a 15-game losing streak and has gone 2-27 over the past three seasons.
But Venus Head Coach Terry Spray not only witnessed a renewed commitment and dedication level from his players during the offseason and summer, but a spike in participation.
By the end of the 2020 season, the Bulldogs had fewer than 30 players on their varsity roster and barely 20 players on the sub-varsity level. But throughout the summer, there have been more than 60 athletes consistently participating in workouts.
A renewed commitment level and increased numbers alone should pay big dividends for Venus entering 2021.
While the Bulldogs would still like to have a little more depth to avoid playing so many players both ways, Venus will look to rely on several standouts — such as lineman Carlos Quijano, who had a dominant junior season with 82 tackles and 20 tackles for loss — to lead the way.
Early-season games against Dallas Pinkston and Life Oak Cliff in the first three weeks of the season could serve as a confidence boost for the Bulldogs. If Venus can get off to a 3-0 or 2-1 start, the Bulldogs could be a threat to contend for a playoff spot in their five-team district.
Keene 
The storyline for the Keene Chargers entering the 2021 football season is ... that they're having football, period.
In January, Keene ISD approved the addition of football to its extracurricular activities, and the Chargers will get started this season playing an outlaw 6-man schedule as an independent program.
Ricky Stephens is starting his ninth year as Keene ISD's superintendent, and he said he had students and people in the community ask him about football since the first week he was on the job. So it's sure to be an exciting time at Keene ISD with the start of Friday Night Lights in Charger Nation.
Thankfully for the Chargers, 6-man football puts much more emphasis on the skill-position players than it does the big boys in the trenches. And that's likely one big reason why Keene is starting out as an independent 6-man program for the first few years — because Keene ISD doesn't have many options for linemen-type players. At least, not yet.
Keene Coach John McFarlin, who has prior head football coaching experience at Blum, said it will take some work in the weight room — with new workouts — to develop some of Keene's athletes into football players.