The Burleson Elks and Grandview Zebras lead the way in superlative selections on the Cleburne Ford 2021 All-Johnson County football team.
While the Zebras (9-3) are awarded with the most superlative selections with four, the Elks (8-4) boast three representatives, headlined by the All-Johnson County most valuable player award, which is shared by sophomore quarterback Dylan Raiola and senior wide receiver/cornerback Luke Peterson.
Raiola had a stellar debut season as the Elks' starting quarterback as a newcomer to the varsity level, especially for a sophomore.
Raiola completed 228-of-350 passes for 3,341 yards with 32 touchdowns and only five interceptions. Raiola also scored nine rushing touchdowns as he guided the Elks to eight wins, including their first playoff victory in six years and nearly pulling off a massive upset against No. 9 Lovejoy in the area playoffs.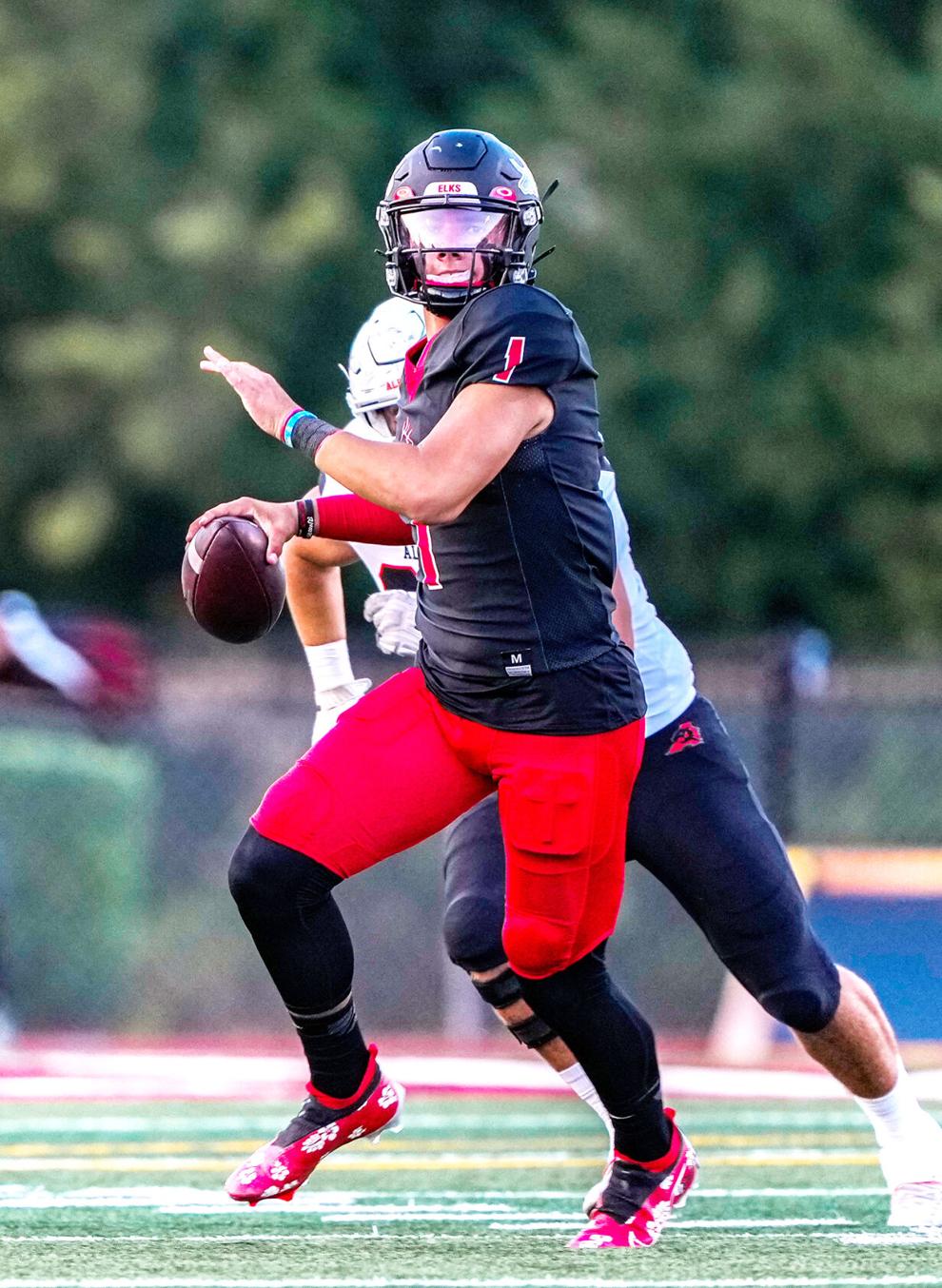 Raiola — who recently moved to Chandler, Arizona — led Johnson County in passing yards by more than 1,300 yards.
Peterson not only led Johnson County in receptions, receiving yards and touchdown receptions, but he was also one of the state's most productive wide receivers, regardless of classification. Peterson hauled in 70 receptions for 1,467 yards and 22 touchdown receptions — all of which led the county by substantial margins. Additionally, Peterson was a key playmaker on defense, with six interceptions and 19 tackles, and on special teams, as a home run threat in the return game.
"It means a lot to be named and looked at as an MVP," Peterson said. "My sophomore year I was named newcomer of the year and wasn't satisfied. I went to the award ceremonies and pictures and would look at those guys that made long-lasting impacts on the county and I knew what the goal was after my sophomore year. … So to be co-MVP is huge to me because my sophomore year I wanted to be that guy."
Peterson said it also means a great deal to be named co-MVP with Raiola.
"Dylan means a lot more than football to me," Peterson said. "He played a huge part in my character development and I would call him a lifelong friend, honestly my best friend. To be co-MVP with a 4-star [recruit] is honestly a very big privilege. We worked and worked during summer of '21 and even though our season was shorter than we had hoped, I feel like it left me and Dylan even more hungry to be better football players. Even though we are going onto separate paths of life, Dylan and I are brothers for life." 
Coach of the Year
Joining Raiola and Peterson as superlative recipients for Burleson is Coach Jon Kitna as the All-Johnson County coach of the year.
In Kitna's second season at the helm in Burleson, he led the Elks to their first playoff appearance since 2017 and their first playoff win since 2015.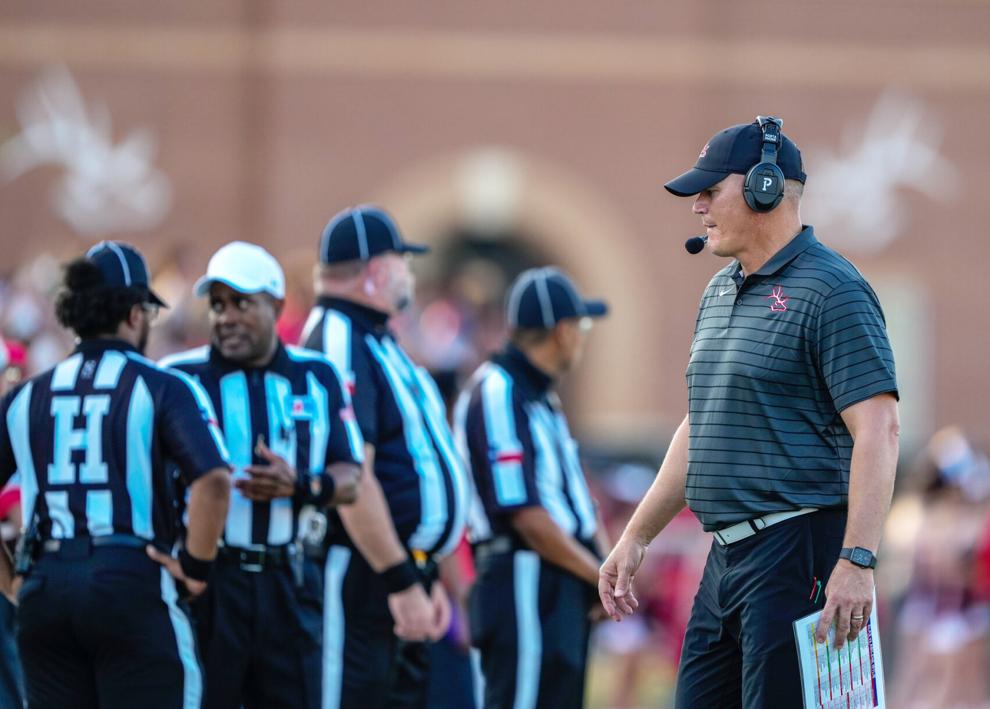 Kitna had Burleson in position to place second behind Aledo in a challenging District 5-5A Division II going into their regular-season finale against Mansfield Timberview, but Kitna opted to rest several key starters who were nursing injuries in that game, falling to the Wolves and finishing 5-2 in district play to place third.
The move to rest several starters paid off with a 70-48 bi-district win over Mesquite Poteet the following week. In the area round, Kitna's Elks came up eight yards shy of knocking off No. 9 Lucas Lovejoy in a 28-23 loss, as Burleson turned the ball over on downs only eight yards from a game-winning touchdown in the final seconds.
Offensive Player of the Year
The All-Johnson County offensive player of the year for 2021 is Grandview junior playmaker Kason English. Although English's default position is at wide receiver, the term "playmaker" is more appropriate for English, who, with the ball in his hands, is exciting to watch as a fan but a terrifying proposition for opposing defenses.
"He's a special player," Grandview Coach Ryan Ebner said. "He's very athletic and very dynamic. … He's extremely talented and you do whatever you can to get him the football and then you just watch and see what he can do with it because of how electric and athletic he is. He can just make plays."
English finished second in the county in all three receiving categories behind Peterson. He snagged 55 receptions for 1,026 yards and 17 touchdowns while also adding 133 rushing yards and three touchdowns on 15 carries with a touchdown pass to boot.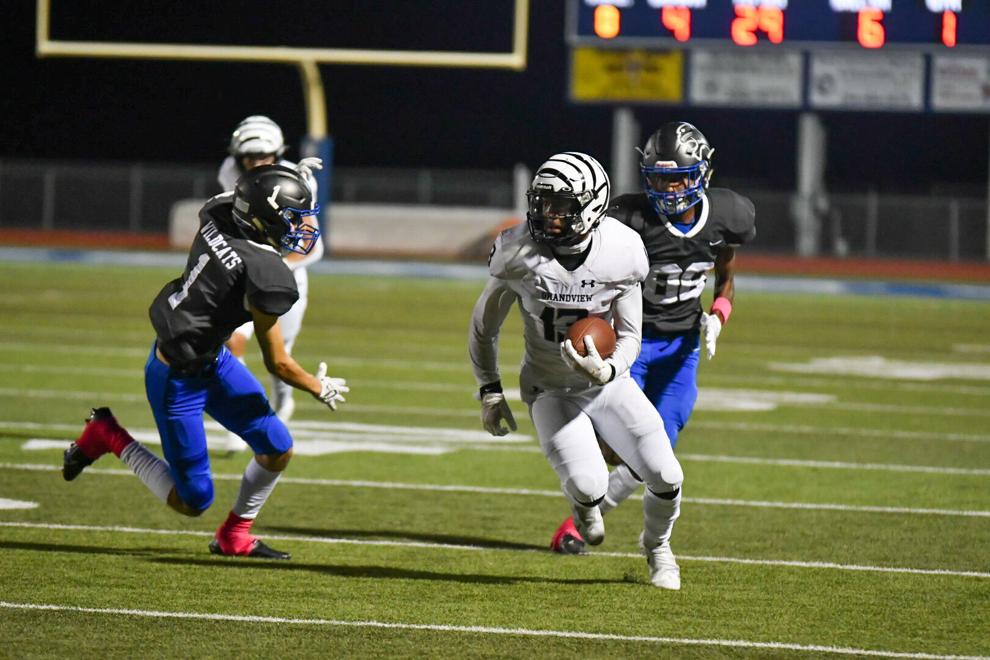 Several of English's touchdowns on the season were of the highlight-reel variety — something that would make SportsCenter's Top 10 plays — as he weaved in and out of defenses, making defenders miss with spin moves, jump cuts and jukes while also breaking tackles in the process.
Defensive Player of the Year
The All-Johnson County defensive player of the year is a shared honor between Joshua senior Drew DeArman and Burleson Centennial junior Chapman Lewis.
DeArman was a central part of Joshua's defensive turnaround, as his experience, football IQ and playmaking helped the Owls trim their points per game allowed down by 20 points from last year (30.8 from 50.8).
"Drew DeArman made his presence felt in every game," said Joshua Coach Danny DeArman, also Drew's father. "He is a lot of fun to watch but he is even more fun to coach. He plays with passion and a chip on his shoulder. His football IQ is very high and his motor doesn't stop. When the game is on the line and you need someone to make a play, he is the guy you turn to without a doubt.
"He definitely made a difference in every one of the games with him being able to manage the coverages and the fronts, recognize offenses and formations for us, and just be a leader out there. We're really going to miss having that guy. I am really going to miss having him beside me going into battle."
Drew DeArman finished the season with 122 tackles, second in the county.
The leading tackler in the county was Lewis, the other half of the co-defensive player of the year award. Lewis finished with 138 tackles, including 116 solo tackles and 12 tackles for loss to go along with two interceptions. Lewis' play on defense helped the Spartans make the playoffs for an eighth consecutive season.
"About midway through the year, we started calling 'Chap' our 'eraser,'" Centennial Coach Kyle Geller said. "Things could go bad up in front of him and he just comes down and erases things. He's that kind of guy. We really ended up designing our entire defense around him so he's freed up to go make plays. When we did that, we became much much better as a defense.
"To me he's the all-around player: he has good ball skills, he can cover people and he'll come up and hit you and tackle well. As a safety, if you have those three qualities that's pretty hard to beat. Not to mention that he's extremely intelligent. People talk about football IQ and he has that. And then he's 6-foot-2 and very athletic. He even played with injury almost the entire season. We had to hold him out of practice quite a bit because he was banged up." 
Offensive Newcomer of the Year
Grandview sophomore quarterback Ryder Hayes is the All-Johnson County offensive newcomer of the year after helping the Zebras win nine games this season. While faced with the task of filling the giant shoes of Dane Jentsch, who led the Zebras to back-to-back state championships and was a four-year starter at QB, Hayes did an admirable job guiding a Grandview offense that averaged 40 points per game this season.
"Ryder got here and was learning everything and as time went on you could tell that he was grasping the offense and knew more and more where he was supposed to go with the ball," Ebner said. "Then you saw more and more the ability he had. I thought he did a good job trying to limit his mistakes and make sure he was doing the best he could for the team. Moving forward you hope to see him continuing to grasp what's going on and you hope for your QB to lead the team from that standpoint."
Hayes, who split time at QB early on in the season, finished 132-of-190 passing for 1,965 yards with 24 touchdowns and six interceptions.
Defensive Newcomer of the Year
The All-Johnson County defensive newcomer of the year goes to Rio Vista freshman cornerback Julian George, who was among the county's leaders with five interceptions on the season.
"If that kid was 5-foot-11 or 6-foot tall, he probably would've had five more interceptions," Rio Vista Coach Kasey Black said. "He's very natural at what he does. He's got something that you can't teach. His instinct is just beyond his years, especially as a freshman.
"For us to have that kid for the next three years, it's very exciting. To have a guy over there that you really don't have to worry about him being out of place, that's big. There's probably not one time all year where that kid was not where he was supposed to be on defense. His football IQ as a freshman and his instincts, that's what allowed him to bait quarterbacks into throwing certain balls."
Utility Player of the Year
Grandview senior Nathaniel Vargas is the All-Johnson County utility player of the year after being a key contributor on offense, defense and special teams for the Zebras.
"Even from an early age, when he came in as an eighth grader, he was the best tackler in that group from the first game on," Ebner said. "That was his way to be able to find his way on the field is to be good tackler. As he got older, his skills on offense as a receiver got better. He does a really good job of understanding the game of football and then there's the cardio part of it, too. He played a lot of different things for us on special teams. He led the team in field goal blocks, we run him on punts and kickoffs and he's on returns.
"You've got to be a really good athlete and football player to do all he was asked to do."
On offense, Vargas had 13 receptions for 280 yards with four touchdowns. On defense, he had 55 tackles, 11 tackles for loss, four interceptions, eight pass break-ups and a sack.
Offensive Lineman of the Year
Joining English, Hayes and Vargas as recipient winners for the Zebras is senior Caleb Bayer as the offensive lineman of the year. Bayer joins his older brother, Jacob Bayer, as recent Zebras to receive all-county lineman of the year honors.
"Caleb's always been really fundamentally sound and wanting to know what can he do to make himself better as far as steps and hand placement," Ebner said. "He's a very smart kid. As far as I know, he's at least second in his class so he's really, really smart. It takes a lot to be able to trick him up front. He's able to make all of the calls and help the quarterback with protections, which is a big help. All of those things and he's an even better kid. To have a guy who is that smart, that good of an athlete and that good of a kid, it's a great person to have at that center position."
Defensive Lineman of the Year
The defensive lineman of the year goes to Rio Vista junior defensive end Wesley Hudson, who moved to Rio Vista this past summer from Pennsylvania and was an instant game wrecker for the Eagle defense.
"He's very natural at what he does and he gets some of that from his dad, who played at UNT," Black said. "He's a one-man wrecking crew when he wants to be. He's 6-foot-3, 6-foot-4 and 220 pounds. He just has such a quick first step in his get-off. Especially at our size of school, it's hard to stay in front of a guy like that."
Hudson finished the 2021 season with 88 total tackles, including a county-high 22 tackles for loss, with six sacks and 14 hurries. As dominant as Hudson was in 2021, Black said he can't wait to see what Hudson does in 2022 after a full offseason.
"He's still very raw," Black said. "Coming from Pennsylvania, he's never really been in an offseason. They didn't have an athletic period up there. So coming down to Texas, it was a culture shock. In basketball he's become such a much better player than he was in football and that's because he's just now getting in real shape and getting used to what we're doing."
The All-Johnson County football teams and superlative selections are chosen by the Times-Review based on all-district selections, team success, statistics and coaches' nominations.