BURLESON — Burleson kicks off a new era of Elk football under the leadership of former NFL quarterback and coach Jon Kitna in 2020.
Burleson ISD pegged Kitna as the Elks' new commander-in-chief in March after the program's former head coach, Gary McElroy, left for Peaster.
After a 14-year playing career in the NFL, Kitna has coached at the high school and professional levels, most recently serving as quarterbacks coach for the Dallas Cowboys in 2019. Kitna was previously head football coach at Waxahachie High School from 2015-17.
And now Kitna is tasked with leading Burleson back to the postseason for the first time since 2017.
As far as first years go, it hasn't been a normal one for Kitna as the COVID-19 pandemic hit a day or two after he was announced as Burleson's head coach. But the former Cowboys quarterback explained how he doesn't view COVID as a challenge.
"I'm not calling COVID a challenge because challenges to me are stuff you go through that other people aren't," Kitna said. "Everybody's going through COVID, and it isn't as bad for us as is it is for some. You've got Dallas schools, you've got Fort Worth schools, I mean, they haven't been able to touch their kids all summer. That's a challenge. I don't call COVID a challenge. COVID happens, right? But we're still grinding. We still had Zoom meetings four days a week for 90 minutes getting to know our kids as much as we can.
"The big challenge was we get to come back ... on June 8. We come in, we have a great first day, good turnout, we've got 170 kids when you count the freshmen. And that night one of our kids gets killed in a car accident. That was the challenge."
The tragic death of 16-year-old Tre Allison — who died in a two-vehicle wreck on June 8 — hit the Elk football program and Burleson community hard.
"That's been the challenge," Kitna said. "I barely knew these kids. I'm one of the first 20 people on the scene but I don't even know a lot of these kids by name yet and they're bawling and they're losing it. That was a challenge. The fact that that's not going away for these kids is the challenge. We had a kid last night that it just hit him that Tre wasn't here. We've got to make room for that. That's a challenge."
The Elks take the practice field every day with Allison — who led Johnson County in interceptions last season as a sophomore — heavy on their hearts and minds.
"I think it's different for every person. A lot of my staff was really close with him," Kitna said. "A lot of my staff were at the junior high with him and they got moved up to the high school, so they've been with him since seventh grade. Some of my kids don't know life without Tre. It's all they've ever known. They've been around him since they can remember anything. You've got some of my staff who only knew him one day, so we feel a little bit cheated that we didn't get to know him the way everybody else did because he sounds like the most incredible kid in the world."
Kitna said Burleson will honor Allison's life in as many ways as they can throughout the season.
"We'll have a flag when we come out," Kitna said. "We do 20 pushups at the end of every warmup because he wore No. 20. We're going to line up across the 20-yard line for the national anthem with his mom and brothers in the middle of the line at home games. We've got a sign above the locker room that says 'Tre Allison Way.' 
"By all accounts, this kid was a game changer. And we want to honor him, honor his family, and honor these young men that were shaped and formed by being around him."
The Elks didn't make the playoffs either of Allison's years on varsity, so the team has added motivation to make it to the postseason for their fallen brother.
Even though Burleson has missed the playoffs two years in a row, the Elks still finished with winning records with back-to-back 6-4 seasons. In each of those two seasons, Burleson missed the postseason by one just game. 
As for Kitna's expectations for his Elks this season? Well, that's to be determined.
"We don't ever talk about state championships in our program," Kitna said. "But we talk about maximizing our potential and maximizing our ceiling. [Our potential is] to be determined because I haven't been in this district. I don't know what this district looks like. I do know Aledo is a monster. I have played Timberview and I know Coach [James] Brown and his staff over there coach the heck out of those young men and they're always going to be prepared to play and they're dangerous as heck. 
"I know Coach [Casey] Walraven at Cleburne is doing a phenomenal job developing that program over there. I know what Everman has been in the past. We played them [in the 2017 playoffs] and that's one of the best-looking football teams I've ever played. ... We've got our work cut out for us."
Kitna led Waxahachie to a 58-21 win over Everman in the 2017 bi-district playoffs and Kitna's Indians went 2-1 against Brown's Wolves from 2015-17.
For Kitna, how far the Elks go comes down to one character trait.
"It's all going to come down to our resiliency," he said. "If we can understand that football is football — you're going to win some plays and lose some plays but it's about the next snap — if we can get that driven home to them so that they just don't blink, then I think our potential is that we can play deep into the playoffs. But that's a big 'if' because resiliency is a huge deal. We only talk about three core values, that's it. Tenacity, we've got it. Coachability, we've got it. Resiliency? I'm not sure yet. I think we have a few, and those few are going to have to carry us until the other ones get it. That's on us as coaches to make sure that happens."
Football a family affair for the Kitnas
As much fun as Kitna had last year coaching Cowboys quarterback Dak Prescott to a career season, he said having the opportunity to coach his son, senior quarterback Jalen Kitna, has been an immeasurable joy.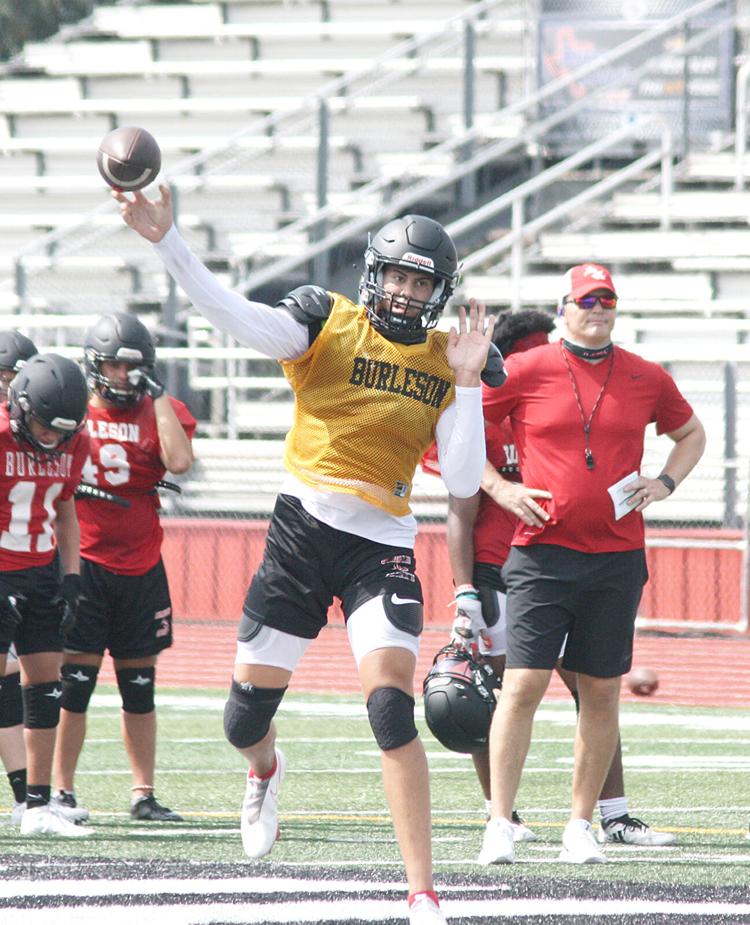 "I got to coach my oldest son for four years," Kitna said. "I got to have my daughter in my program for four years working as kind of a manager and coach almost. I got to coach Jalen from afar in seventh and eighth grade and then ninth grade, even though my freshman coaches were coaching him and I wasn't really hands on, and then 10th grade.
"But to see him grow and mature from seventh, eighth, ninth grade to now — and not having been able to coach him last year as much as last year was an absolute joy — I told him and my eighth grader, this is my joy of life. They're so fun to be around."
Burleson is the fourth different high school in four years for quarterback Jalen Kitna, a University of Florida commit, but Jon Kitna said Burleson has been so welcoming to their family.
"I think the thing that makes it most fun is of all the four schools Jalen's been at, this has been the most accepting place," Jon Kitna said. "The kids have been tremendous, the coaches and the families have been awesome about including him. He feels like he's a part of it, which was hard because COVID happened right when I got hired, then we come back from three months and the tragedy happens and now we're out another two weeks and he's not getting to know the guys. But they've been tremendous and it's been awesome. I'm super proud of him."
Kitna confident in Elks' offensive potential
A year ago this week, Jon Kitna was helping Dallas Cowboys quarterback Dak Prescott prepare for the New Orleans Saints. Now, Kitna is teaming up with his son, University of Florida commit Jalen Kitna, to try and lead the Burleson Elks to a season to remember in 2020.
Following a 14-year playing career in the NFL and a recent coaching stint with the Cowboys, it should come as no surprise that Burleson's offense under Kitna will have an NFL look to it.
"We're a pro-style offense," Kitna said. "What does that mean? We're going to be under center, we're going to be in the gun, we're going to be in two-back, we're going to be in no-back, we're going to be five wide receivers, we're going to be two tight ends. We're going to change it up often. As of right now, our kids know 48 formations. Some coaches think that's dumb, but for us I think our kids enjoy it. Will we run them all in a game? No. But that's our offense and it's always been the same.
"We're always trying to say, what's the defense doing and what do we have to do to give our kids a chance to be successful. We're not trying to force our philosophy or certain plays on people, we're just going to run what we run and do what works against that defense."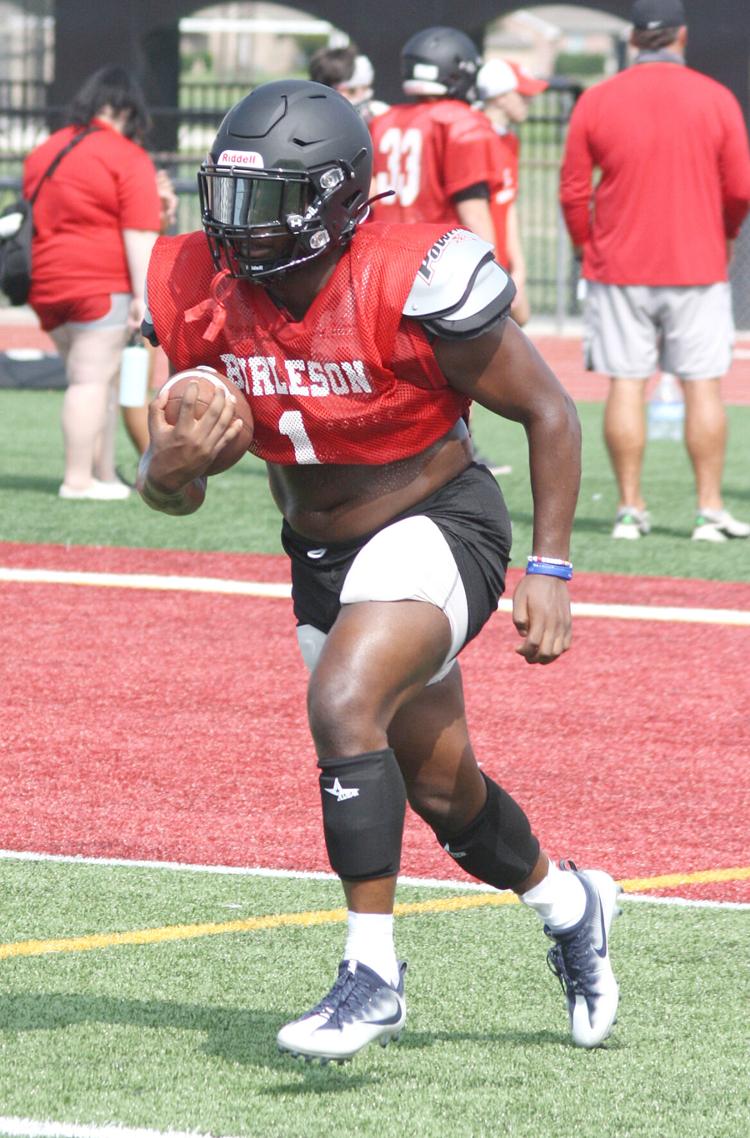 Even though the Elks graduated a few key playmakers, Burleson's offense features a wealth of experience and depth.
"We've got an offensive line that's got four starters coming back," Kitna said. "We've got a runner that I think the world of; runs behind his pads really well, looks spry, he's smart, he's got great hands. We want to try to get him the football as much as possible. With that being said, we have a Power 5 quarterback. And we have receivers that I think can really, really go that are smart [and] interchangeable."
Jalen Kitna is coming off a decent junior season where he threw for 2,084 yards and 15 touchdowns at Frisco Reedy. And fresh off a commitment to the University of Florida this summer, the 6-foot-4 quarterback will be leaned on heavily in the Elks' pro-style offense.
"What do I need from Jalen? I just need what he always is, and that is he's himself every day," Jon Kitna said. "And that's No. 1 in leadership is to be yourself. He's consistent in that. He's grown in it. We put a lot on the quarterback position and he handles it really well. He asks questions all the time. At quarterback, you're going to make mistakes, but you've got to have a short memory and get back in there."
Jon Kitna said he's going to employ an approach with his son at quarterback that he learned from longtime NFL coach Mike Martz, who he played for with the Detroit Lions in 2006-07.
"I took this from Mike Martz — we're not going to coach caution, we want you to get back there and let that thing rip," Kitna said. "That's really what we're looking for [in Jalen] is just go be you. Who he is is good enough. We've got a good offensive line around him, we've got two good runners behind him, three if we want to put a receiver back there, we go six or seven deep at receiver and we've got a tight end we feel comfortable with. Let's go play football. Let's be efficient with all of our plays."
Burleson's offensive line is expected to be a strength for the Elks, led by returning all-state center in Chandler Poggensee along with Jared Negrete, Harlan Perkins and Preston Burleson. The only newcomer to the front 5 is junior Daniel Hull, who the Elk coaching staff believes has the potential to be a Division I player.
After the graduation of All-Johnson County first-team running back Caleb Lewis, four-year letterman Jarrett Austin takes over as the Elks' full-time starting running back. Austin rushed for 337 yards and six touchdowns as Lewis' backup a year ago, and he's a player Kitna said he couldn't be more proud of.
"I told Jarrett Austin [on Sept. 12], of all the kids I've ever coached, and I've coached some special ones, I've never been more proud of a young man," Kitna said. "From the day I get hired, him and his dad are sitting in here and he's going to transfer out. I just said, 'I'm not going to tell you what to do, I'm going to tell you about my program,' and he decides to stick around. To the first day with Tre and not sure if Jarrett's even going to make it, not sure if he's going to stop doing things all together because him and Tre were so close.
"From June 8 to now [with] him losing 25 pounds. Now every day you see him smiling. Three days ago we were teaching him what ready stance is and I could see it on his face like, 'I'm a senior, I'm not trying to do this.' And he does it kind of reluctantly to then he's teaching his mom what ready stance is and today he's just boom. I couldn't be more proud of that."
At receiver, Kitna said he loves the Elks' depth at the position with returning starters such as Luke Peterson and Aswan Bonner.
"We've got Luke Peterson, Aswan Bonner, Tadarius Calton, Colin Maher, Chase Walker," Kitna said. "Conan Doyle is probably the most valuable receiver we have; he plays every position flawlessly. Abreham Word is one of the strongest route runners I've ever been around. He's not Jalen Reager level in terms of strength but he's not far off either. I feel really good about six or seven of those guys."
For an Elk offense that seems to be solid at every level, Kitna said the key offensively is simply moving forward.
"Just going in the right direction, that's it," he said. "I don't put a lot on kids. It's on us as coaches. These kids are working their butts off, they're smart, they want to learn, they want to be coached. They give us everything we want — tenacity, they work hard; coachability, they listen to what we say; and resiliency, that's the only thing right now we've got to work on is resiliency because they haven't had that high level success yet and so when things don't go quite right, there's a little bit of an 'ugh' but that's our job as coaches."
The Elks scored at least 40 points in six of their four games a year ago, including a season-high 77 in their finale at Cleburne.
Elk defense looks to be strong up the middle
BURLESON — For Burleson to make a return trip to the postseason, the Elks will need to see big steps taken on defense in 2020.
A year ago, Burleson surrendered an average of 34.4 points per game. But it was the 44.2 points per game the Elks allowed during a 1-4 finish down the stretch as their playoff hopes went up in smoke.
The Elks don't return as many starters on defense as they do on offense, but Head Coach Jon Kitna is bullish on the Burleson defense's prospects entering 2020.
"We've got a lot of guys that have what we call position flexibility," Kitna said. "They can play inside 'backer, they can play outside 'backer, they can play safety, they can play corner. But at the end of the day, it's going to come down to the defensive front."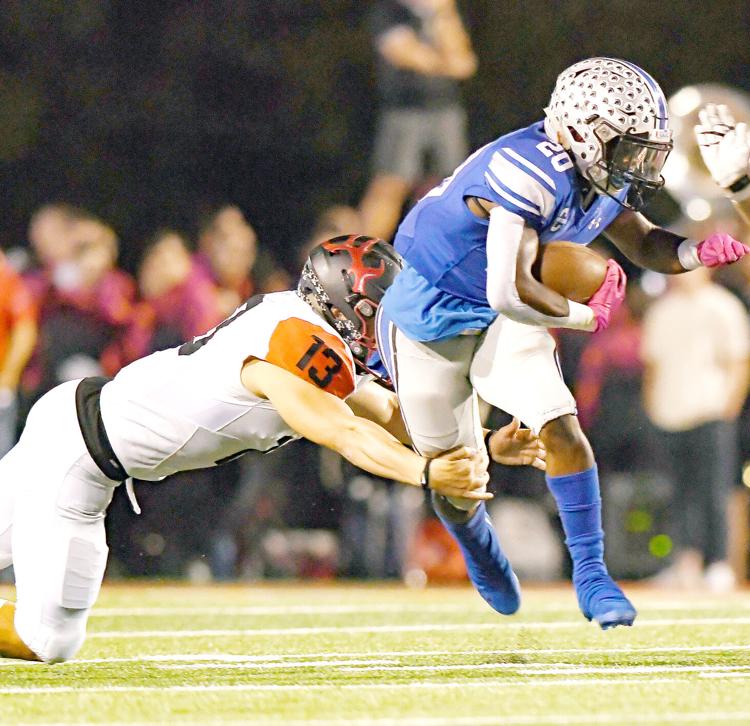 And with that said, the strength of the Elk defense will likely lie in its front with returning starters in Evan Baltazar and Lukas Williams leading the charge.
"Evan Baltazar should be a preseason all-state football player," Kitna said. "Ryan Patino and Lukas Williams are really, really good football players that will play in college if they want to.
"We've got to be good up the middle. With Baltazar, Adyn Schwarzer and Drue Saenz or Brandon Shaw in the middle of our defense, they've got to be great. They've got to force the ball outside of our defense and we've got to make plays on the football when they do. I'm really excited about them. We've got playmakers on the back end and we've got thumpers on the front end, and that's what you want on defense."
Baltazar racked up 79 tackles and 17 tackles for loss a year ago and should demand the bulk of attention from opposing offensive lines.
Schwarzer slides over as the headliner at linebacker for Burleson, and Kitna said he's impressed with his strength.
"Our middle linebacker is one of the most athletic and strong guys," he said. "He benched 405 and power cleans 365 and he runs sideline to sideline. Adyn Schwarzer will play on Saturdays.
"Then we've got Jordan Mays, who I think will play on Saturdays. Isaiah Lopez is only a junior and might be one of the most athletic linebackers I've seen and he's smart. Jack Maynard at one of our outside linebackers is proving that he is a quick, quick study. Those guys are looking really, really good."
Rounding out Burleson's defensive personnel — which Kitna says will be "kind of a hyrbrid defense" — is the secondary, which features that position flexibility that Kitna likes.
"Drue Saenz, Mike Smith and Chris Pritchett — we feel comfortable with all of them at safety and corner," Kitna said. "They just go play so we're really, really comfortable with them."
The Elk defense will face a big test early in the season against crosstown rival Burleson Centennial. The Spartans have won each of the past two meetings to even the all-time series at 4-4. This will be the first time the Elks and Spartans are no longer in the same district after Burleson Centennial moved up to Division I in Class 5A.
Last year, Burleson's defense struggled slowing down Centennial's flexbone, triple-option offense as the Spartans racked up 347 rushing yards in a 37-10 win.