BURLESON — Burleson ISD has three teams still going strong as the UIL soccer playoffs enter the regional quarterfinals.
In area-round playoff action Tuesday night, the Burleson Centennial Lady Spartans beat Little Elm, the Burleson Lady Elks beat Colleyville Heritage and the Burleson Elks got past Brewer.
"That's great. That's fantastic for everybody involved," Burleson ISD Athletic Director Phil Anderson said. "The BHS boys are probably having the best season they've ever had. They're doing fantastic. The girls are really putting it together at both schools. They're all doing a fantastic job.
"It's really something they can hang their hat on. It's very good for all of them. We're really proud of all of them. We haven't had teams go this deep in a while. I'm looking for great things from them to keep going deep."
Burleson Centennial 2, Little Elm 1, OT
After beating Fort Worth North Side, 3-0, in bi-district Friday, the Lady Spartans picked up a 2-1 victory over Little Elm in overtime to claim an area championship in thrilling fashion.
The Lady Spartans (21-1-2) trailed Little Elm, 1-0, in the final 5 minutes of regulation when Kayla Smith got the equalizer off a free kick just outside the box to send the match into overtime.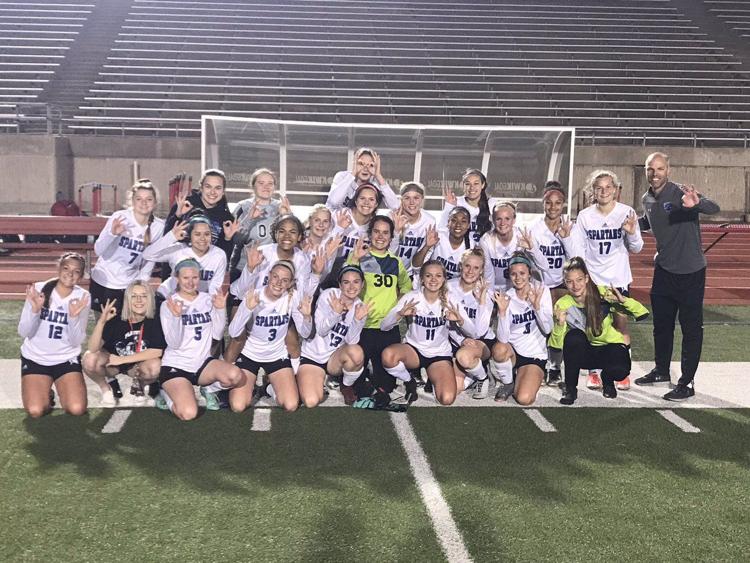 In the second overtime period, Centennial's Brooklyn Holybee found the back of the net on an assist from Smith with just under 8 minutes left, which proved to be the game winner to send the Lady Spartans to the regional quarterfinals for the first time since 2014 and only the second time overall.
"My girls are starting to believe they can compete with anyone they face," Centennial Coach Brian Boydstun said. "I think it is that confidence right now that pushes them to not give up."
After three years as Centennial's boys soccer head coach, Boydstun was also named head coach of the Lady Spartans in October. And his message of 'family' has been a season-long rallying call for the Lady Spartans.
"Considering the situation this year it is amazing what these girls are accomplishing," he said. "... We talk about how hard work pays off and these girls impress me every day with their drive and work to be their best. Since I've taken over the girls, I have tried to create a family culture. We always break it out with the word, 'family.' I think what defines any great family is how that family responds to adversity. 
"We have only been down in a few games this year and last night through the adversity of being down 1-0 with the second half winding down I saw a group of girls pick each other up and keep fighting for each other like any great family would. I'm so proud of how they came back and worked together to get this win against a very good Little Elm team."
Up next for the Lady Spartans is a showdown with No. 6 Grapevine at 7 p.m. Friday at Vernon Newsom Stadium in Mansfield in the Class 5A Region I quarterfinals with a berth to the regional tournament on the line.
"We will face one of the top teams in the state in Grapevine High School," Boydstun said. "My only expectation is to put in some great prep work on Thursday in practice and have my girls ready to play at the highest level they can. I expect my girls to compete as a family for 80-plus minutes Friday."
The winner of Burleson Centennial vs. Grapevine will face the winner of Wichita Falls Rider and Lubbock Coronado at the Class 5A Region I tournament at Memorial Stadium in Wichita Falls.
Burleson 1, Colleyville Heritage 0
After playing through a scoreless first half, the Burleson Lady Elks scored early in the second half and made the 1-0 lead stand for an area-round victory over Colleyville Heritage.
The win pushes Burleson, the fourth-place team out of District 5-5A, into the regional quarterfinals for the first time since 2012 and only the second time in program history.
"Since August, I've been telling them they're a third-round team," Burleson Coach Erin Poyner said. "That's what level of caliber these girls are capable of. Being the only fourth-place team [in Class 5A] advancing, they're proving it and believing it for themselves at this point. I'm extremely proud of how much they've grown, overcome and adapted all season. It's exciting to watch them truly enjoy their own success. Especially knowing we're top heavy on underclassmen who will return and continue to building a winning history for the program in the future."
In the 45th minute, Burleson took a 1-0 lead on a series that exemplified the Lady Elks' all-around team play, capped off by Gracie Spradley.
"Caroline Quinn came out of the back to deny a through ball, clearing it to the sideline," Poyner said. "Maycie Massingill outran their right defender to keep the ball in play. She sent a great one touch volley right over their center back to Savanna Riggs, who then held off their defenders long enough to split a through ball to Gracie Spradley. She then outran their left back and beat Colleyville's keeper who came out too much. We knew going in, their keeper would come out on breakaways, so it needed to be a one-touch finish to the backpost. That's exactly what our girls executed."
Colleyville Heritage had a couple of solid scoring chances to tie the game up, including having a goal waved off with under 13 minutes remaining.
"Obviously, the credit goes to our back six for holding their ground," Poyner said. "Colleyville is extremely talented and quick on the attack. They had several chances to equalize the game. Our freshman goalkeeper, Faith Gilstrap, has really come out with incredible confidence the past two games and she has come through with fantastic saves to help keep this squad advancing."
Now the Lady Elks (16-7-3) face district foe and No. 10-ranked Mansfield Legacy (20-1-2), the District 5-5A champion, with the winner moving on to the Class 5A Region I tournament in Wichita Falls next week.
"We're just going to continue to keep our focus on ourselves and how we can improve the way we are playing," Poyner said. "We're familiar with Legacy and looking forward to another matchup with them. ... We just barely got edged out both district games. I like how we're playing and how much confidence these young ones have going into the next round. However we end up, we've set the bar for the future of our program and that's a win for us."
Legacy beat Burleson, 3-2, on Jan. 25 and 4-2 on Feb. 20. Playoff details between the Lady Elks and Lady Broncos were not immediately set.
Burleson 1, Brewer 0
The Burleson Elks continued their best season in program history with a 1-0 win over Brewer in the Class 5A area playoffs Tuesday night at Clark Stadium in Fort Worth.
Burleson, the District 5-5A champion, improved to 20-1-5 on the season with the hard-fought win over the Bears to send the Elks to their first regional quarterfinal appearance since before Burleson ISD split into two high schools.
"There really aren't words to describe how proud I am of these guys," Burleson Coach Travis Hughes said. "We've come a long way in the past few years and it is a testament to the work they put in and the belief that they have in the program."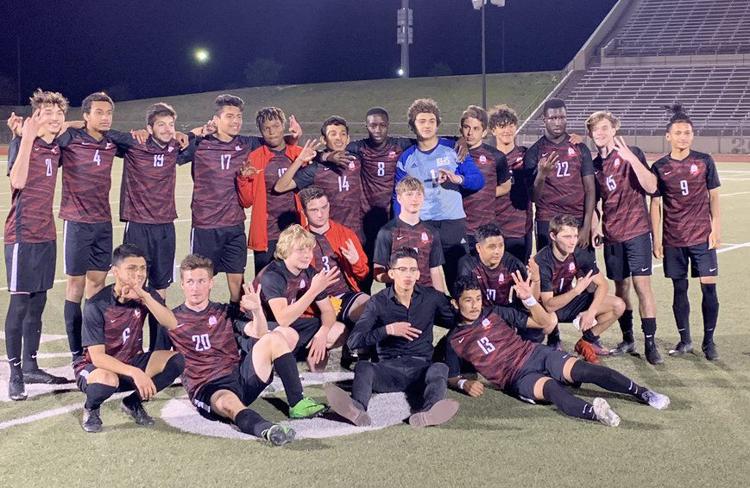 The Elks took a 1-0 lead late in the first half on a nice goal by Henry Garcia, a first-team All-Johnson County selection from 2018. Burleson's defense, led by goalkeeper Gabriel Bustillos, made the 1-0 lead stand over the final 45-plus minutes. 
"After we got up 1-0 we got some great goalkeeping from Gabriel Bustillos and just continued to play as hard as we could," Hughes said. "It wasn't always pretty but we kept fighting."
Hughes said it's been a thrill to share the playoff success with the Lady Elks with both teams in the regional quarterfinals.
"We're really enjoying the success of our girls as well as our own success," Hughes said. "Our programs are really intertwined so we're having a lot of fun working together and getting to continue to play."
Now the Elks face Birdville at 7 p.m. Friday at R.L. Anderson Stadium in Mansfield with a trip to the Class 5A Region I tournament up for grabs.
"The third round is going to be pretty tough," Hughes said. "Birdville is a really good team. It should be a great game. Hopefully we're able to keep things going."
The winner between Burleson and Birdville will meet the winner of El Paso Bel Air and El Paso Eastlake at Memorial Stadium in Wichita Falls.