Losing a highly accomplished and experienced senior core to graduation would be tough for many programs to overcome. On top of that, add in the loss of an all-state caliber player who also happens to be your No. 1 pitcher to an ACL injury, and it would be an absolute gut punch to most programs. But the Cleburne Yellow Jackets are not most programs.
Cleburne entered the 2021 season this week ranked as the top team in Class 5A in the Texas High School Baseball magazine poll and the Jackets are ranked second in 5A in the Texas High School Baseball Coaches Association poll.
Cleburne returns seven players off last year's team that finished a COVID-shortened 2020 season with a 12-0-2 record and a No. 2 state ranking. The Jackets carried state championship aspirations into the 2020 season thanks in large part to a veteran and proven senior core, led by four-year starters in Cason Gregory and Slayton Day, but the COVID-19 pandemic ended the 2020 campaign before district play even arrived.
Despite the loss of a senior class that won 110 games over four years, Cleburne still has pieces in place to contend in 2021, but Head Coach Ross Taylor said it will be a work in progress.
"We'd like to think that we're all going to buy in and we're going to go deep in the playoffs," Taylor said. "I know that's their goal. The want-to is there. I think everybody wants to be good. But I could go to any school and say, 'Do you want to be good?' and everybody raises their hand and says, 'Yeah.' It's more about what you're willing to do to be good. That's something for some reason we have lost a little bit, and I'm not talking about Cleburne, I'm talking about overall in society. Everybody wants to be good and successful but not everybody's willing to work at it. 
"You're not going to hear me say we're not athletic enough to win because we are athletic enough to win. But you've still got to score runs and keep the other team from scoring runs to win."
Cleburne brings back eight players with starting experience at the varsity level in seniors Preston Griffith (3-0, 1.88 ERA), Brady Douthitt (3-0, 0.00 ERA), Ethan Flores (.488, 23 RBIs), Alex Archer (.263), Mason Kile (1-0, 0.00 ERA) and Kevin Duran (.438) along with juniors Preston Russell (3-0, 2.33 ERA) and Cooper Schneider (.425/0.46 ERA).
Additionally, Cleburne also welcomes a key newcomer in senior pitcher/outfielder Kameron Walton, who recently signed with the University of New Mexico as a two-way player.
Those nine players — who are all considered returning starters even though only three of them were full-time starters and one of them is a move-in — are a major reason, along with Cleburne's longstanding tradition under Taylor, the Jackets find themselves ranked so high entering 2021. But Taylor said he was surprised to see his Jackets ranked in the top 2 in both polls.
"Being rated No. 1, it's good for our school and good for our program in some ways because it gives us some notoriety but it also means that you're the mountain now," Taylor said. "Nobody is going to take us lightly. We've got to learn to bring our A game on an everyday basis."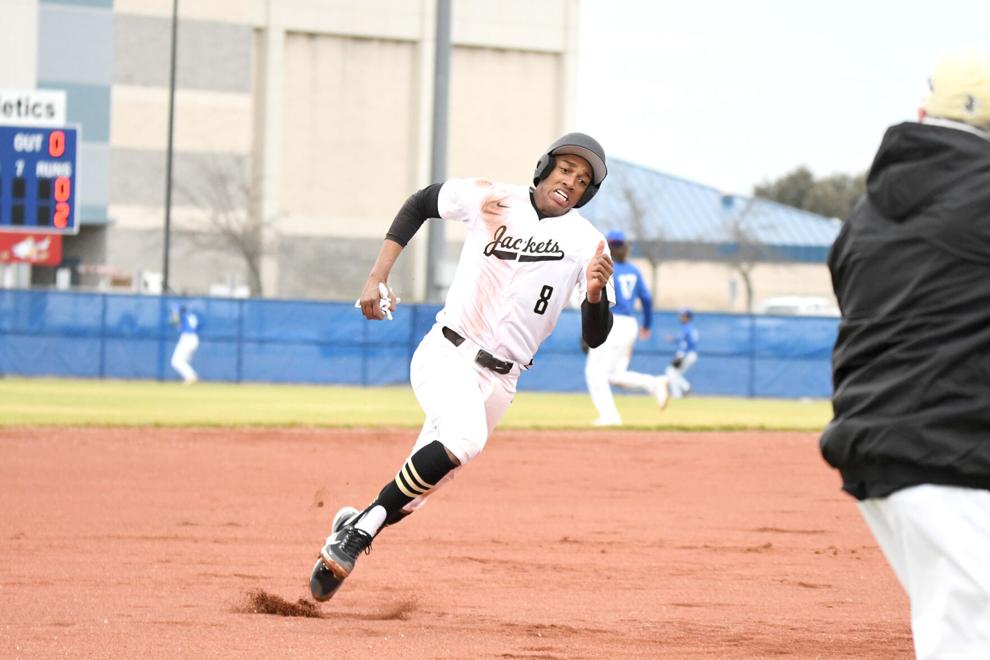 One reason Taylor was surprised to see the Jackets ranked No. 1 is because Cleburne will be without Schneider, the Jackets' most important player, for the majority of the season after suffering an ACL injury during the fall.
"We lost Cooper Schneider to a season-ending injury," Taylor said. "We hope it's not season-ending. We hope we're going to get him back at some point but that's not a guarantee. The six-month period would have him back for bi-district week. If we get him back for the playoffs, that would help us a lot, but at the same time he's not going to be in playoff shape like he would be if he played the whole season. But he's already a proven commodity in what you're going to get out of him. We would like to hope we're going to get him sometime in April but that's not a guarantee."
Schneider has been a consistent and elite contributor for the Jackets at pitcher, on defense and at the plate as a day 1 starter since his freshman year, so replacing that versatility and production will be challenging.
"It's created a hole for us that somebody's got to step up and fill," Taylor said. "I've heard all that stuff about 'next man up' and you've got to take that approach but it's hard to replace a guy that you think is an all-state performer by saying next man up because not everybody's an all-state performer."
Even without Schneider for the time being, Taylor still believes the Jackets are talented enough to push for another district championship, but it will come down to two key things, in his eyes.
"Honestly, our issue is not a talent issue — it's really not," Taylor said. "It's an 'execute' issue. It's a 'buy-in' issue. For us, if our guys will buy in and execute what we're asking them to do, we're going to be really good. When we talk about the difference between last year and this year, that's the difference. That group of guys last year were not more talented, faster or stronger; they just understood what they had to do to win. This group sometimes is still learning that. Sometimes they're more worried about themselves than they are about the team. Last year's senior group had it on lockdown that we're here as a team and we're here to win. We're still waiting for that chemistry to develop within this group that they're going to get to that point. They will or they won't."
Throughout offseason workouts and into season practices, Taylor said he's noticed a difference in how far along the team is compared to other years because of how much time was lost last spring because of the COVID shutdown.
"... We're noticing that sophomores are not where we think our sophomores ought to be and our juniors are not where our juniors ought to be and so forth," Taylor said. "Everybody is a season behind because of last year. We lost two-thirds of the season. And then on top of that a lot of them lost summer because a bunch of them didn't play summer ball as much as they normally do. The fall schedule was shortened down, normally they get 12 games in the fall and this year they only got six. Everything's been shortened, so those live at-bats and live innings and those situations that occur where they can put what they do in practice into play, they haven't been able to do that and we see it. ... They didn't come in where they should have so here we are halfway through the [school] year and to me we're just now getting back to where we should've been at the beginning of the year."
And another reason why Taylor feels like they're behind schedule is because last week's weather canceled valuable scrimmages, which gives the coaching staff opportunities to see players earn playing time and figure out roles in a live setting. Instead of four scrimmages, Cleburne only got one scrimmage in.
Before practice began, Taylor said he felt pretty good about its pitching depth with Walton, Griffith, Russell, Douthitt, Kile and Schneider, among others. But after losing Schneider and then having a couple of other pitchers currently unavailable with injury concerns, their pitching depth will be tested early on. 
Even though Cleburne had to move a few pieces around defensively, such as Duran moving from second base to shortstop and Archer coming in from the outfield to take over at second base, Taylor believes they're further ahead defensively than they are offensively.
"I think defensively we're going to be okay," Taylor said. "I think we're probably further ahead in that area than we are anyplace else. And then probably pitching comes next. Our pitching and defense wears us out. When we inter-squad and we pitch against ourselves, we wear us out and there's not a ton of hits."
Rounding out the infield along with Duran and Archer are Douthitt at third base and Aubrey Whitehead currently at first base with Tyler Forsythe and Reagan Hannah sharing time at catcher. The Jackets expect to be solid in the outfield with a trio of seniors — Flores, Walton and Kile — leading the way, along with junior Pedro Martinez, who will see time in the outfield when one of Walton or Kile is on the mound.
Offensively is where Taylor's primary concern was at entering the season.
"I think we've got a lot of guys that can hit routine pitching; we're looking for nine guys who can hit good pitching," he said. "When we look up and down our top 24, maybe top 26, guys in our program, they can all hit guys who can throw 80; I need some guys who can hit 90. There's days we look really good at the plate and there's days where it's not very pretty. A lot of it has to do with our mentality of understanding what my job is. It's not everybody's job to hit a 290-foot fly ball. Some of you got to hit a line drive and hit a ground ball every once in a while to get on base."
For one, Taylor said the Jackets have to improve their approach at the plate — both for specific in-game moments pitch by pitch as well as switching mindset from summer ball to high school season.
"I keep trying to convince them to have approaches," Taylor said. "To me, you don't take the same swing with a 1-2 count that you took with an 0-0 count. But for a lot of these guys they think you do because during the summer they're not asked to change at all. You're not asked to give in and try to hit a line drive up the middle; it's your at-bat and if you hit a fly ball we high five you because you barely missed it. Well, that doesn't work for us because if we hit 16 fly balls or if we have 14 strikeouts, we're probably getting beat that day."
As far as the lineup, Taylor feels good about the heart of the Cleburne order, but they need to find someone to set the tone at the top of the order.
"We're pretty solid in the middle of our lineup," Taylor said. "We have an idea of what we want to do, 3-4-5-6. It's finding a leadoff hitter that can replicate what we've had for the last few years. That's tough. You don't have a lot of leadoff hitters that are capable of stealing 30 bases and having an on-base percentage of .480. 
"If I can find two guys at the top of the order that will just scrape for everything, that will wear a pitch, that will out-hustle one out for an infield single and hit a ball up the middle every once in a while, I'd be pretty happy. Because I really think 3-4-5-6 we have some guys that can swing it a little bit. And I really don't want to move them out of those spots but I may have to."
Taylor admitted prior to Thursday's season opener that the Jackets aren't where he would like them to be at this point of the season.
"There's days we feel really good about this team and we walk out of there going, 'Alright, we're going to be pretty good,'" Taylor said. "And there's days we walk out of there going, 'Wow. This could be a tough year.' So we're just kind of waiting to see. Are we where we want to be going into this first tournament? No, we're not."
After going undefeated in a shortened 2020 season, it didn't take long for Cleburne to experience defeat in 2021 as the Jackets opened the season Thursday with a 1-1 showing at the Waco Tournament. Cleburne beat Robinson, 6-2, before losing to No. 20 Leander Rouse, 5-1. The Jackets are back in action Friday and are scheduled to wrap up play in the Waco Tournament on Saturday before opening District 14-5A play Tuesday at Red Oak.
District play will also be somewhat of a new experience because teams won't be as familiar with each other as they normally are after last season was canceled.
"You got us and Midlothian are both ranked top 10 in the state," Taylor said. "Midlothian is always going to have those types of kids because it is a baseball community. Joshua will be alright and I think their coaches do a really good job with those guys. You look over there at Corsicana and they've got some pieces back, so does Waco University. ... I think it's that district that is going to be everybody is fighting for a spot. But it's not like you have a true read like you normally had. You didn't get to see them or their JVs last year where you know exactly what they've got coming back. Overall, nobody's got a real big picture of each other."
The Jackets and Hawks are scheduled for a 7 p.m. first pitch Tuesday in Red Oak.