GRANDVIEW — While Grandview was the odds-on favorite to repeat as state champs entering this 2019 season, it hasn't been the easiest of paths to the Class 3A Division I Region III final for the Zebras.
And let me just say, I couldn't be more impressed with what Grandview has done to this point. Obviously, there's still unfinished business left, but I feel like it's time to fully appreciate what the Zebras have accomplished to this point, leading into Friday's showdown with Troy with a berth to the state semifinals on the line.
This is Grandview's third straight appearance in the regional finals. For the better part of the past two decades, the Zebras have been a perennially strong program, but what Grandview is in the midst of now and the past three seasons is truly special.
Entering their showdown with No. 8 Cameron Yoe last week in the regional semifinals, I fully expected a back-and-forth, down-to-the-wire battle against a well-balanced and explosive Yoemen squad in a 35-34 type of game. 
But Grandview had none of that. The Zebras blasted Cameron Yoe in a convincing 45-14 win.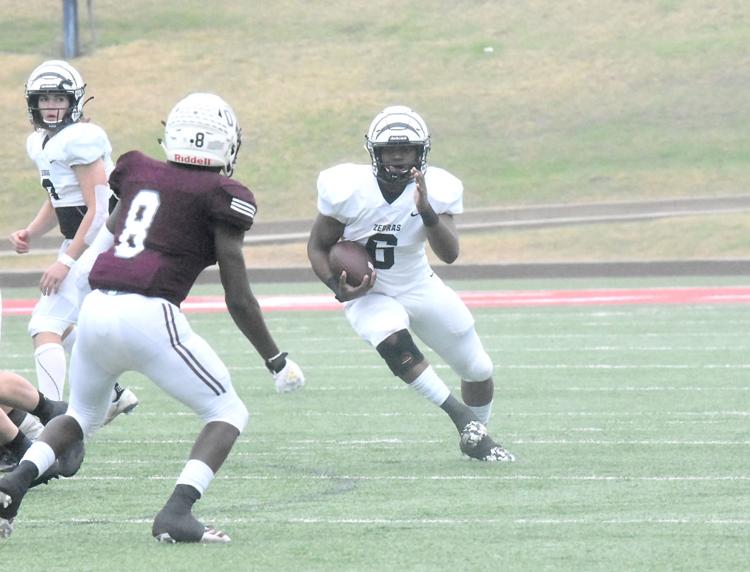 "I was extremely proud of them," Grandview coach Ryan Ebner said of the Zebras' performance. "We had our concerns about some things they did really, really well. There were things we were going to try to do to help in certain areas that could possibly affect them. As a defense, I thought everyone did a great job of winning their individual battles and the amount of effort they put in.
"Offensively, I was proud of how we moved the ball around to different people, and I was extremely proud of the running game being as successful as it was and helping open up everything. Our offensive coaches are doing a great job of putting different personnel packages out there and our players are doing an unbelievable job of executing and running our offense very well."
Considering the quality of opponent, Ebner said he believes it was Grandview's best overall team effort of the season. And I'd have to agree.
Making Friday's win over Cameron Yoe even sweeter was the fact that senior lineman Cole Cannon made an early return from an injury he suffered in week 2. It was an injury that initially was supposed to hold him out the rest of the season, but Cannon, an all-state performer last season, worked hard to join his brothers in another deep playoff run.
"Initially, it was expected he could get back by spring for the end of basketball and be there for baseball season," Ebner said. "... I don't know that in any case they thought he'd get back that quick."
Not only was Cannon's return big because of the caliber of player he is, but for several other reasons, Ebner explained.
"It was great for our team because he's such a valuable leader," Ebner said. "His attitude and how hard he works and his mentality of playing sports in Grandview, being a three-sport athlete, he just means so much to each individual student-athlete. And that's on top of being a great player. Having him out there was a huge boost to the whole team because they had one of their favorite teammates back. 
"As much as it was a help to the coaching staff from an X's and O's standpoint, it was great for the kids because everyone was fired up. From a coach's standpoint, it helped with depth. We didn't know how much he would be able to play going into the game, but it speaks to him with how tough he is. He worked hard to put himself in that position."
As talented and experienced as this Grandview team is, one of the big reasons I've been so impressed with what the Zebras have done to this point is all they've had to overcome. Not many teams could overcome some of the losses Grandview has dealt with and still have this type of success.
Before the season began, Grandview lost returning starting offensive guard Ja'Kobee Crownover for the season after the injuries he sustained in a car wreck. (In addition to Cannon's return, Crownover was also on the sidelines with his brothers Friday in Waco — another outstanding sight.)
Along with losing Crownover for the season and Cannon for 12 weeks, Grandview's had to endure other key injuries, including losing Nathaniel Vargas in week 2 for the season, Jacob Patterson for a month, Cooper Deans for a couple weeks, and Kason English was lost for the season in week 11.
Despite all of those hurdles, these Zebras have just kept plugging along — and in impressive fashion. And here they are, back in the regional finals (or state quarterfinals, however you want to refer to it as) for a third year in a row. 
A major tip of the cap to Ebner, his coaching staff, and the players. It could've been easy for them to be content with last year's state title and/or throw their arms up in the air after all of the injuries they've suffered, but it's been next man up — and the next man up, more often than not, has stepped up and helped push Grandview to win after win.
Earlier this season, Ebner said he was impressed with the mentality and mindset of his players and how they would volunteer filling in at certain positions, if needed to help the team win. For example, last year's All-Johnson County Defensive MVP Michael Lehnhardt, a starting linebacker, has helped fill in at offensive line late in the season. And there are several examples of those types of unselfish moves by Grandview players this year.
Grandview will now face its toughest test of the season Friday against Troy, which beat Whitney last week. Grandview's lone loss of the season was to Whitney. So while the Zebras won't get a chance for revenge against the Wildcats, they will have their hands more than full against a 12-1 Trojan squad at 7:30 p.m. Friday at Waco ISD Stadium.
But these Zebras will be ready for the test.
Sports Editor A.J. Crisp is in his eighth year covering sports for the Times-Review. He can be reached by phone at 817-645-2441 or email at sports@trcle.com.