Johnson County received strong representation in the 2019 Texas Associated Press Sports Editors all-state high school football teams.
Five of the county's nine schools garnered selections across the Class 5A, 4A and 3A all-state teams.
A pair of Cleburne Yellow Jackets received honorable mention on the Class 5A all-state team in senior linebacker Braxton Bailey and junior quarterback Gunner Hammond.
Bailey finished the regular season with a county-leading 163 tackles to go along with 23 tackles for loss, five sacks, three forced fumbles, and three fumble recoveries to garner all-state honorable mention.
In his second year as Cleburne's starting quarterback, Hammond earned honorable mention after completing 175-of-267 passes for 2,462 yards with 25 passing touchdowns to go along with 733 rush yards and 16 rushing touchdowns.
The Burleson Elks also received a pair of all-state selections on the Class 5A team in senior defensive end Klaus Shoenborn and junior offensive lineman Chandler Poggensee. 
Shoenborn received first-team accolades on defense after he registered 110 tackles, 24 tackles for loss, 9.5 sacks and two fumble recoveries. Poggensee garnered honorable mention after recording 53 pancakes and 32 knockdowns with only one sack allowed.
On the Texas APSE Class 4A all-state team, the Alvarado Indians and Godley Wildcats each received recognition.
Alvarado senior running back Colby Sampson was a first-team selection on the Class 4A all-state offense after rushing for 2,120 yards and 23 touchdowns in the regular season.
Alvarado senior linebacker Alex Rodriguez and senior defensive lineman T.J. Shackelford were honorable mentions on the Class 4A all-state defense. In the regular season, Rodriguez racked up 107 tackles, 11 tackles for loss, one interception, one fumble recovery, one sack, and four quarterback hurries while Shackelford recorded 62 tackles, 13 sacks, 12 tackles for loss, four fumbles recovered, three fumbles caused, and nine quarterback hurries.
The Wildcats received three honorable mentions, two on offense in junior quarterback Ethan McBrayer and junior receiver Brenen Hawkins along with senior defensive lineman Landon Stevenson.
McBrayer was 159-of-276 passing for 2,738 yards with 33 touchdowns against only five interceptions to go along with 341 rush yards and eight rushing touchdowns. Hawkins hauled in 50 receptions for 963 yards and 14 touchdowns. Stevenson led the Godley defense with 106 tackles, 22 tackles for loss, two sacks, three fumble recoveries, three caused fumbles, and an interception.
And in Class 3A, the two-time state champion Grandview Zebras are well-represented, led by AP offensive player of the year in junior quarterback Dane Jentsch.
In addition to being first-team offense and the Class 3A offensive player of the year, Jentsch was also a first-team selection on defense at safety.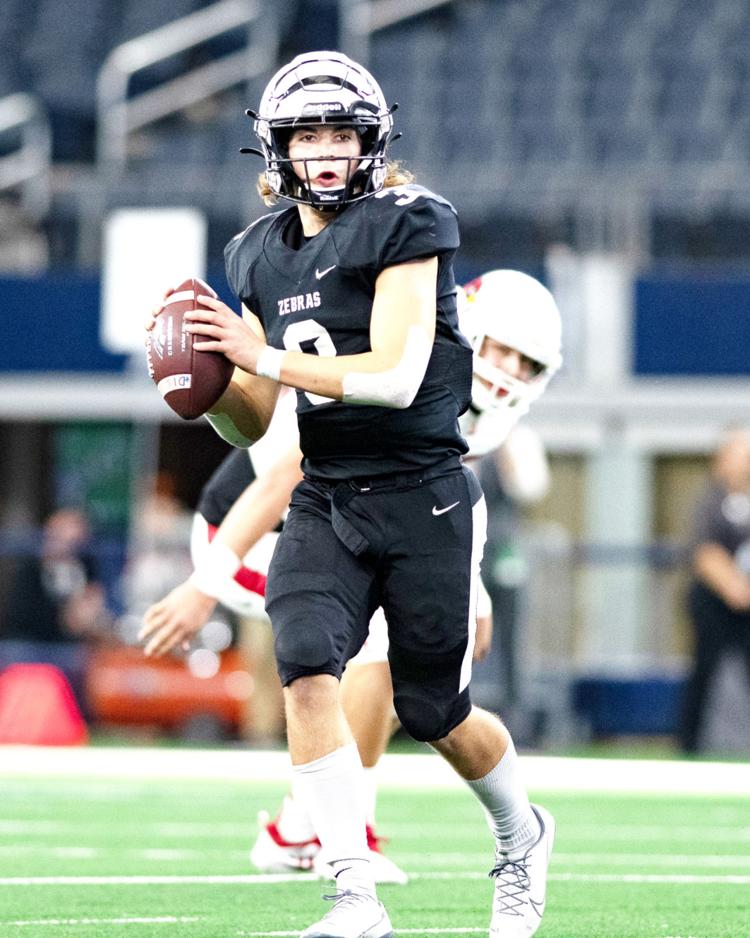 In the regular season, Jentsch was 141-of-213 passing for 2,438 yards with 30 touchdowns and only four interceptions with 567 rushing yards and six touchdowns. Defensively, Jentsch registered 111 tackles, three interceptions, one fumble caused, and four pass break-ups.
Grandview senior wide receiver Austin Boyd received honorable mention on offense after leading the Zebras with 37 catches for 742 yards and 11 touchdowns.
And on defense, senior linebackers Antonio Arellano and Michael Lehnhardt, along with junior defensive end Dametrious Crownover, were honorable mention selections. Arellano finished the regular season with 92 tackles, eight tackles for loss, with one interception, one fumble forced, and one fumble recovery while Lehnhardt had 90 tackles, seven sacks, eight tackles for loss, two fumbles caused, and six quarterback hurries. 
And Crownover registered 46 tackles, 12 tackles for loss, three sacks, two forced fumbles, one fumble recovery for a touchdown, three passes defensed and six quarterback pressures.