Despite not being a full-time starter until his senior season, which then ended prematurely due to COVID-19, Cleburne's Jaxon Bigham took full advantage of his limited opportunities to not only help the Yellow Jackets on the field the last few years but also land an opportunity to continue his baseball career at the collegiate level.
Bigham signed with Wayland Baptist University on Friday in a signing ceremony at the Loaf'n Dog with a few friends, teammates and family in attendance.
"I think it's going to be really exciting," Bigham said. "I'm just glad I'm getting to play an extra year of baseball."
Bigham said he didn't get an opportunity to visit Wayland Baptist University, located in Plainview, due to the pandemic but he liked what he saw and heard about the university and baseball program as well as his conversations with the coach.
"I've seen pictures of their field and campus, and it's really nice," Bigham said. "The coach is really cool and nice. I've always wanted to go play Major League Baseball and I'm just that much closer now, getting to go play baseball in college."
After getting limited playing time due to his senior season being cut short, Bigham said he's grateful that a college program could still see his talents.
"It means a lot [for a college to take a chance on me]," he said. "It helps that my dad [Josh Bigham] was helping me find a college. And then them trusting I'm a good ball player, it means a lot to me. I'm really excited."
As a sophomore and junior, Bigham was Cleburne's backup catcher behind Marcos Guereca but he was also one of Coach Ross Taylor's go-to options in pinch-hit situations. And more often than not, Bigham took advantage of those limited opportunities.
In fact, one of the more memorable plays in recent Cleburne baseball history was via the arm of Bigham. 
In the 2019 regional quarterfinals against Midlothian, Cleburne lost game 1 to the district rival Panthers. With their backs against the wall in game 2, the Jackets were clinging to a 2-0 lead in the sixth inning when Midlothian put a leadoff runner on base, bringing the tying run to the plate. But Bigham — along with freshman pitcher Cooper Schneider — got a clutch strike-em-out, throw-em-out double play as Bigham gunned down the runner trying to steal second in impressive fashion. Making matters more impressive, it was Bigham's first start at catcher in nearly three months.
In game 3 of the same series — which Cleburne wound up losing 5-4 in eight innings — Bigham recorded a one-out RBI single in the seventh inning to start a rally that sent the game into extra innings.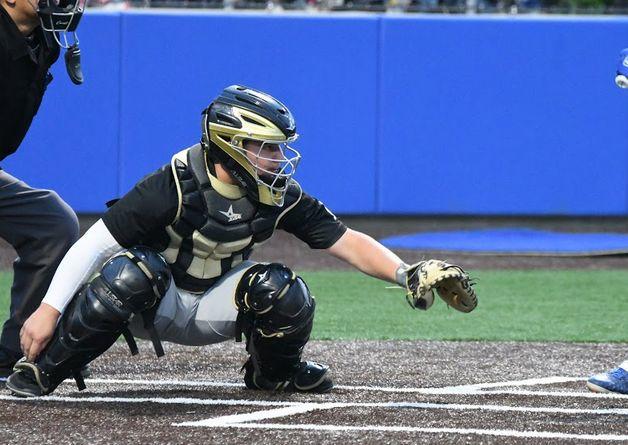 Earlier in the 2019 season, Bigham was called upon in a clutch spot in the Jackets' district opener vs. Midlothian, and — like he seemed to always do — he delivered. With Cleburne facing a 1-0 deficit in the bottom of the sixth inning, the Jackets had loaded the bases, but two outs. Taylor brought Bigham in to pinch hit, and after a nine-pitch at-bat, including fouling off five pitches, Bigham drew a walk to push across a run and tie it up, 1-1, en route to a victory. It was the only walk the Jackets got off Midlothian's starting pitcher.
After seeing limited playing time as a sophomore and junior, 2020 was Bigham's year to be "the man" behind the plate for Cleburne, and he got off to a phenomenal start, throwing out the majority of baserunners that dared test him.
Taylor said he is proud of Bigham's perseverance and resiliency.
"I think it's huge for Jaxon," Taylor said. "And it's huge for kids down the road; we get caught up too often here where we think if we're not on the varsity as a freshman or sophomore and starting by then, that we don't have that college opportunity. And that's not true. Every kid develops at a different rate. Kids that are multi-sport develop at different rates than kids who specialize. For Jaxon, it showed a lot of perseverance and endurance on his part to be a multi-sport athlete and to keep improving to the point where he wasn't just on the team, but he was a valuable, integral part of our success."
Bigham is the third member of the Jackets' Class of 2020 baseball program to sign, joining Cason Gregory (UTA) and Slayton Day (Odessa). Bigham said he's grateful to have grown up playing baseball with the likes of Gregory, Day, Carter Edsel and Dryden Taylor.
"It's been so much fun," Bigham said. "It's like we all think the same thing at the same time because we've played so long together. It was so much fun getting to play with all of them."
Additionally, Bigham said he owes a lot of his baseball skills and knowledge to their fathers who spent many years coaching the senior Jackets in their earlier days.
"I want to thank Darryle Taylor, Roger Gregory, Rick Day and my dad," Bigham said. "They were my coaches when I first started playing baseball. They've basically taught me everything I know. I want to thank Coach Taylor ... he's helped me a lot, and Coach [Colby] Braddock and Coach [Ryan] Stepp and Coach [Brent] Burton. And then I want to thank my family; they've always pushed me to be my best."
Bigham said he hopes to turn his opportunity with Wayland Baptist — an NAIA that competes in the Sooner Athletic Conference — into a chance with a Division I program.
"I'm hoping maybe after here I can go play DI somewhere," Bigham said. "I hope that I improve a lot overall, and basically need to improve my hitting because I didn't get to hit a lot. I need to lose a little weight, become a little faster and hopefully I can go DI."
Bigham not only helped Yellow Jacket baseball in his high school career, but he was a three-year starter for Cleburne football, earning all-district honorable mention his sophomore, junior and senior seasons. As a senior, Bigham made the All-Johnson County second-team defense. Despite playing multiple positions at times, Bigham was among the county's top-10 leading tacklers each of the past two seasons.
Taylor said he believes Bigham's game will grow even more now that he's only focused on and training for one sport year-round.
"I don't think there's any doubt that it's going to help him become a lot better," Taylor said. "I kind of think about Coach Stepp because Coach Stepp was a low-.300 hitter when he was in high school but then became a much better baseball player when he was in college when he focused on one thing instead of spreading himself out. So I kind of see the same opportunity for Jaxon, that his game will step up to another level."