The 2019 volleyball season was a forgettable one for Cleburne, but the Lady Jackets are focused on taking lessons learned a year ago and using those experiences to bounce back in 2020.
In 2018, the Lady Jackets went 25-15 in their first season with Coach Rachell Pope at the helm, losing in a tiebreaker match to finish on the outside of the playoff picture. Then Cleburne was hit hard by graduation as the Lady Jackets were an inexperienced bunch in 2019, which resulted in a tough 6-29 overall record and a 2-10 mark in District 14-5A play to finish sixth.
Even after summer leagues were canceled and the start of this season was delayed by a month because of COVID-19, Pope said the Lady Jackets are ahead of last year's pace.
"I definitely think that our girls are more advanced at this point than we were last season," Pope said. "It looks pretty positive on that note just with experience since we had so many girls returning who have varsity experience."
Cleburne brings back seven lettermen off last year's squad, led by three-year varsity performers in junior Addison Moore, senior Lexie Key and senior Maddie Sepulveda. Also back is senior Joy Smith for a second season as the Lady Jackets' setter. Pope said she will lean heavily on those four players' experience and leadership.
"I need them to be more consistent and more vocal and for them to help keep the team morale and momentum up on the court," Pope said. "I want those three or four girls that have been on varsity the longest to rally the team when we're struggling and keep the momentum up."
Letting one mistake snowball into four, five or six mistakes was problematic for the Lady Jackets last season, so finding consistency is a big focal point for Cleburne.
"One of our struggles last year was when we'd get down, it was a downward slope and we would unravel," Pope said. "This year we're going to have to stay more steady and we've talked about that: 'OK, we messed up, but let's move on to the next play.' We need to have that mindset. We want to be more steady and consistent in our play, we don't want to have the highs and lows and drop so drastically like we did last year."
Moore is coming off a first-team all-district and All-Johnson County season as a sophomore while Key and Smith were each second-team all-district selections a year ago.
Other varsity returners include juniors Andi Whitfield and Alacia Ledoux as outside or right-side hitters along with junior defensive specialist Marissa Bosher.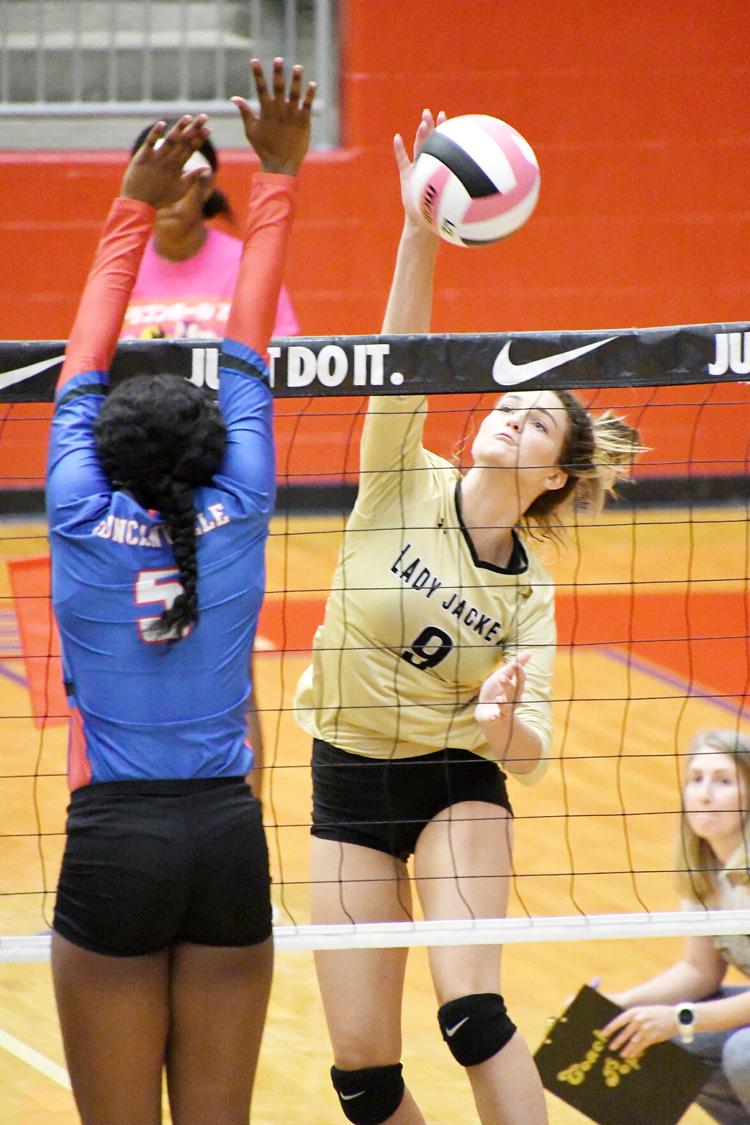 Joining the varsity ranks for Cleburne this year as newcomers include junior middle blocker Elena Fojtasek, sophomore middle blocker Tru Collup, and juniors Tatum Cantu, Kylie Ward-Miller and Ella Felkins.
In addition to Cleburne simply being inexperienced and outmatched for most of 2019, the Lady Jackets struggled mightily in serve-receive a year ago. So improvement there is a must for Cleburne to compete in 2020.
"One of the biggest things we're working on right now is service-receive," Pope said. "Our goal is to more consistently have a faster tempo from our service-receive so our offense moves faster. It's still not where we want it to be but we're working through it and it's definitely better than it was. We've got to get it more consistent. I'm hoping our defense is a lot more stable and a little bit faster in how we read the hitters. I think our block is a lot more consistent than last year and that's a positive for us right now."
Another big improvement Pope has noticed so far this season is improved playmaking. A year ago, Cleburne relied heavily on scoring points through its system, where everything almost had to fall into place. But this year, the Lady Jackets expect to be able to perform better in out-of-system plays, making something out of nothing.
"Our ability to make plays happen is good right now in a sense of the girls have done a really good job over the summer of just making a play, whether it's perfectly put together or not," Pope said. "We're just going to have to be go-getters and react and get the job done. We've spent a lot of time on that — just making a play. We've got to have the effort and get after it. They've done a really good job this summer with that. We've worked a lot on out-of-system and offensive scenarios about what can we do with this situation and things like that."
Coming off last season's struggles, Cleburne is aiming to contend for a playoff spot for the first time since 2017.
"We want to be a playoff-contending team," Pope said. "That's our non-negotiable that we talked about. We want to make the postseason. That's a big conversation for us. We want to be that team that gives it everything it has on the court — we're going to die trying. We talked about that last year but that really is a major conversation we have and we're more dedicated to that this year."
Cleburne is scheduled to open the season at 6:30 p.m. Tuesday at Wylie East. 
"Looking at our schedule, these teams are going to be competitive for preseason," Pope said. "There are no easy wins."
The Lady Jackets' first home match is Sept. 18 when they host Duncanville and Crandall.