Coming off a disappointing 2019 season where Cleburne saw a longstanding playoff streak snapped, the Yellow Jackets enter 2020 with plans of returning to the postseason.
Last year, the Jackets went 7-13-3 overall and 4-6-2 in District 14-5A play. Cleburne missed the playoffs by two points, finishing fifth behind fourth-place Corsicana, as the Jackets saw a playoff streak dating back at least 15 years end.
Now Cleburne enters 2020 with added familiarity under head coach Drew McKinnie in his second year at the helm.
"The second season is definitely different than the first," McKinnie said. "We spent most of that first season building our foundation and figuring out what we had. Now in the second season, we are able to focus more on the technical and tactical aspects of our game."
After seeing their long playoff streak come to an end, McKinnie said they quickly went right back to work in hopes of proving that 2019's outcome was an exception.
"Missing out on the playoffs [last year] was upsetting, especially with how it all unfolded," McKinnie said. "We didn't waste any time and began our offseason work right away. That proved to be very beneficial because we were able to weed out the guys that hadn't fully bought into our program. Our coaching staff is very pleased with the effort our players have shown over the last nine months, and we all have the same goal in mind moving forward — get back into the playoffs."
Cleburne graduated the majority of its roster from last season as the Jackets bring back just six returners, led by a trio of all-district and All-Johnson County performers. Senior Rylan Light was the all-district and All-Johnson County offensive newcomer of the year last season after scoring 20 goals, while seniors Brock Barbee and Adan Santana return after being first-team all-district and all-county selections a year ago.
"Adan Santana is coming back for his senior season and will cement our back line," McKinnie said. "Rylan Light is also wrapping up his high school career this season and should be able to continue adding to his goal tally with some impressive talent surrounding him. We also have a couple of freshmen, Anthony Terronez and Elijah Jarmon, that will play important roles this season as well."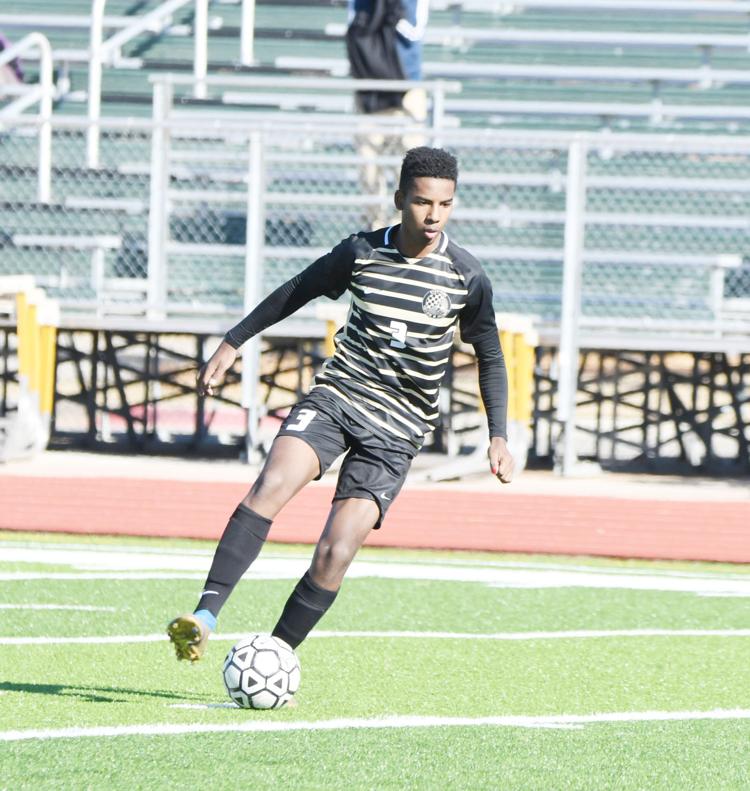 Going into this season, McKinnie said they're focused on improved chemistry and teamwork on the field.
"After analyzing last season and developing a future plan, we knew we needed our main focus to be on becoming one cohesive unit on the field," McKinnie said. "Every player knows his role and is willing to sacrifice for their teammates."
With only six returners, McKinnie said the biggest goal early on this season is getting the newcomers up to speed of the varsity level.
"Honestly, as we play through tournaments, our main focus is on getting every player experience at this level," McKinnie said. "We have a lot of new players, including three freshmen, that just need to work out the jitters and get into a rhythm. From there, we also need to improve on defending set pieces."
Last season, Cleburne made a habit of falling behind early but then fighting back to either make things interesting, force a tie, or come from behind for a win. Cleburne overcame deficits of 5-2 vs. Ennis, 2-0 against Amarillo, and 2-0 vs. Waco University for come-from-behind wins, with the 3-2 win over Waco University in the regular-season finale keeping the Jackets' playoff hopes alive.
As great as it was to see his players' resiliency and heart in fighting back after slow starts, McKinnie said they hope to avoid those big deficits this season.
"We would definitely prefer not to chase games again this season," McKinnie said. "While we consistently push players in training and strive for them to continue battling through the very end, we also have tried to press the issue of being able to take that same effort it takes to come from behind and use it to get ahead early. If we can continue playing as a cohesive unit and every player fulfills his role, the results will follow."
As the Jackets take the field at 6 p.m. Tuesday when they host Wichita Falls, McKinnie said Cleburne soccer is aiming to lay a strong foundation early on and build through the season, culminating with a playoff push, and, potentially, be in the race for a district championship.
"[Our top goal this year is] continuing in building our foundation and fine tuning," McKinnie said. "We are looking to build a family of young men that will exude effort, toughness, and discipline in all facets of life. Going hand in hand, we will see ourselves back in the playoff picture and potentially pushing for a district title." 
After Cleburne's season opener Tuesday, the Jackets are scheduled to compete in the Iron Bridge Classic Jan. 9-11 in Denton.