After a stellar senior season with Tulsa, Cleburne's Reggie Robinson II is in Mobile, Alabama, this week competing against the nation's top players in preparation for the Reese's Senior Bowl.
Robinson left for Mobile on Sunday and will have the opportunity to improve his NFL Draft stock throughout the week with Senior Bowl practices and drills leading into Saturday's game.
The former Yellow Jacket said he was excited when he found out he received an invitation, which made him the first Tulsa defensive back in nearly 50 years to garner an invite to the prestigious Senior Bowl.
"It was crazy," Robinson. "I was just sitting here chilling and my agent called me and asked if I wanted to hear some good news and he said I got an invite to go to the Senior Bowl. I stood up and I was so happy. I was excited for the NFLPA Collegiate Bowl, but when I got the invite to the Senior Bowl, I was like, 'Man, things are really clicking for me.' I was excited to get the invite."
In his senior season, Robinson led Tulsa with four interceptions, 13 pass break-ups, and 17 passes defensed to go along with 38 tackles, two fumble recoveries, and a blocked kick (the fourth of his college career). Robinson allowed only one touchdown all season and earned multiple American Athletic Conference weekly honor roll recognition in addition to first-team All-AAC honors for the season.
"Honestly, what most stands out [in my career at Tulsa] has to be my last year," Robinson told the Times-Review last week. "Going into my last year I had my mind set up on certain things I wanted to accomplish, and everything happened for me what I wanted to happen. This past year stood out the most. This was my first year getting [all-conference]. It was really the first year I was able to stay healthy. I really put the work in during the offseason, so it meant a lot."
Robinson's play his senior year helped put him in this position to showcase his skills to NFL coaches and scouts this week in Mobile, and moving forward.
"He showed a tremendous amount of progress this year," Tulsa defensive backs coach Aaron Fletcher said. "The biggest thing is it wasn't a physical deal. The biggest thing was the belief and him knowing he could do it consistently. From a maturation standpoint, he's always been there. He just needed that confidence. He's grown confident and I think he's started to trust his play and not overthink things. And it was all able to manifest in a major way this year. I always knew he had it and now the world knows."
Two weeks ago, Robinson wasn't even listed on most draft websites in their positional rankings or mock drafts, which just fueled Robinson even more.
"It gives me all the motivation," Robinson said. "I know I'm one of the best corners in this draft. I've got to show them when I get to Mobile, Alabama."
Recently, however, sites and NFL Draft experts have started to take notice of Robinson. WalterFootball.com released updated positional rankings and now has Robinson listed as the No. 16 cornerback prospect for the 2020 NFL Draft with a projected round of 3-5.
"Robinson has the potential to be a riser in the process because he is a tall cornerback with speed and athleticism," according to WalterFootball.com. "He totaled four interceptions, 13 passes broken up, and 38 tackles during his senior year. The previous three seasons he had 21 passes broken up. Robinson has a good skill set and could develop into a starting outside cornerback. He's a sleeper pick that could be a steal."
With Senior Bowl practices beginning Tuesday, Robinson said he's looking forward to proving he can match up against receivers from Power 5 conferences.
"I'm most looking forward to the one-on-ones," Robinson said. "I want to show my skill going through the drills and making sure I'm polished. And I want to see how I size up to other seniors that are there and see how I compare against these guys from bigger schools, both in one-on-one against the receivers but also competing against other defensive backs."
Robinson, who is on the South Team, will be going against wide receivers such as Baylor's Denzel Mims, USC's Michael Pittman, Jr., Ohio State's K.J. Hill, Texas' Devin Duvernay, Texas' Collin Johnson, and more.
"I'm looking forward to it," Robinson said. "There's a lot of dudes I know are just names right now. So we have to see when we're on the field. I'm looking forward to seeing the difference that people keep talking about between players that I competed against in the American compared to the other schools like the Big 12, Big 10, or SEC."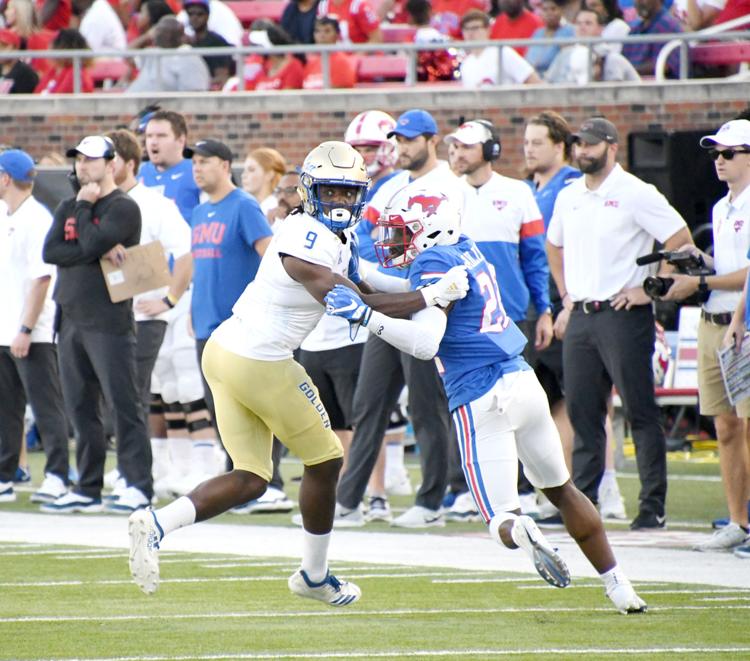 Robinson said he's hoping to improve his draft stock and climb up the boards by proving he can hang with the nation's top receivers.
"I've been told a lot of things from fourth round to free agent, but it depends on how well I do against big-school receivers," Robinson said. "They're thinking my conference isn't good enough so they want to see how I do against receivers from bigger schools. That will give me a good chance to boost my draft stock."
Fletcher is a big believer in Robinson's ability to compete against anyone in the nation.
"He just needs to go out and compete at the highest level, like he did this year," Fletcher said. "It's not going to be anything physically that they have over him. I think he just needs to go out there and be him and show he belongs. He only gave up one TD all year. That's a phenomenal feat. Look at what he's done against some of the receivers he faced this year compared to how they fared against other draftable guys. So he just needs to be himself and cut loose. He played to his personality this year and it was really fun to watch."
Before leaving for Mobile, Robinson spent the past few weeks training at the Michael Johnson Performance center in McKinney along with other draft prospects such as Missouri's Kelly Bryant, Alabama's Jerry Jeudy, Florida's Van Jefferson, Notre Dame's Troy Pride, Jr., and others.
"We were working on stuff like pro day stuff and combine stuff like the 40," Robinson said. "A couple days per week, we have a position coach come in and he works with us on our skill development. We mostly just work on draft stuff helping us get ready."
Fletcher believes Robinson is exactly the type of player NFL teams are looking for in defensive backs these days.
"He's a 6-1, 6-2 corner; those guys definitely don't grow on trees, and he knows how to use it," Fletcher said. "I think he's the best press guy in college football. That's huge. Any time you can take away a side of the field or a primary threat on the perimeter, that makes everybody's job on defense a lot easier. I think those are the big things. Everybody's going to be able to run, everybody's going to be able to jump and catch at that level, but it's hard for a lot of guys to do what he does pressing at the line of scrimmage."
Additionally, Fletcher said Robinson already carries himself like a professional off the field, and that's attractive to NFL teams.
"Reggie is super smart," he said. "The thing about him a lot of people don't see is he's super professional. He always comes to meetings prepared. He's always got a pen and paper to take notes. He asks the right questions. He already is a professional. Those things speak volumes. You want somebody that you can rely on and can go out and represent the organization and community well, and he'll definitely do that. You also want somebody on the field to produce and do great things, and he's going to do that. I'm excited about it for him. I don't think there's a limit to what he can do and what he puts his mind to."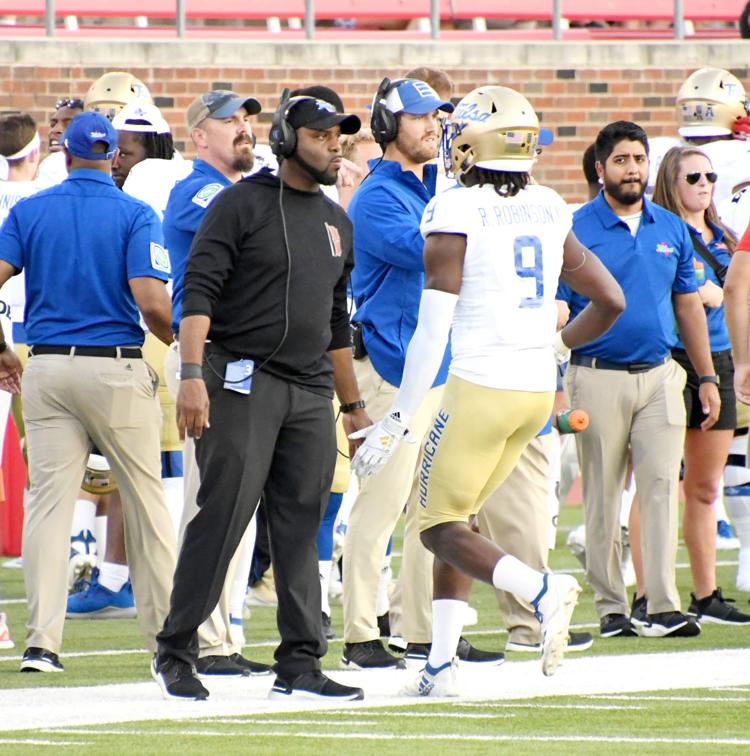 Not only has Fletcher been Robinson's position coach the past five years, but he's also experienced firsthand what Robinson is going through right now with the pre-draft process after a strong college career himself.
"I told him to just continue to compete every day and ... take advantage of this opportunity," Fletcher said. "He knows it's a blessing. He's the first [Tulsa] defensive back in almost 50 years to get invited to that game. The last guy [Ralph McGill] to get invited at his position was a second-rounder and he was a really special guy from everything I've researched. I think it's going to be quite a special time for Reggie Robinson. I'm excited for him and happy for him. I've had Reggie for five years, and it's been a tremendous blessing. I love that young man. He's brought the best out of me. I think he's gonna represent Cleburne well and whoever drafts him well."
Tulsa CB Reggie Robinson II could make noise at the Senior Bowl. He is a very physical & aggressive press-style corner. Robinson transitions well from backpedal to opening his hips. He often jammed hard at the LOS, stayed tight to WRs and got into passing lanes in '19. pic.twitter.com/ZZ9LtVR3A4

— Daniel House (@DanielHouseNFL) January 20, 2020
Cleburne defensive coordinator Jason Payne, who coached Robinson for three years in high school, said he's enjoyed keeping up with Robinson's career.
"It's incredible to be able to watch him and what he's accomplished because he's an incredible young man," Payne said. "He's done very well for himself. I'm very proud, not only for him but his family. I'm proud to be able to say I coached him because he is a phenomenal athlete, but it's also a little bit of pride for our school to see him excel at such a high level and represent not only Tulsa but here in Cleburne as well."
When Robinson takes the field Saturday for the Senior Bowl game with and against some of the nation's top players, Payne said it will be an awesome moment because Robinson belongs on the field with the best players in the nation.
"I think it's a tribute to how good of a player he is," Payne said. "He's played on big stages and he's a big-stage player. Putting him on the level with those guys is a sign of where he is — he's that kind of a young man and player. I think it's going to be awesome to see him live in that moment for a second and realize that's the level he's playing at and will continue to play at. I think it's a great opportunity for him. I know I'm going to be glued to the game; I wish I could be there."
Payne and Cleburne head coach Casey Walraven said they're excited to see former Jackets have these types of opportunities and follow their dreams.
"I still haven't had a chance to meet Reggie personally but watching him and hearing the coaches talk about him, he's another high-character kid, and to see him getting these opportunities, it's also big for Cleburne," Walraven said. "It's big for these kids to be able to look at somebody like that. We've had Will House and now Reggie's on the verge of getting an opportunity in the NFL. It proves that if you're from Cleburne, you can go make something of yourself if you work hard enough, have high character, and take advantage of your opportunities. It's exciting to see him get this opportunity and it's exciting for our kids be able to watch it."
"I'm stoked for him to have this opportunity, just like I was excited for Will House," Payne said. "It's really neat that I've been here at Cleburne to see two young men come through this program and have a chance to play at that level. It's amazing. And I think Reggie's going to do really well."
If Robinson performs well this week and in the Senior Bowl game, the next step would be hoping for an invitation to the NFL Scouting Combine, which is a week-long showcase Feb. 23 to March 2 in Indianapolis where the top prospects perform physical and mental tests in front of NFL coaches, general managers, and scouts. Whether Robinson receives an invite to the combine or not, there will also be a Tulsa Pro Day for Robinson. Last year, Tulsa's Pro Day was mid-March.
The Reese's Senior Bowl game will be televised on the NFL Network at 1:30 p.m. Saturday.
Editor's note: This story will run in Thursday's print edition of the Times-Review.