The Cleburne Yellow Jackets and Weatherford Kangaroos exchanged touchdown after touchdown all night long — but with the game on the line in the final 5 minutes, Cleburne came through clutch, scoring the final 13 points to capture a wild 54-48 win Friday on homecoming at Yellow Jacket Stadium.
Weatherford scored less than 2 minutes after kickoff and Cleburne later answered to tie it, setting a trend for the first 43 minutes of play in a game that featured six ties.
After Weatherford took a 48-41 lead with 9:22 remaining, Cleburne scored on a one-yard run by quarterback Landry Shields to tie it with 4:48 left.
Cleburne's defense then forced Weatherford into its only punt of the night, and the Jacket offense pieced together an impressive drive, fueled by the running of freshman Eli Martinez to set up an 11-yard touchdown pass from Shields to Tyler Forsythe for a 54-48 lead with 21 seconds left.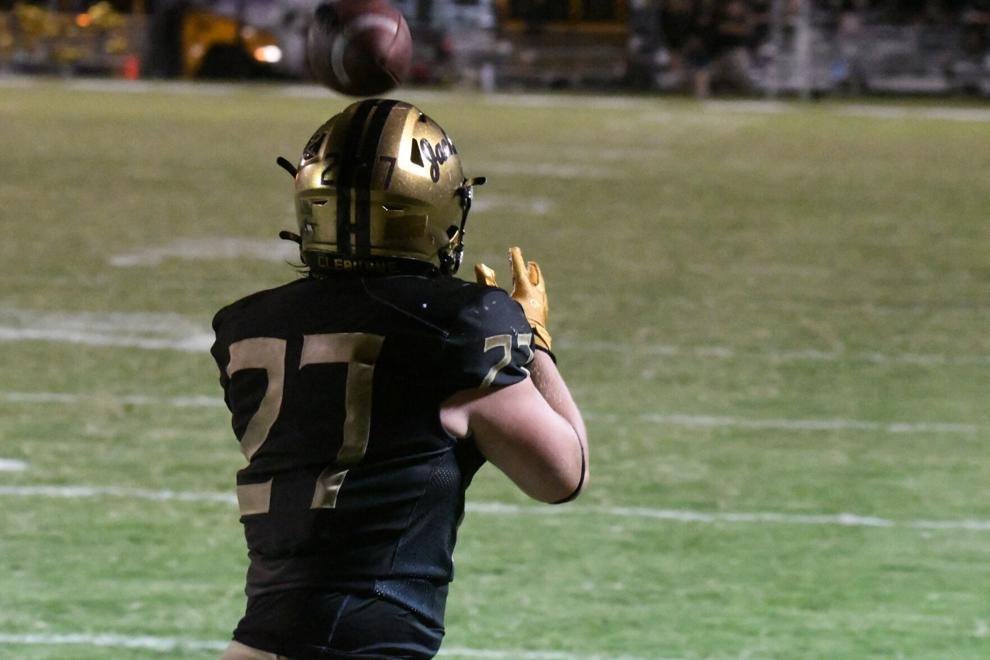 After Weatherford returned the ensuing kickoff just past midfield, Cleburne's defense forced two incompletions to end homecoming in the win column and improve to 2-1.
"They showed it again this week," Cleburne Coach Casey Walraven said. "Last week, I didn't feel like we had the killer instinct that we needed or showed in week 1. We did it tonight. What I was most proud of was that last drive. We work hard in the weight room and it goes back to being able to finish. I feel like we were slugging back and forth all night, and our hard work in the weight room put us over the edge with wearing them down and executing the big play we needed to finish it."
The Jackets and Kangaroos combined for 1,184 yards from scrimmage — interestingly enough, both teams finished with 592 yards of offense — highlighted by an explosive second quarter that saw 48 points scored.
Shields had a stellar performance as he completed 28-of-34 passes for 291 yards, five touchdowns and no interceptions with 124 rushing yards and two scores on 17 carries while Martinez added 104 rushing yards, all in the second half.
Those performances were the result of a strong performance by Cleburne's offensive line after a tough start to the season.
"I'm extremely proud of the offensive line," Walraven said. "They've had a lot of criticism and I've been hard on them — and they showed up tonight. It's a great feeling. We progressed a little bit last week but at the end of the day it wasn't what we want to do. Tonight, that was the rushing attack we want to be able to do, and then execute our passing game off that.
"What I was proud of with Landry is he took a lot of underneath stuff. They did a great job taking the deep ball away because we've been a big-play team vertically. But he did a great job making the right decisions and taking what was there. He's getting better every week."
While Cleburne's defense allowed 592 total yards (350 rushing yards, 8.9 yards per carry) and only forced one punt, the one forced punt came at the opportune time. In a tie game with 4:40 left, Weatherford took over at its own 36 looking for the go-ahead score but Cleburne's defense — aided by a Weatherford penalty — dug its heels in to force a three-and-out.
"That happened week 1; when we had to bow our neck to get a stop, they found a way," Walraven said. "And we did it again tonight. There were some other stops they had in there and the offense didn't take advantage of it. Early, [we struggled with] not getting lined up properly and communicating — and tackling. I know it doesn't look like it but we work harder than anybody on tackling, I know how much time we spend on that, and it's not transferring onto the field and that's frustrating.
"But I give a lot of credit to Jason Payne and the rest of the defensive coaches. I was hard on them and I needed them to make adjustments. They found a way to get it done and they came up big at the end to make it happen."
From there, Cleburne took over at its own 30-yard line with 3:21 remaining. Martinez carried the ball eight times for 55 yards on a 10-play, 70-yard drive that ended with Forsythe's game-winning touchdown reception with 21 seconds left.
After starting running back Jacarrean Gray got banged up, Cleburne put Martinez in the backfield — and the freshman stepped up big-time, showing great patience by setting up the blockers and then finishing each run strong.
"He's got a natural vision," Walraven said. "With a freshman, especially at this level, you want to try to ease him into things. But we threw him to the wolves and he came up big. I also need to mention Tyler Forsythe. [After Gray got hurt], we could've easily put Tyler in the backfield and tried to figure out something at tight end, but his blocks were enormous. That's his unselfishness and coming up big with the offensive line. It's only fitting we were able to reward Tyler with the game-winning touchdown at the end."
While Cleburne's defense forced only one punt, the Jackets did come up big with four key takeaways — interceptions by Keon Long and Jay'Veon Kelly and two fumble recoveries by Dorian Potter as Cleburne finished plus-four in the turnover margin.
After Weatherford took a 7-0 lead, the Roos looked to take an early two-score lead before Long came away with an interception in the end zone. Cleburne then marched 80 yards and tied it on a one-yard touchdown pass from Shields to Forsythe.
Weatherford went back in front on a one-yard run by quarterback Ryan Clark, setting off a wild 17-second sequence. After Clark's touchdown, Cleburne tied it when Jason Pugh returned the ensuing kickoff 68 yards for a touchdown. Weatherford then needed only one play as Colton Burch connected with Isaiah King for a 40-yard touchdown as the Roos went back in front 21-14.
Weatherford then recovered an onside kick and Cleburne's defense came up big again to keep it a one-score game as Kelly snagged an interception, setting up Potter for a five-yard touchdown to tie it at 21-21 with 5:45 left until halftime.
But the Roos again responded quickly, going back out in front on another one-yard touchdown run by Clark for a 28-21 lead with 3:07 left in the first half. However, the back-and-forth dance continued as Cleburne quickly covered 70 yards thanks to 20-yard receptions by Lance Sansom and Long, setting up Long for a five-yard score to tie it at 28-28 with 1:04 remaining.
Weatherford wasn't done as a big-play second quarter ended on a 53-yard touchdown pass from Clark to Melvin Polk that gave the Roos a 34-28 halftime lead.
The Jackets didn't take long in the third quarter to knot things up again as Potter, who had a 27-yard reception on the drive, scored on a seven-yard pass from Shields on a speed sweep less than 2 minutes into the second half.
Weatherford fumbled on its first second-half possession but the Jackets turned the ball over on downs, unable to capitalize on an opportunity to take their first lead. Three plays later, Weatherford was up by a touchdown again after Polk scored on a 49-yard run, but the PAT was missed, giving the Roos a 40-34 lead.
Cleburne responded on a seven-play drive as Shields took it in himself from 22 yards out and Anthony Terronez's extra point attempt was good to give the Jackets their first lead at 41-40 with 3:21 left in the third.
After Cleburne's defense forced another takeaway, again the Jacket offense failed to convert on the opportunity, turning the ball over on downs and allowing Weatherford to reclaim the lead on a seven-yard run by Clark for a 48-41 advantage with 9:22 left.
The Jackets faced a fourth-and-9 from their own 41 on the following possession with 7 minutes remaining but Shields connected with Pugh for a game-saving 15-yard connection. Five plays later, Shields scored on a one-yard run to tie it, setting the stage for Cleburne's defensive stop and Forsythe's winner.
Cleburne's offense had great success using a speed sweep against Weatherford's defense, utilizing the play 11 times for 114 yards and three scores.
"I think we had a speed advantage tonight so that was something we went to," Walraven said. "Maybe we should've leaned on it a little bit more in weeks 1 and 2 but it gets our athletes the ball with them already running fast. I need to do a better job of making sure we keep doing that. What it does is it also sets up a lot of other things off of it."
Cleburne finished with 36 first downs on the night as the Jackets — who also only punted once — found great success offensively. In addition to Shields' 124 rushing yards and Martinez's 104 rushing yards, Gray also had 73 rushing yards on 14 carries. Pugh had eight receptions for 105 yards while Potter had seven receptions for 49 yards and two touchdowns.
After racking up double-digit penalties in weeks 1 and 2, Cleburne was penalized only nine times for 72 yards Friday, including only one penalty in the second half.
The Jackets will kick off District 5-5A Division II play next week when they host Arlington Seguin.