JOSHUA — The Cleburne Yellow Jackets jumped out to a 28-0 lead early in the third quarter on their way to a 28-14 win Friday over the Joshua Owls at Owl Stadium.
After a rough two-game stretch where the Jackets were out-scored by a combined 88-14 in losses to Burleson and Everman, Cleburne Coach Casey Walraven said they were glad to be back in the win column.
"We're extremely excited about winning the game," Walraven said. "It's a tough district so any time you can get a win, especially on the road, we're ecstatic about it. I'm real proud of how hard they played. I'm real proud of our defense and how they played all night long. I'm just proud to be on the winning side and get back on the positive side of it."
Cleburne got back to .500 on the season at 4-4 overall and moved to 2-3 in District 5-5A Division II play while Joshua fell to 3-5 overall and 1-4 in league play.
The Owls made things a little interesting in the fourth quarter as Joshua turned a pair of takeaways into touchdowns, cutting a 28-point deficit into a 14-point deficit and having the ball late with a chance to make it a one-score game.
The first takeaway came on the opening play of the fourth quarter when Joshua linebacker Justin Marshall made a leaping grab to intercept a short pass by Cleburne quarterback Landry Shields. After a 20-yard run by Kolby Smith, Ayden Groce scored on a 12-yard run to get the Owls on the board early in the final quarter.
After both teams exchanged punts, Joshua's Cooper Moore came away with another interception, this time on a deep pass by Shields. With the Owls facing a third-and-17, Joshua freshman quarterback Jaydin Pool lofted a deep pass down the sideline for Ricky Dunn, who made a one-handed catch and raced 70 yards for a touchdown. Drew DeArman punched in the two-point conversion to make it 28-14 with 3:43 left.
The Owls had a chance to make it a one-score game late after Joshua's defense forced Cleburne into a three-and-out on the next drive. Following a short punt, Joshua had the ball at the Jackets' 46 with just under 3 minutes remaining.
But Cleburne sophomore Xavier Aguilar — who has consistently made plays all season — sealed the deal with back-to-back sacks, pushing Joshua into a third-and-long from their own 37-yard line before turning the ball over on downs to end it.
"Those were big-time plays," Walraven said. "He's one of the kids who has continued to listen and take coaching and continued to get better through the entire year. You see it every game. That's what you want from all your players, but some of them are more stubborn than the others and we've got a few stubborn ones this year. But those young guys are taking the coaching and you see the ones that do."
The Owls opened the game by recovering an onside kick but Cleburne's defense, thanks in large part to a sack by Max Bigham, forced a three-and-out. From there, Shields connected with junior Jacarrean Gray on passes of 11 and 46 yards before the junior quarterback hit sophomore Dorian Potter for a 29-yard touchdown and a 6-0 lead with 8:41 left in the opening quarter.
Later in the first quarter, Shields completed passes of 26 and 19 yards to freshman Lance Sansom, setting up Gray for an 11-yard touchdown run. Logan Schroyer added the two-point conversion for a 14-0 advantage with 1:31 remaining in the first quarter.
After both teams exchanged punts, Joshua put together its best drive of the game to that point, a 15-yard run by Groce setting the Owls up at the Cleburne 22. But after the Jackets stuffed Smith for losses of two and three yards, Pool's pass on fourth-and-15 was intercepted by Keon Long in the end zone to preserve the 14-0 lead.
Like Aguilar's back-to-back sacks late, Long's fifth interception of the season proved to be one of the biggest plays of the game. Instead of Joshua threatening to cut the 14-0 deficit in half, Long's takeaway gave the ball to Cleburne's offense, which marched 80 yards in nine plays, with Shields throwing an 11-yard touchdown pass to Gray for a 21-0 lead with 4:50 left until halftime.
Following a Joshua three-and-out to open the second half, the Jackets scored in only four plays as Shields hit Gray for a 42-yard touchdown pass and a 28-0 advantage with 9:36 left in the third.
Shields finished 24-of-33 for 304 yards, three touchdowns and two interceptions. Gray had six receptions for 131 yards and three total touchdowns. Sansom finished with a career-high 10 catches for 106 yards.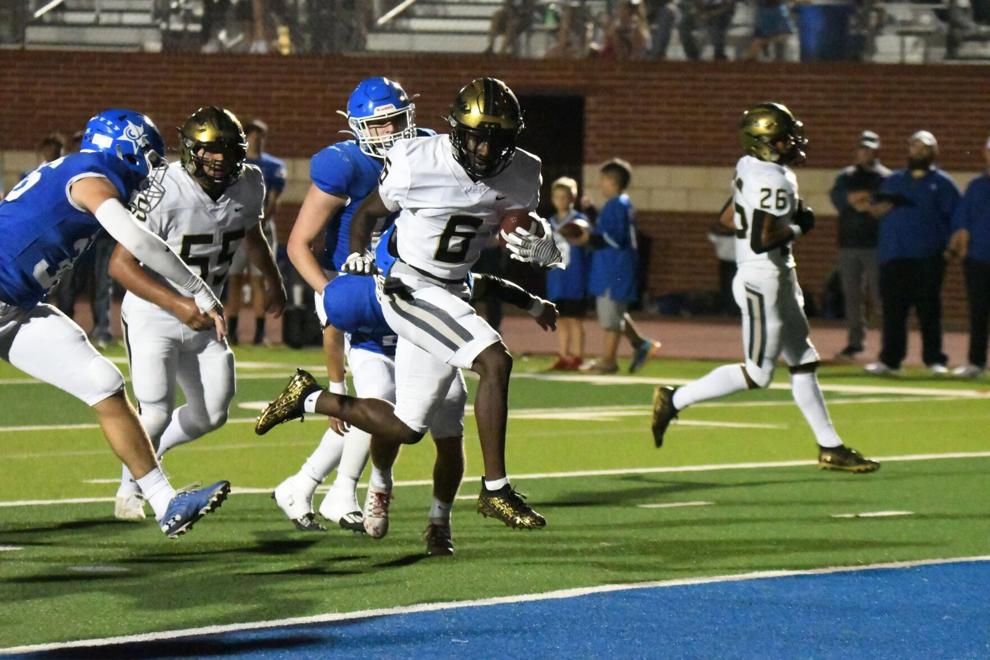 Cleburne attempted 33 passes compared to 22 rushing attempts — and Walraven said it was a matter of taking what Joshua's defense was giving them.
"I felt like they gave us the quick game," he said. "The way they line up right now, and it's a unique look you see out of them, … but we did execute the quick game well. We protected the football as far as catching it and getting it up field but we've got to do a better job of protecting the ball at quarterback."
Dunn led Joshua with 95 receiving yards and a touchdown on three receptions while Groce rushed for 88 yards and a score on 18 carries. Cleburne held Smith to just 65 rushing yards on 25 carries. Pool completed 6-of-16 passes for 110 yards, one touchdown and one interception.
Cleburne was penalized 10 times for 115 yards while Joshua was flagged nine times for 107 yards.
The Jackets are next scheduled to host Mansfield Timberview (4-4, 3-2) in week 10 for Cleburne's home finale before closing out the season week 11 at No. 1 Aledo (8-0, 5-0).
"It's going to be extremely tough," Walraven said. "Timberview looks like they're starting to play better and better. They are a young team, though, and we do get them at home. My message to our kids is we need to play with this type of effort because I'm real proud of the effort they played with [Friday vs. Joshua]. But we still have not seen what this team can do if we'll just execute to our fullest potential. We've got to continue to strive to reach that and I think we'll be real happy with the way we finish the season."