Cleburne's defense locked down Everman in the second half as the Yellow Jackets scored 21 unanswered points for a 28-21 victory Friday at Yellow Jacket Stadium.
Cleburne snapped a three-game losing streak to improve to 5-3 overall and even its mark in District 5-5A Division II play at 3-3, taking a big step towards competing for a playoff spot in the final two weeks of the season. Everman fell to 2-6 and 2-4 in district play.
After facing a 21-7 deficit at halftime, the Jackets, fueled by their defense, completely dominated — in every sense of the word — the second half.
Cleburne head coach Casey Walraven said it's the type of win they've been working towards since he was hired to rebuild Jacket football three years ago.
"For me, personally, it's one of the biggest wins of my career, just because I know how much these guys have put into it, and not just the kids but the coaches and parents," Walraven said. "It's one of those hurdles that we were able to overcome this year and bounce back; show some resiliency that we couldn't do last year. That shows growth not just in their physical ability but their mental ability, and that's really what we've been focusing on the last year."
Cleburne senior wide receiver Isaak Cunningham said despite facing a 14-point deficit at halftime, they believed they would come back in the second half.
"This win means a lot for the whole team," Cunningham said. "Everyone showed toughness and true grit tonight. We were down 21-7 and came back to score three unanswered touchdowns. You could see it in everybody's face that we wanted to get it done."
In the second half, Cleburne's defense held Everman to only one first down and 32 total yards.
For the game, Cleburne held Everman to six first downs and 123 total yards. Everman averaged just 3.2 yards per play — take away a 44-yard run by Juan Davis on the Bulldogs' first play of the night, and Cleburne held Everman to 2.1 yards per play the rest of the night.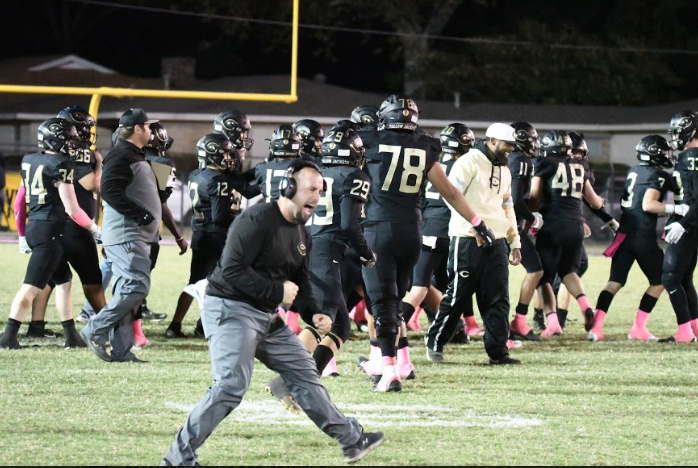 "It was a defensive win for us, for sure," Walraven said. "We overcame many, many mistakes on special teams and offense. I can't say enough about how [defensive coordinator Jason] Payne and his staff game planned and had our guys in great position.
"Our kids, what can you say? They knew they had to be able to tackle better, and they came out and did exactly that. I feel like it was defensive dominance and offensive resiliency that pulled the game out."
With the game tied at 21 and Cleburne facing a third-and-4 from the Everman seven-yard line, Walraven used one of the plays he's been holding onto throughout the season.
Quarterback Gunner Hammond approached the line, appearing to call out a signal when running back Cleo Chandler took the direct snap and pitched it back to receiver Gavin Naquin, who threw to a wide-open Hammond for a touchdown and a 28-21 lead with 6:33 left.
"It's something that we knew we had in our back pocket," Walraven said of the play call. "... It's a tough play to stop and we executed it to perfection. It's a play you know is going to work but you've got to wait for the right time to use it. And I felt like that was the right time.
"The kids were excited about running it. There were a lot of details to work out and make sure that it was sold the correct way, and they did all of those to perfection and executed it great. It was a clutch play."
From there, Cleburne's defense forced an Everman turnover on downs from midfield with 4:27 left as Braden Gunn had a pass break-up.
The Jackets' offense was unable to put the game away, however, as Hammond's pass on second-and-16 was intercepted, giving the Bulldogs life with 2:20 left at their own 42.
But, like it did the entire second half, Cleburne's defense stood strong, forcing another turnover on downs, with Gunn again making a play on a pass attempt, nearly snagging a pick-6.
Cleburne's offense was unable to pick up a first down as the Jackets turned it over on downs at the Everman 32 with 4 seconds remaining, giving the Bulldogs one last chance — but Everman's final pass attempt fell incomplete.
Chandler had a strong performance with 135 rushing yards and a TD on 30 carries with five catches for 68 yards. Hammond finished 16-of-29 passing for 193 yards with one TD and three interceptions. Hammond pulled off a rare feat as he threw for a TD, ran for one and caught a TD.
Cleburne took the opening kickoff 75 yards on 14 plays as the Jackets ate up 6:08 off the game clock, ending with a one-yard quarterback sneak by Hammond on fourth-and-goal for a 7-0 lead. Walraven said it was an ideal start to the game.
"That was huge for us," Walraven said. "We wanted to take the football to start because we felt like we saw some things on film we could take advantage of. I think the offensive guys did a great job of scheming that up and making sure we were prepared to come out and get that lead. It was a very important first drive for us."
Everman tied it on the first play of the second quarter on a nine-yard run by Errick Mills then the Bulldogs took a 14-7 lead on a 13-yard pass from Davis to Eric Calamease midway through the second quarter.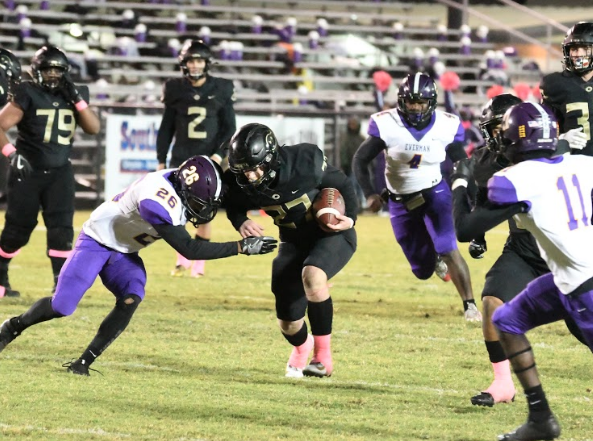 Cleburne looked to answer as the Jackets methodically drove 67 yards on 16 plays before facing a fourth-and-goal from the 8-yard line when Hammond's pass into the end zone was intercepted by Davonte Biscoe, who returned it 100 yards for a touchdown with 40 seconds left.
It was the biggest play of the first half, a 14-point swing as the Bulldogs took a 21-7 lead right before the half instead of allowing Cleburne to tie it.
In the final seconds of the first half, Cleburne appeared to score on a 41-yard TD pass to Chandler, but the score was nullified on a pre-snap penalty.
The tough luck continued for Cleburne on the second-half kickoff when the Jackets recovered a muffed kick, but the officials ruled there was an inadvertent whistle as an Everman player attempted making the catch after signaling for a fair catch.
An unsportsmanlike penalty on Cleburne — as coaches argued the call — moved the kickoff back 15 yards, giving Everman starting field position inside the Jacket 40 after a short kick.
But instead of letting things snowball, the Jackets showed much-improved mental fortitude by not letting outside factors affect their play. Cleburne's defense immediately shut down Everman, forcing a turnover on downs.
Cleburne's offense then moved down the field and scored on a three-yard run by Chandler.
Walraven said he was impressed with his team's ability to overcome the numerous tough breaks by coming out strong in the third quarter and getting right back within one score.
"It's the mindset," Walraven said. "They're starting to believe they're never out of anything. When you start to believe, great things can happen. You can preach it to them all you want, but you've got to have them actually experience it to really see that growth."
After Jaxon Bigham sacked Davis on third down on the Bulldogs' next possession, Everman was forced to punt.
A 24-yard completion from Hammond to Cunningham on fourth-and-12 kept the Jackets' ensuing drive alive, which set up a Gavin Naquin 10-yard touchdown reception from Hammond on the jet sweep to tie the game at 21 with 2:25 left in the third.
Cleburne compiled 406 total yards (206 rushing, 200 passing) and 25 first downs as the Jackets ran 80 plays from scrimmage compared to Everman's 38.
Moving forward, Walraven said they need to enter their week 10 showdown at Midlothian with the same mindset as the Burleson Centennial and Everman games.
"We've still got the opportunity to be a third-place football team," Walraven said. "We've got to focus only on Midlothian. We know Burleson's a big game [in week 11], but we've got to go into Midlothian with some confidence and put a good game together and hopefully put ourselves in a good situation."
The simplest path to the playoffs for Cleburne is wins over Midlothian and Burleson in the final two weeks to secure the third seed; beyond that, playoff-clinching scenarios — behind Aledo (6-0) and Burleson Centennial (6-1), which have already clinched — remain too complex with Midlothian (4-2), Cleburne (3-3), Burleson (3-4) and Everman (2-4) still alive and battling for two playoff spots.