After a month's delay compared to the usual start of the Texas high school football season, the Cleburne Yellow Jackets and Burleson Centennial Spartans squared off Friday night at Cleburne High School in each team's lone scrimmage.
With COVID-19 canceling spring practices and summer 7-on-7 leagues along with the start of the 2020 season delayed a month, it was a long wait for both teams to line up against an opponent. And both Cleburne Head Coach Casey Walraven and Centennial Head Coach Kyle Geller said it was great to be back out under the Friday night lights.
"It was awesome," Walraven said. "I felt like the intensity was good and the atmosphere. It was great to get a great opponent like Centennial for a scrimmage, with the close game we had last year and coming out having another good competition tonight. I thought kids from both schools represented each school fantastic, especially within the rules of the scrimmage."
"I thought was awesome to get back out there," Geller said. "It was a really good scrimmage. That was a really good scrimmage for both of us. Both teams had some success, both teams had some things we can learn from. It was clean. Usually when we play Cleburne, both sides are a little bit rowdy, and it was good will out here tonight and the kids played hard and did it right."
Both portions of the scrimmage — the teams alternated 10-minute offense vs. defense drives six times before playing a live half — were fairly even between the two teams. In the first portion of the scrimmage, both teams scored three touchdowns — the only difference was two bad snaps on Cleburne PATs. In the live half, the scrimmage ended in a 14-14 tie.
Walraven said he saw some good things and not-so-good things out of the Jackets.
"There was some good things but I told them the expectations are through the roof — higher than they've been since we've been here," Walraven said. "I'm the one that's going to never be satisfied and I'm going to push them to meet those expectations. They can be proud of the effort they gave, but all of the coaches are going to push them to get where our vision is. All in all, I'm proud of them for their effort but we've got a ways to go, for sure."
During the live half, the Spartans scored first on a 48-yard touchdown pass on third-and-1.
On Cleburne's first possession in the live half, Centennial linebacker Connor Cunningham made an impressive play with a diving interception off of Cleburne senior quarterback Gunner Hammond. But Cleburne's defense got the ball back on the next play as the Jackets' penetration resulted in a fumble, which Cleburne recovered.
After the Jacket offense picked up a fourth-and-1, Hammond connected with Gavin Naquin — his go-to target on the night — for a 15-yard gain, then Cleo Chandler scored on a five-yard run to knot it up.
Centennial went back on top with its next drive on a five-yard touchdown run with 5:17 remaining.
With time winding down, the Jackets answered again, this time finishing an efficient drive on a 17-yard screen pass from Hammond to Chandler to finish tied at 14-14.
Walraven said he would have to get a second look at film before judging too harshly but said there's room for improvement all the way around, even in a scrimmage setting.
"I think at quarterback we made some poor decisions," Walraven said. "We made some good decisions, but we made some poor decisions that we've got to get fixed. We can't make those mistakes against good opponents in the regular season. The expectations are extremely high for Gunner and he knows I'm going to hold him to that. We're going to make sure we get better with it. But at the end of the day, he's got to play like a senior and not force the ball some and live to get to the next down."
Walraven said it was a little tough to gauge the defense after the scrimmage, especially considering going against Centennial's flexbone, triple-option offense.
"Defensively, I think we've got to get better at tackling," he said. "Our angles were decent early and I think we got a little tired and our angles got bad. It's tough to go against that offense and prepare for them when you're really wanting to look ahead to week 1 and also make sure you're doing right by [not hitting] the quarterback."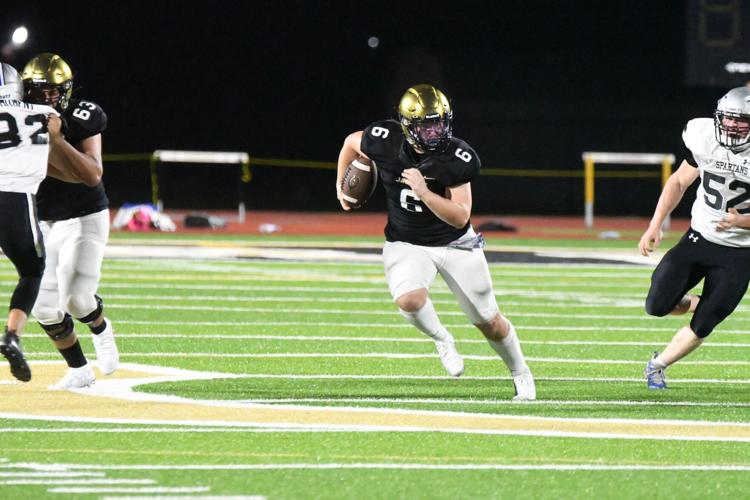 During the first part of the scrimmage, both teams' starting offenses scored one touchdown on their initial 10-minute period. Centennial's second-team offense scored on a pair of 70-yard touchdown passes.
Cleburne's second-team offense, led by sophomore quarterback Landry Shields, received some tough running from Tyler Forsythe. One of the drives ended with an impressive 35-yard touchdown pass from Shields to a diving Trenton Jonsson.
From the Spartans' perspective, Geller echoed similar thoughts as Walraven about there was some good, some bad and plenty to build on.
"Offensively, when we executed, we were pretty good and when we messed around, we were pretty average to less than average," Geller said. "We did some really good things on both sides of the football tonight. I think we had three interceptions and a couple of them were really nice ones. Connor Cunningham, from what I saw, had a really good night. I don't think we got anybody seriously injured, we had some dinks here and there but hopefully they'll be ready by Thursday."
The Spartans are scheduled to open the season at 7 p.m. Thursday against crosstown rival Burleson at AT&T Stadium in Arlington. The Yellow Jackets are set to kick off their season at 7 p.m. Friday at Hallsville.