After a nine-win season in 2018-19, the Cleburne Yellow Jackets will try to fast-track the rebuilding process in year 1 under new head coach Jeff Bush.
Cleburne tips off the 2019-20 campaign Tuesday night when the Jackets host Everman in their first game at Jeff D. Cody Arena.
After several years of coaching changes and inconsistencies in the Cleburne boys basketball program, Kurt White provided stability and re-established a winning tradition over his five years at the helm, which included back-to-back playoff appearances and 20-plus-win seasons in 2017 and 2018.
Following White's retirement, Bush was pegged as the man to continue what his predecessor began.
The Jackets went 9-25 last season and won only one district game in a last-place finish a year ago. And despite some outside opinions on what Bush was inheriting, the Jackets' new head coach said he's been encouraged by what he's seen through the first few weeks of practice.
"I'm most impressed by their effort," Bush said. "A lot of times when you come in and you're new, it's not always easy to get them, especially seniors, to buy in because they've done it a certain way through their high school career and now there's a new guy coming in.
"But these kids have been willing to learn and listen, and you don't always get that in your first year. Those returners have been willing to learn and work and ask questions. That's the most encouraging thing to me is they've been working as hard as they have been."
As is the case with any coaching change, the Jackets are working through learning not only Bush's expectations as a head coach, but new styles of play and systems as well.
"Any time you're new, you see some positives and you see some negatives early on," Bush said. "The kids are trying to learn an entirely new system, whether it's offensively or defensively, and they're trying to grasp it all right now. It's taking a little while to figure it all out. But I feel good about a lot of things with it being as early as it is."
Cleburne returns five players from last year's team, led by seniors Jake Dobbins, Blane McElroy, and Nash Mosoba. And Bush said those three players have led the way early on.
"They're doing a great job," Bush said. "Those three are doing everything you can ask of them. They're being really positive. They're open to communicating. They're responsible for bringing a lot of energy from the offseason."
Coming off the bench last season, McElroy was Cleburne's most reliable outside shooter, and Bush said he's carried that into this season.
"Blane has been the brightest spot through the scrimmages so far," Bush said. "That's not saying Nash and Jake haven't played well, but he's shot the ball really well through these first couple weeks. If he can build on that, we can use his ability to shoot and get people off balance. He's more athletic than a lot of people realize, and if he starts using some of that, it'll help make him a more effective scorer."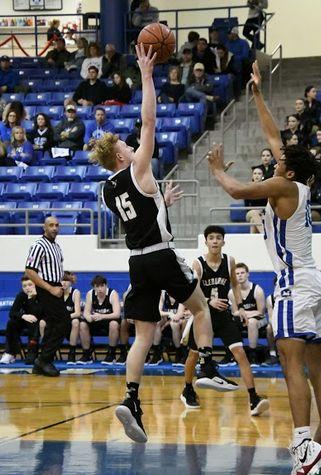 Dobbins and Mosoba possess the most varsity experience on Cleburne's roster.
"Jake is kind of the leader," Bush said. "The kids go as he goes in practice. When he's vocal and getting after it, everybody amps up their energy level. He's kind of the guy that gets everybody going.
"Nash is more of the silent leader. He's not going to say five words, but he's going to do his job, and he's going to be aggressive while he's doing it. You need that style of leadership as well, so it's a good mix from those three."
Other returners include Greyson Walker and Carson Harris, while move-in Laukuk Lanki has helped man the point guard position.
"Laukuk is moving in from Keene and helping us a lot," Bush said. "Right now he's playing the point for us. He's been doing a lot of really good stuff. Greyson Walker is stepping up in a bigger role than before. Carson Harris is going to help us a bunch, too, if we can get him healthy."
The Jackets have also had a couple of players join the program coming out of football, so they've been working to integrate them into the swing of things the past few days.
"We've also had some kids step off the football field trying to learn things on the fly," Bush said. "They had two practices and then they're in a live scrimmage. … But we're expecting them to help us with Gunner Hammond, Gavin Naquin and Isaak Cunningham coming over. We've seen some good things from them."
While low expectations reside from outsiders, Bush said the team's primary focus is to get better every day and learn from every scenario and result.
"We talked about it [Thursday] during our film session, and right now our goal is to get better every day," Bush said. "We want to get to the point where we can be playing our best basketball when it really matters in January and February. We're not killing ourselves for every mistake that's happening right now; we're working through it as a group."
Bush brought on former Cleburne standout Ethan Anderson as his varsity assistant, and he said that's already paid off.
"Ethan Anderson was highly recommended, and that was one of the smarter things I did was listen to people encouraging me to hire him as varsity assistant," Bush said. "Also having [Lawrence] Cisneroz and [Daniel] Spencer on staff has been huge having some guys with a lot of excitement helping out. I think it's an exciting time to be here."
The Jackets' new head coach said he's been able to glean some wisdom from White, with whom he was already familiar with.
"Kurt White is a legend out in West Texas," Bush said. "I'm from that area. He coached in Monahans, and I graduated from Midland Christian, so I know about the success he had. He's been awesome for me. He's been a good sounding board. He's someone I've had the pleasure of talking to quite a bit since I've gotten here."
While Cleburne's primary focus is daily betterment, Bush said they're still setting the bar high.
"Right now our goal is to get better, but I'd be lying if we're not looking each other in the eye and saying we want to make the playoffs," Bush said. "You have to put it out there, whether it sounds crazy or not. And I think a lot of people will think that's crazy coming from us right now. But we believe that we can if we get better every day. I think we're going in the right direction. We want to get in that third or fourth spot."