Cleburne seniors Slayton Day and Cason Gregory have played a big part in Yellow Jacket baseball winning nearly 100 games over the past three seasons. And on Wednesday, Day and Gregory both signed National Letters of Intent to continue their baseball career at the collegiate level.
Day signed with Odessa College while Gregory put his name on the dotted line to officially join the University of Texas at Arlington.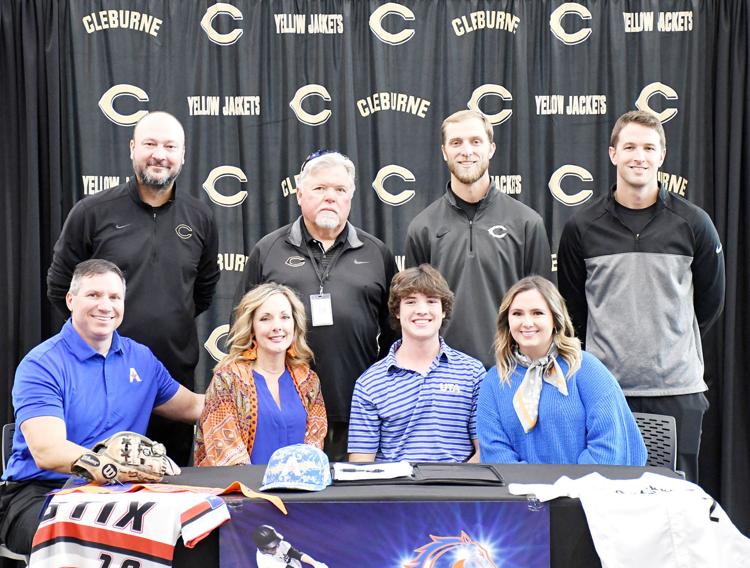 Cleburne head coach Ross Taylor said he was proud of both Day and Gregory to have this opportunity, especially after the impact they've had for Jacket baseball.
"They've both been huge for us," Taylor said. "You look at what they've been a part of — 30, 32, and 36 wins, so that's 98 wins over three years they've started. It's always a big deal when a player's been a part of 100 wins, and both of these guys ought to go well above that and probably have more wins than anybody that's been through here. They've been key components through all four years, too. It's not like they were just around and on the team; they were always a big part of the success."
Both Day and Gregory have been everyday starters since their freshman seasons in 2017. Day has filled in at multiple positions, including third base, catcher and pitcher, while Gregory has been a mainstay at shortstop since day 1, except for when he's on the mound.
For Day, getting to sign Wednesday with Odessa College was a longtime goal ever since he's been playing organized baseball at 5 years old.
"Today means a lot," Day said. "This has been a goal my whole life. It gives me the chills [to realize] that I reached it. It makes me happy along with seeing all the support I've received. It's a new chapter in my life.
"I have to thank my parents for this. They've had the biggest impact on my life. They've always been there for me."
Taylor said he believes Day to Odessa is a good fit for both sides.
"I think it was the best-case scenario for him," Taylor said. "He went from having a lot of big schools interested in him, but when he had arm surgery a lot of people pulled back. I think [Odessa College head coach] Kurtis Lay jumped out there on faith and said, 'This kid will rehab and do the things he's supposed to do, and if he can get back to where he was as a sophomore, he'll impact our program.' So I think they took a chance and I think it's going to pay off for both of them."
In addition to his senior year with Cleburne, Day said he's looking forward to showcasing what he's capable of with a program like Odessa.
"Hopefully I can go out there, just get my work put in, and see where it takes me," Day said. "Eventually I hope to go to a bigger school and keep playing. I'm looking forward to showing people what I'm made of."
Day burst onto the scene for Cleburne as a freshman, earning All-Johnson County and all-district newcomer of the year accolades after he hit .296 with a .473 on-base percentage and 32 RBIs. As a sophomore, Day slashed .364/.483/.562 with 25 RBIs and 42 runs to garner all-district offensive player of the year honors along with an all-county first-team nod. And coming off surgery entering his junior year, he was an all-county second-team selection and all-district first-team selection after hitting .250 with a .438 on-base percentage with 20 RBIs and 32 runs.
For Gregory, Wednesday's signing ceremony meant a great deal for the shortstop sensation — who has earned the nickname "The Vacuum" by Jacket Radio for his defensive prowess.
"This day means a lot considering all the work I've put in with my teammates and with Cleburne baseball," Gregory said. "It all means a lot to me. I've always had a dream to play DI baseball and now that dream has come true today."
Gregory has played baseball since he was 3 years old, including the last few summers when he's traveled all over the country with the Texas Stix South select baseball club. He said all the hours practicing and traveling were worth it seeing what it resulted in.
"It proves how hard I've worked in the offseasons and during the season," Gregory said. "It's been nonstop work. I just constantly kept going. So to see it pay off is great.
"I was coached by my dad and some of his friends when I was young. Ever since then, it's been nonstop baseball working towards this. This has been a goal ever since probably around middle school and I got into select with my summer team. They helped push me and made me realize I have the potential to go."
Gregory said he's grateful for the support of many friends, teammates, coaches and family that helped him reach this milestone.
"Coach T, coach [Ryan] Stepp, coach [Colby] Braddock, coach [Brent] Burton, Nathan Phillips from Stix, and, of course, my mom, dad, and sister," Gregory said. "And also Dryden [Taylor] and Slayton for always being my teammates since tee-ball."
Gregory added that he and Day were thrilled to share their signing day.
"It means a lot for us to sign the same day," the 2019 all-state selection said. "We've been talking about it since last year about how we want to sign the same day and be one of the best classes to come through Cleburne baseball."
Last season, Gregory earned TSWA All-State honors as a relief pitcher and a shortstop. He was the All-Johnson County and all-district defensive MVP as one of the best defensive shortstops around with a .939 fielding percentage with 72 assists, 35 putouts and nine double plays. On the mound, Gregory recorded eight saves with 18 strikeouts in 23.1 innings pitched and a 0.90 ERA. Gregory was also stellar offensively with a .378 batting average with 29 RBIs, 45 runs and 31 stolen bases.
As a sophomore, Gregory was an All-Johnson County first-team selection and an all-district second-teamer after he hit .380 with a .484 on-base percentage with 24 RBIs, 30 runs and 14 stolen bases.
Taylor said he expects Gregory to continue the success of Cleburne players at UTA, following the likes of Dillon Gee and Dylan Schneider.
"I really look for him to have a lot of success," Taylor said. "He had some choices with some different schools, but UTA felt like a good fit for what he wanted to do academically. It's close, so it will allow his parents to be involved with what he's doing, and I think that's great for them. And we've had some success with guys going to UTA before, so hopefully that will continue."
As excited as Day and Gregory were to secure their collegiate futures, they each mentioned there's some unfinished business left in their final season wearing the black and gold C.
"I'm looking forward to playing in the collegiate level, but I'm most ready to play high school in the spring and go get a state championship for Cleburne," Gregory said. "I hope we can win a district championship because for me and Slayton that will be four in a row. And I think we have the potential to go all the way to state."
"It feels good to get this taken care of before the season, but we have high expectations for this season," Day said. "Hopefully we can make it all the way this year. We've already been working hard."
Taylor said he's looking forward to one more year with Day, Gregory and the 2020 senior group.
"It's a huge deal to have them both back," Taylor said. "Especially for other kids to see how they work and how they approach the game, not only their work ethic but their love for being out there."