Needing a win to secure their first playoff berth since 2016, the Cleburne Yellow Jackets ran into a buzzsaw Friday night against a Burleson offense that couldn't be stopped as the Elks rolled to a 77-50 shootout win at Yellow Jacket Stadium.
Cleburne's season ends at 5-5 overall and 3-5 in District 5-5A Division II while Burleson finishes 6-4 overall and 4-4 in district. The Elks also missed the playoffs as they needed Everman to lose, but the Bulldogs beat Joshua, 42-7, to clinch the fourth playoff spot by virtue of a head-to-head tiebreaker over the Elks.
Everything the Jackets have worked for the past three seasons under head coach Casey Walraven was on the line entering Friday's regular-season finale, but Cleburne didn't have an answer for the well-oiled machine that was Burleson's offense.
"I think a lot of credit needs to go to Burleson and the way they executed," Walraven said. "Their coaches had them really well-prepared, especially offensively. They really executed and looked sharp.
"But I'm proud of our guys for having some belief this season and continuing to believe more and more. I'm proud we had this opportunity tonight. It's been a lot of work to get to this point. We've got to continue to take steps toward that next step, and that's actually getting to the playoffs and getting a win there."
The Elks, led by senior quarterback Blake Myers and senior running back Caleb Lewis, racked up 684 total yards and 35 first downs.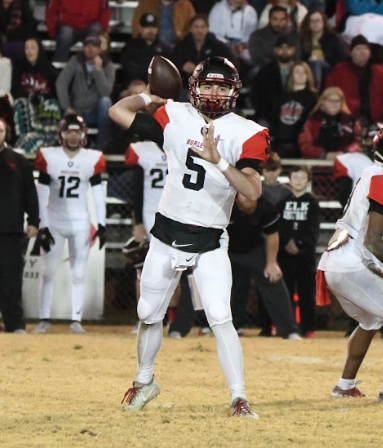 Burleson held a 14-13 lead after the opening quarter, but the Elks took control by outscoring the Jackets, 35-7, in the second quarter to take a 49-20 lead into halftime.
Cleburne had an opportunity to stay within striking distance late in the first half. After a one-yard touchdown run by junior quarterback Gunner Hammond, the Jackets pulled to within 35-20 with 3:02 remaining. If Cleburne's defense could get a stop to end the half down only two scores, the Jackets would get the second-half kickoff and have an opportunity to cut the deficit to one.
Instead, the Elks' quick-strike offense scored twice in the final 3:02 — on a 64-yard pass to Aswan Bonner and a 14-yard pass to Jaxon Winburn.
The 35-7 advantage in the second quarter was the difference, as Cleburne's offense got back on track in the second half. Cleburne actually outscored Burleson, 43-42, in the other three quarters, but the damage done in the second quarter was too much to overcome.
"The second quarter is where we saw a lull in the game offensively," Walraven said. "That was that small bit of time where we stalled offensively, and Burleson didn't. And that ended up being the difference in the game.
"After that, we got back going offensively. But it's one of those things where if you stall offensively, you need a stop or two and we weren't getting that. Burleson is too good of a team to get down like we got down to have a chance to win."
Burleson's offensive onslaught continued in the second half. The Elks averaged 9.2 yards per play on 74 offensive snaps, and their well-balanced attack — 336 rushing yards, 348 passing yards — was too much for Cleburne to handle.
"We missed a lot of tackles," Walraven said. "But our biggest hurdle right now is playing against offenses that play really well in space and distribute the ball all over the field.
"Burleson has a really good offense and they executed really well. They made great decisions all night long. It poses an issue when teams can do that. They're very similar to what we do offensively and we knew they were going to be tough to stop."
While neither team played much defense — the Elks and Jackets combined for 1,259 total yards, 65 first downs and 18 touchdowns — Burleson was able to force Cleburne into two turnovers on downs and Elk senior safety Jackson Shaha recorded three interceptions. And those five stops mattered in the end considering Burleson only punted twice and scored on every other possession.
"This was one of those games that we needed to score every possession and win in a shootout," Walraven said. "We played pretty solid offensively but we had too many mistakes to win a shootout like this."
Myers operated the Elks' offense to perfection as he completed 16-of-24 passes for 348 yards to go along with 126 rushing yards on 17 carries for six total touchdowns.
Lewis was dominant in his own right as he rushed for 210 yards and five touchdowns on 30 carries and he also added two receptions for 59 yards and a touchdown, including a highlight-reel 48-yard score on a screen pass where he broke a tackle behind the line of scrimmage, then reversed field and outran the defense to give Burleson a 28-13 lead.
Bonner had four receptions for 180 yards and two touchdowns while Winburn added five receptions for 77 yards and two touchdowns.
Burleson scored on big plays from 22, 31, 48, 53, 64, and 24 yards on the night, in addition to five scores from inside the red zone.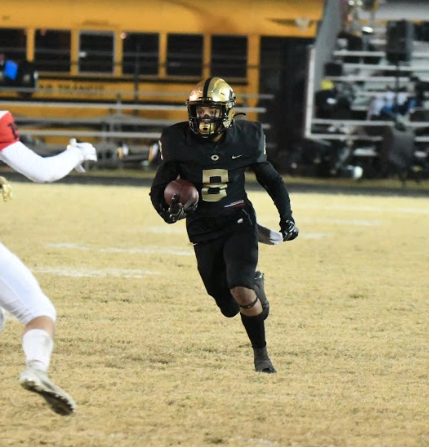 Cleburne senior receiver Isaak Cunningham led the Jackets with 14 receptions for 163 yards and a score. Junior running back Cleo Chandler had a huge first half with 160 rushing yards, including an 83-yard touchdown, on 16 carries, but he missed the second half due to injury.
Hammond completed 28-of-39 passes for 317 yards, two touchdowns and three interceptions, and he added 75 rushing yards and four touchdowns.
Despite the disappointing finish, Walraven said he's proud of his team, particularly of Cleburne's seniors, for persevering through the last three seasons and having a chance to make the playoffs in the regular-season finale this year.
"I'm proud of the seniors for hanging in there when we had to get things right off the field before we could even get them right on the field a couple years ago," Walraven said. "We had a big leap last year. And while it may not feel like quite as big a leap this year, we had belief going into the last game where we controlled our own destiny.
"I told them you can work and work and work, and sometimes things don't work out exactly the way you want to, but you have to continue working and taking steps forward."
BOX SCORE:
Burleson 77, Cleburne 50
Burleson 14 35 21 7 — 77
Cleburne 13 7 14 16 — 50
Scoring summary:
B — Caleb Lewis 22 run (Edgar Zaragoza kick), 9:37 first
C — Isaak Cunningham 6 pass from Gunner Hammond (Anthony Terronez kick), 7:35 first
B — Jaxon Winburn 31 pass from Blake Myers (Edgar Zaragoza kick), 5:38 first
C — Cleo Chandler 83 run (kick fail), 5:23 first
B — Caleb Lewis 1 run (Edgar Zaragoza kick), 11:07 second
B — Caleb Lewis 48 pass from Blake Myers (Edgar Zaragoza kick), 9:21 second
B — Aswan Bonner 53 pass from Blake Myers (Edgar Zaragoza kick), 6:08 second
C — Gunner Hammond 1 run (Anthony Terronez kick), 3:02 second
B — Aswan Bonner 64 pass from Blake Myers (Edgar Zaragoza kick), 2:26 second
C — Gunner Hammond 1 run (Anthony Terronez kick), 10:51 third
B — Caleb Lewis 1 run (Edgar Zaragoza kick), 7:31 third
C — Gunner Hammond 36 run (Anthony Terronez kick), 4:17 third
B — Caleb Lewis 13 run (Edgar Zaragoza kick), 2:37 third
B — Blake Myers 24 run (Edgar Zaragoza kick), :56 third
C — Tyler Forsythe 11 pass from Gunner Hammond (Ethan Steck pass from Hammond), 11:10 fourth
C — Gunner Hammond 1 run (Ethan Steck pass from Tyler Forsythe), 9:15 fourth
B — Caleb Lewis 8 run (Edgar Zaragoza kick), 2:53 fourth
Individual statistics:
Rushing — B: Blake Myers 17-126; Caleb Lewis 30-210; Quintlon Ivory 2-1; Chris Cook 1-(-1) . C: Cleo Chandler 16-160; Gunner Hammond 12-75; Tyler Forsythe 3-12; Isaak Cunningham 1-11.
Passing — B: Blake Myers 16-24-0-348. C: Gunner Hammond 28-39-3-317.
Receiving — B: Jaxon Winburn 5-77; Caleb Lewis 2-59; Luke Peterson 5-32; Aswan Bonner 4-180. C: Isaak Cunningham 14-163; Gavin Naquin 2-19; Cleo Chandler 2-16; Ethan Steck 3-44; Tyler Forsythe 7-72.