BURLESON — While Burleson has matched its 2-0 start from last season, it's a little bit of a different feel as the Elks prepare for their district opener.
Coach Gary McElroy said he believes hard-fought wins over quality opponents such as Copperas Cove and Denton Braswell in non-district have the Elks better prepared for the gauntlet run in District 5-5A Division II.
Last season, Burleson opened the year with a blowout 52-0 win against an inferior team from Kansas, an opponent the Elks added to their schedule at the last minute after their originally scheduled week 1 opponent shut down its football program late in the summer. Then Burleson claimed a 44-22 win over a Denton Braswell team that was still somewhat in its infancy stage as a relatively new program.
But this season, Burleson's two non-district outings were much tougher. In week 1, the Elks scored a touchdown with 10 seconds left for a 41-38 win at Copperas Cove then Burleson held off Braswell for a 42-30 win.
"I'm really proud of our composure," McElroy said. "It was a back-and-forth game against Copperas Cove, a 6A school who's pretty dang good. They were a lot bigger than us and their team speed was better as a whole, so it was a good test. We went into halftime with a 10-point deficit and our kids never blinked. There was never any hesitation or doubt. We told them all we need is a couple stops and a couple scores and we win, and by gosh, that's what we did. We went up by 10 then we gave up that lead with 2 minutes left to go, but again we didn't blink. We marched down the field and scored with 10 seconds left and won. 
"And Braswell is something special with the kids they put on the field. All three of their D-linemen are DI recruits and have big offers. They've got some special kids on that team. Our kids just got out there and we told them they had to be physical and they made it happen. I'm really impressed with our composure right now." 
A year ago, the Elks started the season 5-0, including a 3-0 start in district play, before losing their next four games in a row to miss the playoffs. But McElroy said he believes the challenges they faced in the first two weeks this season has his team better equipped to handle whatever adversity they may face in league play this time around.
"We're 2-0 against two different opponents from last year, honestly," he said. "Braswell is going to make some noise this year; those dudes are good. But having those two games before starting district, that's going to help us in the coming weeks."
The Elks have shown flashes of brilliance in many areas of their play through two weeks, but McElroy has been most impressed with the play of his defense.
"Our defense is really playing physical and they're really being technical," McElroy said. "They're where they're supposed to be when they're supposed to be there and they're doing the right things. We've got a couple young guys in the secondary so we have given up some passing yards and TDs but other than that, they're flying to the ball. And we're rotating kids in and out because there's not much of a drop-off to take a starter out to get a breather. Braswell was 'tempoing' us like crazy the other night and we held right with them and probably made them more tired than they were making us. I"m really impressed with the tenacity we're playing with defensively."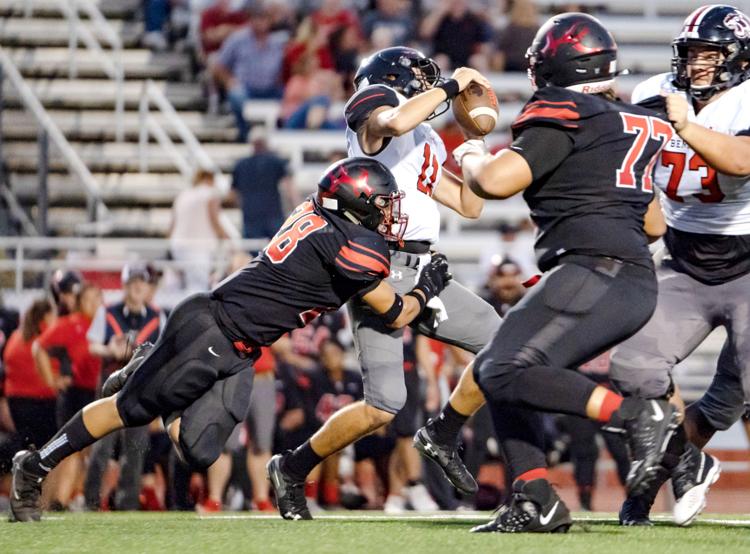 McElroy said on offense, running back Caleb Lewis and quarterback Blake Myers have been bright spots. Lewis has averaged 14.85 yards per touch through two games.
"Offensively, Caleb Lewis has stood out as a huge offensive weapon," McElroy said. "We hand it to him, we throw it to him, and every time he touches the ball he's very dynamic. Blake Myers at QB is an absolute dual-threat. He can hurt you with his legs and he can hurt you with his arm. But a lot of the success from those two guys comes from a pretty solid offensive line as well."
Now the Elks face an improving Waco University team. After four consecutive 0-10 seasons, the Trojans went 3-7 last year and are off to a 2-0 start this season.
"They're 2-0, and if you're 2-0, you're doing some things right," McElroy said. "They beat their crosstown rival, Waco High, which is 6A. They're a formidable opponent. They have some guys on both sides of the ball who are very athletic. We're going to have to be meticulous in our approach to take advantage of what they don't do. They're not real flashy but they get the ball to the right guys on offense so we have to know where those guys are. We've got to get lined up right and if we blink they'll run right by us. Offensively we have to move the chains consistently so we keep their offense off the field."
Kickoff between the Elks and Trojans is set for 7:30 p.m. Friday from BISD Stadium.