BURLESON — The Burleson Centennial Spartans enter this weekend's Class 5A Region II wrestling tournament as district champions.
In their fifth year of participating in UIL wrestling, the Spartans captured their first-ever District 6-5A title on Feb. 4. And perhaps just as impressive, the Lady Spartans finished in second place on the girls side only two years removed from having just two athletes competing on the wrestling team.
"I'm proud of the leaders on our team that push their teammates to work harder," Centennial Coach Casey Hudson said. "They expect maximum effort, and it's athlete driven. All the kids on the team understand and accept the challenge, and now the results speak for themselves."
In the Spartans' first three years of competing in wrestling, they never finished better than sixth place at the district championships. But last year Centennial took a big stride forward by placing second, setting the stage for a district title this year.
The Spartans took first place with 251.5 points to beat second-place Midlothian (217.5 points) and third-place Midlothian Heritage (144 points).
Centennial's boys team had seven wrestlers capture first place and win individual district titles.
In the 106 weight class, Wesley Goleman (28-4) placed first by beating Midlothian's Santino Saunders by fall. In the 113 class, Brendon McCurry (36-8)won by fall over Midlothian Heritage's Noah Clayton to take first place. In the 132 division, Dayne Duke (18-13) won by fall over Midlothian's Gavin Fisher for the top spot. In the 132 class, Camden Whitehead (17-20) won by major decision over Heritage's Elijah Smith. In the 160 class, Hank Meyer (3-0) won by tech fall over Midlothian's Tylor Knighton. In the 195 division, Josh Yorek took first with a win by fall over Gatesville's Alec Anderwald. And in the 220 division, Connor Hostetler won by forfeit over Midlothian's Kaleb Tompkins.
Centennial also had a second-place finish from Josh Meador, along with third-place finishes from Ethan Dilleshaw, Christopher Garza, Braedon Stephens, and Travis Hilliard
On the girls' side, the Lady Spartans finished second in team rankings with 84 points behind Lancaster's first-place finish with 132 points.
"Girls wrestling is the fastest-growing sport in the country," Hudson said. "We had two girls total in the program in 2018 and we had never placed at districts. We now have over 10 girls on the team with six regional qualifiers, and Aubrey Yauger is ranked No. 1 in the state in her weight class."
The Lady Spartans had two athletes capture individual district titles. In the 128 division, Yauger (37-4) received a quarterfinal bye, then won her semifinal and championship matches by falls within a minute. In the 138 division, Kenna Fabela (12-4) won by fall over Lancaster's Gloria Musa to take first place.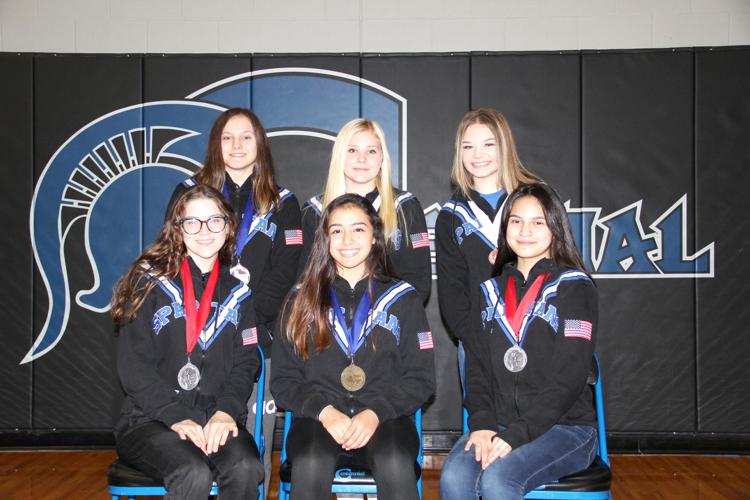 Centennial's Jalene Romero (139) finished second in the 110 class and Trinity Reyna (25-16) placed second in the 119 class while Bailey Ford (23-14) checked in at third place with a win by fall over Arlington Seguin's Katelyn Paba. Katelyn Cody placed fourth.
Centennial Head Football Coach and Athletic Director Kyle Geller said he grew up wrestling and is thrilled that Centennial's wrestling program is not only growing in numbers but also having success.
"I've always wanted to be at a place coaching football and wrestling because I grew up doing it," Geller said. " I think the correlation between the two [football and wrestling] is outstanding. No. 1, the toughness that you get out of wrestling. I wouldn't trade my time doing that for anything. I think it's the ultimate individual sport where football is the ultimate team sport. Both require toughness because they're combat-type stuff. I'm proud of our guys and girls.
"It's awesome [to have this success] and it's what we've aimed for. We knew we were going to be pretty good once we went through a couple of classes. Wrestling is a sport where the earlier you start the better. If a kid starts in fifth grade, he's going to be good because it's just something that comes with experience. We had about four kids — Goleman, McCurry, Meyer and Meador — that started wrestling at a younger age before they got to high school. So that's one reason why they're good is they had so much experience doing it."
Geller said the wrestling program has really taken off since Centennial hired Hudson as the head wrestling coach.
"I'm proud of Coach Hudson," Geller said. "He really made a difference when he got here. Coach [Blake] Meyer started the program but being a defensive coordinator and head wrestling coach was so difficult to do because wrestling starts early and you're still in football season, so we had to take care of that to take the next step. We hired Coach Hudson and he's taken it to another level. We've got a lot of kids out and we've got a lot of girl wrestlers out. I think that's one of the big things with the sport growing is having the girls participate."
Geller said he anticipates the Centennial wrestling program to become even stronger over the next couple years.
"Coach Hudson hosts a youth program here at school where the kids come in the evening to wrestle," Geller said. "That's how you become a power. Allen High School is a power becuase their youth program is so strong. That's a goal here is to get everything streamlined and become state champions in wrestling."
The Class 5A Region II championship is set for Friday and Saturday in Frisco at Independence High School, and Hudson expects another strong showing from the Spartans and Lady Spartans.
"I expect great results and plan on taking a full bus to the UIL state tournament in Cypress," he said.
District results provided by Michelle Hilliard.