BURLESON — The Burleson Centennial Spartans had an impressive eight football players sign National Letters of Intent as part of Wednesday's national signing day.
Chris Hillard, Connor Hostetler, Jaylon Jackson, Monte Johnson, Cole Montgomery-Ward, Chris Mosley, Griffith Peatrowsky, and Chase Phillips each signed their names on the line to secure their collegiate future and continue their football playing days.
Centennial head coach Kyle Geller said it's the biggest signing class Spartan football has had in its program history, and that a couple more may be on the way.
"It was a good year, a really good year," Geller said. "It kind of lends itself to the kind of success we had. If you have good players, you're going to have a good team. And we probably have two or three more that will sign later as well.
"What I'll most remember about this group is how fun it was to coach them and how rewarding it's been. I told a couple of recruiters that came in, this place here is exactly what I would hope for in a coaching job, and it's because of these kids and the people I work with; administration, coaching peers and things like that. It's what I've always wanted. And these kids have made it like that. These guys are really popular. You'll see guys like Chris and Jaylon just sitting and talking with 'everyday' kids. It's so ridiculously unusual how awesome those guys are. It doesn't matter if you play sports, they're just great guys. It's pretty neat."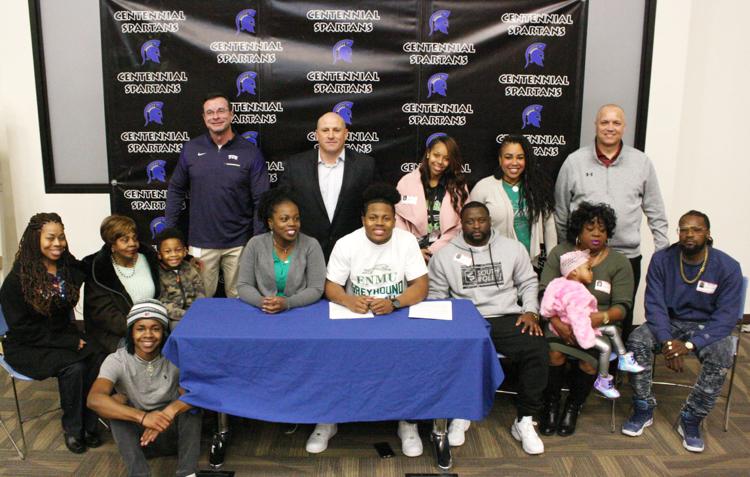 Defensive lineman Chris Hillard and linebacker Chase Phillips each signed with Eastern New Mexico University and will join former teammate Mazin Richards, who led the Lone Star Conference in sacks as a freshman for the Greyhounds.
"I think Chase Phillips and Chris Hillard — with Mazin Richards being at Eastern New Mexico helps it out — but I think they both found a place they really wanted to be," Geller said. "They each had other options but they decided on Eastern New Mexico because they felt like that place fit them. They had a good time there and their parents felt good about it. To have three guys on the same defense in college from the same high school is unusual and it's pretty awesome. Coach [Kelley] Lee over there is such a great guy. I'm glad they're going to play for him."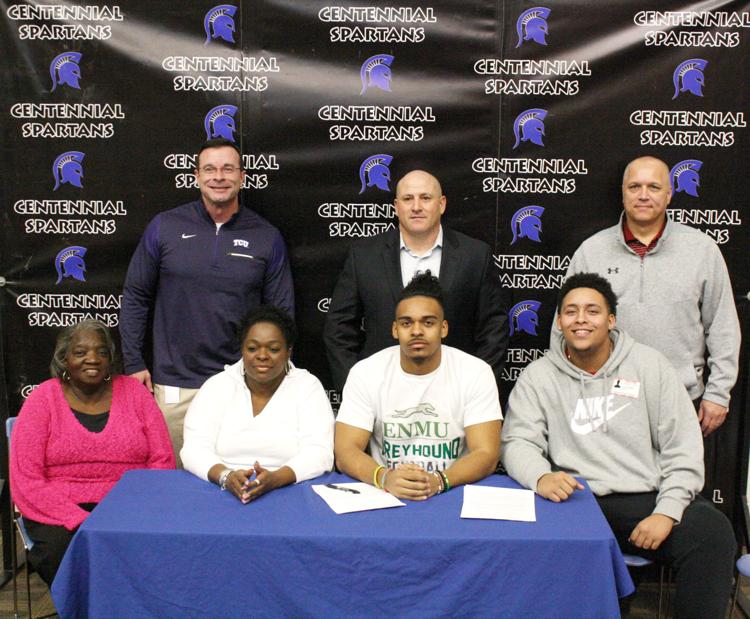 Hillard had 51 tackles, 19 tackles for loss, six sacks, 16 QB pressures and four forced fumbles this season to while Phillips finished with 45 tackles, five tackles for loss and two forced fumbles despite missing a few games as both players were all-district and All-Johnson County selections for the Spartans in 2019, with Phillips being a two-time all-county first-team defensive selection.
Linebacker Connor Hostetler will continue his football career as a Texas Wesleyan University Ram.
"Connor was torn between Texas Wesleyan or Southern Nazarene, and I think coach [Joe] Prud'homme made the difference with Connor. The coaches really made him feel wanted there. He's going to be part of that first couple of classes that make the difference there and build that thing up."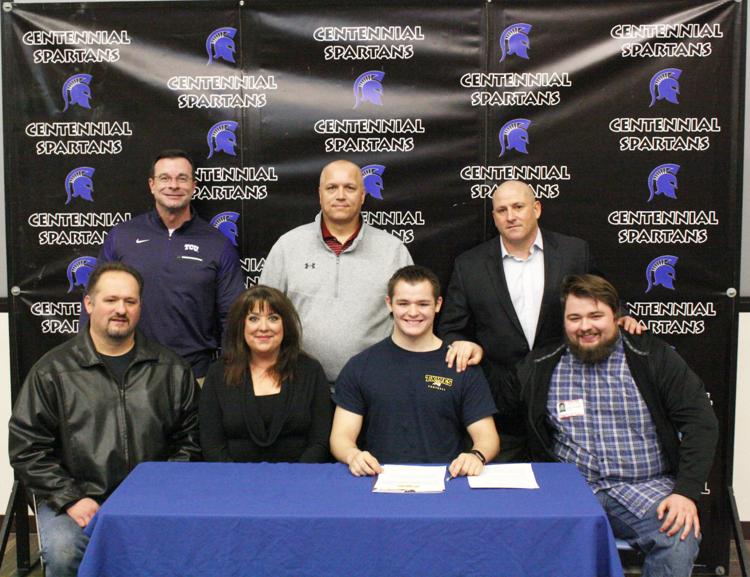 Hostetler was a 2019 second-team All-Johnson County selection after registering 106 tackles, six tackles for loss, and three forced fumbles.
After showing he was one of the state's most explosive playmakers, running back/receiver Jaylon Jackson is headed to Lamar University.
"I'm really going to miss Jaylon, not just for his ability but the way he is and the person he is," Geller said. "He's happy with where he went because he had other opportunities even at bigger schools. I'm really looking forward to him succeeding at Lamar."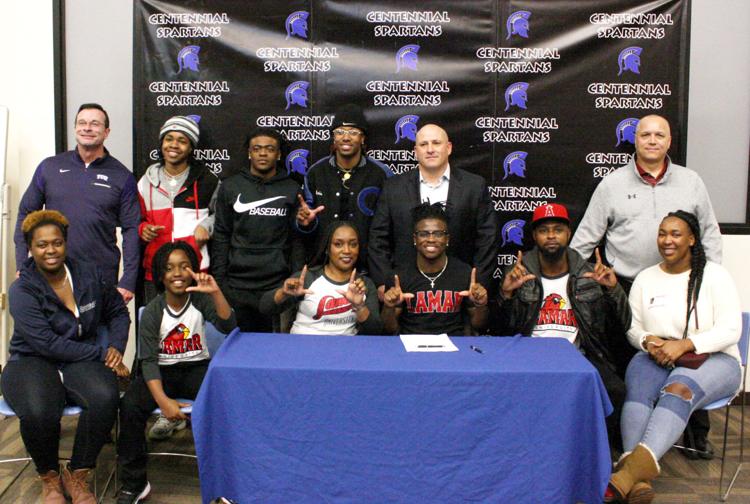 Jackson was the 2019 All-Johnson County offensive MVP after he rushed for 1,370 yards and 14 touchdowns on just 95 carries — an astonishing 14.4 yards per carry — and he added 354 receiving yards and three TDs on 14 receptions. Jackson's big-play ability was also felt in special teams, where he had two returns for TDs.
Tight end/receiver Monte Johnson signed with the No. 1 school on his list, Northwestern State University, a Division I FCS school in Natchitoches, Louisiana.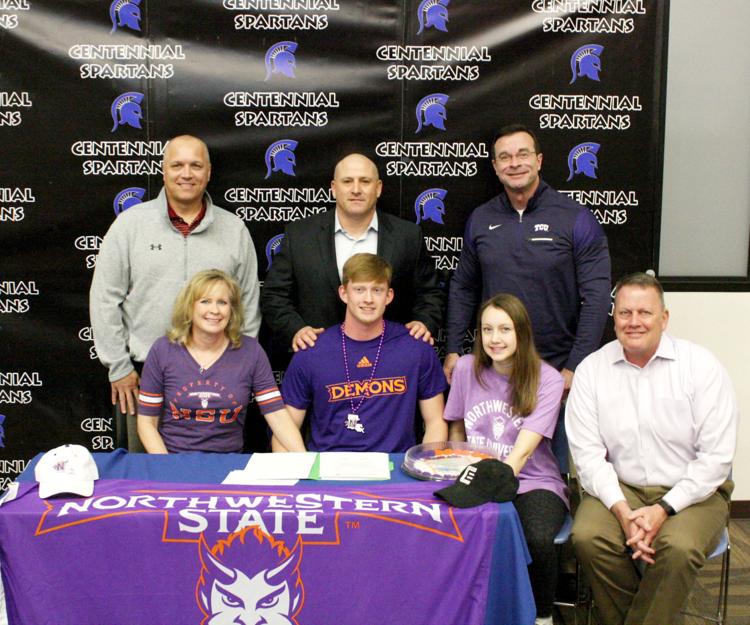 "Monte Johnson has been the hardest worker that we have here," Geller said. "He's had dreams of playing college football for forever. He's so driven. For him to get what he wanted is really remarkable. He really wanted to go to Northwestern State. I'm happy for him."
Johnson was an all-district and All-Johnson County second-team selection on offense for the Spartans in 2019.
Defensive lineman Cole Montgomery-Ward signed with Oklahoma Baptist University after putting together a strong season where he recorded 35 tackles, seven tackles for loss, two fumbles recovered and eight quarterback pressures.
"Cole Montgomery-Ward really came on as a senior," Geller said. "He's one of those late bloomers who got some confidence in himself and it paid off for him."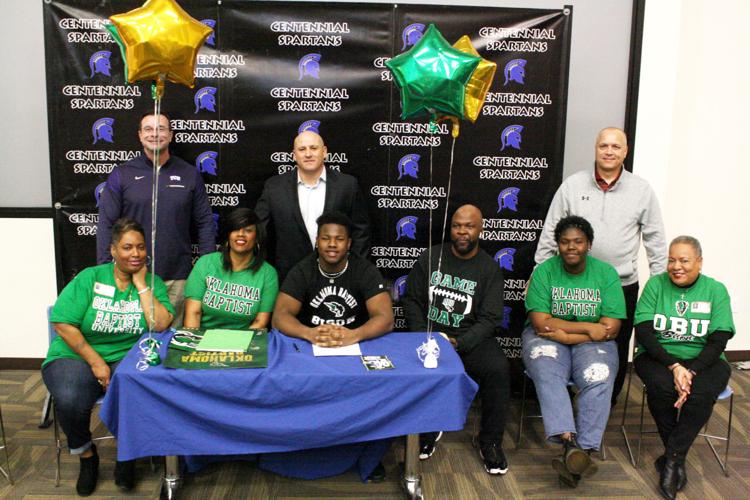 Despite missing the majority of his senior season due to injury, running back/receiver Chris Mosley showed his junior season how dangerous he is with the ball in his hand. On Wednesday, Mosley signed with Cisco College, but he may have an opportunity to join Army.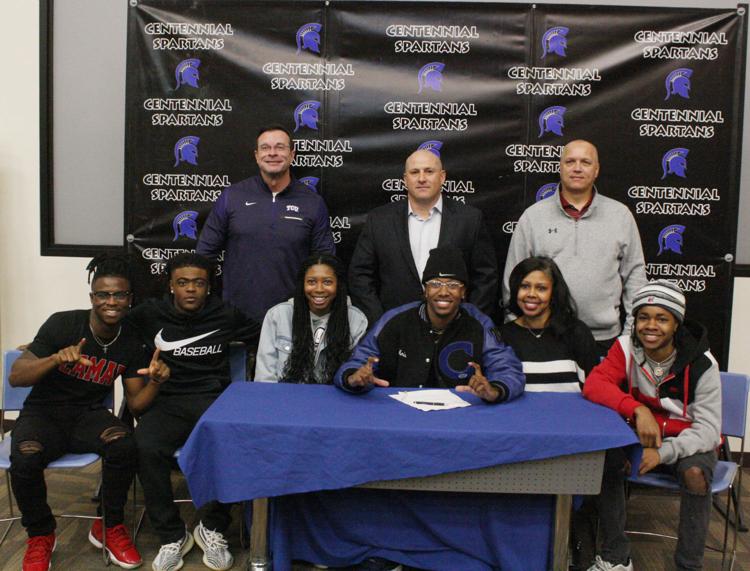 "Chris Mosley's got a big day on Saturday because he's trying to get [his test scores up so he can go] to West Point," Geller said. "By signing with Cisco, I just really believe whether it's next year or a year from now or two years from now he's going to be playing Division I football. He's too good of a player not to. He's the same as Jaylon, every day was so much fun coaching him. It doesn't happen that way with a lot of kids. It's amazing.
Mosley was a first-team All-Johnson County selection for the 2018 season after he rushed for 887 yards and scored 13 touchdowns.
And offensive lineman Griffith Peatrowsky opted for the junior college route to give himself a chance at a Division I program in a year or two as he signed with JUCO powerhouse Trinity Valley Community College.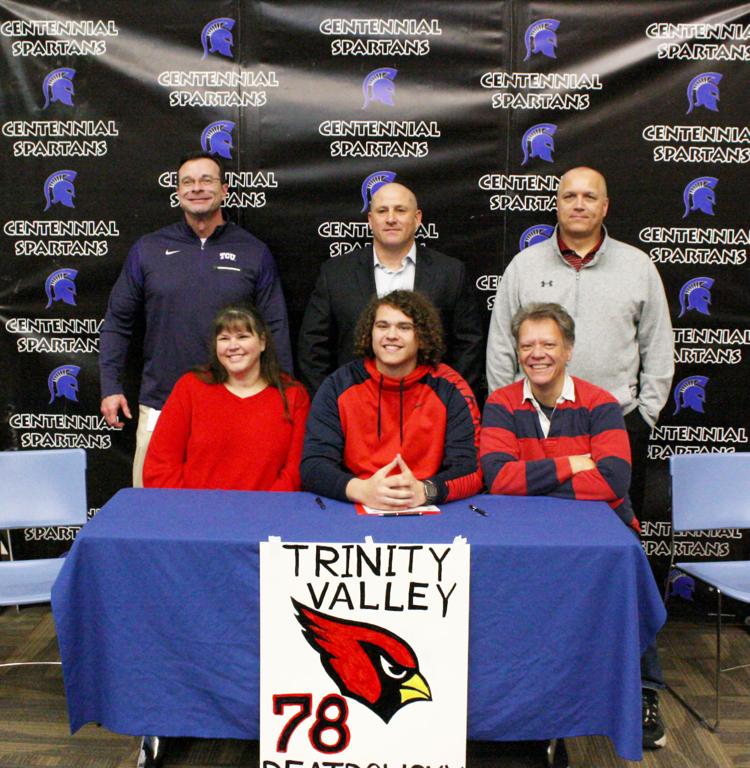 "Griffith made the right decision by going to Trinity Valley because I think with his size and just a little more development he's going to wind up at a big school as long as he stays healthy and does what he does," Geller said.
Peatrowsky was an all-district first-team selection and an All-Johnson County second-team selection for the Spartans in 2019.
The Spartans, led by this strong senior class, went 10-2 in 2019 and 11-2 in 2018, the best two-year run since Centennial began playing UIL football in 2012.