KEENE — Chargers football is coming to Johnson County this fall. No, not Justin Herbert and the Los Angeles Chargers. Keene ISD is set join the Texas high school football ranks in 2021.
The Keene ISD board of trustees gave the green light Monday night to approve the addition of football, beginning with the 2021 season. The decision was officially announced after Keene's varsity basketball games Tuesday night.
Keene ISD Superintendent Ricky Stephens said now is the right time to bring football into the mix for a number of reasons, including two primary factors.
"No. 1, we're all about providing opportunities for our kids," Stephens said. "As growth starts coming toward Keene, we wanted to be able to meet that growth and be prepared. We started asking ourselves, 'How can we prepare for a growth of 300 to 400 kids in the next four to five years?' We've got three to four subdivisions about to come into Keene. Every time a subdivision builder talks to a city, one of the first things they ask about is the public school. Our reputation as a school is fairly high. Then the next question they usually ask is, 'When are you going to start football?' We've always said when more house tops come, we'll be forced into football by our constituents. So we wanted to be prepared for that before it arrives."
Stephens is in his eighth year as Keene ISD's superintendent, and he said he's had students and people in the community ask him about football since he first arrived in Keene.
"The first week I was on the job, a school board member's son — who was a junior at the time — walked up to me and said, 'So, are we starting football?'" Stephens said. "Almost every time somebody moves in, their first question is, 'When are you going to start football?' A lot of the old timers in the community mention how much they'd love to have football, even though their kids aren't in school anymore. I think it's going to give our kids a sense of pride in the fall ... and it will be a source of pride for our town."
Keene Athletic Director John McFarlin, who is also the Lady Chargers' head basketball coach, will get the football program started as its head coach. McFarlin has prior football coaching experience as Blum's head football coach from 2012-15. The rest of the football coaching staff is already in place at Keene ISD as current baseball and basketball coaches will comprise the new football staff.
The plan to get Keene football going is to start out as a six-man program playing on an independent schedule for the first three years to introduce the sport and build participation numbers. From there, Keene will transition to 11-man football and play two years on a junior-varsity schedule with the hopes of playing traditional 11-man varsity football in a UIL district for the 2026 season.
"The plan for now — because almost all of our kids are going to have zero experience playing football so our numbers might fluctuate at the beginning — is we're going to ease into it and play an outlaw six-man schedule," McFarlin said. "Having a background in [six-man football] myself, coaching at Blum and having a couple coaches who know the six-man game a little bit, we feel like that's the best way to ease into that transition of adding football."
Like Stephens, McFarlin also said he's heard students and community members ask about football in Keene for several years.
"It's been something brought up off and on the last few years," McFarlin said. "When I was here in 2007, I never would've thought a day like this would come. But then when I came back to Keene five years ago, you hear about it a lot more. Just over the last year and a half, before COVID hit, it really started generating some steam. This year, we've had a lot more inquiries about it from the guys in our school and people in our community. So here in the last year or so, the interest has risen quite a bit.
"The kids here at Keene love sports. A lot of them keep up with football, they watch it on TV, they go to a neighboring town to watch games and be a part of it. Within this last year, every time you look out on our soccer field, you'll see a group of kids playing touch football. We have kids move in who had football at their old school. The young men we have right now, they love it. We'll see what happens when we put pads on and actually play the game but there's been enough interest to where we felt like we owe it to them to give this a shot and it was time to make the decision and join the majority of schools in the state of Texas and offer football."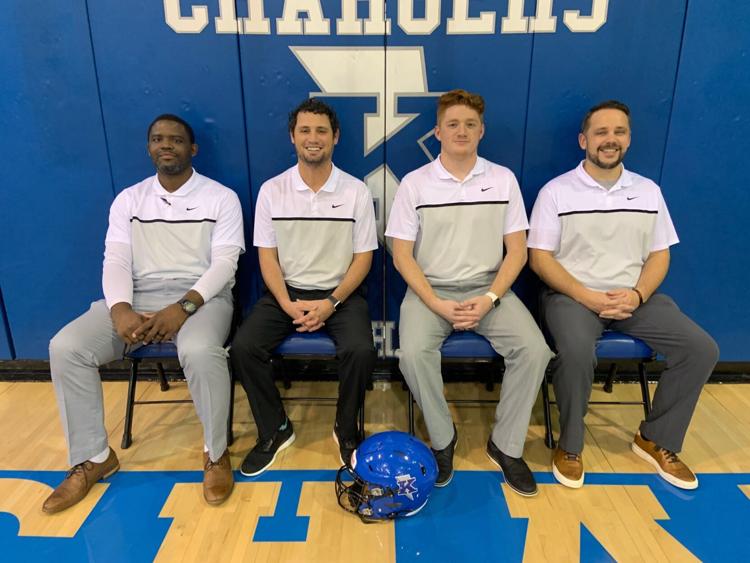 Ever since Stephens has been in Keene, he and his peers have made a push to provide more opportunities for Keene's students and student-athletes. Just within the last several years, Keene ISD has added baseball, softball and, most recently, soccer to its athletic program.
"The thing I'm most proud of, which not only relates to athletics but also programs in general, is we've really provided our kids at Keene ISD opportunities to be involved," Stephens said. "That's the key. Nobody goes to school just so they can go to math class. A lot of kids like math but they like to go to school for the experience of being involved at school [with extracurricular activities]. With robotics, forensics, all of these things we've started, along with sports, we feel like we've provided our kids a well-rounded school experience.
"Eight or nine years ago, Keene only had basketball and cross country. If you wanted to be part of the 'Charger experience,' those were your only options was to be a basketball player or a runner. Now we have much more to provide students with a better experience. And we're looking forward to fully getting that Texas high school fall experience with football."
With Keene ISD's athletic participation increasing over the last several years, McFarlin said that was another reason why adding football into the mix now makes sense.
"With the way our numbers are in athletics, we have had more and more participation," McFarlin said. "So we need to find more and more ways to accommodate our kids and the growth we have and the potential growth we'll have in the future. When you add something like football, not only are you adding another sport but you're getting more opportunities for our band and cheerleaders and things like that. We feel like the numbers we have right now in athletics and the interest we have in football, it's a good opportunity to serve not only the young men that are asking about it but a lot of different organizations in our school as well."
McFarlin said having unanimous approval from the school board was a much-appreciated first step.
"The biggest question brought up from the board was, 'What are we going to do for a press box?'" McFarlin said. "They gave us full support. It's really encouraging. It's nice to know you've got a school board that is supportive and on board with doing what we feel is best for our student-athletes at Keene."
Stephens said Keene ISD wouldn't venture into football if it wasn't something they weren't fully committed to.
"One of the things we're adamant about at Keene ISD is we don't want to do anything where we're not world class," Stephens said. "That doesn't mean we're always going to win and hang banners, but whatever we're going to do, we want to do it with all of our heart and soul." 
Stephens added that he believes McFarlin is the perfect person to head up the task of ushering Keene football into existence.
"Especially since we're going six-man the first three years and he has experience and has gone to the state semifinals," Stephens said. "He's got a great mind for the sport. It's kind of like basketball with how much flying around six-man football is. It will be perfect getting our kids ready. I have unbelievable trust in Coach McFarlin and we probably would not have even started football if he had not agreed to head it up. Once he's in on something, he's all in. He's already got two games scheduled for next year. We've only had it approved for 12 hours and he's got two games scheduled already.
"Kids love playing for Coach McFarlin, and that's so important starting a new sport. They will run through a wall for him. A lot of kids say they want to play football but it's a whole different deal practicing in 105-degree weather in shoulder pads and a helmet with a coach yelling at you. It's going to be different for our kids. It's not air conditioning and gym in a sport where you don't get hit; it's outside and hot and you'll get lit up. It will make a big difference if it's a coach they love and respect pushing them."
While there is plenty of work to be done before the Chargers kick off the 2021 season, McFarlin said he believes Keene is well-positioned to get things started because of its relatively new field house. Only a few things will need to be done to Charger Field to have it ready for football games.
"We've got some work to do on our facilities to get ready, but we're lucky that we've got a great field house with a great weight room and great locker rooms," McFarlin said. "For a non-football school, I would say we have one of the best field houses and weight rooms. So it's nice having that already done. We'll have to work out seating arrangements on the visitor side because right now we just have the home side of the bleachers. So we'll have to incorporate bleachers on the other side and a press box. Outside of that, our field is ready to go once it's painted and striped for football.
"Along with having our facilities in good shape to make that transition, we're also fortunate enough to have four coaches on staff that have knowledge of the game at the six-man and 11-man level."
Coaches who are set to help Keene football get started include: Defensive Coordinator Caleb Johnson, who is Keene's head baseball coach and a Cleburne High School graduate; Offensive Coordinator Brady Chamberlain, who is an assistant basketball coach and was an all-state player for McFarlin at Blum; Special Teams Coordinator Rico Bailey, who is an assistant basketball coach; and Assistant Coach Billy Coffin, who is the head boys basketball coach.