ARLINGTON — If one is good, two is even better. That's life for the Grandview Zebras, who won a second consecutive state title with a 42-35 victory over previously undefeated Pottsboro in the Class 3A Division I state championship game Thursday at AT&T Stadium.
BACK TO BACK! The Grandview Zebras beat Pottsboro, 42-35, to win their second straight Class 3A DI state title! pic.twitter.com/KNEnNhkUQ4

— Times-Review Sports (@CTRsports) December 19, 2019
After facing an early 7-0 deficit, the Zebras (15-1) used a 21-0 scoring run over the course of 3 minutes and 40 seconds late in the first quarter and into the second quarter to get ahead and stay ahead of the Cardinals (15-1).
Even though Pottsboro kept battling back, the Cardinals were never able to get over the hump and tie the game — despite coming within inches of doing so on one occasion — as Grandview maintained either a 14- or seven-point lead the rest of the way.
Grandview head coach Ryan Ebner said it's hard to put into words how proud he is of his players and coaches for persevering through everything they've faced this season.
"Their resiliency is undisputed," Ebner said. "So many times we could've hung our head and said, 'Well we had a good year last year,' and just lived on that. But not once did they ever do that. Not once did the coaches ever do that. Not once did the community ever do that. These kids and coaches found a way.
"I'm blown away by the trust that we had between the coaches and the kids that we would find some answers as well as the kids' willingness to play different positions and things like that. It was a phenomenal season and something I'll never forget."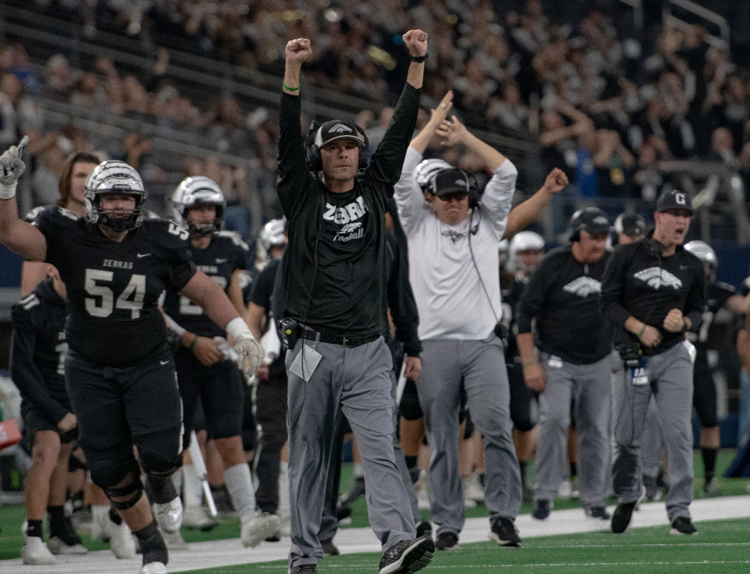 With Grandview holding a 28-21 lead in the third quarter, Pottsboro threatened to tie the game as the Cardinals had a first-and-goal at the 3-yard line. On fourth-and-goal from the 1, Grandview stuffed Pottsboro, but the Zebras were called for offsides.
With the ball a few inches away from the goal line after the penalty, Pottsboro quarterback Braden Plyler went right but Grandview junior safety Dane Jentsch shot through the line of scrimmage like a heat-seeking missile to drop Plyler in the backfield for a huge turnover on downs to preserve Grandview's seven-point lead.
"We try to be aggressive there depending on what they're showing us," Ebner said. "I know we all fired off, but it doesn't surprise me it was Dane. That was the play of the game.
"Pottsboro did what Pottsboro does. They clawed back in it. But that was the momentum shift we needed in that particular moment. It was the most fired up I was all game. It was a huge play."
Jentsch gave credit to Grandview's junior varsity team in helping him be prepared to make that exact play.
"We worked that play nonstop in practice," Jentsch said. "We'd get them lined up just like [Pottsboro] and they'd run the same play in practice to help us prepare. I've got to give credit to the JV and scout team. They're honestly what makes this program go."
After the goal-line stand, the Zebra offense went to work as Jentsch connected with Austin Boyd for a 40-yard pass to get the Zebras out of the shadow of their own end zone. Then on third-and-1, Jentsch took off down the sideline for a 40-yard run to set up senior running back Tremayne Gullatte for a six-yard touchdown run to extend the Zebras' lead to 35-21 with 1:16 left in the third and finish off a 97-yard drive.
"That was a 14-point swing," Ebner said. "It was a huge moment. Looking back now, that was the difference in the game, no doubt about it."
Jentsch's fingerprints continued to be all over the game as the two-way standout came up with an interception on Pottsboro's following possession.
Jentsch's impact was felt at its peak during those three drives — the tackle for loss to finish off a goal-line stand, the 40-yard pass and 40-yard run to set up a touchdown, and the interception — as the junior quarterback/safety was voted the offensive and defensive player of the game for a remarkable second year in a row.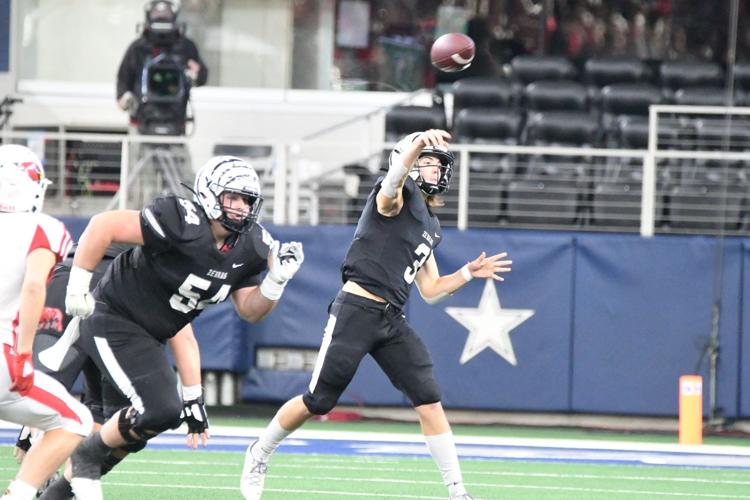 But the work wasn't done. The Zebras turned the ball over on downs on a fake punt, and Pottsboro took over at its own 37. Four plays later, Plyler connected with Titus Lyons for a 53-yard touchdown pass to pull the Cardinals back to within one score at 35-28 with 9:26 remaining.
Grandview's championship poise was on full display on the following drive as the Zebras covered 84 yards in 11 plays, capped off by a 20-yard Gullatte run for his fifth touchdown of the night, tying a 3A state championship game record, to give the Zebras a 42-28 lead with 3:34 left.
As great as Gullatte and Jentsch were running the ball, it was Grandview's offensive line of Jacob Bayer, Garrett Holmes, Brody Smith, Cade Fedor, and Cole Cannon that led the way, particularly on that drive, enabling offensive coordinator John Jay to run the ball 10 times for 80 yards as the Zebras ate up 5:57 off the clock.
"They've been paving the way all year long," Ebner said. "I feel like a lot of deep playoff runs are built on if you can move the ball on the ground. Those five hogs put us on their back and went to work, and that's why we were sitting in AT&T Stadium again, because of those five guys up front."
Even though the Zebras could feel it, the game was still far from over. Pottsboro's Cooper Townsley returned the ensuing kickoff 51 yards, giving the Cardinals a much-needed short field to work with. And just a minute later, Plyler scored on a 19-yard run to again pull the Cardinals to within one score at 42-35 with 2:21 left.
But Pottsboro's ensuing onside kick attempt went out of bounds after a couple of friendly bounces, and a tough first-down run by Jentsch allowed the Zebras to end the game in victory formation.
"Pottsboro gets all the credit for making us earn it," Ebner said. "You see the stuff that they had done previously in the playoffs and we knew it was going to be like that. We knew they never were going to stop so we had to keep fighting. We talked all week about how we were going to have to play four quarters. That's what we did. Pottsboro has an unbelievable team and they're unbelievably coached."
Cannon said he couldn't imagine a better way to end his high school football career.
"It's very special," the 2018 all-state selection said. "We faced a lot of adversity this year with everybody getting hurt but we overcame it. The brotherhood that we have is very special."
Cannon wasn't even supposed to be on the field helping the Zebras rack up 455 total yards en route to another state title. The senior lineman suffered a severe ankle injury in week 2 and was expected to miss the rest of the season and most of basketball season. But he healed quickly and worked even harder to make it back for Grandview's playoff run.
"It meant the world to me to be able to get back," Cannon said. "At the beginning of the season when I got injured, they said I wouldn't be able to play football again. To be able to make it back out on the field and contribute to a state title means a lot."
It was a similar feeling for Gullatte, who missed last year's state title run due to a knee injury. But the bruising senior running back rushed for 92 yards and five touchdowns to help the Zebras become the 55th team in Texas high school football history to win back-to-back state titles.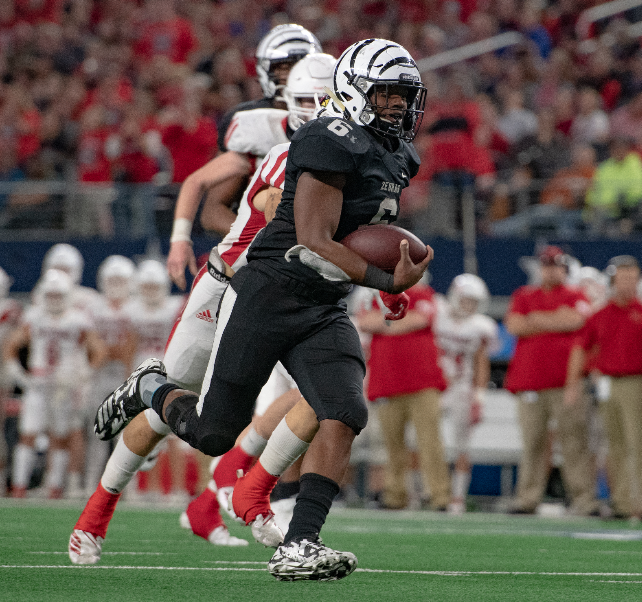 "It's a blessing to be part of a team like this," Gullatte said. "I can't even explain how special this was to me. I'm at a loss for words. Last year, I was down and out so I couldn't do anything. But this year felt great because I could contribute and help my team win.
"Shoutout to my O-line. I couldn't have done it without them. And shoutout to coach Jay for putting me in a position to make those plays."
After being named the 2019 Class 3A Associated Press offensive player of the year earlier in the week, Jentsch had another monster performance on Texas high school football's biggest stage.
Jentsch completed 12-of-17 passes for 218 yards and had a game-high 152 rushing yards with a touchdown on 14 carries, and on defense, he had five tackles, including the tackle for loss on fourth-and-1, and an interception. And his standout play earned him dual-MVP honors for a second straight year.
"[Going back-to-back] means the world," Jentsch said. "Of course, I've got to give credit to the people up front for doing the dirty work. And I think the coaches outdid themselves this year.
"If I could, I would give all my teammates the offensive and defensive MVP. I think Tremayne earned the offensive MVP award. For his first state game appearance ever and to come out with five touchdowns and a win, that's incredible."
As the Zebras walked off the field, Jentsch gave the offensive MVP award plaque to Gullatte.
"Well, five touchdowns in your first state championship, that won me over," Jentsch said. "He's a heck of a player, he works his butt off in practice, and I can't wait to see him at the next level."
"Dane's a great guy on and off the field," Gullatte said. "For him to give me that, that's really special to me."
Ebner said it was one of the proudest moments of his coaching career.
"That's so special," Ebner said. "I can't even express how awesome it is to see that brotherhood first hand. I feel like a lot of people are cheated because they don't get to see it, but I'm glad I was one of the special ones that the good Lord picked to see that because you get to see a group of kids who truly love each other.
"It wasn't something to share. He gave it to him. He said this belongs to you and you deserve this. Tremayne didn't want to take it. But Dane said, 'Nope, this belongs to you.' And Tremayne graciously took it. You're just watching two guys that love each other have a moment. I'm sure they'll talk about it when they get older. It's something I'll never forget."
In addition to Jentsch's goal-line stop and interception, Grandview's defense had another game-changing play early on when senior linebacker Michael Lehnhardt forced a fumble, recovered by fellow senior linebacker Antonio Arellano. The takeaway set up Grandview's go-ahead touchdown on a one-yard Gullatte score, and the Zebras never looked back.
Boyd finished with four receptions for 105 yards, Luke Ferguson added five catches for 68 yards, and Jacob Patterson had three catches for 45 yards.
Elijah Golden led Grandview's defense with 10 tackles while Travis Massey added eight tackles.
Plyler completed 19-of-25 passes for 254 yards and three touchdowns with eight of those completions going to Lyons, who hauled in 133 yards and a score. Jasek Hooker had four catches for 55 yards and a SportsCenter-worthy touchdown catch.
Grandview was 6-for-6 in the red zone and senior kicker Nathaniel Baker went 6-for-6 on extra point attempts.
Through all of the adversity Grandview faced — a wreck that left Ja'Kobee Crownover hospitalized for months to countless injuries on a weekly basis, including during practice earlier this week — Ebner said the Zebras never lost faith in their ability to defend their 2018 state title.
"Never. I thought as long as there was a breath of life in us, we would keep plugging away," Ebner said. "If it didn't happen, so be it; it wasn't meant to be. But it wasn't going to be because our coaches or players stopped believing it would happen."
While these Zebras are the ones that will go down in history because of their back-to-back state championships, Ebner said it all started 15 years ago.
"The foundation was laid 15 years ago, and the bar has been set higher and higher and higher," Ebner said. "This has been the most successful group to this point. But I hope that everybody before them understands that they're truly a part of this.
"This was the group that was able to do it. I think they showed the future the last step of what it takes, and that's a love and bond for each other. It's not about any stat or any person, it's about what you can do as a whole, and that's what this group embodies. It's something that I wish I could bottle up and sell because I'd be a billionaire. But they had it, and that's why you're seeing what you're seeing."